3 takeaways from Knights' loss: Playoff spot secured despite setback
Updated March 30, 2023 - 11:23 pm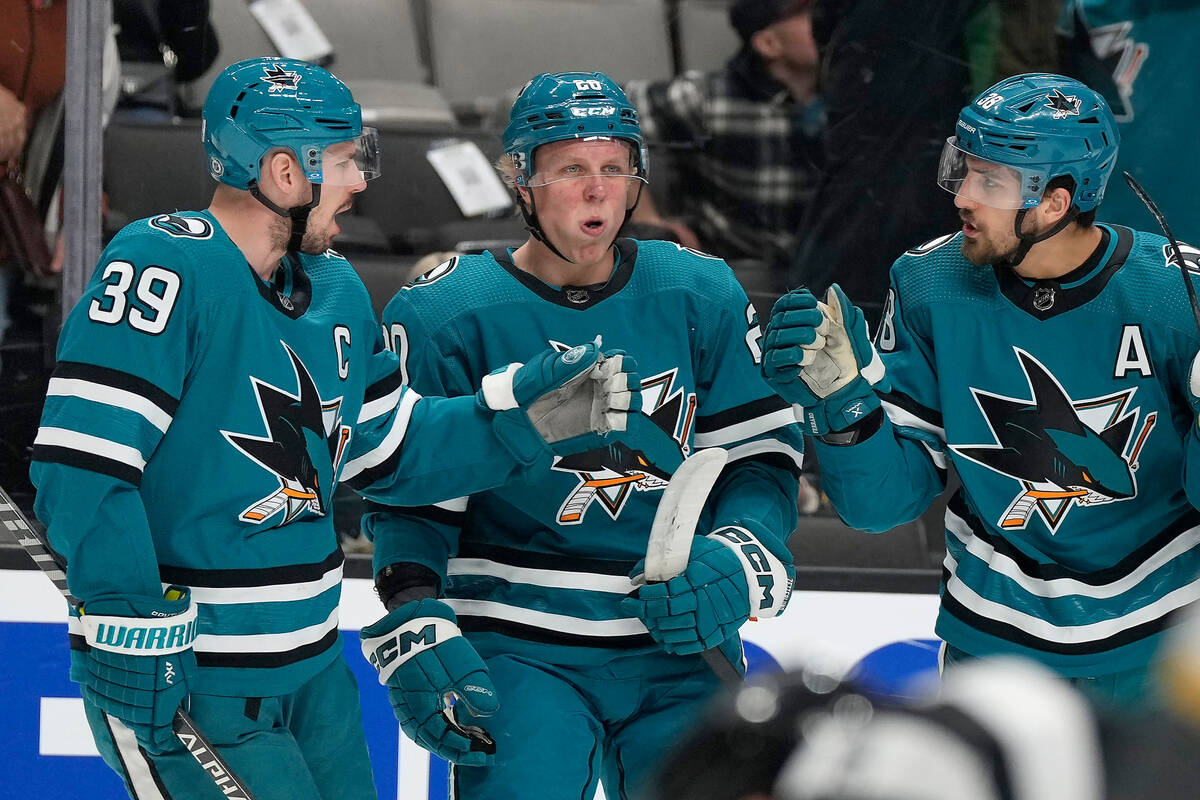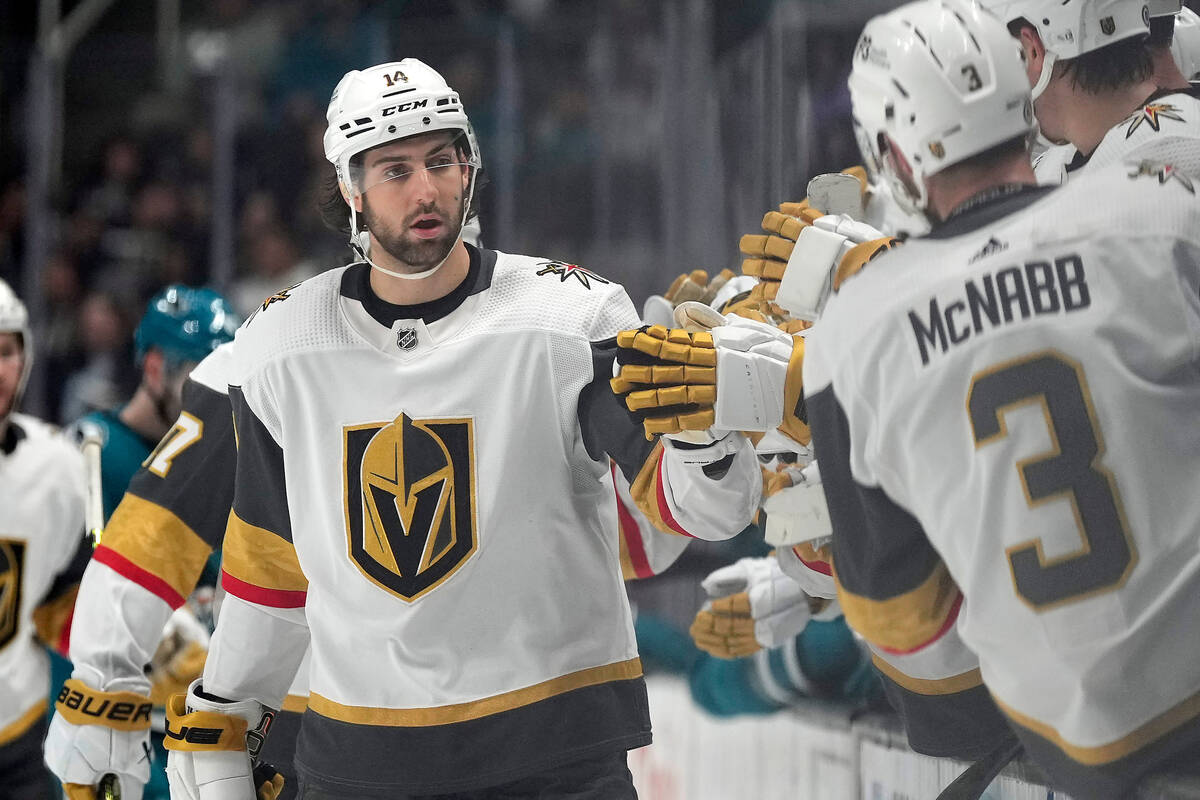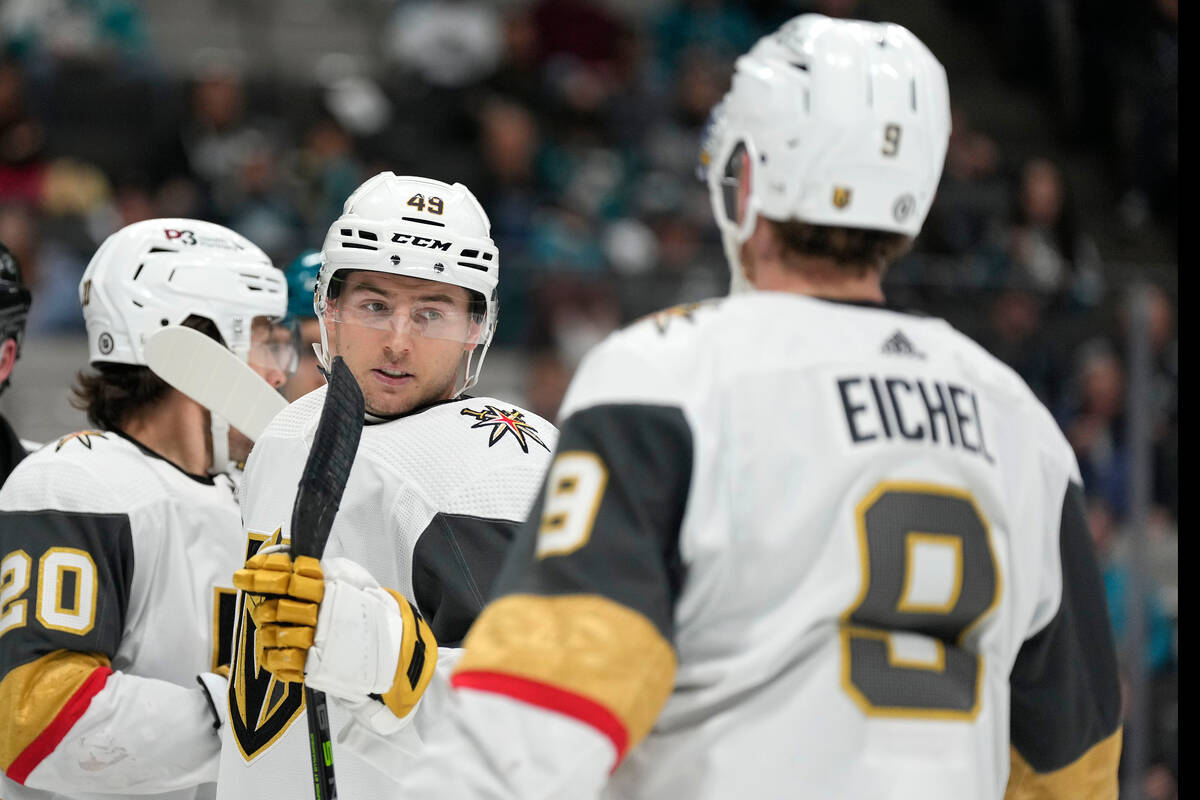 Center Chandler Stephenson stood in the bowels of Chicago's United Center 338 days ago and said the Golden Knights were "not where we want to be."
A 4-3 shootout loss to the Blackhawks had sealed the Knights' fate in the second-to-last game of the regular season April 27. They were out of the playoffs for the first time in franchise history.
That miss motivated the Knights all season. They attacked with urgency out of the gate to prove last year's injury-plagued campaign was a fluke. And, when adversity struck again, the Knights battled their way through absences from captain Mark Stone and several of their goaltenders.
That fight has the team back to where it wants to be again. The Knights clinched their fifth playoff spot in six seasons Thursday thanks to Nashville's 2-0 loss to Pittsburgh.
The celebratory mood was dampened somewhat by their subsequent 4-3 overtime loss to San Jose at SAP Center.
"We looked out of sorts a lot of the night," coach Bruce Cassidy said. "It was probably one of our poorer nights executing. It just seemed like we couldn't get attacking."
The Knights' first early offseason had consequences.
Stephenson, left wing Pacioretty and coach Pete DeBoer spoke after the loss to the Blackhawks. DeBoer was fired a little more than two weeks later May 16. Pacioretty was traded July 13.
The Knights (46-22-7) reorganized under Cassidy and found their stride again.
A deep group of forwards, one of the NHL's best blue lines and solid performances in net made it obvious early their summer wouldn't start in April again.
The Knights sprinted out to a 13-3 record and, after a brief midseason lull, became of the NHL's most consistent sides after the All-Star break. Their 17-4-3 run their last 24 games is the second-best in the league. They piled up points despite starting a franchise-record five goaltenders in that span and not having Stone because of his back surgery.
The Knights' bounceback campaign made them the first team in the Western Conference and the sixth overall to clinch. They became the seventh franchise ever to reach the playoffs in five of its first six seasons.
The Knights have seven games remaining to determine their seed and their first opponent. Their chances of finishing with the West's best record took a hit Thursday against the Sharks (21-39-15), who entered the game with the NHL's third-worst record.
The Knights were sluggish and mistake-prone taking the ice an hour after their playoff spot was secured. San Jose went up 2-0 by taking advantage of a neutral-zone turnover with 5:29 into the first.
The Knights battled back. Goals from defenseman Nic Hague and left wing Ivan Barbashev evened things up 1:08 into the second. Center Tomas Hertl gave San Jose the lead back 11:39 later, but right wing Michael Amadio tied the game again with 9:53 left in the third.
A late push by the Knights after Amadio's equalizer wasn't enough to give them a second point. Center Logan Couture delivered the win for the Sharks 50 seconds into overtime, scoring on a breakaway after a turnover from defenseman Alex Pietrangelo.
It was San Jose's second straight win after going 0-6-3 in its previous nine games. The Knights lost their second straight for the first time since Feb. 25 and 27.
"We're playing for home(-ice) advantage here now," center William Karlsson said. "I think every team wants that. We've got to stay focused here for the remaining seven games."
Here are three takeaways from the loss:
1. Eichel's in
Center Jack Eichel, the No. 2 overall pick in 2015, is on a playoff team for the first time.
Eichel has the fifth-most games played among active players who have yet to appear in the postseason. He can become the eighth player in NHL history to make his debut after recording more than 400 regular-season points, after Mario Lemieux, Dennis Maruk, Marc Savard, Olli Jokinen, Taylor Hall, Joe Sakic and Marcel Dionne.
2. Haguerbomb
Hague's goal was his first since his overtime winner against Nashville on Dec. 31, a span of 36 games.
He shifted to the right side Thursday with defenseman Shea Theodore out with an undisclosed injury. Hague's new partner was defenseman Ben Hutton, who played his second game since Jan. 28.
Hutton finished with two assists. It was his first multipoint game since March 1, 2020, when he was with the Los Angeles Kings.
"Hutty comes in, has a big game for us tonight," Hague said. "Made some really nice plays."
3. Changes up front
Cassidy, in addition to switching things up on the back end, made changes up front as well.
Left wing Paul Cotter joined the second line with Karlsson and right wing Pavel Dorofeyev after being a healthy scratch for three games. Center Teddy Blueger was a healthy scratch as a result.
Taking out Blueger allowed the Knights to play Stephenson and Nicolas Roy at center. Each spent time on the wing in the previous three games after Roy returned from a lower-body injury.
Contact Ben Gotz at bgotz@reviewjournal.com. Follow @BenSGotz on Twitter.