3 takeaways from Knights' preseason loss: Defenseman exits early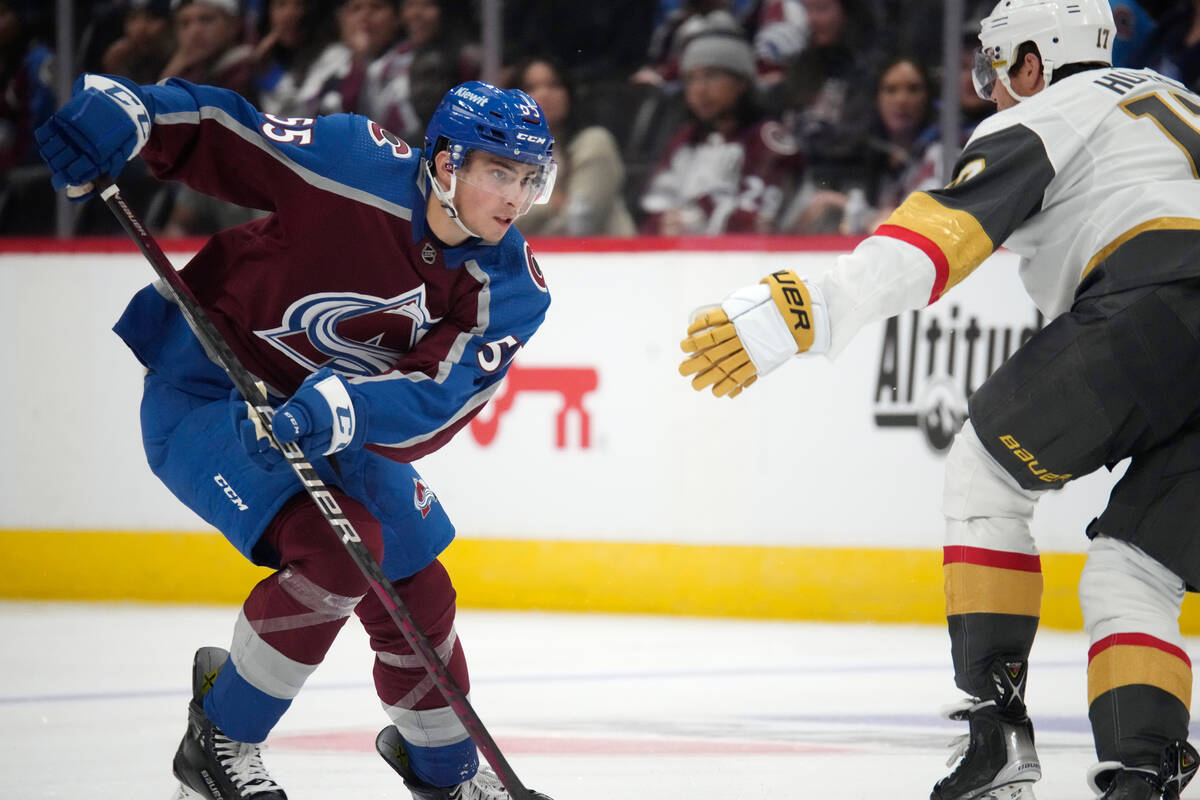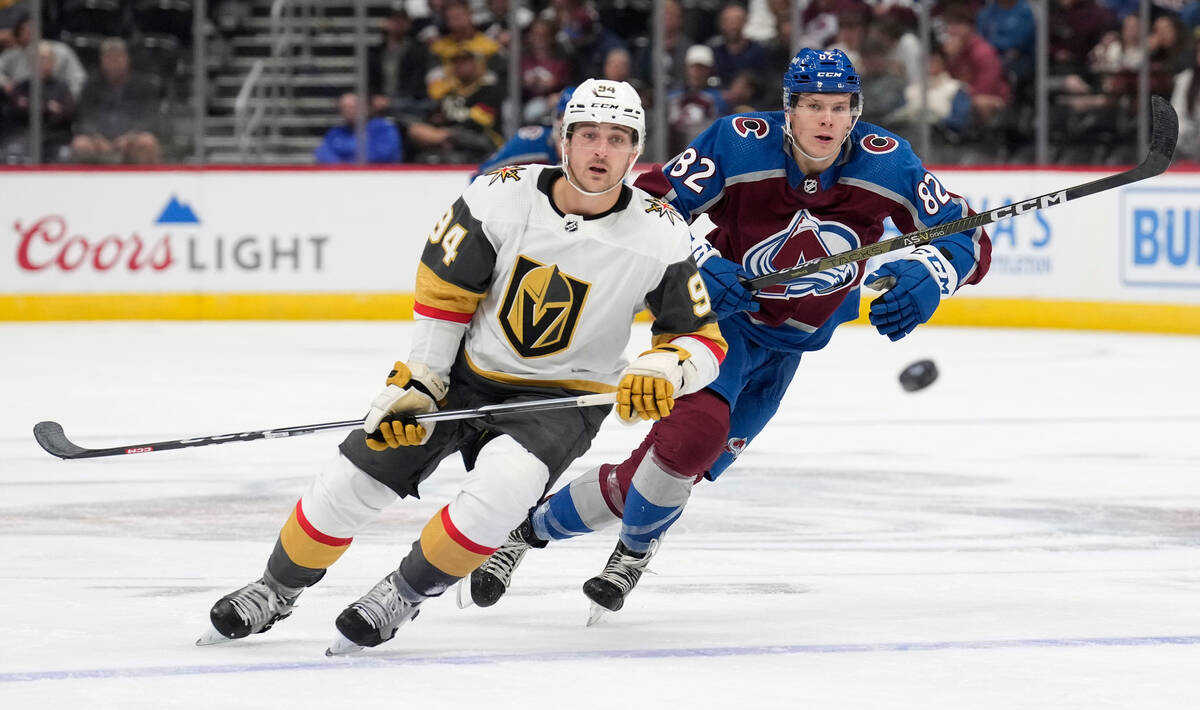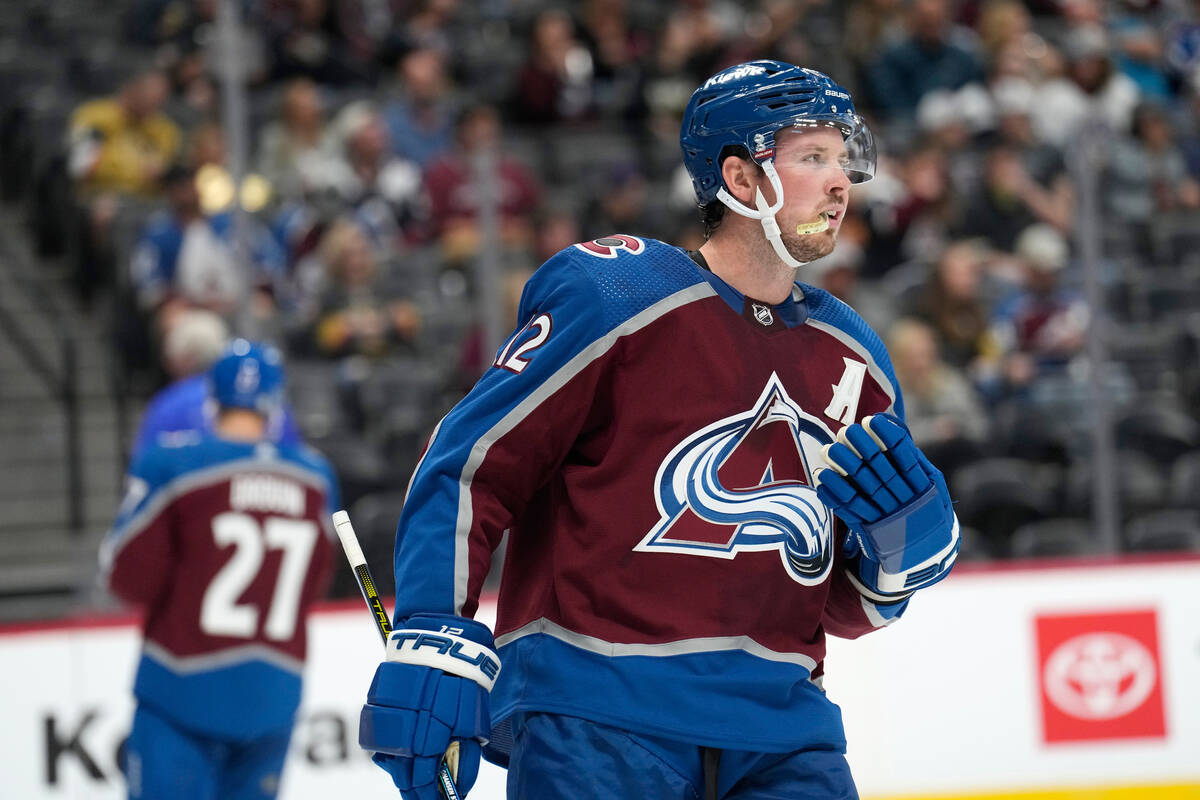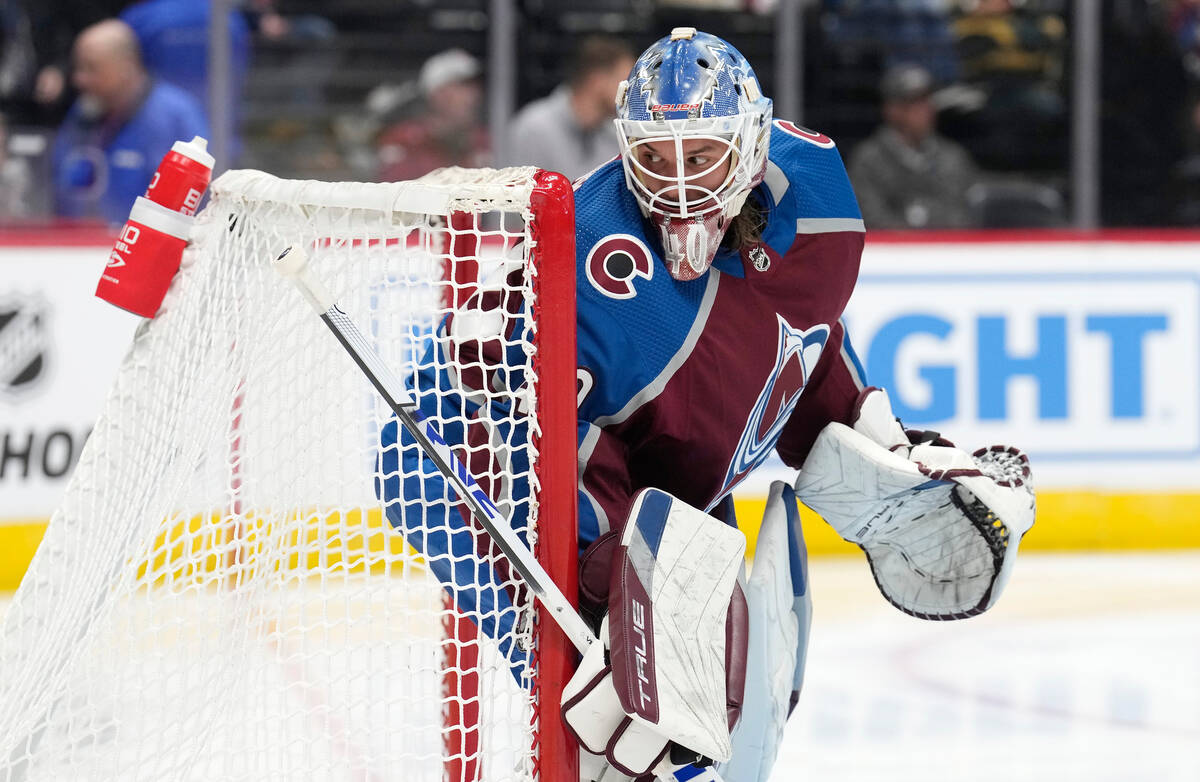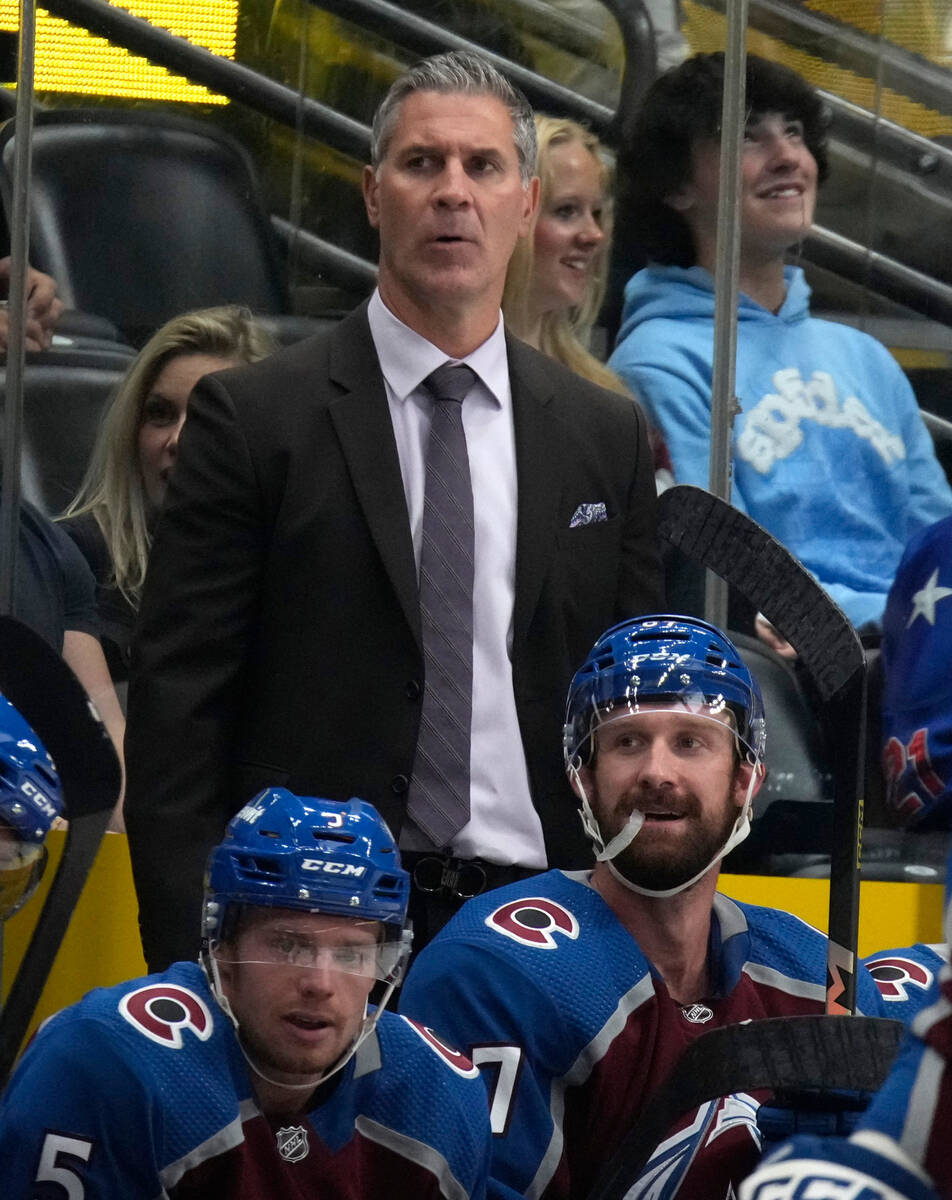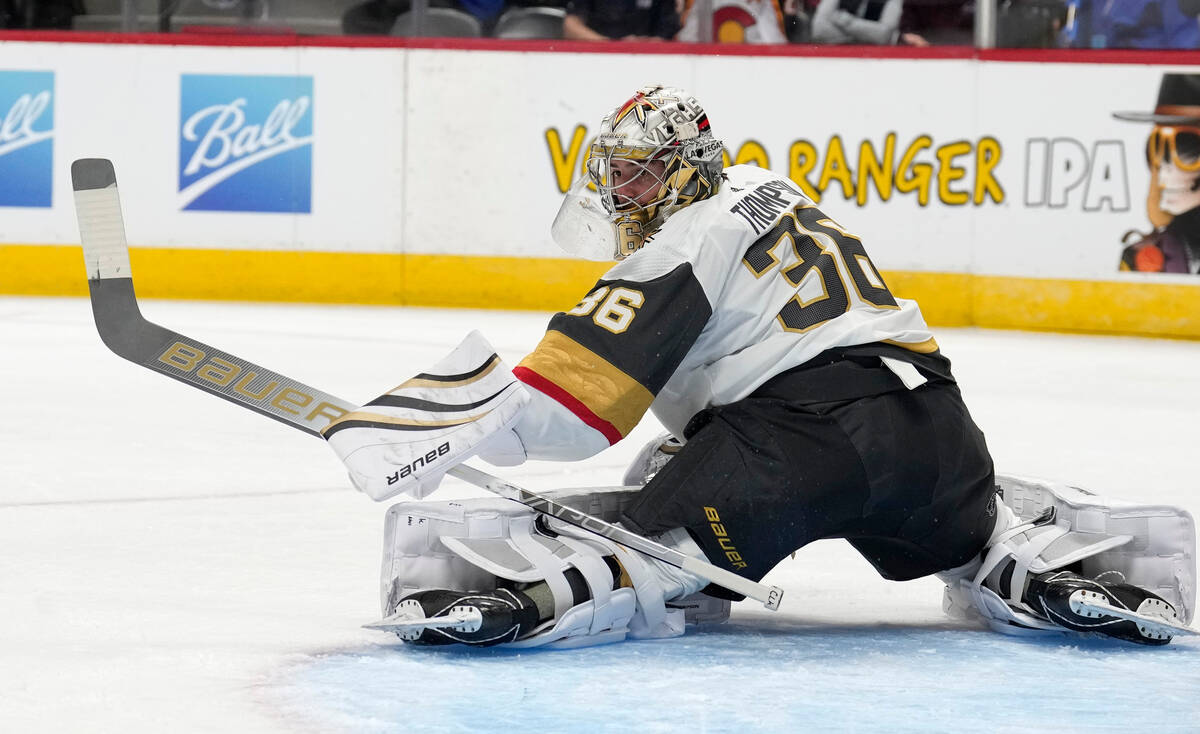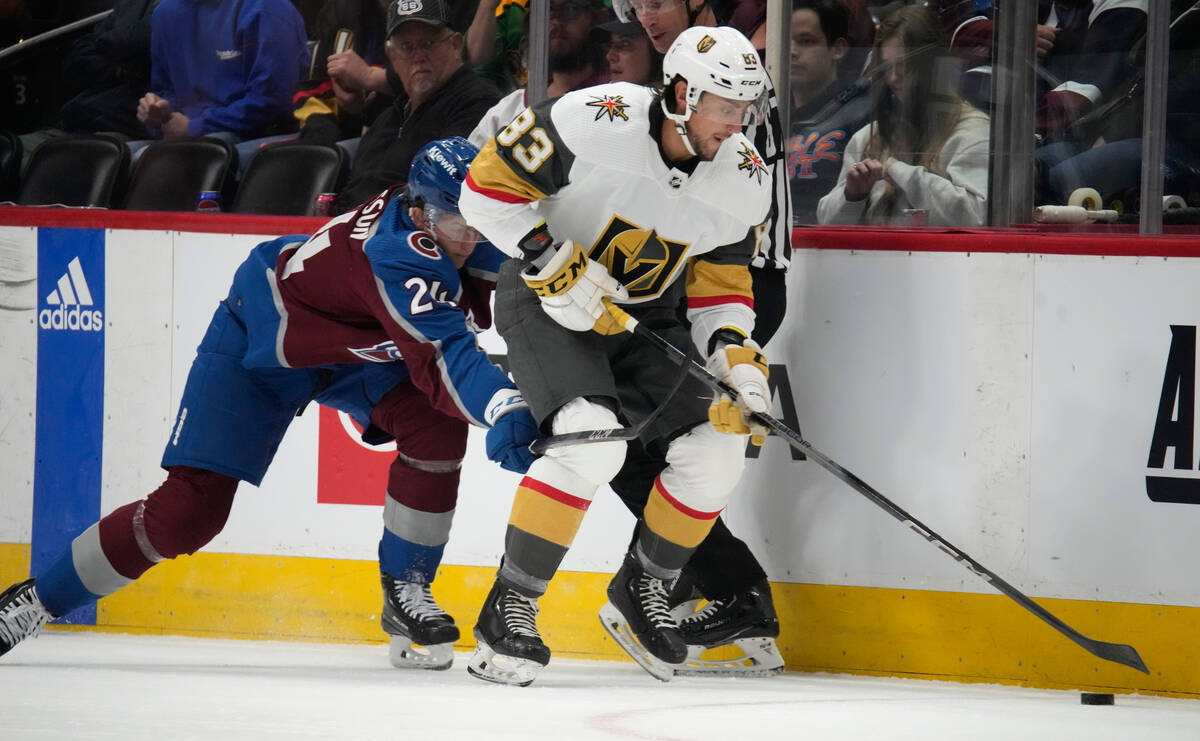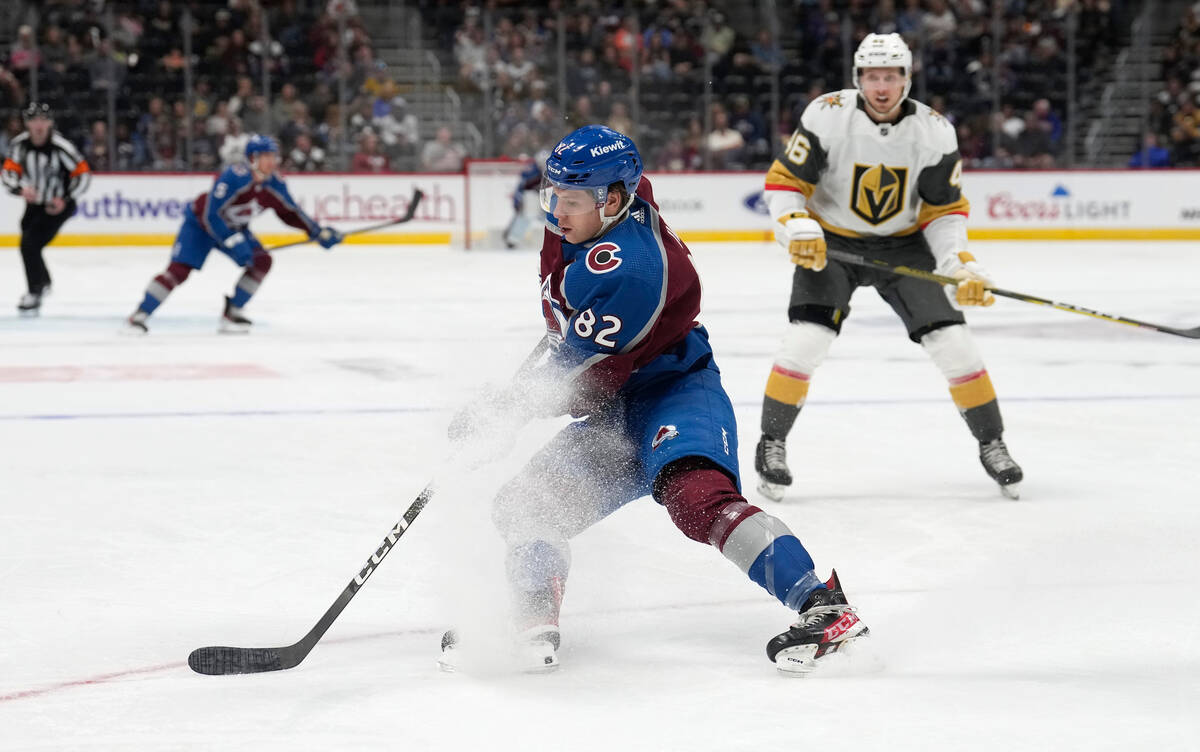 The Golden Knights, if they didn't have enough going against them in Monday's preseason game against Colorado, had two sticks on the ice for four skaters at one point.
Defensemen Nic Hague and Kaedan Korczak both shattered their sticks making blocks during a first-period penalty kill in the team's second preseason game at Ball Arena in Denver. So forwards Mason Morelli and Jakub Brabenec loaned their twigs to their teammates, then blocked enough shots to survive a harrowing shift in their own end.
Things didn't get much easier during the rest of the 3-2 loss for the Knights. They had a difficult task from the jump given they flew into the Denver altitude Monday morning after playing in San Jose on Sunday night. They also played with five defensemen most of the game after Zach Whitecloud suffered an upper-body injury in the first period.
The team wasn't able to overcome it all. The Knights, who played one top nine forward in right wing Michael Amadio and no top four defensemen, finished with 14 shots on goal. That would have been their fewest in a game last season by five.
The Knights dropped to 0-2 in the preseason after losing 5-2 to the Sharks on Sunday.
"At the end of the day, we've got to be ready to go," coach Bruce Cassidy said. "That's the schedule. We got through it better than we certainly did in San Jose. In San Jose we found our game in the second period, really got skating. Tonight, there just wasn't a lot of room out there."
The Knights have five more preseason games to continue to knock off the rust. They host the Arizona Coyotes at 7 p.m. Wednesday at T-Mobile Arena.
Here are three takeaways from the loss:
1. Rempal stays hot
Cassidy said after the Knights' second day of training camp that it felt like right wing Sheldon Rempal scored every time the puck touched his stick in practice.
Rempal carried that over to the games, too.
The 28-year-old scored the Knights' first goal by beating goaltender Alexander Georgiev glove-side on the power play with a sharp wrister. He also finished with a game-high five shots.
Rempal, who was tied for first on the Silver Knights with 25 goals last season, faces an uphill battle to make the NHL roster out of camp. But more performances like this could make him an early call-up option.
"Obviously, I'm a smaller guy, so just try to bring a lot of energy," Rempal, who is listed at 5-foot-11, said on the Vegas 34 broadcast. "I try to make plays, take care of the puck as well. If I take care of the puck then Bruce can have trust in me."
2. Thompson returns to crease
Logan Thompson, after a six-month layoff, was back in an NHL crease Monday.
The 26-year-old started a game for the first time since March 23 against the Calgary Flames. He missed all but two of the Knights' final 31 regular-season games last year with lower-body injuries.
Thompson said he was back to "100 percent" at the start of camp and got through his 30:38 of work unscathed at Ball Arena. The 2023 All Star stopped 10 of the 12 shots he faced before being relieved by goaltender Jiri Patera in the second period.
"It got better as the game went on," Thompson said. "I felt more comfortable there in the second period. Obviously, it's been a long time since I was in a game. I felt good. It was a step in the right direction."
Patera, for his part, gave up one goal on 11 shots faced. It was a nice rebound for the 24-year-old, who allowed five goals on 18 shots Sunday in San Jose. Patera and left wing Paul Cotter were the only players to appear in both games for the Knights.
3. Whitecloud exits early
Despite the loss, the most concerning moment for the Knights was Whitecloud's exit 9:55 into the first.
The defenseman was hit in the corner his previous shift by Avalanche left wing Kurtis MacDermid. He didn't return. Cassidy said Whitecloud would be evaluated during the Knights' off day Tuesday.
The absence did give some of the team's blue-line prospects extra opportunities. Lukas Cormier, a 2020 third-round pick, had a goal and an assist while playing 22:43. Korczak played 22:42, including 3:50 on the penalty kill.
Contact Ben Gotz at bgotz@reviewjournal.com. Follow @BenSGotz on X.
Vegas 34 to air Silver Knights games
The Golden Knights' new local broadcast home will air 12 Silver Knights games as well this season.
Vegas 34, available over-the-air, on cable and via satellite, will broadcast Henderson's Oct. 20 home opener against San Jose and 11 other home games. Silver Knights play-by-play announcer Brian McCormack will call the action while being joined with a rotation of Golden Knights broadcasters including Darren Eliot, Gary Lawless and Daren Millard.
Henderson games are also aired on the radio at KLAV-1230.
Here is the full list of Silver Knights' games that will be aired on Vegas 34:
— 7 p.m. Oct. 20 vs. San Jose
— 7 p.m. Nov. 17 vs. Abbotsford
— 3 p.m. Nov. 25 vs. Tucson
— 7 p.m. Dec. 20 vs. Coachella Valley
— 7 p.m. Dec. 30 vs. Ontario
— 3 p.m. Jan. 13 vs. Milwaukee
— 7 p.m. Feb. 3 vs. Iowa
— 7 p.m. March 1 vs. Tucson
— 7 p.m. March 30 vs. Coachella Valley
— 1 p.m. April 6 vs. Colorado
— 7 p.m. April 13 vs. Ontario
— 7 p.m. April 19 vs. Bakersfield