3 takeaways from Knights' preseason loss: Top prospect lights lamp
Updated September 27, 2023 - 10:53 pm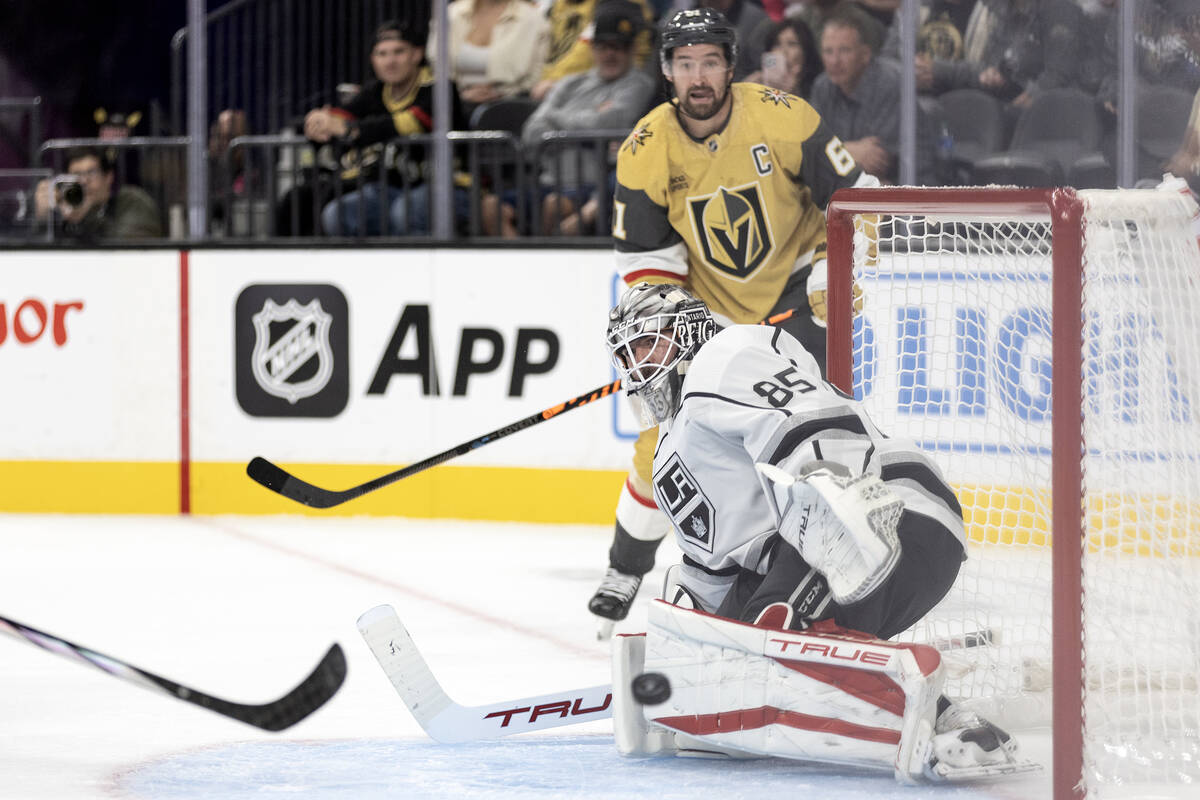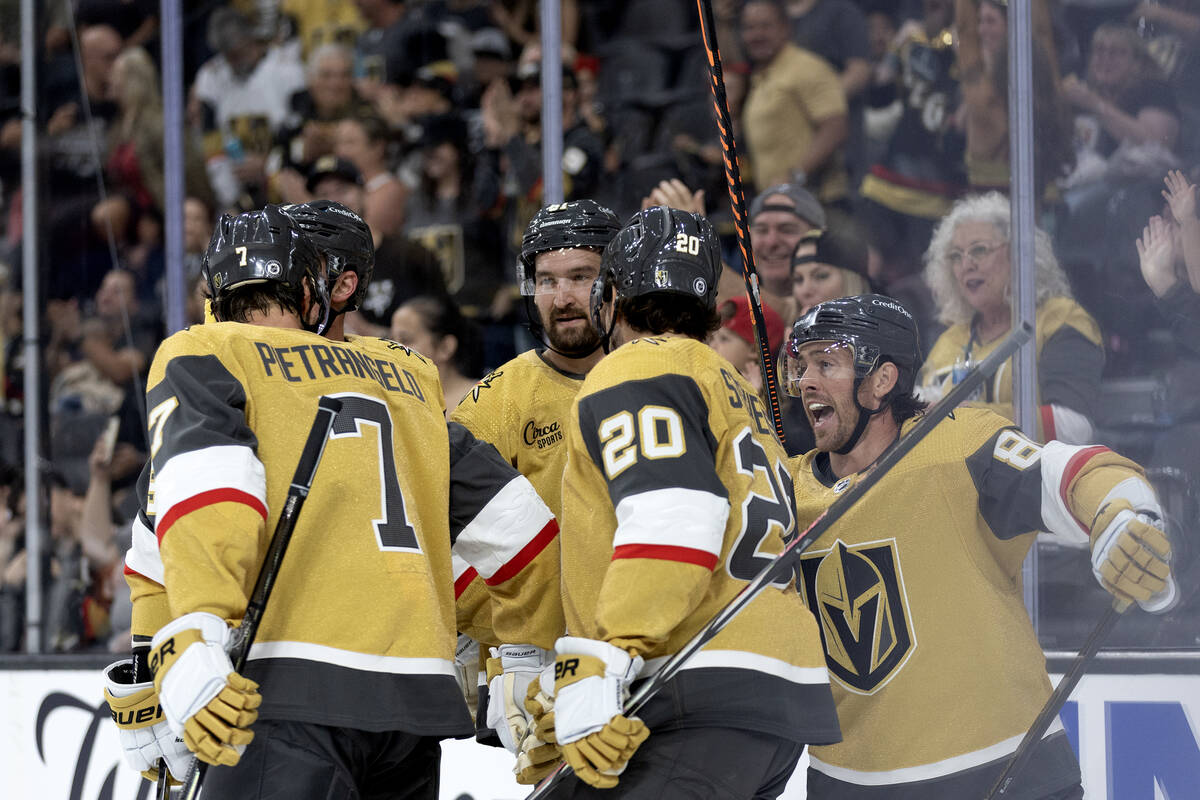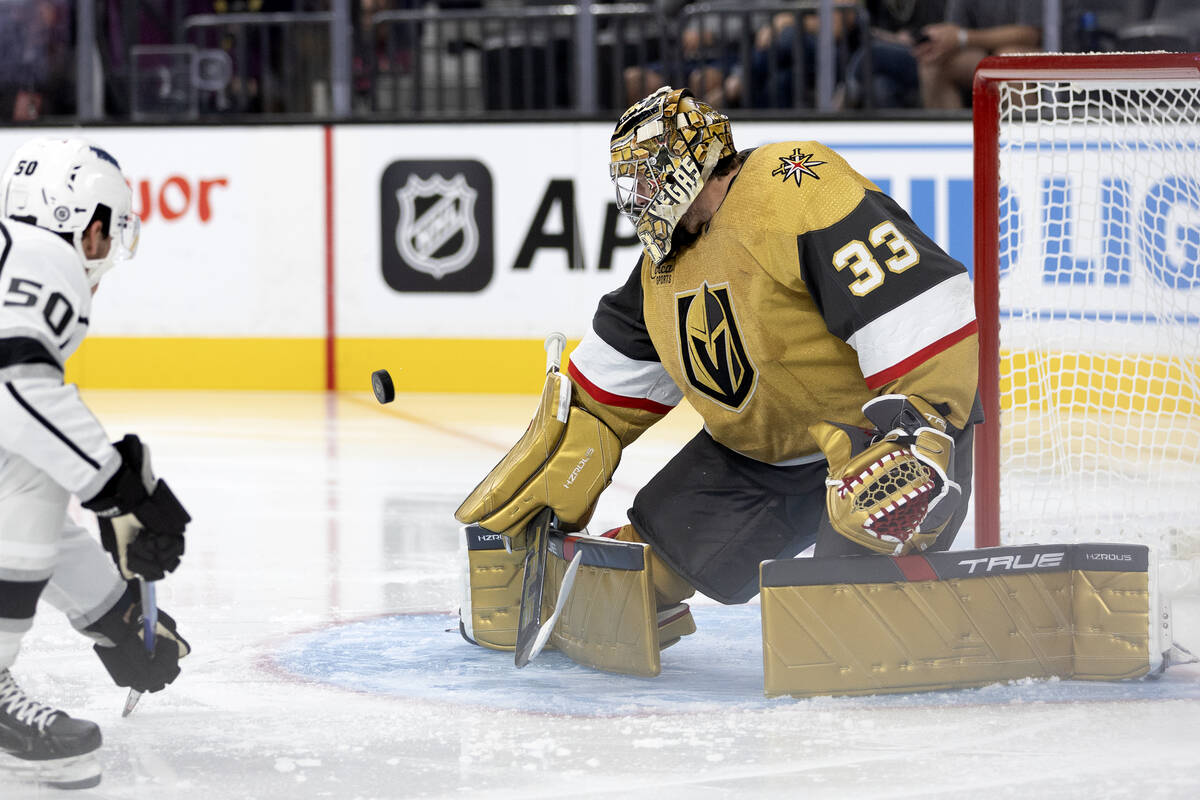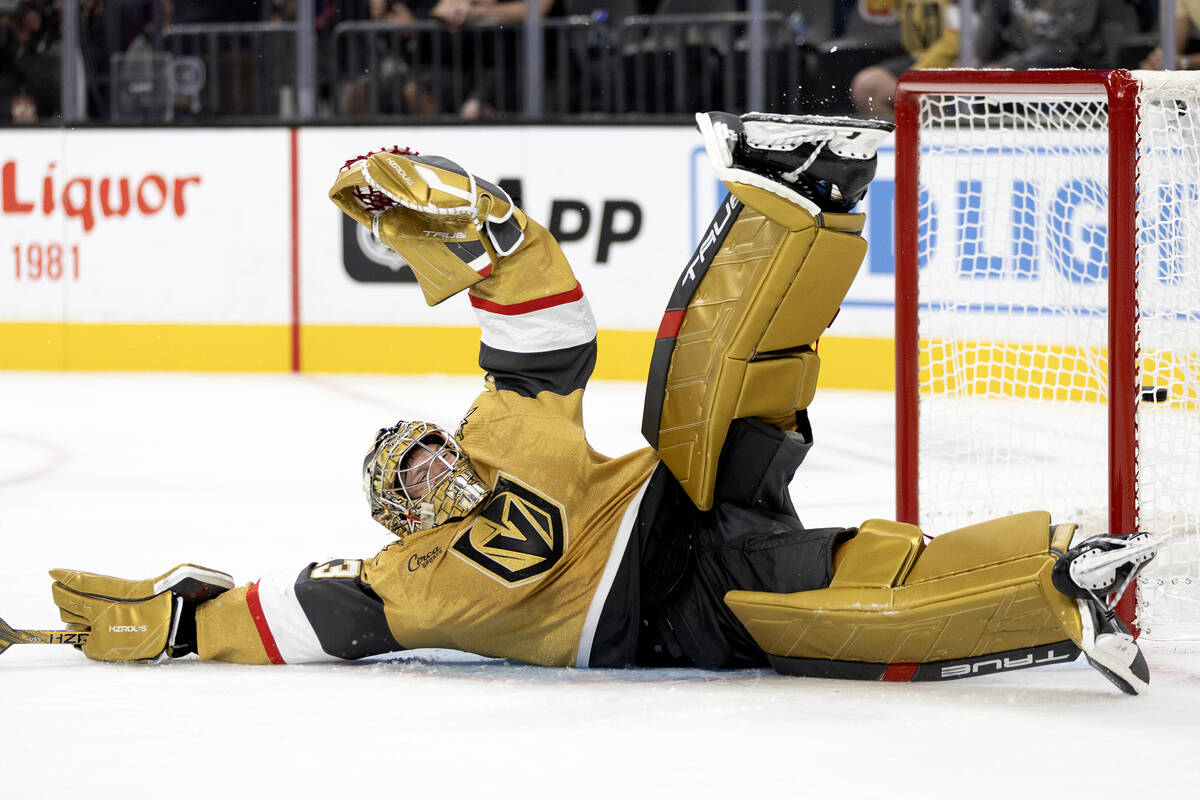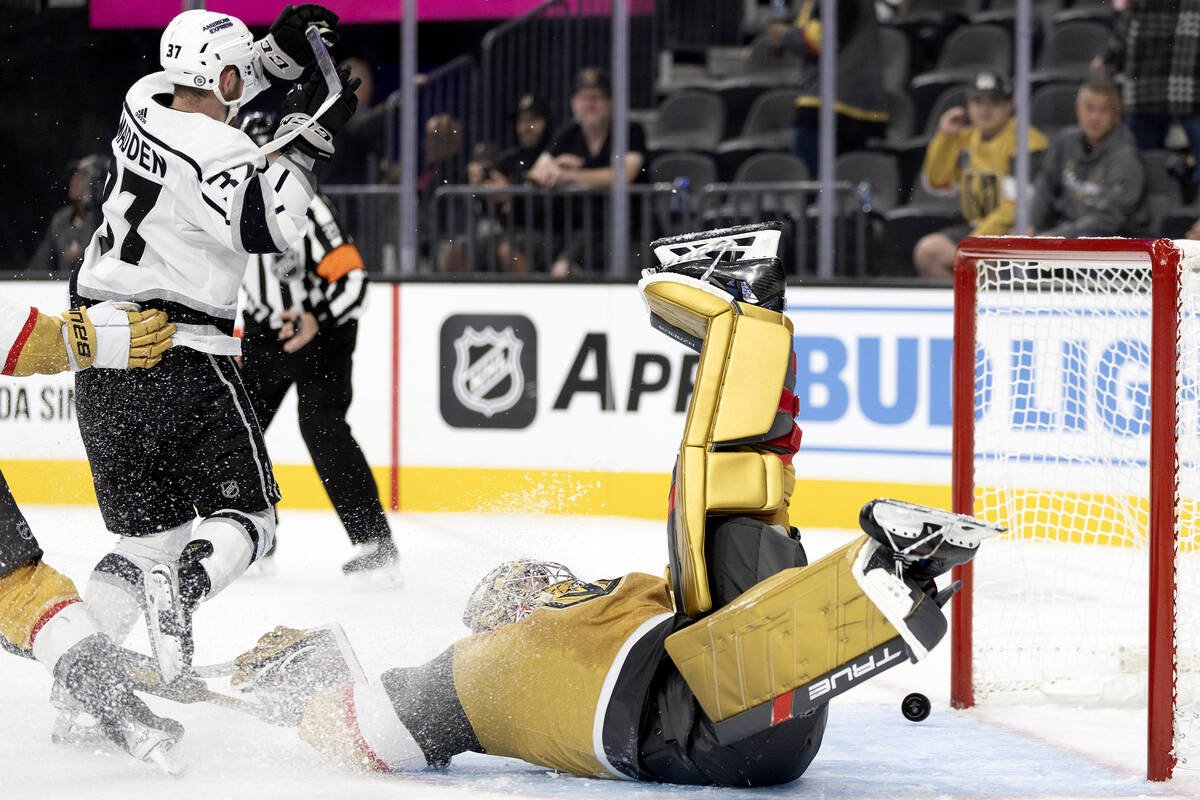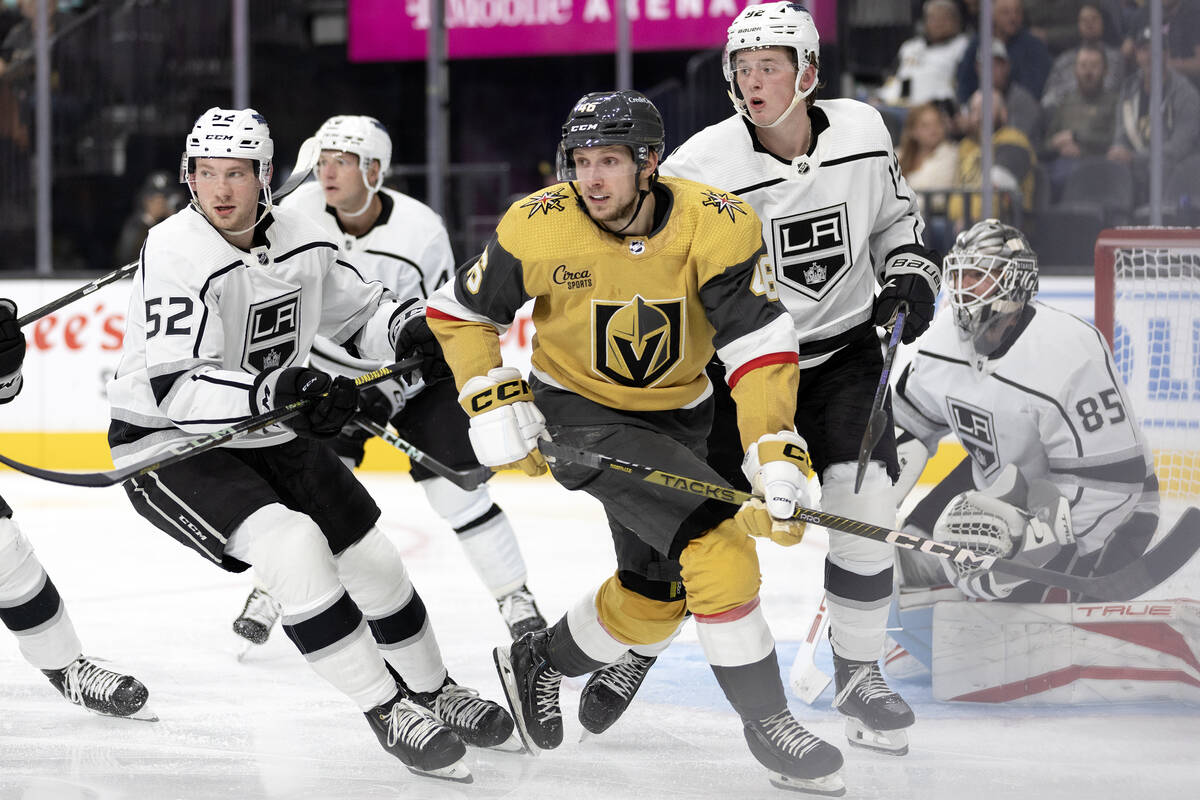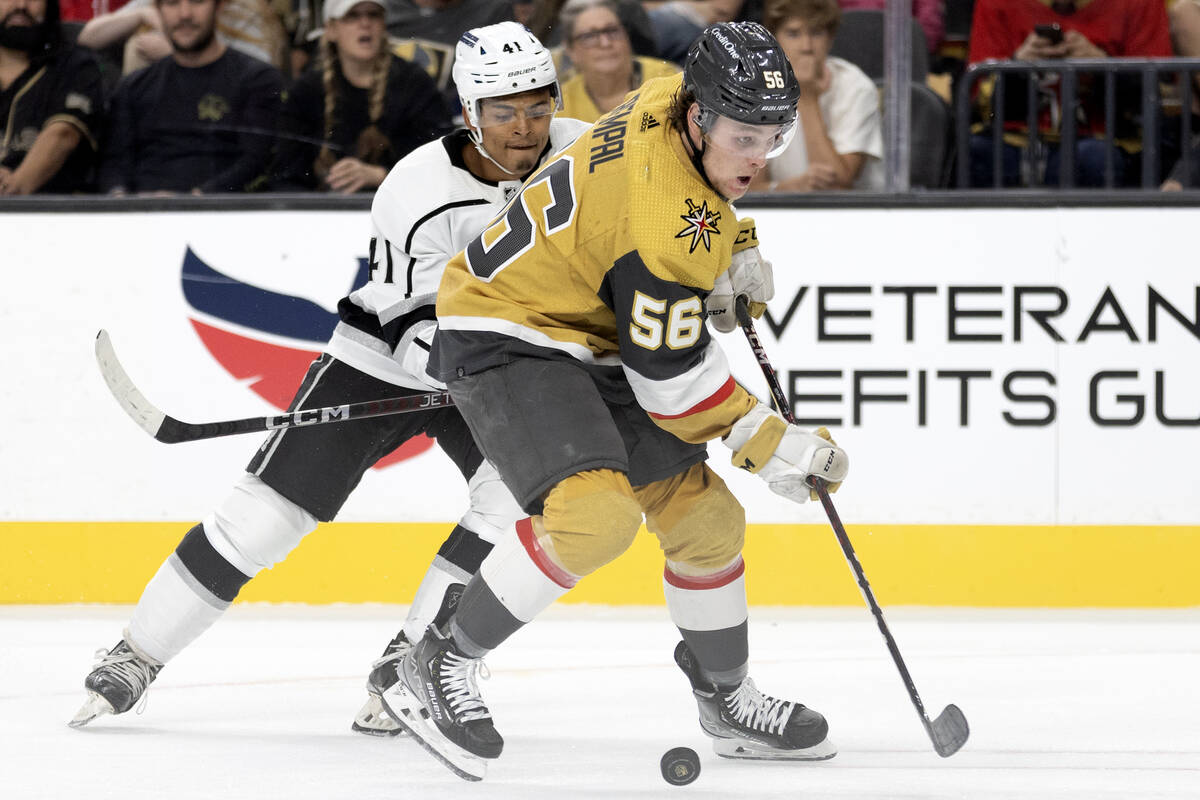 The Golden Knights looked liked they would have a triumphant return to T-Mobile Arena throughout most of Wednesday's preseason game against the Los Angeles Kings.
The Kings decided to spoil the party at the last minute.
Center Akil Thomas completed a hat trick with a six-on-five goal with 2:01 left in regulation, then left wing Tyler Madden scored on an overtime breakaway to give the Kings a come-from-behind 4-3 win.
The Knights, who played most of their top six and their top defense pair, led 2-0 after the first period and 3-1 after the second, but couldn't close things out. They dropped to 0-3 in the preseason.
The game featured plenty of fireworks. The Knights got spectacular goals from left wing Brendan Brisson, right wing Jonathan Marchessault and defenseman Brett Hutton. Tempers also exploded in the second period when Kings right wing Hayden Hodgson came flying below the goal line to deliver a huge hit on captain Mark Stone.
Left wing Brett Howden and defenseman Alec Martinez immediately jumped to Stone's defense, resulting in a scrum that involved most of the players on the ice. Four players got two-minute roughing minors after the play, while Kings defenseman Kevin Connauton got a four-minute roughing penalty and a 10-minute misconduct.
The game finished without further incident, though the Knights made sure to give Hodgson a shove any time they got near him the rest of the night.
"That's probably the last time I'll ever play against that guy," Stone said. "Not really much of a player."
Here are three takeaways from the loss:
1. Brisson scores
Brisson said center Jack Eichel's advice from their first two practices together amounted to "telling me to shoot a lot."
Turns out, Eichel knows what he's talking about.
The veteran set up the youngster 7:27 into the first period off the rush. Brisson trailed the Knights' initial surge, found open ice in the high slot and buried a wrist shot from 32 feet away. It was the 2020 first-round pick's first NHL preseason goal in four appearances.
The play should serve as a confidence-booster for Brisson as he tries to show he belongs in the Knights' competition for the open spot on center William Karlsson's left wing. The 21-year-old still has things to iron out in his game, however.
Coach Bruce Cassidy said Brisson wasn't in the right spot on the Kings' first goal and still can work on his board battles.
"Good to see him score, that's for sure," Cassidy said. "That's something he does well. Not everyone scores from that area. Beat that goalie clean, so that's certainly a positive."
2. Rondbjerg's rare feat
Knights right wing Jonas Rondbjerg did something that's hard to do Wednesday.
Not only did he draw a penalty shot 6:34 into the third period — there have only been 15 in franchise history — he did so while his team was short-handed.
Goaltender J.F. Berube stopped Rondbjerg's shot, but it wasn't the only time Rondbjerg was noticeable. The 24-year-old fired a game-high four shots on goal and also drew a tripping penalty in the first period.
That kind of performance should keep Rondbjerg, who has seven points in 43 games with the Knights, in line for an early call-up if the team needs a bottom-six forward.
3. Hill's night
Goaltender Adin Hill's first start of the preseason, and first appearance for the Knights since signing a two-year, $9.8 million extension, started great.
The announced crowd of 17,427 welcomed him back with a huge ovation as the starters were introduced. He stopped the first 14 shots he faced.
Unfortunately for Hill, Thomas seemed to have his number. He needed only three shots to record his hat trick, though they were impressive.
His game-tying tally came when he roofed a loose puck with his backhand into the top corner of the net.
Hill then gave the Knights a chance in overtime by stopping the first three shots he faced, but he missed his poke check on Madden before the game-winning goal. He finished with 24 saves on the night.
Contact Ben Gotz at bgotz@reviewjournal.com. Follow @BenSGotz on X.
Whitecloud still being evaluated
Golden Knights defenseman Zach Whitecloud's upper-body injury is still being evaluated, coach Bruce Cassidy said Wednesday.
Whitecloud was injured Monday in the Knights' 3-2 preseason loss to the Colorado Avalanche. He was hit in the corner of the defensive zone by Avalanche left wing Kurtis MacDermid 9:18 into the first period, returned to the bench 37 seconds later and didn't play another shift.
"We're not really sure, to be honest," Cassidy said. "I don't know if we'll see him again this week."
Whitecloud is a key member of one of the best blue lines in the NHL. The 26-year-old and partner Nic Hague form the Knights' third pair, but they are trusted to play important minutes against some of opponents' best forwards.
Cassidy said some of the team's depth defensemen, like Brayden Pachal and Kaedan Korczak, will get a closer look this week with Whitecloud likely out. The two each played 10 games for the Knights last season, and Pachal appeared in one playoff game.
Ben Gotz/Las Vegas Review-Journal