3 takeaways from Knights' preseason win: Young players step up
Updated September 29, 2023 - 11:27 pm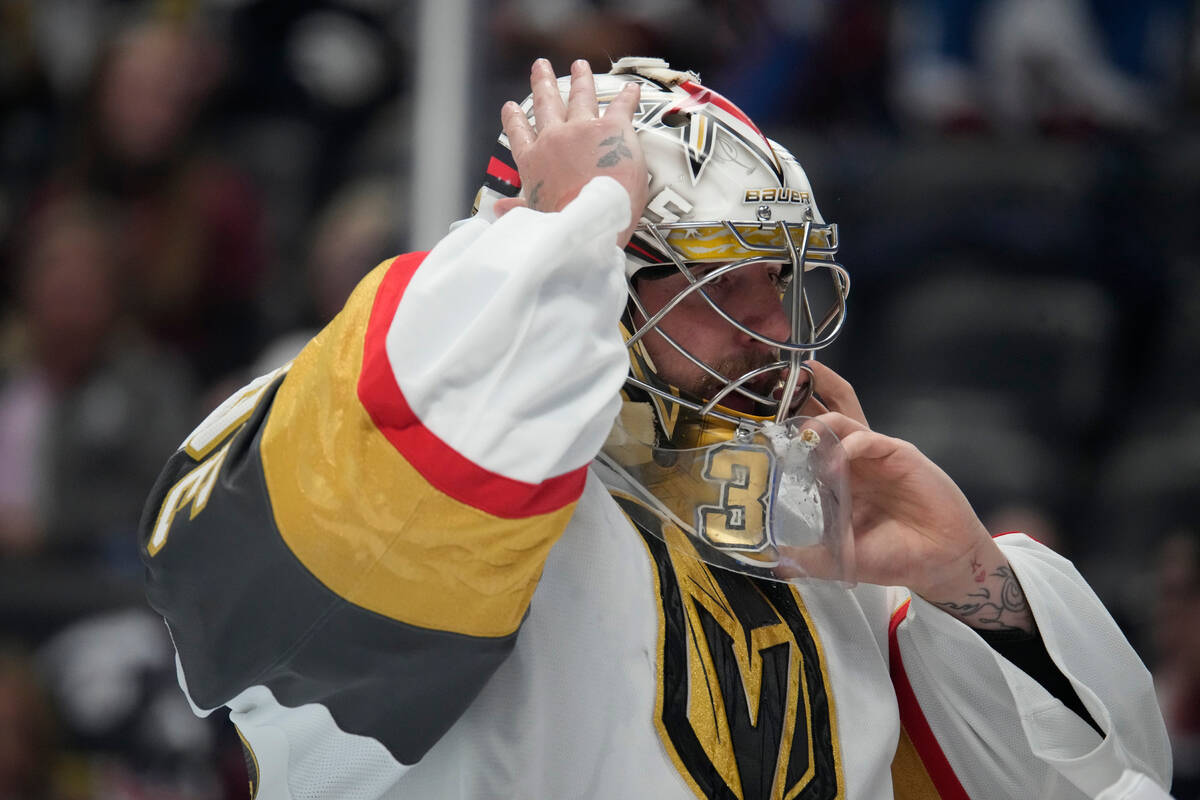 For the first time since Jan. 21, Logan Thompson stepped into the crease at T-Mobile Arena to start for the Golden Knights.
The 2023 All-Star picked up right where he left off.
Thompson, in his second appearance of the preseason, made nine saves in the Knights' 3-1 victory against the Arizona Coyotes on Friday in front of an announced crowd of 17,501. It was the team's first exhibition win after starting 0-3.
The Knights got goals from defenseman Nic Hague, right wing Brendan Brisson and center William Karlsson, the last one coming on an empty net, to defeat the Coyotes. Defenseman Maveric Lamoureux scored for Arizona.
He was the only player to beat Thompson, who played his first full game since Jan. 28 against the New York Islanders. The 26-year-old made only two appearances after the All-Star break last season and left early because of lower-body injuries.
Thompson is trying to rebuild his confidence in the preseason so he's ready for when the games start counting again. He considered Friday a step forward from his first start Monday against the Colorado Avalanche, when he stopped 10 of the 12 shots he faced in 30:38 of action.
"You know, it can only get better from here," Thompson said. "Wasn't really tired out there. My lungs felt good, cardio felt good, and even seeing the puck, I only had I think 10 shots, but I think every shot I was seeing pretty well tonight."
Here are three more takeaways from the win:
1. Korczak looks comfortable
Knights coach Bruce Cassidy said Friday morning that a good player for defense prospect Kaedan Korczak to model his game after at the NHL level would be defenseman Zach Whitecloud.
It was an interesting comparison, especially given Korczak is hoping to keep Whitecloud's spot warm in camp.
Whitecloud suffered an upper-body injury Monday against the Colorado Avalanche, and Cassidy said he won't play the rest of this week or next week. That meant Korczak got a look on the third pair with Hague against the Coyotes.
The 22-year-old fared well. Korczak, the Knights' 2019 second-round pick, had four shots and picked up an assist on the team's second goal.
He played 10 NHL games last season and looks as if he would fit in if the team needs to call on him again.
"He skates really well," Hague said. "He has a good mind for it, right? We just try to communicate as much as possible with each other. I felt like we did a good job with that. He was good."
2. Dorofeyev blends in
Left wing Pavel Dorofeyev, like Korczak, was given the opportunity to show he belonged in one of the Knights' open lineup spots.
Like Korczak, it looked as if he passed the test.
Dorofeyev skated with Karlsson and right wing Michael Amadio against the Coyotes. Since left wing Reilly Smith was traded to the Pittsburgh Penguins this offseason, the battle to fill that spot has been the main competition of camp. Left wing Paul Cotter and left wing Maxime Comtois, with the Knights on a professional tryout agreement, are also candidates.
Dorofeyev stated his case Friday. He had two shots on goal and kept up with his two more experienced linemates.
Cassidy also showed his level of faith in Dorofeyev late in the game. The 22-year-old was trusted to protect the Knights' 2-1 lead when Arizona pulled its goalie from the net.
"I've liked Pav's camp," Cassidy said. "He's doing what he's supposed to do. He's out there late in the game with us having a lead because we trust him to get it done on the walls. I was good with his game."
3. Brisson does his thing
Death. Taxes. And Brisson firing one-timers on the power play.
The Knights' 2020 first-round pick did what he does best when center Brett Howden slipped him the puck in the right circle with 15 seconds left in the second period. He blasted it past goaltender Connor Ingram for his second goal in two games. Brisson, who played with center Jack Eichel and left wing Ivan Barbashev, finished with four shots on the night.
"Just lucky to play with those guys, giving me the puck," Brisson said. "It's definitely a good feeling. Hopefully I can do the same thing next game."
It's an encouraging sign for the 21-year-old that his offensive gifts keep showing up as he gets more opportunities to play NHL competition. Brisson just needs to continue to work on his play off the puck so he can win battles along the wall against grown men.
He even showed progress in that area Friday. His work on the boards kept a puck alive for the Knights in the offensive zone on the same shift as Hague's goal.
Contact Ben Gotz at bgotz@reviewjournal.com. Follow @BenSGotz on X.
Vegas 34 now Channel 34 on Cox
The Golden Knights' local broadcast home, Vegas 34, switched to Channel 34 on Cox on Friday, a Scripps Sports spokesperson said.
It was previously on Channel 38. Vegas 34, which is available via over-the-air, cable and satellite TV, will air the majority of the Knights' regular-season games this season. It is also Channel 34 on DirecTV and Channel 32 on DISH.
The Knights are also streaming their games within their broadcast territory on the service KnightTime+, available on phones, tablets, computers and internet-capable TVs. Individual games can be purchased for $6.99, and a full-season pass costs $69.99.
Ben Gotz Review-Journal