3 takeaways from Knights' win: Roy's OT goal finishes off Oilers
Updated March 26, 2023 - 8:58 am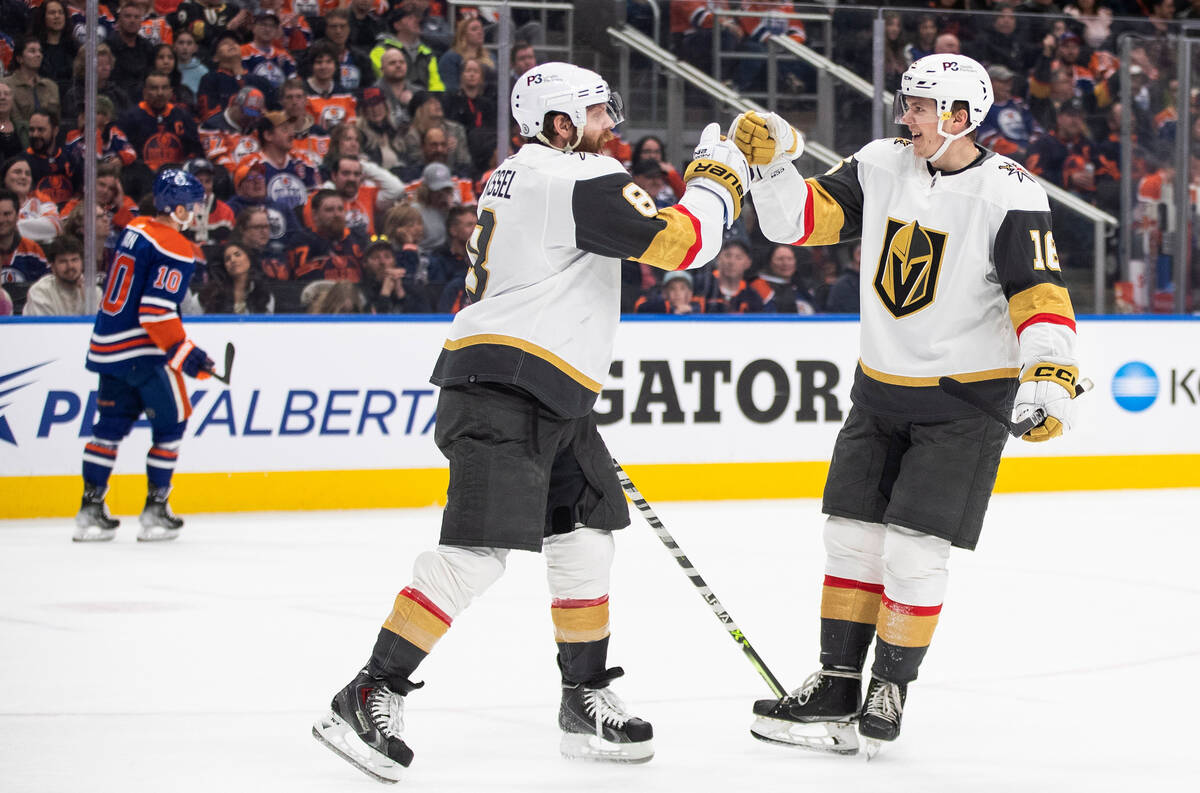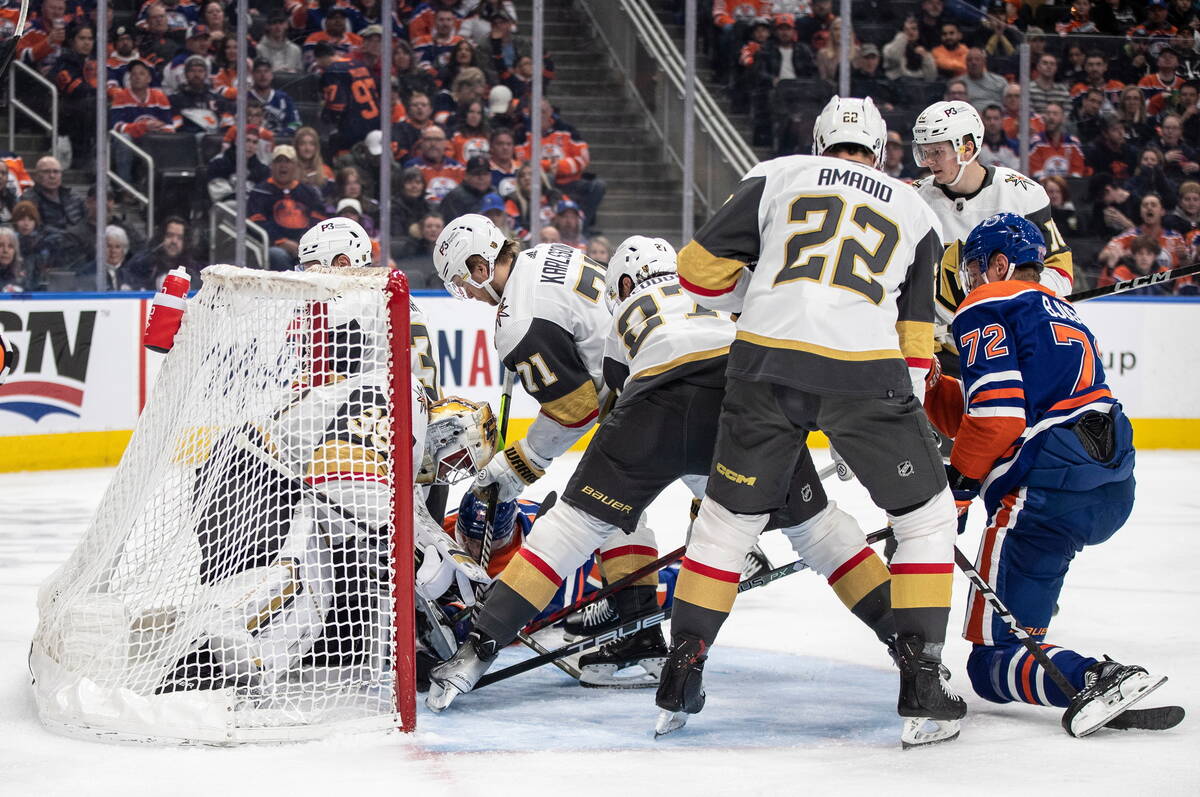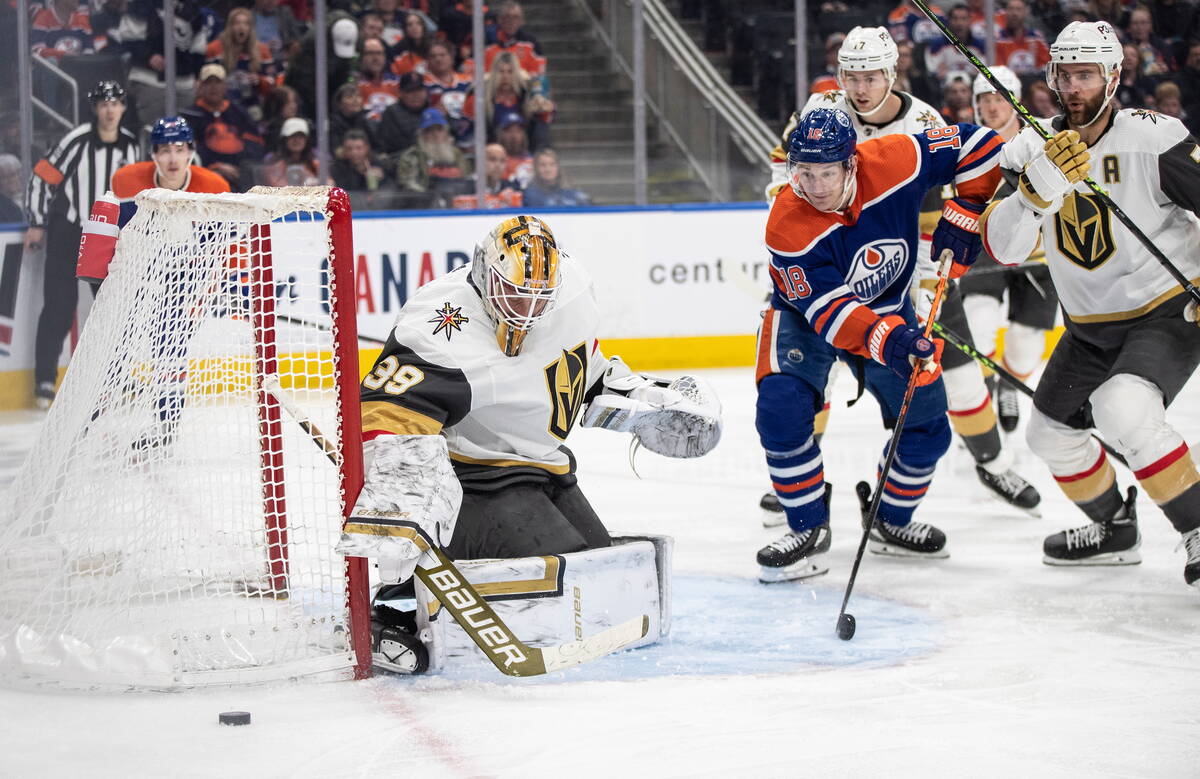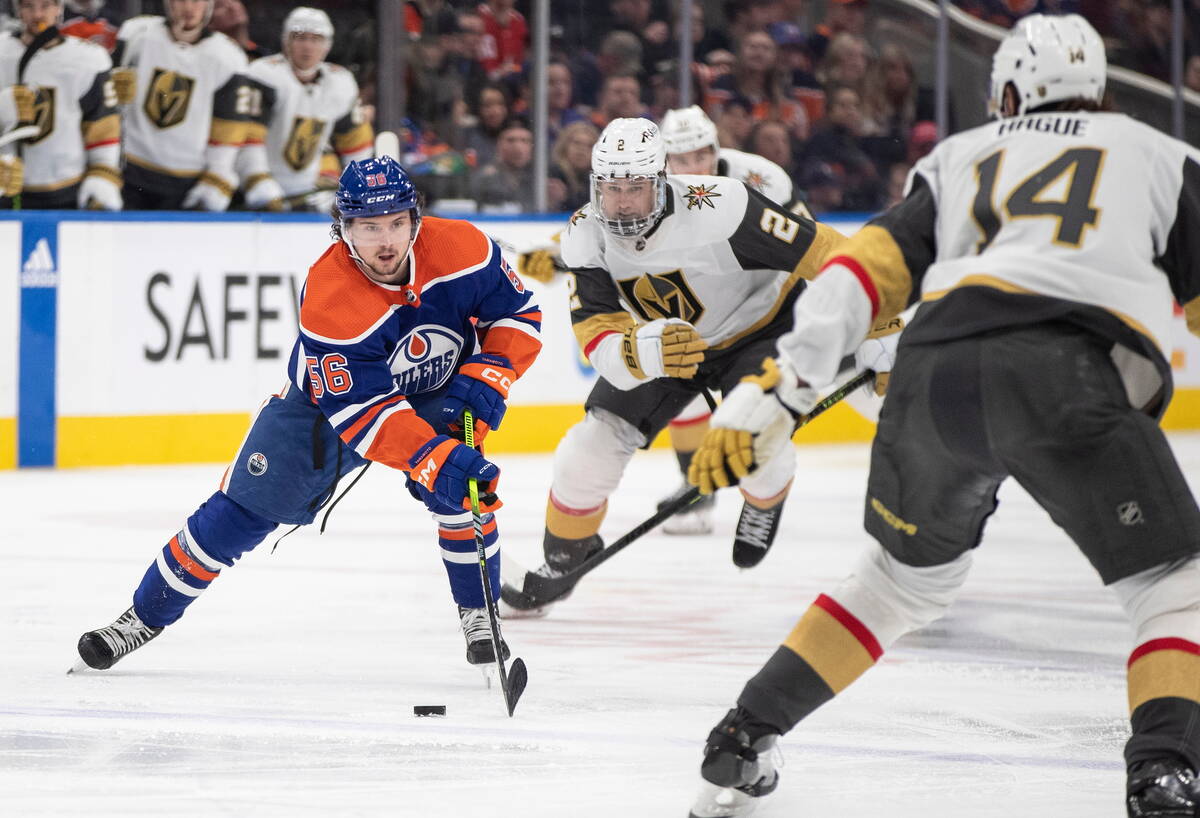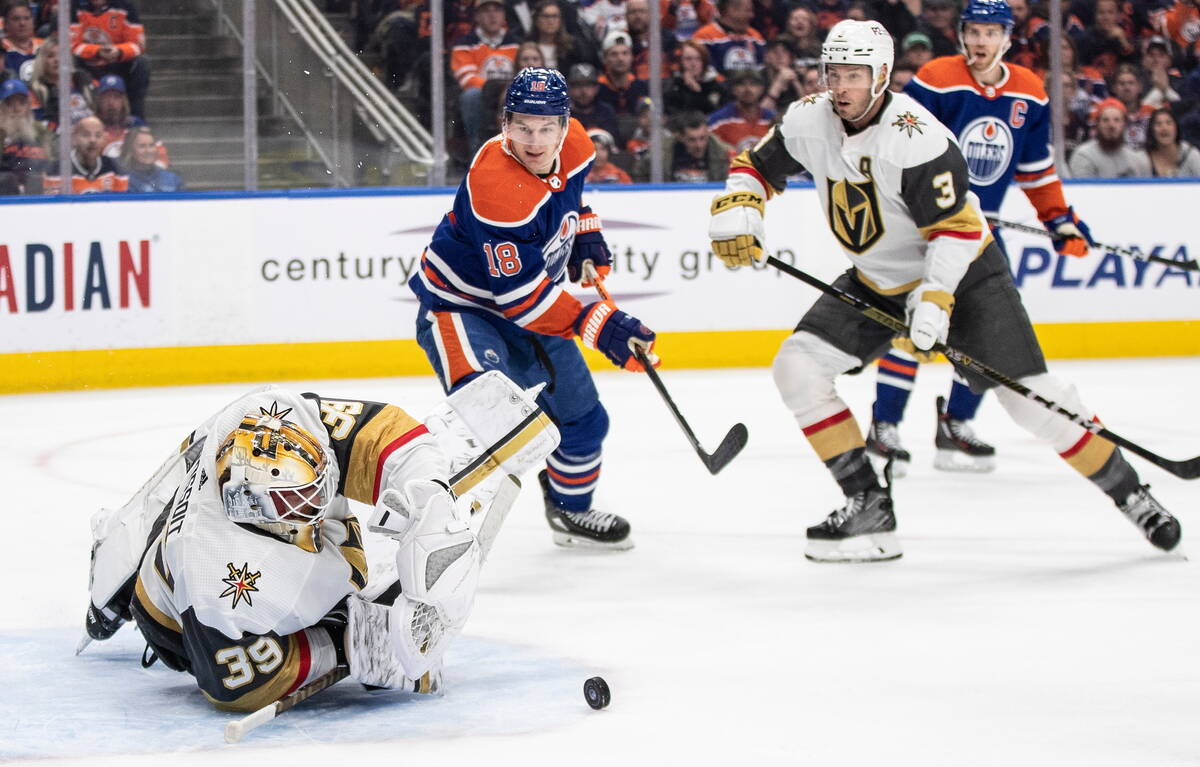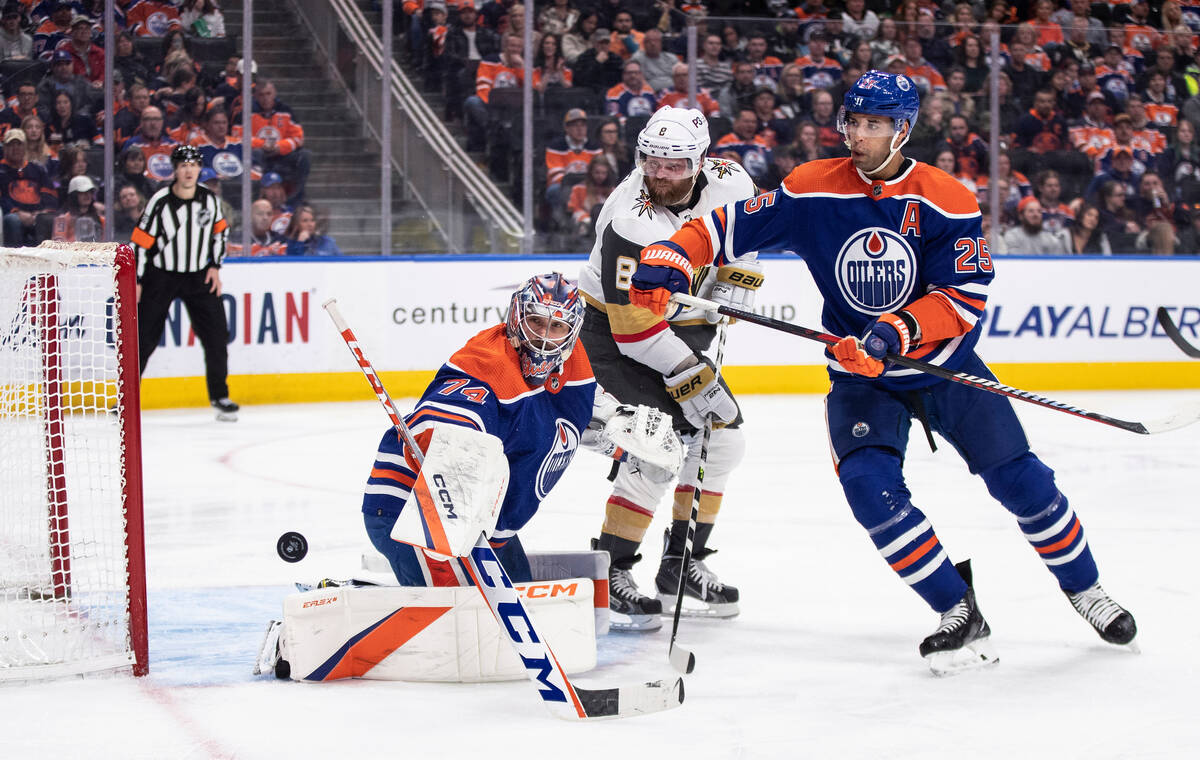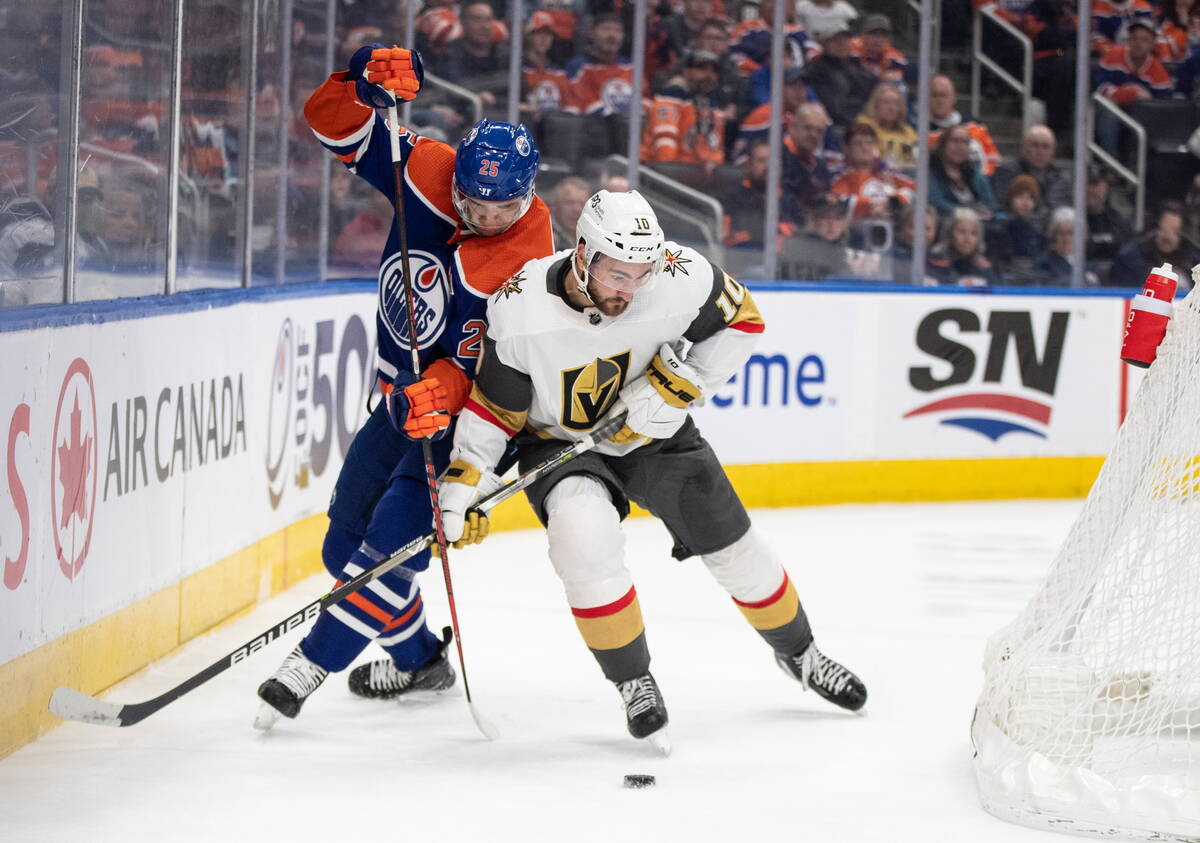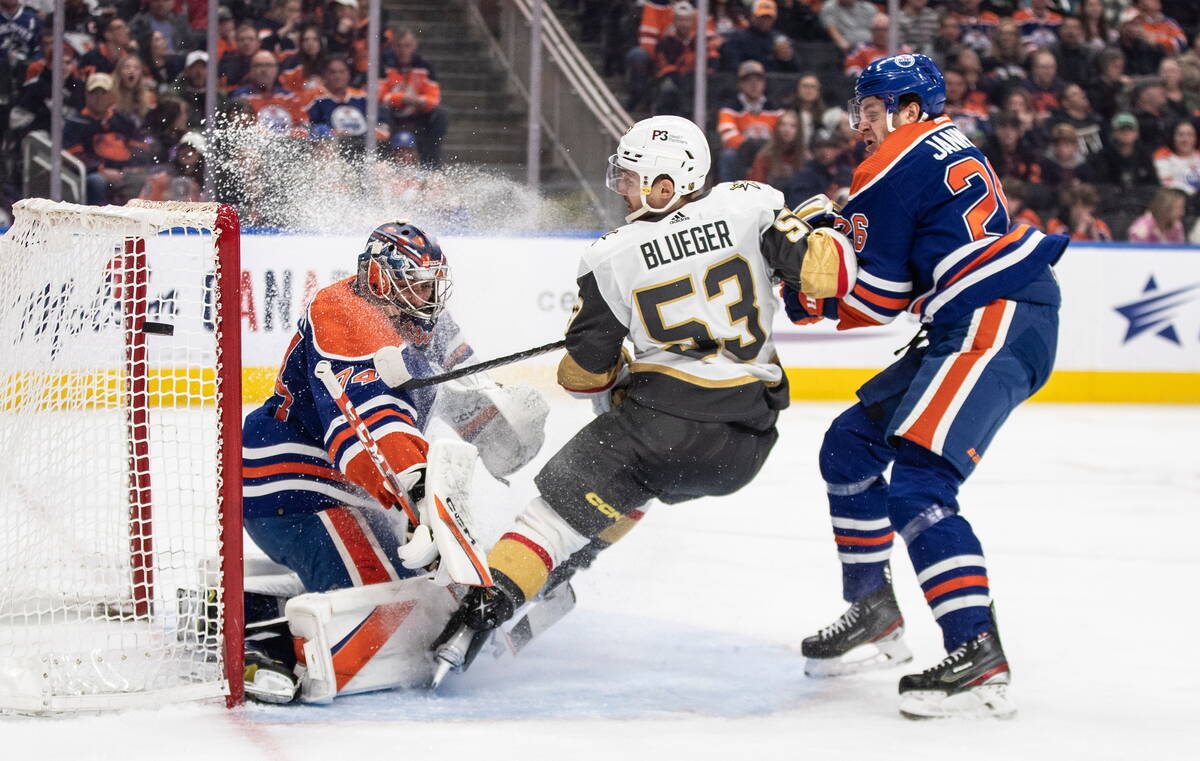 Nicolas Roy might have taken magic lessons when he spent 14 games out of the Golden Knights' lineup with an injury.
What else would explain his lightning-fast hands in front of the Edmonton Oilers' net Saturday? Goaltender Stuart Skinner had his eye on the puck. Until suddenly, it was gone.
Roy's dazzling move by the crease — he fired a backhand shot on Skinner, then scored off his own rebound — gave the Knights a 4-3 overtime win at Rogers Place and capped off a thrilling back-and-forth clash between Pacific Division contenders.
Three times the visitors took the lead. Three times the hosts came back to tie it.
Roy had one final move up his sleeve to give the Knights their seventh straight road win, matching the longest streak in franchise history. They finished their three-game trip against Pacific foes 3-0-0.
"It was fun to get that one for sure," Roy, who has two game-winning goals in his two games back, told AT&T SportsNet. "It was a big game. A lot of emotion. … It was good to get the win there."
Roy's magical mitts finished the game, but both teams made spectacular plays all night.
Center Jack Eichel got the action started early by scoring on Skinner 1:01 into the game. Right wing Zach Hyman tied the game 2:27 later after a great pass from center Leon Draisaitl.
Rookie left wing Pavel Dorofeyev gave the Knights the lead back 3:33 before the first intermission with a wrist shot that beat Skinner from 30 feet out.
Edmonton's top-ranked power play evened things out when play resumed. The NHL's leading scorer, Oilers captain Connor McDavid, set up the league's second-leading scorer, Draisaitl, to tie the game with 9:30 left in the second.
The goal was Draisaitl's 28th on the power play, the most in an NHL season since Mario Lemieux in 1995-96.
The two sides kept trading punches.
Eichel set up Jonathan Marchessault for a one-timer that gave the Knights (46-21-6) the lead 6:57 into the third. Edmonton came right back 4:22 later with a goal from left wing Warren Foegele from the right circle.
Roy gave the Knights the last laugh 2:26 into overtime. The win moved the team seven points clear of third-place Edmonton (41-23-9) with nine games remaining, bringing home-ice advantage in at least the first round of the playoffs almost in reach.
Another victory in the Knights' next game, Tuesday against the Oilers again, could all but clinch it.
"It was a big win, big road trip," defenseman Brayden McNabb. "They're sneaking up on us, and we get an extra point out of this game."
Here are three takeaways from the win:
1. Brossoit returns
The Knights became the first team in NHL history to have four different goalies earn wins in four consecutive games Saturday.
Laurent Brossoit was activated off injured reserve to make his first start since Feb. 25. His return from a lower-body injury came one game after Logan Thompson exited his start against Calgary in the third period with a lower-body injury of his own.
Brossoit made 26 saves in what he called his "second home," because he played junior hockey and his first three NHL seasons in Edmonton. He'll compete with two-time Stanley Cup winner Jonathan Quick to be the Knights' playoff starter if he can stay healthy the rest of the way.
2. Dorofeyev doesn't stop
Another game, another goal for Dorofeyev.
His goal was his fifth in seven games since being called up to play March 12 in St. Louis. He also has two assists in that span.
Dorofeyev's five goals are tied for the third-most by a rookie in Knights history with Nicolas Roy and Cody Glass. Only Alex Tuch (15) and Paul Cotter (13) have more.
3. Lineup changes
Brossoit wasn't the only new face for the Knights.
Right wing Keegan Kolesar returned to the fourth line after missing the past six games with an upper-body injury. Right wing Michael Amadio moved up to the second line with left wing Reilly Smith out with a lower-body injury.
Defenseman Ben Hutton also played his first game since Jan. 28 with Alec Martinez out for personal reasons. Hutton took Martinez's spot on the first pair with defenseman Alex Pietrangelo.
"We feel really confident about the depth in our team," Eichel said. "Guys stay ready. When their number is called, they're contributing to our team."
Contact Ben Gotz at bgotz@reviewjournal.com. Follow @BenSGotz on Twitter.