3 takeaways from Knights' win: Special guests energize team
Updated February 7, 2023 - 9:16 pm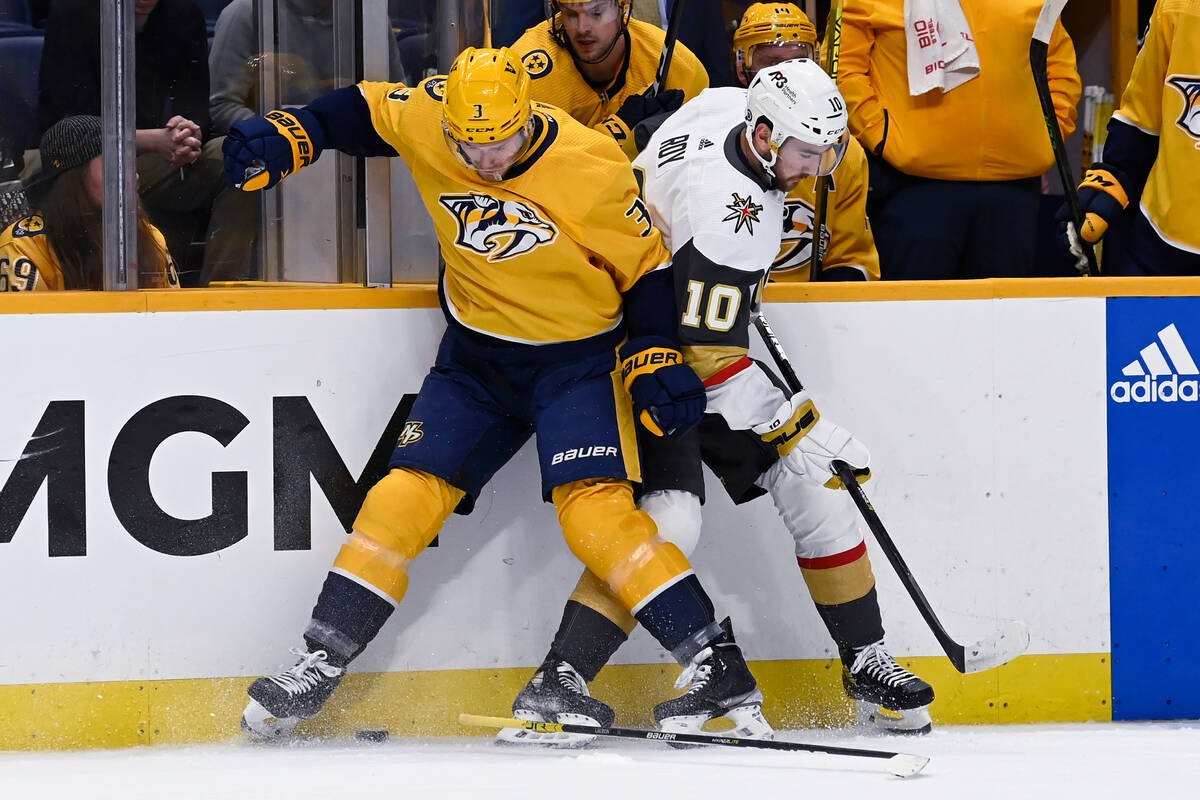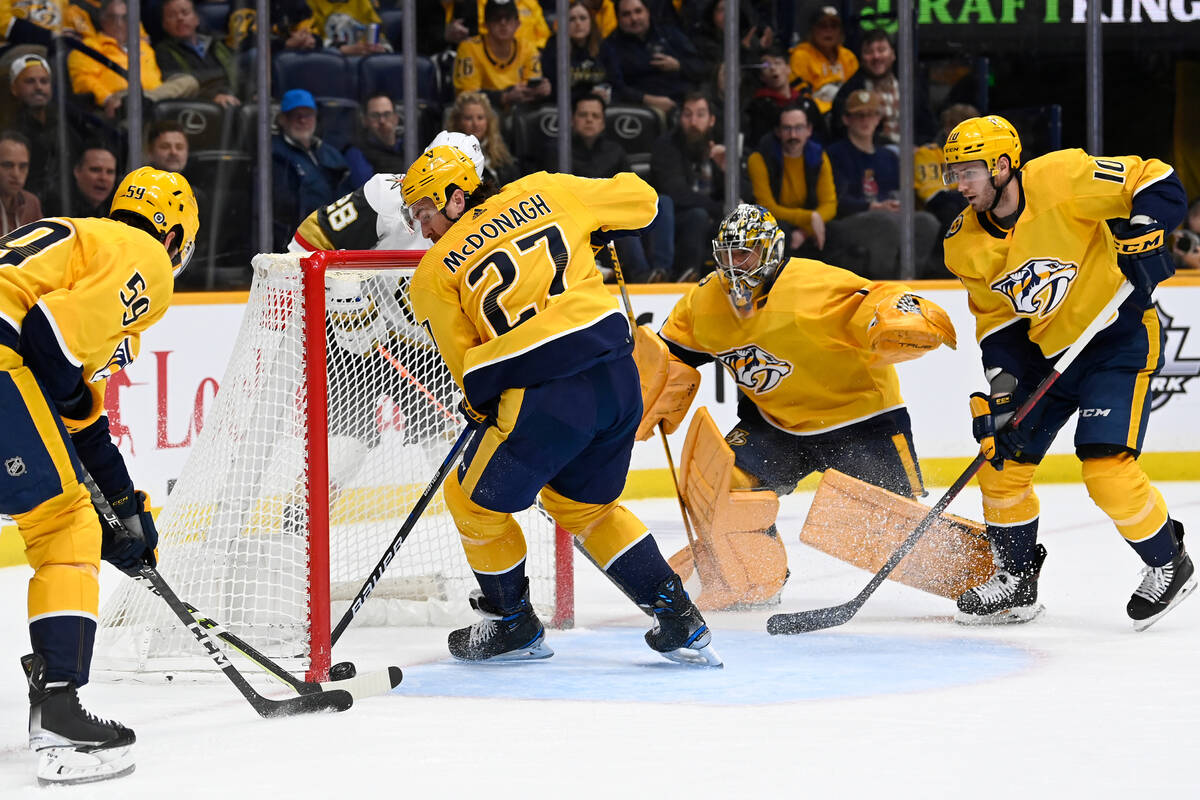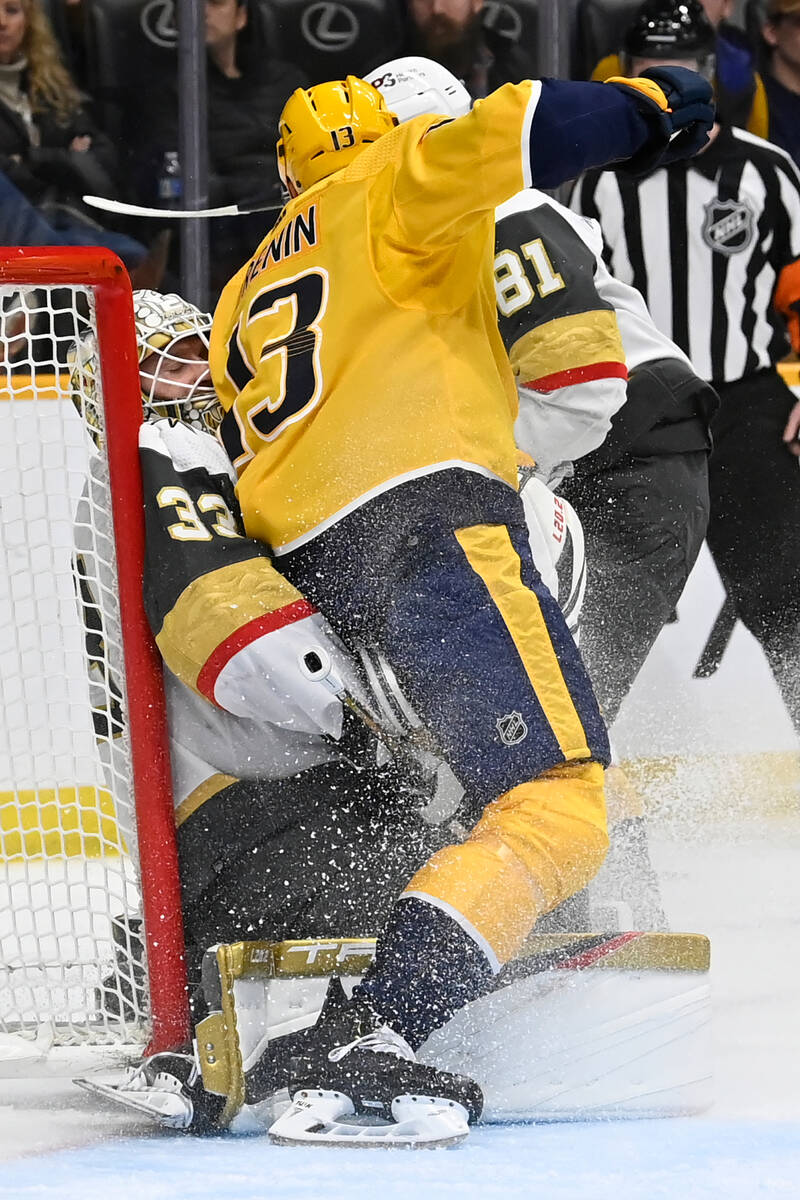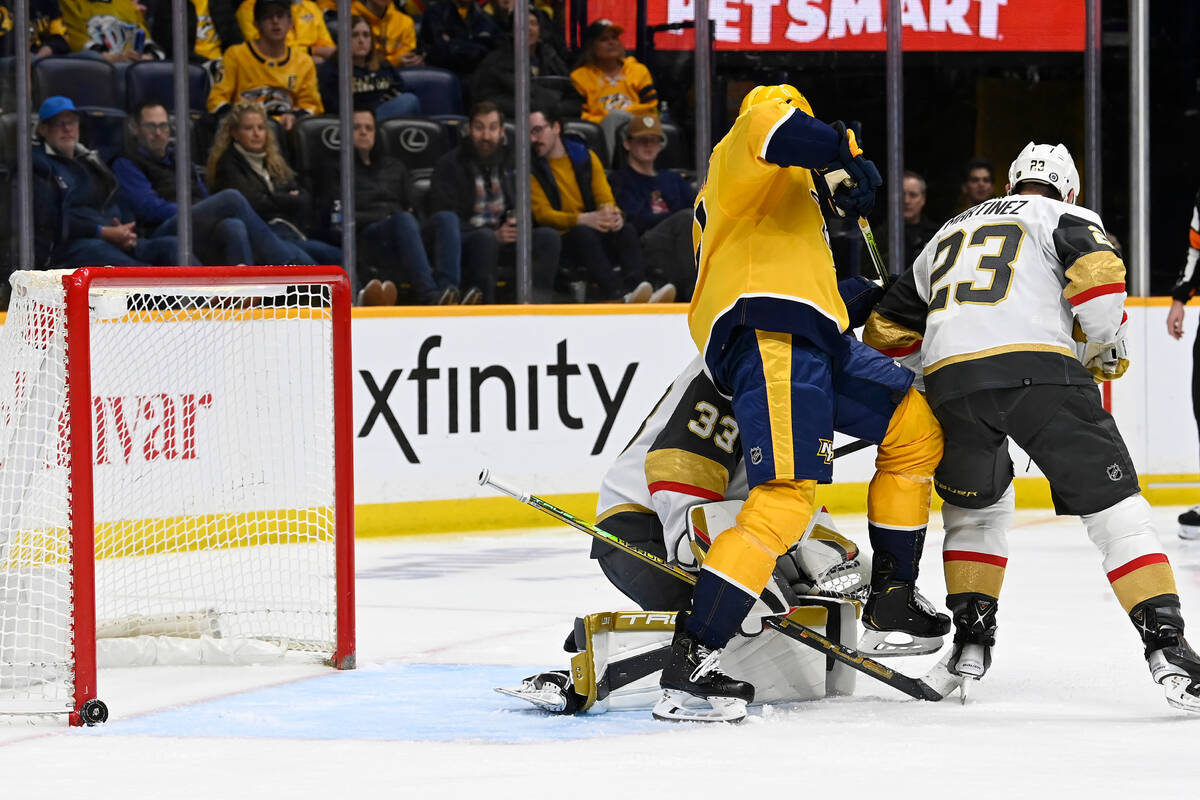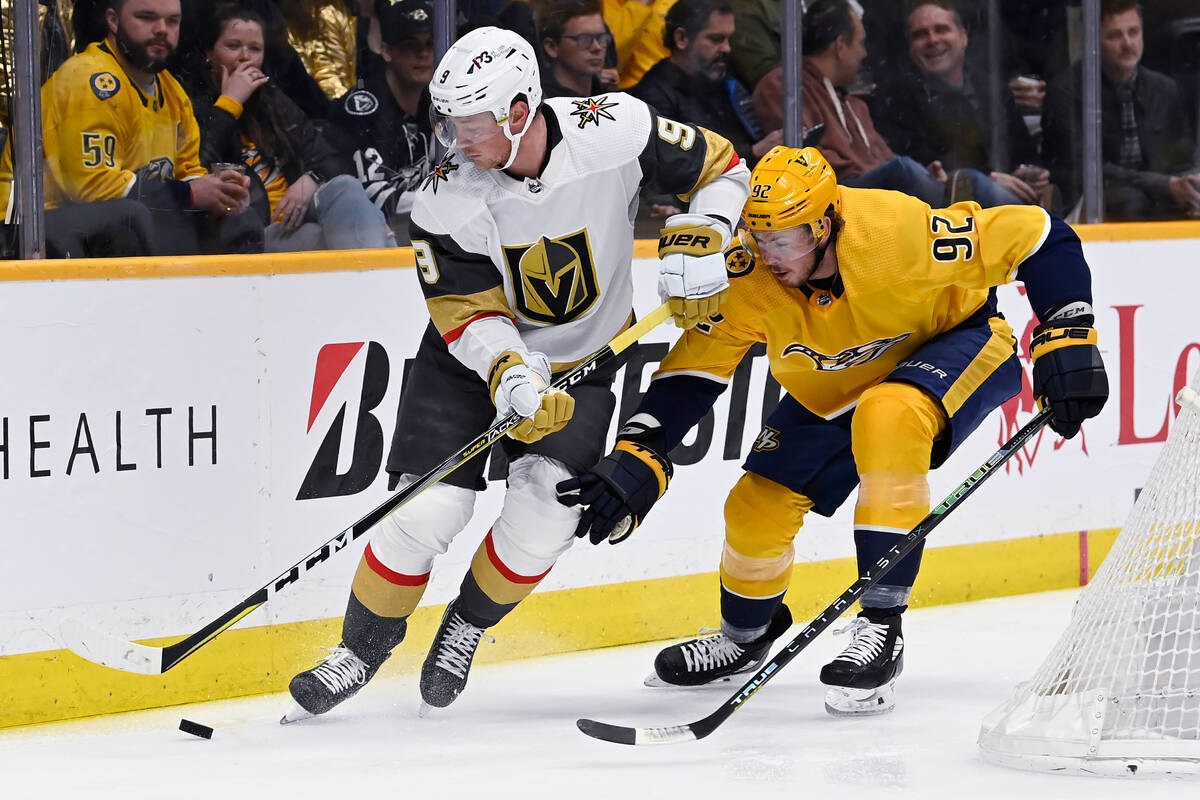 One Bridgestone Arena suite high above the home net had plenty of fans celebrating Tuesday.
The Golden Knights' gold-jersey clad guests for their annual fathers' trip got to high-five and cheer throughout one of the team's most complete performances of the season against the Nashville Predators.
The Knights, against a team chasing them in the Western Conference playoff race, were dangerous off the rush. They were buttoned up defensively. They did everything in their power to shake off their slump before the All-Star break with a 5-1 win in Nashville that moved them atop the Pacific Division standings.
The dads might have to share some credit for that. The Knights improved to 6-0-1 on fathers' trips, with a visit to Minnesota on Thursday still left on this one.
"It's great to have them around," left wing William Carrier said. "It just makes the energy level go high. You could see it in the practice. It started yesterday. Everyone was buzzing."
Coach Bruce Cassidy hoped the extra bonding time on this trip would help the Knights clear their heads after their most difficult stretch of the season.
They were 0-2-2 in their final four games before All-Star Weekend while scoring a combined five goals.
He might have been on to something.
The Knights matched that goal total against Nashville while giving up almost nothing on defense. Center Matt Duchene scored 5:04 into the first period after a great setup from defenseman Roman Josi. The Predators struggled to generate after that. The Knights' 17 shots on goal allowed were a season low.
Right wing Michael Amadio tied the game 1:23 after Duchene's goal with a shot from the right circle. Carrier then gave the Knights a 2-1 lead on a breakaway 27 seconds later.
Carrier's hard work extended the advantage with 8:02 left in the first. He created a turnover that led to another breakaway, but goaltender Juuse Saros made the stop. Carrier picked up the rebound and shoveled it across the crease to teammate Phil Kessel, who scored to put the Knights up 3-1.
Center Chandler Stephenson, fresh off his first All-Star Weekend, extended the lead to 4-1 by snapping his 10-game goal drought 2:58 into the second period.
Defenseman Alex Pietrangelo sealed the win with an empty-net goal with one minute remaining.
That sent the Knights — and their traveling cheering section — off to Minnesota happy after their fourth straight win in Nashville.
"I think there'll be lots of catching up with them and hopefully lots of noise (on the plane)," Cassidy said. "That's what you want. When you win, you're supposed to have a little fun."
Here are three takeaways from the win:
1. New line clicks
The Knights' best line Tuesday was one that has been together for only three games.
Carrier, Stephenson and Kessel each finished with a goal and an assist despite joining forces for the first time Jan. 27 against the New York Rangers.
Carrier was plus-4 against the Predators, a career best.
"If we can get that line to continue to work for us, now it really gives us something," Cassidy said.
2. Whitecloud returns
One reason the Knights were so strong defensively is they had their six regular defensemen back.
Zach Whitecloud was activated off injured reserve Tuesday and played for the first time since suffering a lower-body injury Dec. 11.
Captain Mark Stone is now the only member of the opening-night lineup who is hurt. He's out indefinitely after having back surgery Jan. 31.
3. Hill hits milestone
Goaltender Adin Hill continued a good recent run by making 16 saves.
Hill, since getting pulled in the first period Dec. 28 in Anaheim, has a .933 save percentage. His win against Nashville was his 11th of the season, setting a career high. He even had a chance to try for an empty-net goal before leaving the puck for Pietrangelo.
"I definitely thought about going for it for a second, but then I heard Petro yelling for it," Hill said. "Good karma. It went in the net."
Contact Ben Gotz at bgotz@reviewjournal.com. Follow @BenSGotz on Twitter.