5 keys for Golden Knights in Western Conference Final
Updated May 17, 2023 - 5:51 pm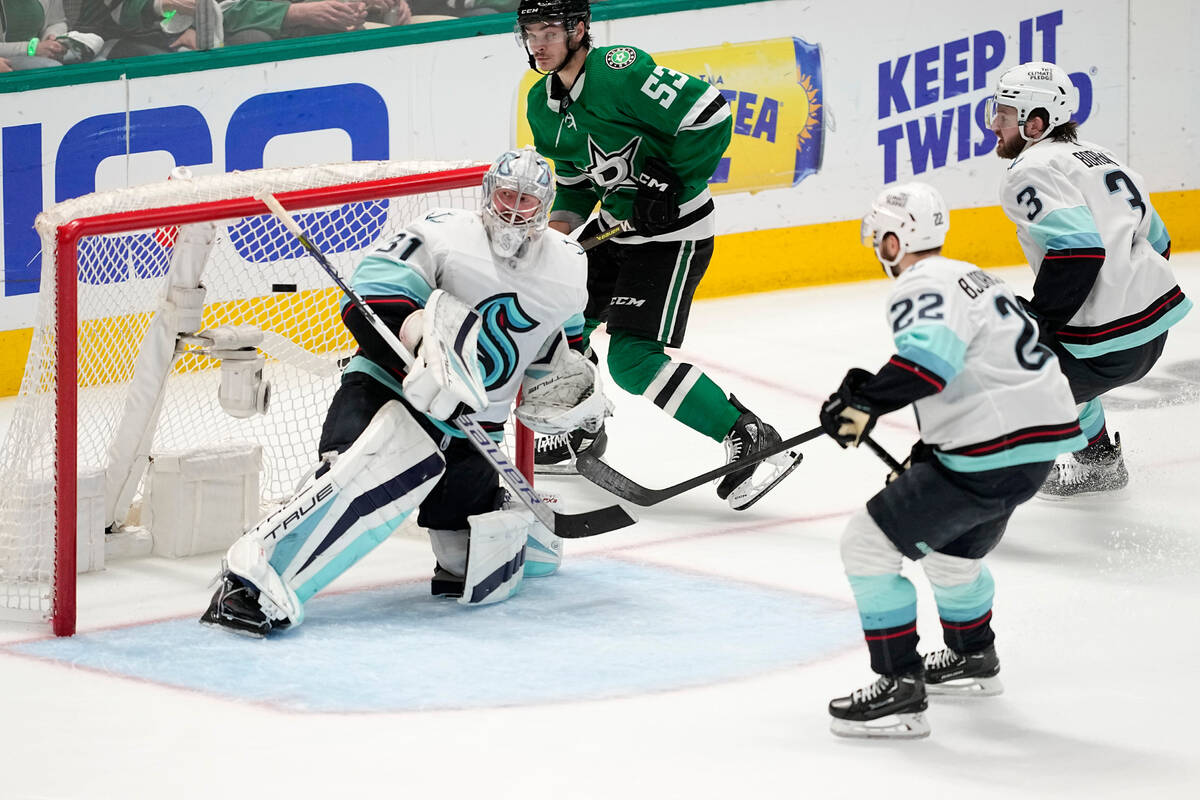 Bruce Cassidy said there was some good and bad in the hockey he saw Monday.
Of course, the Golden Knights coach wasn't talking about the Dallas Stars' Game 7 win over the Seattle Kraken that locked in his team's next playoff opponent. Cassidy used the day off after the Knights' series-clinching win Sunday in Edmonton for some family time and took in his son Cole's practice.
"It was nice not to have to prepare for Edmonton, I'm not going to lie," Cassidy said.
Cassidy said he did catch about half of Game 7 live and watched more Tuesday morning. The Knights have plenty of time to prepare for the Stars, with Game 1 of the Western Conference Final on Friday at T-Mobile Arena.
Dallas will provide a different challenge than both Edmonton and Winnipeg, the Knights' first-round opponent. The Stars have more depth than those teams and more balance between their offense, defense, power play and penalty kill.
Here are five keys to the series for the Knights, who will be playing against their former coach Pete DeBoer with a trip to the Stanley Cup Final on the line:
1. Limit Stars stars
The Knights have taken down two of the NHL's best offensive players in Oilers centers Connor McDavid and Leon Draisaitl.
Now they will have to beat one of the league's best lines.
Left wing Jason Robertson, center Roope Hintz and right wing Joe Pavelski combined for 111 goals and 261 points this season. Robertson hasn't been quite as sharp in the playoffs. He has two goals in 13 games after scoring 46 in the regular season, the seventh-most in the league.
Hintz has more than picked up the slack. He has 19 points in the postseason, one behind McDavid.
"He's just so fast and strong with the puck and can play defense as well," Stars defenseman Miro Heiskanen said. "He's been our best player so far."
2. Win net-front battle
The Knights outscored Edmonton, the NHL's No. 1 offense, because they got a lot of goals near the crease.
They made sure to test the Oilers' discipline to their man-on-man system, drawing defenders out and trying to create space to attack one-on-one. Edmonton got crossed up in its own zone several times because of that. Right wing Jonathan Marchessault didn't have a defender near him for two of his three second-period goals in Game 6.
Dallas defends differently. The Stars swarm the puck when it enters the zone and will leave their defensemen closer to the net. That should make it more difficult for the Knights to get to the crease.
Dallas also creates a lot of its offense in front. The Stars like to take point shots with one player in the slot for a potential tip and another screening the opposing goaltender. Pavelski is one of the NHL's best at scoring off deflections.
"We know that's coming," Cassidy said. "There's a lot of teams that do that. We try to incorporate that into our offense. They're just really good at it."
3. Stay out of the box
Avoiding penalties was imperative for the Knights against the Oilers, who had the best power play in NHL history.
Dallas isn't as good on the man advantage but is still dangerous.
The Stars had the league's fifth-best power play in the regular season at 25 percent with former Knights assistant Steve Spott running the show. Dallas has scored at a 31.7 percent clip in the playoffs on 41 opportunities, the most in the NHL.
The Knights will need to maintain the composure that made them the least penalized team in the league during the regular season. They have survived being outscored 15-7 on special teams in the playoffs because of their excellent five-on-five play, but they don't want to hand the Stars power-play chances.
"Similar to Edmonton, they rely on that," Cassidy said. "Another series where we're going to have to play with discipline."
4. Rely on depth
The Knights have gotten this far because they are a four-line, three-pair team that can trust anyone in any situation.
Goaltender Adin Hill came off the bench to win three games against the Oilers. The Knights beat Edmonton in Game 5 with No. 1 defenseman Alex Pietrangelo suspended and veteran Ben Hutton filling in.
It's going to take everybody again to beat Dallas. The Stars have added some key contributors in the past year in rookie Wyatt Johnston, free-agent signing Mason Marchment and trade-deadline acquisitions Max Domi and ex-Knight Evgenii Dadonov. Dallas has goals from 15 players in the playoffs and points from 20.
It's a group the Knights should still be able to take head on. They had 17 players score at least a point in six games against the Oilers.
"I think it's the difference in the series, right?" Cassidy said. "We've got different people contributing."
5. Bother Oettinger
Much of the Stars' hopes will be pinned on goaltender Jake Oettinger.
The 24-year-old has impressed early in his career and shined in his first playoff starts a year ago, posting a .954 save percentage in Dallas' first-round loss to the Calgary Flames.
He hasn't quite maintained that pace this postseason.
Oettinger's save percentage is .903 through 13 games, and he's been pulled twice. Still, DeBoer called Oettinger "the best response goalie" he's coached. Oettinger is 36-10-6 after a loss in his career. He has yet to lose two straight in this year's playoffs.
It will be the Knights' job to make him uncomfortable like they did 2020 Vezina Trophy winner Connor Hellebuyck in round one and rookie Stuart Skinner in round two. Their 12.2 shooting percentage this postseason is the second-highest in the NHL.
"I don't think I had my best series of my career (against Seattle), but it shows how good a team we are," Oettinger said. "I feel like my best hockey is still ahead of me."
Contact Ben Gotz at bgotz@reviewjournal.com. Follow @BenSGotz on Twitter.
Series schedule
Game 1 — 5:30 p.m. Friday, T-Mobile Arena (ESPN)
Game 2 — Noon Sunday, T-Mobile Arena (KTNV-13)
Game 3 — 5 p.m. Tuesday, American Airlines Center (ESPN)
Game 4 — 5 p.m. May 25, American Airlines Center (ESPN)
Game 5* — 5 p.m. May 27, T-Mobile Arena (KTNV-13)
Game 6* — 5 p.m. May 29, American Airlines Center (ESPN)
Game 7* — 6 p.m. May 31, T-Mobile Arena (ESPN)
* If necessary
All games will be broadcast on KKGK (98.9 FM, 1340 AM)