5 keys to Knights victory vs. Florida in the Stanley Cup Final
Updated May 31, 2023 - 5:17 pm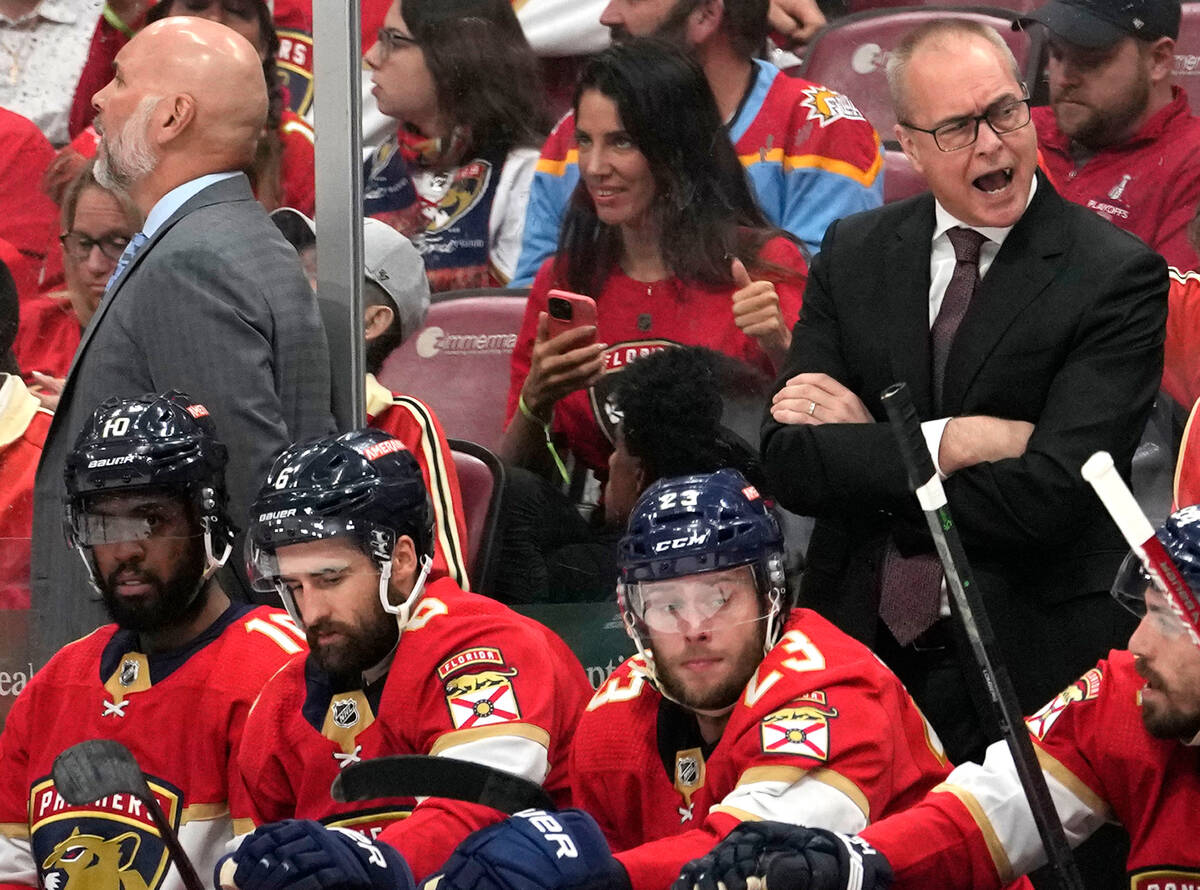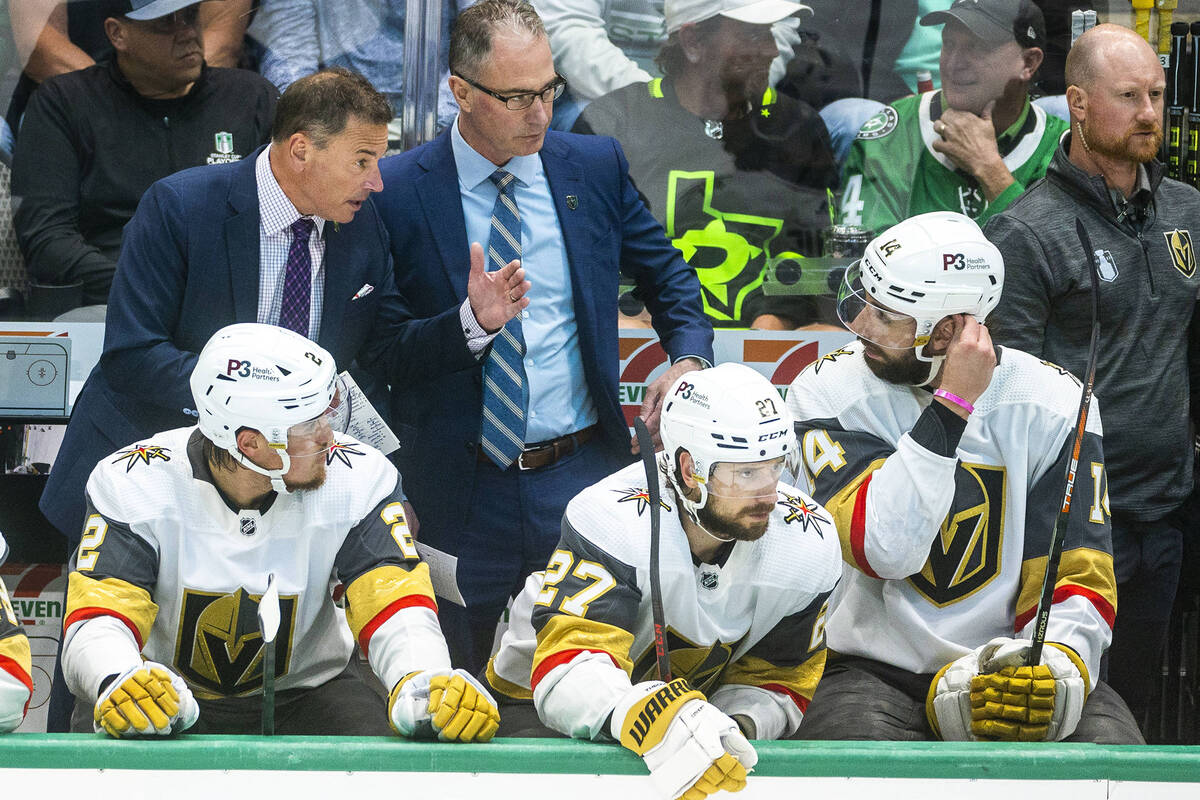 There are a minimum of four and a maximum of seven games remaining in the Golden Knights' season.
What happens during them will determine how this year will be remembered.
The Golden Knights will open the 2023 Stanley Cup Final against the Florida Panthers at 5 p.m. Saturday at T-Mobile Arena. It's a second chance for the Knights to win their first Cup, after losing in five games to the Washington Capitals in 2018.
Both teams took different paths to this point. The Knights stormed out of the gates after missing the playoffs in 2022, earning the No. 1 seed in the Western Conference before knocking off Winnipeg, Edmonton and Dallas in a total of 17 games.
The Panthers had almost the opposite approach. They went from winning the 2022 Presidents' Trophy for the NHL's best record to almost missing the playoffs this year. But once they got in as the 16th overall seed, they defeated three of the league's best teams in Boston, Toronto and Carolina in 16 games.
"They've earned their way, we've earned our way," coach Bruce Cassidy said. "Looking forward to getting going."
It should be a fascinating matchup full of star power, drama and physicality. Here are five keys to a Knights' win:
1. Stop Chucky
Beating the Panthers starts with slowing down their mouthguard-chewing, arena-exiting, clutch-scoring heel of a star in right wing Matthew Tkachuk.
The 25-year-old has taken the NHL by storm in his first season in Florida after arriving in a blockbuster trade with Calgary. Tkachuk scored 109 points in the regular season and was named one of the Hart Trophy finalists for league MVP. He's also the second-leading scorer in the playoffs with 21 points in 16 games.
Tkachuk, the son of longtime NHL forward Keith Tkachuk and the older brother of Ottawa captain Brady Tkachuk, is adept at getting under opponents' skin with hard hits and incredible plays near the crease. He scored two overtime goals against Carolina in the Eastern Conference Final, celebrating by heading to the exit door each time. He also scored the series-clinching goal in Game 4 with five seconds remaining.
"Just such a high, high hockey IQ," Cassidy said. "You got to get into him when he gets to the front of the net. We know that."
2. Bother Bob
As good as Tkachuk's been, he's not a lock for the Conn Smythe Trophy if Florida wins it all. That's because goaltender Sergei Bobrovsky has decided to play his best hockey in a Panthers uniform at just the right time.
Bobrovsky, 34, signed a seven-year, $70 million contract to come to Florida in July 2019. He's had a hard time living up to the second-highest cap hit in NHL history for a goaltender ever since. Bobrovsky, coming off a seven-year stint in Columbus where he won two Vezina Trophies, entered the playoffs with a .905 save percentage with the Panthers.
He wasn't even their choice to start Game 1 in the first round against the Bruins. Alex Lyon, a 30-year-old with only 39 NHL appearances to his name, got the call to start. Bobrovsky was inserted into Game 3 and hasn't looked back since. His .935 save percentage is second among starters this postseason to only the Knights' Adin Hill. Bobrovsky is also 8-1 the last two rounds with only 16 goals allowed.
"Their goalie has been playing really well," center Jack Eichel said. "We know it's going to be a heck of a battle."
3. Fight the forecheck
Cassidy is plenty familiar with the Panthers. They shared a division for six seasons when he coached the Boston Bruins.
This year's team is a little different, however. Florida was reliant on rush chances even when winning 58 games last season. A second-round sweep to in-state rival Tampa Bay caused the Panthers to change their approach. They traded for one of the NHL's best power forwards in Tkachuk, and hired veteran coach Paul Maurice.
Maurice, who is in his second final in 25 seasons, has helped Florida develop an aggressive forecheck that's added an extra dimension to its attack. It'll be up to the Knights to use their size and strength on the blue line to counteract that. Breakouts and net-front battles should be critical.
"Their rush game used to kill you," Cassidy said. "If you could shut that down, you'd be able to outwill them, get to the front of the net, different things like that. And Tampa did that to them. What they've done different I think this year is they've tried to create offense from below the goal line, from getting pucks deep as opposed to off the rush."
4. Lean on experience
One franchise will win the Stanley Cup for the first time. That doesn't mean both are entering on equal footing.
The Knights have six players remaining from the team that made the final in 2018 and six Cup winners on their roster. Other longtime members of the club like captain Mark Stone, center Nicolas Roy and defenseman Zach Whitecloud have been on multiple deep playoff runs.
"We've been through this," Stone said. "We have guys that have won the Stanley Cup with other organizations. We know there's a lot of work to be done, but we're ready for the challenge."
Florida is coming in a little more blind. The Panthers haven't made the final since 1996, and they only had two Cup winners in their lineup in their last game: center Eric Staal and left wing Carter Verhaeghe. Only one other of Florida's skaters, defenseman Marc Staal, has played in a final.
5. Use depth
The Knights' 6-0 Game 6 win against the Dallas Stars on Monday "took everyone," right wing Michael Amadio said.
That's been the team's formula all year. Everyone on the roster has played a role in getting the Knights to this point, and it's what makes them so difficult to match up against.
Every skater that made an appearance in the Western Conference Final recorded at least a point. The Knights have 16 players who have scored a goal in the playoffs, tied for the second-most on any team behind Seattle.
"I think that's one of our strengths," center William Karlsson said. "That's why we've gotten this far. If we can have all four lines going every night, we're going to be a tough team to beat for sure."
The Knights will need to press that advantage against Florida. The Panthers' bottom six hasn't been great in the postseason, as fourth-line forwards Eric Staal and Colin White are minus-4 at five-on-five.
Stanley Cup Final
Game 1 — 5 p.m. Saturday, T-Mobile Arena (TNT, TBS, truTV)
Game 2 — 5 p.m. Monday, T-Mobile Arena (TNT, TBS, truTV)
Game 3 — 5 p.m. June 8, FLA Live Arena (TNT, TBS, truTV)
Game 4 — 5 p.m. June 10, FLA Live Arena (TNT, TBS, truTV)
Game 5* — 5 p.m. June 13, T-Mobile Arena (TNT, truTV)
Game 6* — 5 p.m. June 16, FLA Live Arena (TNT, TBS, truTV)
Game 7* — 5 p.m. June 19, T-Mobile Arena (TNT, TBS, truTV)
* If necessary