Beer, ball hockey and blizzards: Inside the Knights' Cup celebrations
Updated September 23, 2023 - 4:32 pm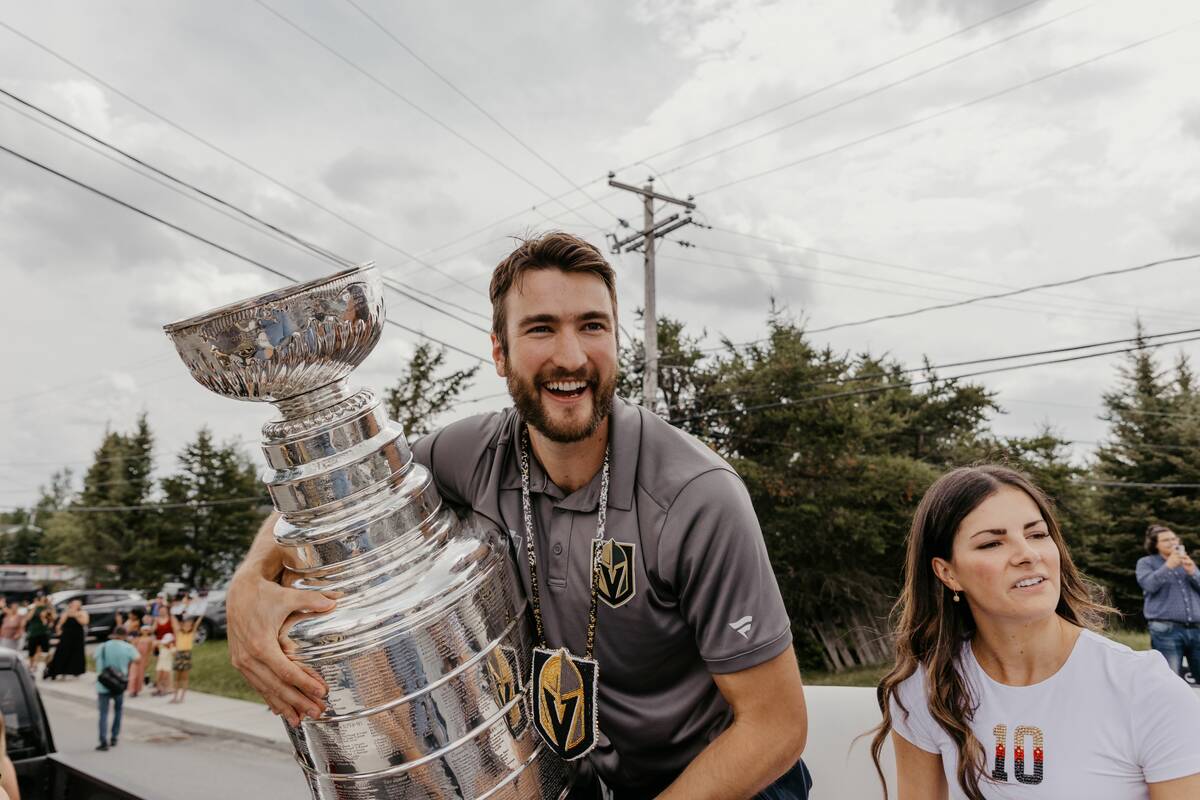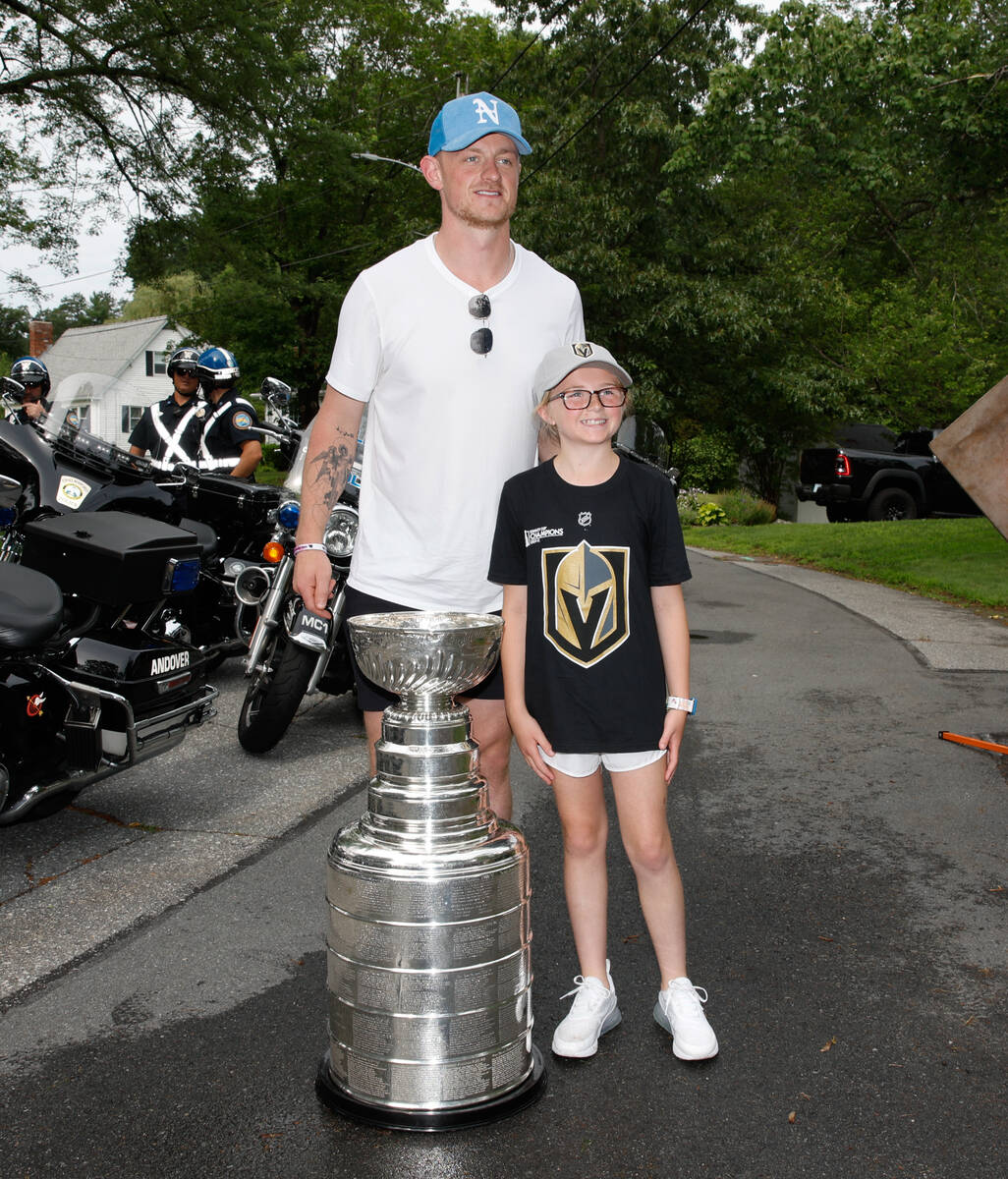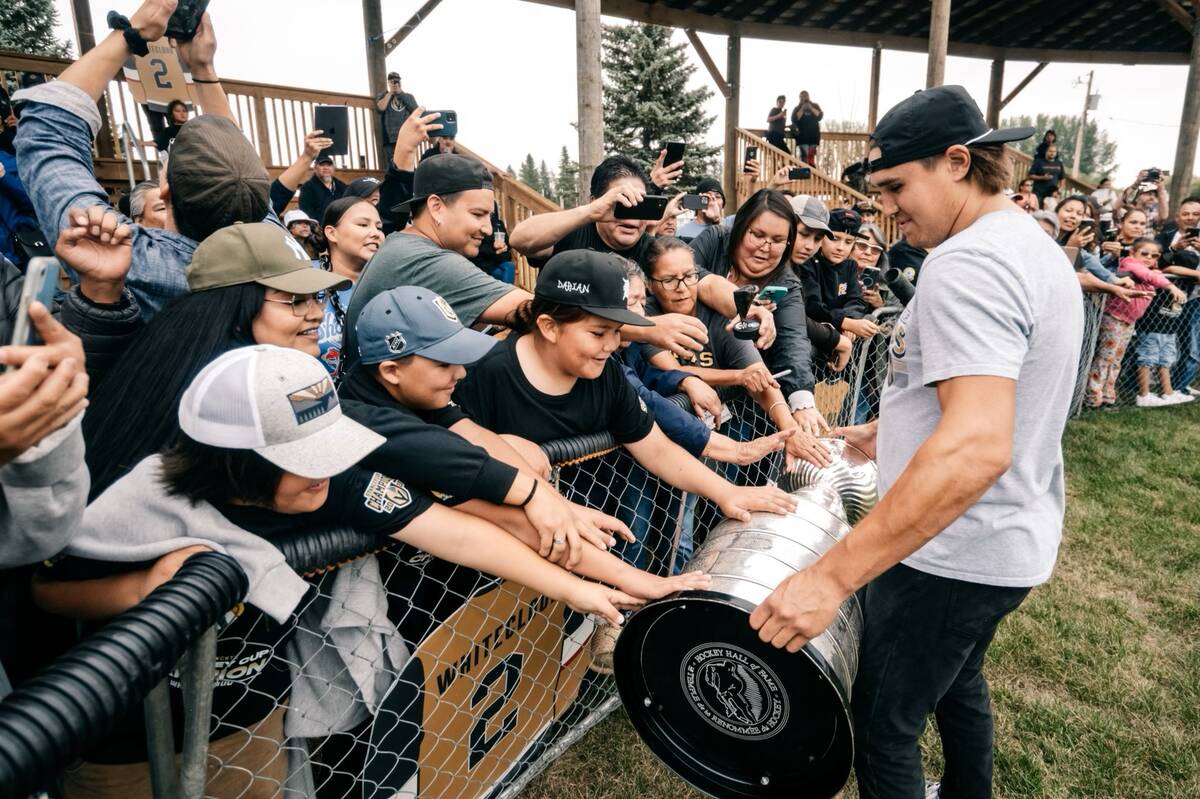 There was a mother and son dance to ABBA, a trip to Dairy Queen, a ball hockey tournament and countless memories made with loved ones.
The Golden Knights, thanks to their Stanley Cup championship, each got to spend a day with the trophy this summer, according to NHL tradition. They made sure to take full advantage.
The players returned to training camp this week with stories both alike and unique. They took it to different places. They ate and drank different things out of it. They took a million photos. But they all walked away with the same feeling.
"Pretty self-explanatory," captain Mark Stone said. "One of the better days of my life."
The Knights tried to take it all in knowing they may never get that much alone time with the Cup again. The good times also made them that much more eager to earn the opportunity to do it again.
"You hope it's not a once-in-a-lifetime opportunity," general manager Kelly McCrimmon said. "But certainly you do appreciate it when you get your chance."
Showing it off
The Knights, between players, coaches, front-office staff and owner Bill Foley, took the Cup to at least four countries, seven Canadian provinces and 12 U.S. states.
Many of their days followed a similar pattern.
Most players had some sort of public showing with the trophy, whether through a visit to a local rink, trips around the community, a parade or all of the above. Center Jack Eichel took it to Skate 3 Ice Arena in Tyngsborough, Massachusetts, where he learned to skate. Right wing Jonathan Marchessault brought it to his old junior hockey arena in Quebec City, Quebec.
Jack Eichel's day with the Stanley Cup has begun at Skate 3 in Tyngsboro@WEEI @GoldenKnights @hockey_east pic.twitter.com/QcVOn9LpX5

— Bridgette Proulx (@bridgetteproulx) July 14, 2023
It was a chance for fans to take pictures, get autographs and get inspired to win the Cup themselves. Most members of the Knights said one of their favorite parts of the day was seeing everyone else's reaction to the trophy.
"It's surprising, especially in Canada, it stops people in their tracks," said defenseman Brayden McNabb, who had a parade thrown in his honor in Davidson, Saskatchewan. "People do a lot of things to catch it or get a picture with it. A lot of people respect it, too. Some won't even touch it. They just want a picture."
Many Knights players made multiple stops to places that were meaningful to them.
Marchessault, Stone and goaltenders Logan Thompson and Adin Hill went to local children's hospitals. Eichel, Hill, defenseman Ben Hutton and goaltender Laurent Brossoit visited first responders. Eichel and Hill also stopped by hockey equipment stores they frequented growing up, while right wing Keegan Kolesar went to a car dealership that once gave him a ride for the summer.
One player who brought the Cup along for a special trip was defenseman Zach Whitecloud. He took it to the Sioux Valley Dakota Nation, a reservation near his hometown of Brandon, Manitoba. Whitecloud, whose father, Tim, is 100 percent indigenous, is the first member of the Sioux Valley Dakota Nation to play in the NHL.
The #StanleyCup has made its way to the Sioux Valley Dakota Nation 🧡

Have yourself a day, @ZachWhitecloud!! ☁️ pic.twitter.com/0XGg9HHEa7

— 🏆 – Vegas Golden Knights (@GoldenKnights) August 23, 2023
"Just super emotional, right?" Whitecloud said. "People see it for the first time, and it's another reminder every single time of exactly what that trophy means. It's the greatest trophy in sports, and you see that every time someone looks at it for the first time."
Party time
The Knights' public displays tended to give way to private parties as their days went on.
The gatherings gave a lot of players the chance to connect with people who meant a lot to their careers, like youth coaches, old teammates and teachers. Coach Bruce Cassidy had Hall of Fame defensemen Bobby Orr and Ray Bourque at his celebration. Defenseman Ben Hutton said he got to spend time with his coach from Timbits U7 hockey.
"He was like, 'I knew one day this was going to happen.'" Hutton said. "He got pretty emotional, so it was cool seeing him and seeing how happy everyone was for me and the community."
Some players even popped up at each other's celebrations.
Goaltender Jonathan Quick was at Eichel's party, and Eichel and left wing Paul Cotter returned the favor later in the summer by going to Quick's. Marchessault had a former Knight at his celebration.
Right wing David Perron, who was part of the franchise's inaugural season, was at Marchessault's party, along with some of Marchessault's other close NHL friends in Seattle's Yanni Gourde, Montreal's David Savard and Boston's Alex Chiasson. Perron, Gourde, Savard and Chiasson had all previously won the Cup themselves.
Never a doubt with this guy! pic.twitter.com/wf1fXgMW4J

— David Perron (@DP_57) August 20, 2023
"I know I went to their party and I had a great time so I expected they do the same, and they did," Marchessault said. "It was just fun to be with them for sure."
The festivities were also a chance for the Knights to enjoy themselves with the people that mean the most. There were a lot of babies in the Cup given six players became first-time fathers between the end of the 2021-22 season and the team's championship. The Knights also got to thank their own parents for all their support. Around midnight, center William Karlsson closed down his party by dancing with his mother to ABBA's "Dancing Queen."
William Karlsson ended the night by dancing to "Dancing Queen" with his mom ❤️ pic.twitter.com/MT4mnOFdiq

— 🏆 – Vegas Golden Knights (@GoldenKnights) August 13, 2023
"That was a feel-good moment for sure," Karlsson said. "It doesn't get more magical than that."
Fun and games
The Knights made sure to enjoy themselves in other ways as well.
Left wing Brett Howden and defenseman Alex Pietrangelo took the Cup golfing, though Pietrangelo admitted he was "a little distracted" during his round because he brought his four kids along.
Center Chandler Stephenson, defenseman Alec Martinez and left wings Ivan Barbashev and Reilly Smith went boating with the trophy on different bodies of water. In a fun coincidence, Martinez ran into former Detroit Red Wings forward Kris Draper on the water, a four-time champion himself. Left wing William Carrier took the Cup fishing, reeling in some bass and walleye before returning to shore.
It's pretty cool when you are a 3x time #stanleycup champion and your party gets crashed by a 3x time #stanleycup champion @nhl@GoldenKnights @DetroitRedWings @HockeyHallFame pic.twitter.com/BCUl6cuH2D

— Philip Pritchard (@keeperofthecup) September 6, 2023
The prize for the most unique activity likely goes to Hill. He held a ball hockey tournament in Calgary, Alberta, during his day with the Cup, showing off his skater skills while competing with family and friends.
"I was able to incorporate a lot of my friends into it, a lot of people I grew up with," Hill said. "It was fun."
The Knights also made sure to throw just about every kind of food and drink imaginable into Cup during their time with it.
Pietrangelo poured some cereal into the trophy for his children, only for them to change their minds and decide at 8 a.m. they wanted to eat Doritos instead. Left wing Paul Cotter fed his dog Cheez-Its from the bowl. Howden — whose father used to cook a family "wing night" about twice a summer — got to grab chicken wings from the Cup.
Whitecloud and defenseman Shea Theodore went the extra mile to fill up the trophy with something special. Whitecloud visited a 7-Eleven by his house to put a Slurpee in the Cup. Theodore went to a local Dairy Queen and threw in some vanilla ice cream with some Nestle chocolate Smarties, which he described as "just like way better M&Ms."
"It worked out," Theodore said. "It tasted pretty good."
Of course, there were plenty of liquids consumed from the Cup as well. Lots of players, friends, family and even pets took turns taking a swig from the chalice throughout their time with it. Defenseman Nic Hague's 99-year-old grandmother even got to take a sip of white wine through a straw.
When your Grandma is 100, she deserves to have a drink out of the #atanleycup, especially when her Grandson is a #stanleycup champion @GoldenKnights @NHL @HockeyHallFame pic.twitter.com/Qxkzqvy05T

— Philip Pritchard (@keeperofthecup) August 31, 2023
"(There's) a couple good photos of her and I both there," Hague said. "It was cool."
Special opportunity
There was one thing that made the Knights' day with the Cup even better: They got to see their names on it.
The trophy, until this year, went on its summer tour and then wasn't engraved with the names of players, coaches and staff until around September. The Knights broke from tradition this year, delaying their time with the trophy by a few days so they could point themselves out during their day with it.
"That was actually such a good idea," coach Bruce Cassidy said. "I think that is really cool. It really is. Even though you know your name is going on it, to actually see it while you have it, it's pretty special."
The Stanley Cup is now officially engraved with names from the Golden Knights organization 🏆👀

(via @GoldenKnights) pic.twitter.com/8zJUDfr4RO

— B/R Open Ice (@BR_OpenIce) July 7, 2023
The 53 names from the Knights' winning team joined a band that begins with the 2018 Washington Capitals. The trophy can hold five bands featuring 13 teams each, so when it gets filled the top band is retired to the Hockey Hall of Fame in Toronto.
That means the Knights' names will be on the Cup for 60 years before getting removed. Their memories will last a whole lot longer than that, as almost every member of the team agreed this summer was one of the best of their lives.
"It's just a good day," Carrier said. "The entire day's just a dream day, right? Get to spend it with your family and you get to be home where you train all summer, so it's fun."
Contact Ben Gotz at bgotz@reviewjournal.com. Follow @BenSGotz on X.
Stanley Cup's summer tour
When and where each Knights player got the trophy
July 8 — Nicolas Roy (Amos, Quebec)
July 10 — Alex Pietrangelo (St. Louis)
July 14 — Jack Eichel (Tyngsborough, Massachusetts)
July 15 — Ivan Barbashev (Miami)
July 18 — Phil Kessel (Toronto)
July 19 — Michael Amadio (Sault Ste. Marie, Ontario)
July 23 — Brett Howden (Oakbank, Manitoba)
July 25, 26 — Mark Stone (Winnipeg, Manitoba)
July 30 — Brayden Pachal (Estevan, Saskatchewan)
Aug. 1 — Chandler Stephenson (Emma Lake, Saskatchewan)
Aug. 2 — Brayden McNabb (Davidson, Saskatchewan)
Aug. 6 — Laurent Brossoit (Vancouver, British Columbia)
Aug. 8 — Logan Thompson (Calgary, Alberta)
Aug. 9 — Adin Hill (Okotoks, Alberta)
Aug. 11 — Teddy Blueger (Riga, Latvia)
Aug. 12 — William Karlsson (Marsta, Sweden)
Aug. 15 — Reilly Smith (Cape Breton Island, Nova Scotia)
Aug. 17 — Jonathan Quick (Greenwich, Connecticut)
Aug. 19 — Jonathan Marchessault (Quebec City, Quebec)
Aug. 20 — William Carrier (Notre-Dame-de-Ille-Perrot, Quebec)
Aug. 22 — Keegan Kolesar (Winnipeg, Manitoba)
Aug. 23 — Zach Whitecloud (Brandon, Manitoba)
Aug. 25 — Ben Hutton (Prescott, Ontario)
Aug. 27 — Nic Hague (Kitchener, Ontario)
Aug. 29 — Shea Theodore (Aldergrove, British Columbia)
Sept. 1 — Paul Cotter (Plymouth, Michigan)
Sept. 2 — Alec Martinez (Torch Lake, Michigan)
Up next
Who: Golden Knights at Sharks
When: 5 p.m. Sunday
Where: SAP Center, San Jose, Calif.
TV: KTNV-13, KMCC-34, NHLN
Radio: KKGK (1340 AM, 98.9 FM)