Ex-playoff MVP embraces role as backup, mentor for Knights
Updated June 3, 2023 - 8:44 pm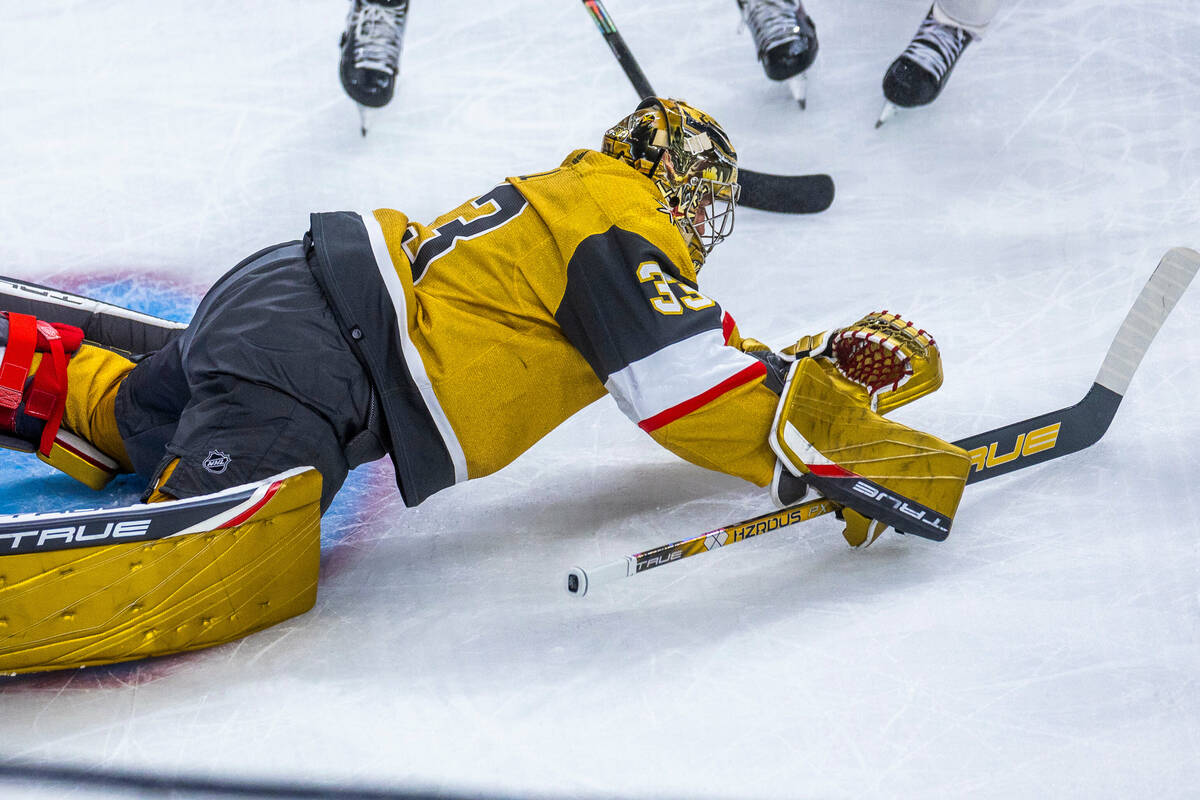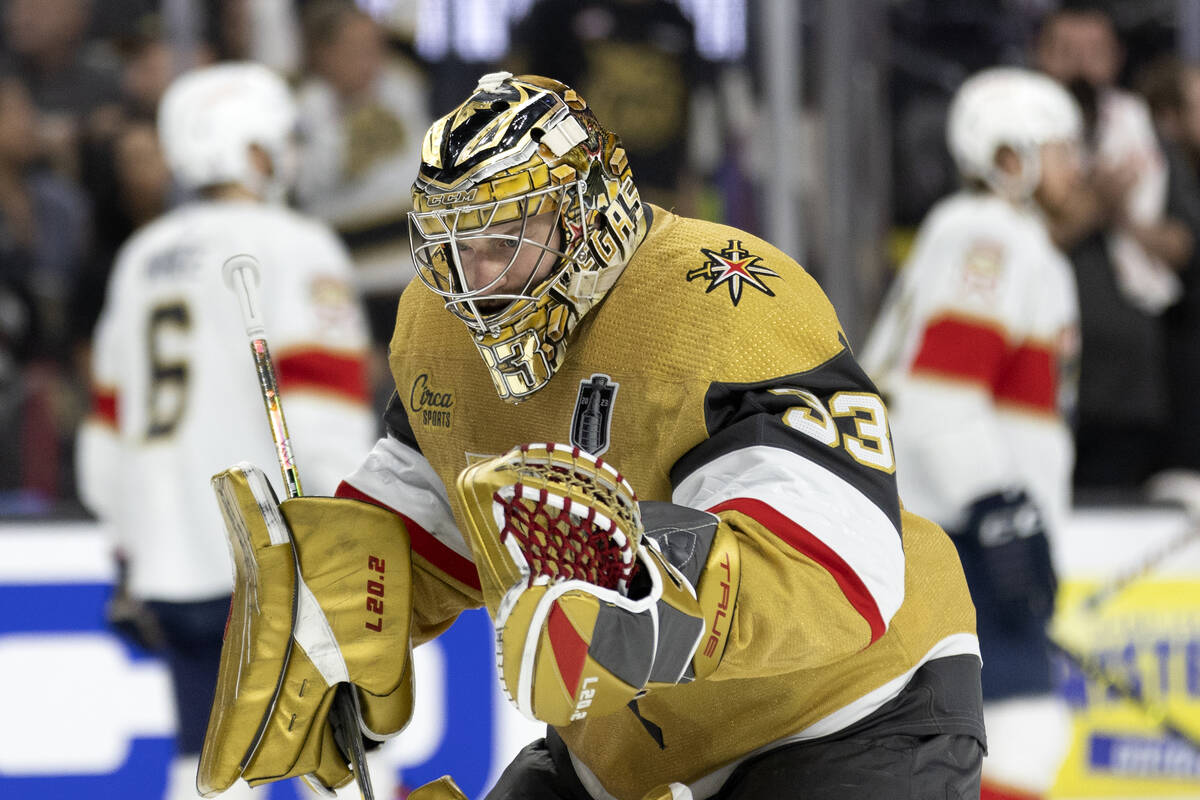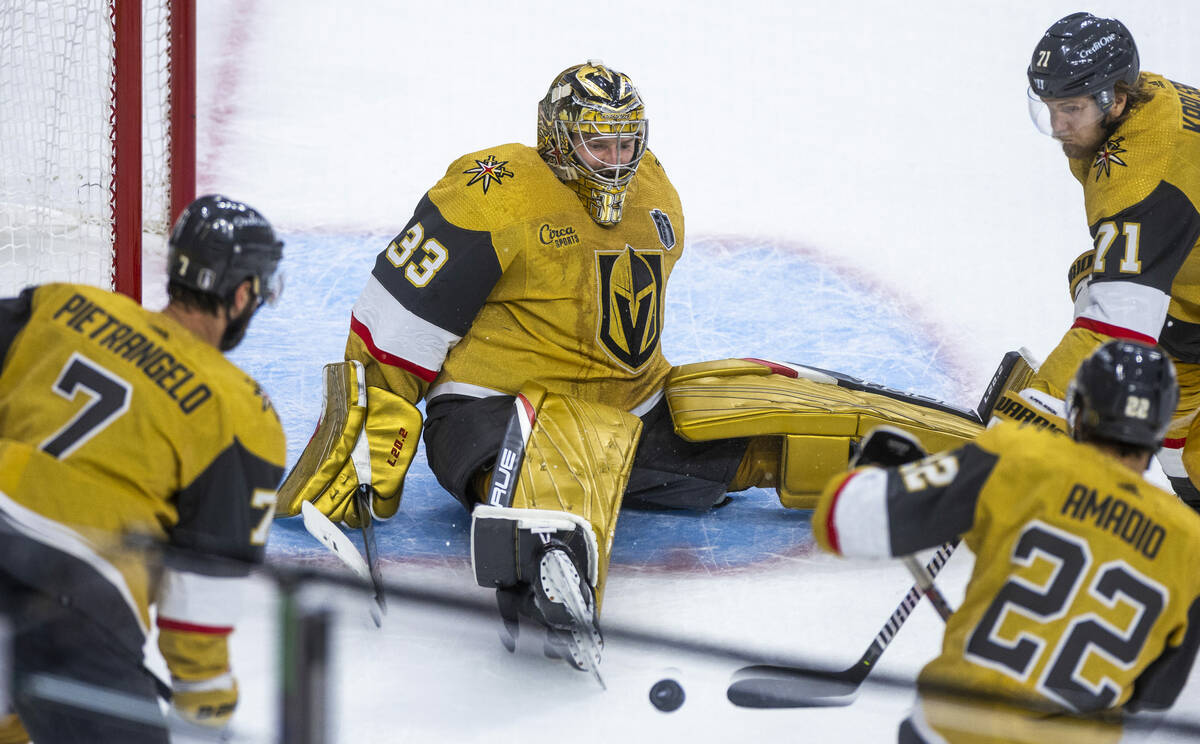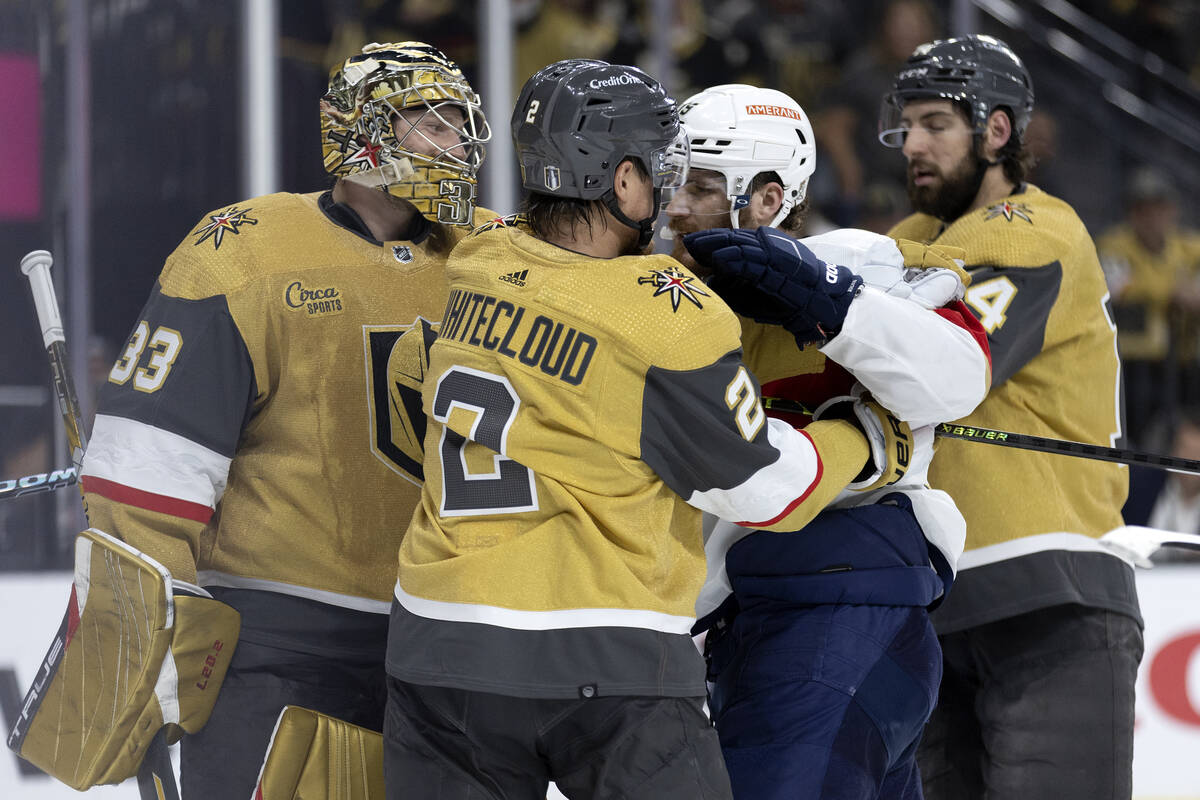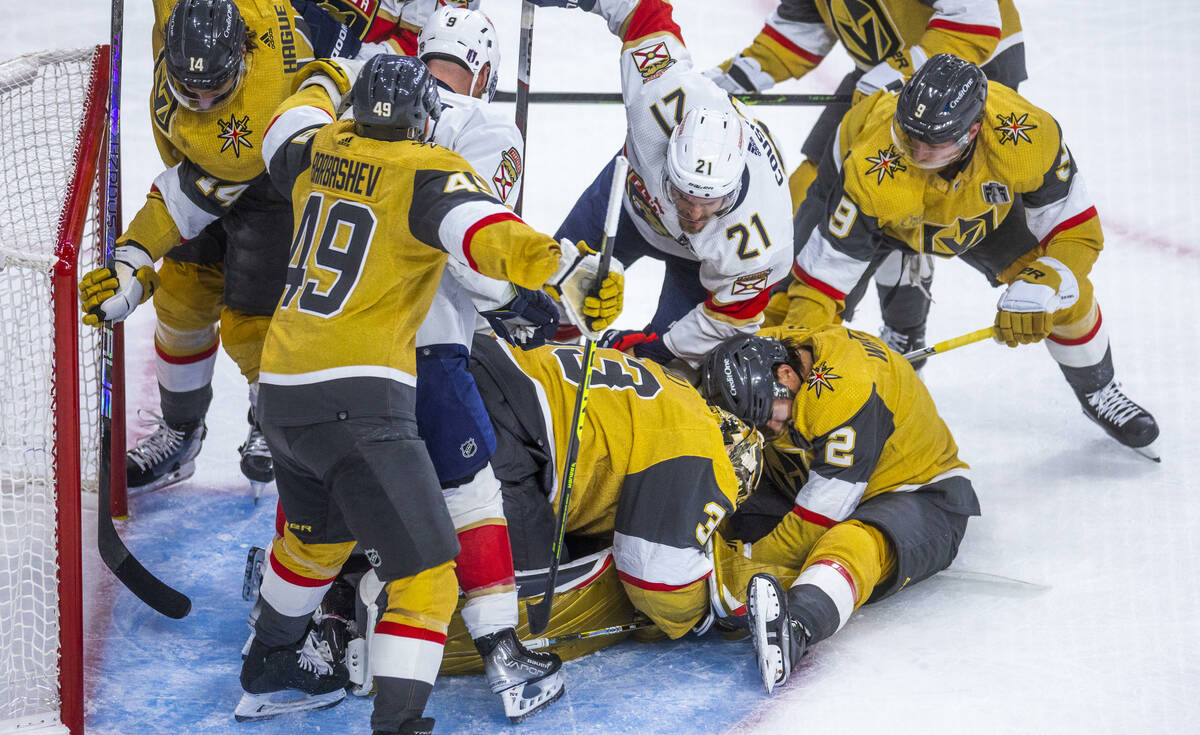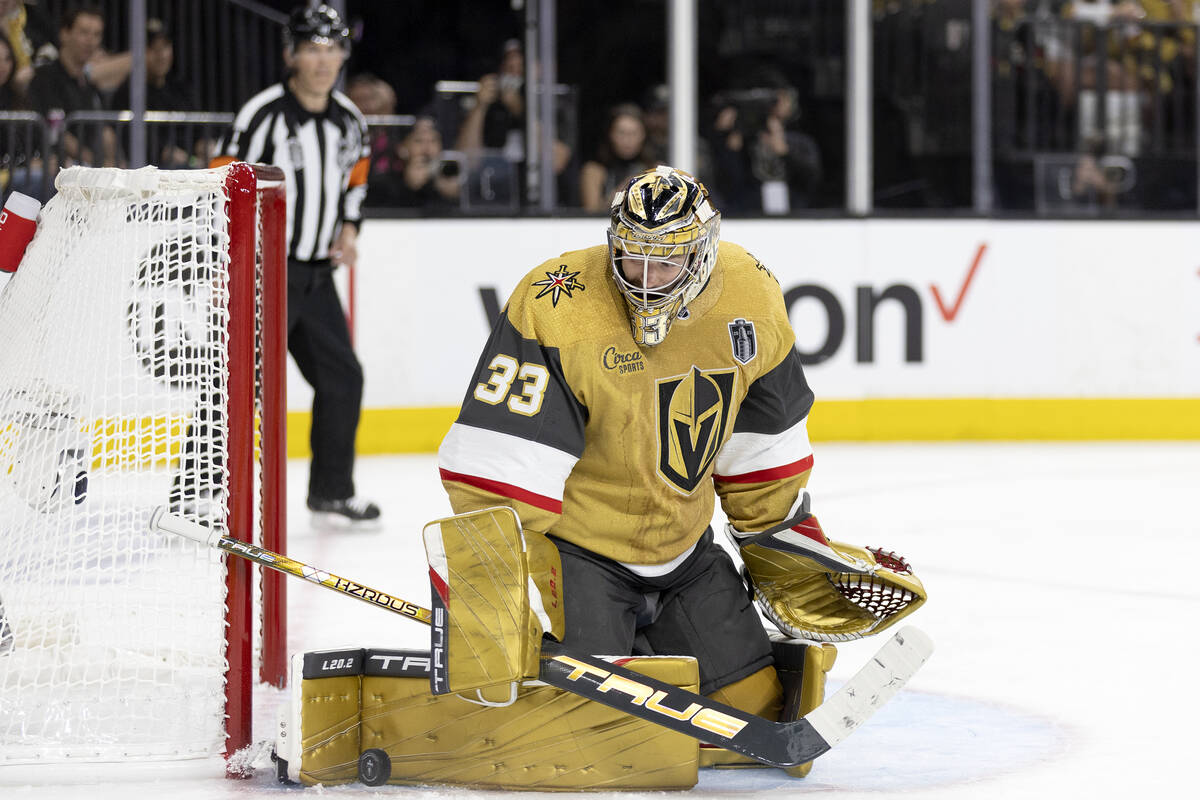 Golden Knights goalie Jonathan Quick could be a few games from etching his name on the Stanley Cup for the third time.
But his role is different this time around.
Quick won the Conn Smythe Award after turning in one of the best postseasons in recent history for the 2012 Kings championship team and then helped carry them to another title two years later.
Now the 37-year-old is backing up Adin Hill, and if he sees any action in the series against the Panthers, it means something has probably gone wrong.
"Being back and playing hockey in June is exciting," Quick said. "Everyone in the league wants to be playing right now, and we are. So now you try to make the most of it. And at this point of the year, whatever your role is you do it to the best of your ability and just try to help your teammates win."
Hill, who took over for an injured Laurent Brossoit during the second-round series against Edmonton, believes Quick has done just that.
"He's been unbelievable for us," Hill said. "He's great on and off the ice, works hard every day in practice. He's the ultimate pro, so it's nice having that guy I can talk to. He's been here twice, and he's 2-for-2 with it."
While Hill said Quick has been a valuable resource in his first postseason run, the veteran has been careful not to overmanage Hill.
"He's playing some pretty good hockey on his own," Quick said. "So you try to help him out when the opportunity arises, but you don't want to overstep and say too much. He's playing the way he is because of the work he's put in throughout his career. That's why he's having the success he's having."
Quick pointed out he's not the only Knights player with experience to share. They also have the benefit of several other players who have won the Stanley Cup Final, and some who have lost at this stage and can share those lessons.
"There are conversations that are had," Quick said. "We have a number of guys who have won cups and even more who have been there. It's more of a leadership by committee. Everyone chips in and does their part to pull the bus."
For now, Quick's part is that of a mentor and supporter.
"It's no surprise in our locker room how well (Hill's) playing," he said. "It's not just what he's done over the past month, but what he's done in his career to lead up to this. It's fun to see him have success in pressure situations."
'Unfinished business'
Knights coach Bruce Cassidy also has been at this stage before, when his Boston Bruins lost to the St. Louis Blues in seven games in 2019.
He hopes to carry some of the lessons he learned into this series to help ensure a different result. That's particularly true of some of the finer details.
Teams aren't used to games starting at 5 p.m., as was the case for Saturday's Game 1 at T-Mobile Arena. There are also far more media obligations for not only star players but each member of the roster.
"You just kind of manage those things better and not worry about if they're interrupting your normal routine and just take care of business," Cassidy said.
He likes the way his team has done that and thinks his players are similarly focused on getting a better result than their 2018 final appearance.
"Our guys have some unfinished business," Cassidy said. "We're not celebrating anything. I think the first time around, I was only at it for three years. I was like, 'Wow, I'm in the Stanley Cup Final.' I think it's kind of cool. Now I'm in the Stanley Cup Final, and it's time to win it."
Winning bet
The owners of the two franchises have raised the stakes on the series.
The Knights' Bill Foley and the Panthers' Vincent Viola have agreed for the losing owner to give $100,000 to a Veterans Service Organization. Foley selected The Folded Flag Foundation, and Viola picked Gold Star Teen Adventures.
Both owners are graduates of the U.S. Military Academy at West Point and veterans of the military.