Golden Knights captain week to week with upper-body injury
Updated January 13, 2023 - 4:23 pm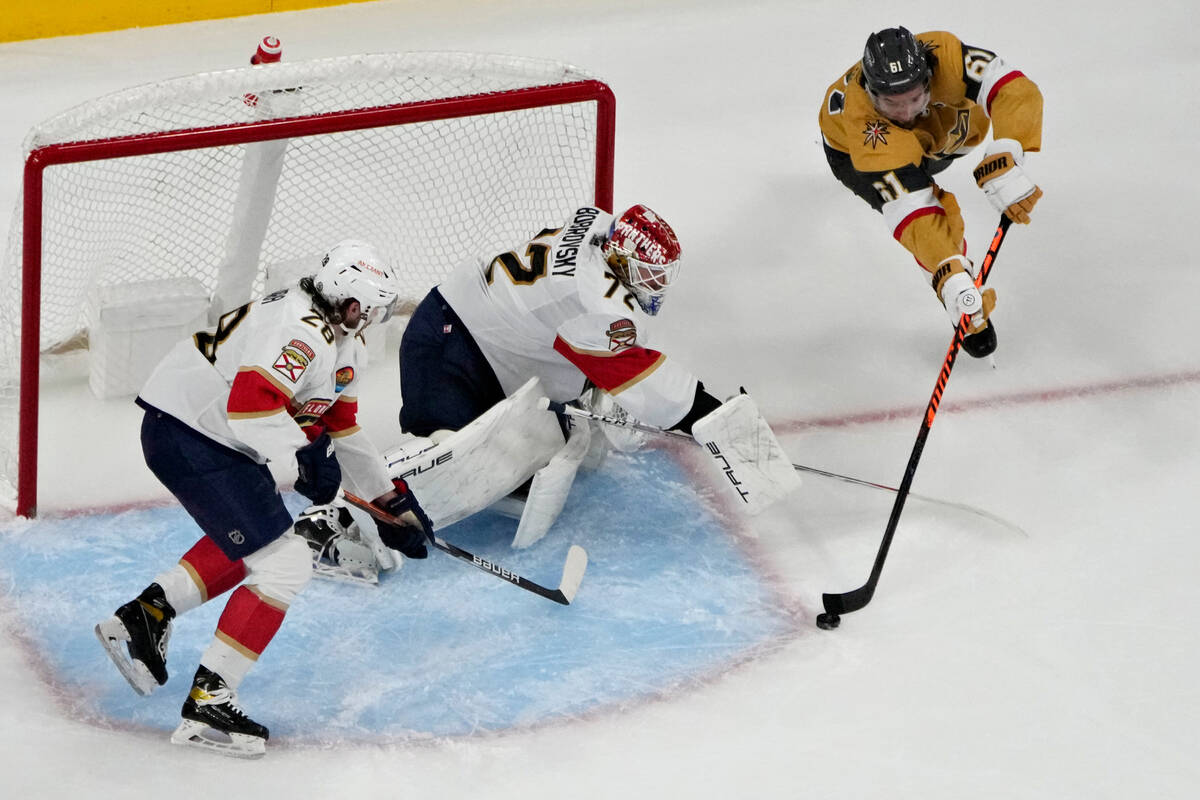 Golden Knights captain Mark Stone set a goal before the season to play every game. He won't achieve it.
Coach Bruce Cassidy said Friday that Stone will miss Saturday's game against the Edmonton Oilers at T-Mobile Arena and is considered week to week with an upper-body injury. He left Thursday's 4-2 win over the Florida Panthers in the first period and didn't return.
Stone missed 45 games last season with a back injury that required surgery in May. When asked if Stone injured his back again, Cassidy did not say. Stone was still undergoing tests Friday morning.
"They're still going through some different things with it," Cassidy said.
The news is a blow to the Knights, who have the best record in the Pacific Division and Western Conference in part because their emotional leader has been available. Stone is the team's second-leading scorer with 38 points in 43 games.
Cassidy said Thursday he didn't even see the play where Stone got hurt.
Stone didn't appear in obvious discomfort in any of his four shifts before leaving 9:18 into the first period. The Knights announced in the second he would not return. The team still found a way to rally from a 1-0 deficit to beat the Panthers.
"It's tough to see your captain go down in the first period," center Jack Eichel said. "Everyone here knows what he means to our group both on and off the ice, but other guys stepped up."
The Knights probably will have to keep leaning on their depth for the foreseeable future.
Stone has been on the first line all season because of his tremendous two-way value. His plus-12 rating at five-on-five is tied for the team best with Eichel.
The Knights missed Stone when he wasn't available last season. They were 12-13-1 when he was out for a two-month stretch in the second half and missed the playoffs for the first time in franchise history.
Stone underwent surgery in the hopes of being available more often this season. He recovered in time to take part in the first day of training camp. He didn't miss a game and hardly missed a practice during the first half despite a packed schedule, leading him to say last week he was "excited with the way I feel."
The Knights had a lengthy injury list before Stone got hurt.
Center Brett Howden and defensemen Shea Theodore and Zach Whitecloud remain out of the lineup with lower-body injuries, and Cassidy said Thursday they haven't started skating. Defenseman Daniil Miromanov is hurt after blocking a shot Dec. 31 against Nashville, and forward Pavel Dorofeyev is on injured reserve.
The Knights will need different players to contribute during this stretch as they start to feel pressure in the standings. Second-place Los Angeles has won three straight, putting the Kings two points back with two extra games played. Third-place Seattle has won seven in a row. The Kraken are four points behind the Knights with two games in hand.
Fifth-place Edmonton isn't as hot as those teams entering Saturday's game, but the Knights don't want to let another team back in the mix.
"It seems like everyone in our division is winning right now," left wing Reilly Smith said. "Every game is worth two points, but if you can push someone back in the standings a little bit, it's pretty important."
Contact Ben Gotz at bgotz@reviewjournal.com. Follow @BenSGotz on Twitter.
Up next
■ Who: Oilers at Golden Knights
■ When: 7 p.m. Saturday
■ Where: T-Mobile Arena
■ TV: AT&T SportsNet
■ Radio: KKGK (98.9 FM, 1340 AM)
■ Line: Knights -164; total 6½