Golden Knights end brief road trip with win over Predators
Updated November 24, 2021 - 9:55 pm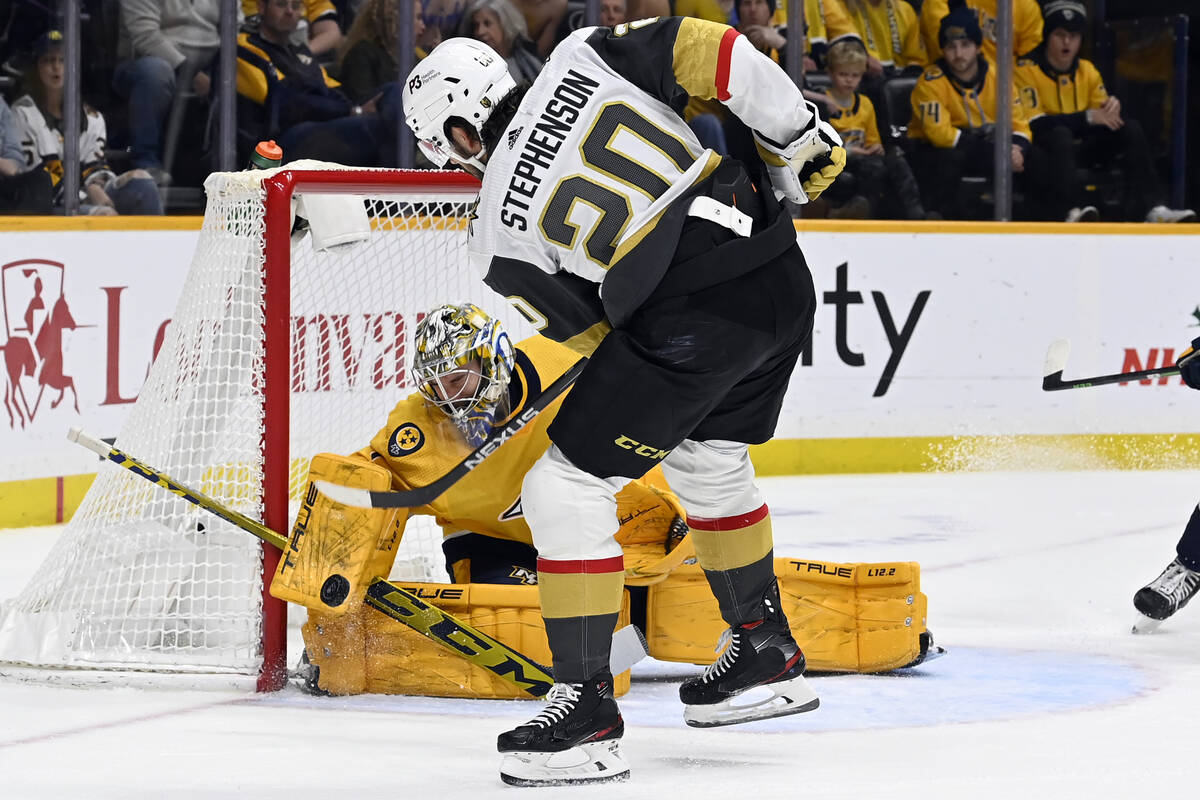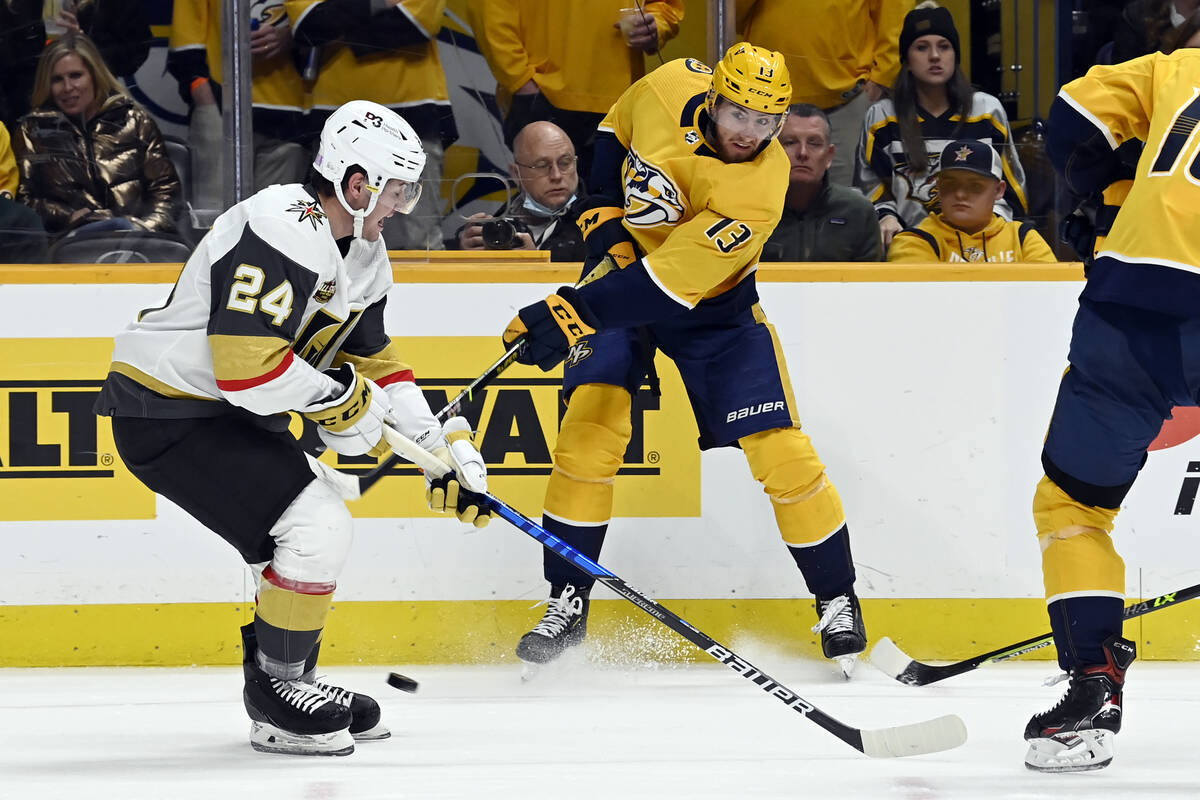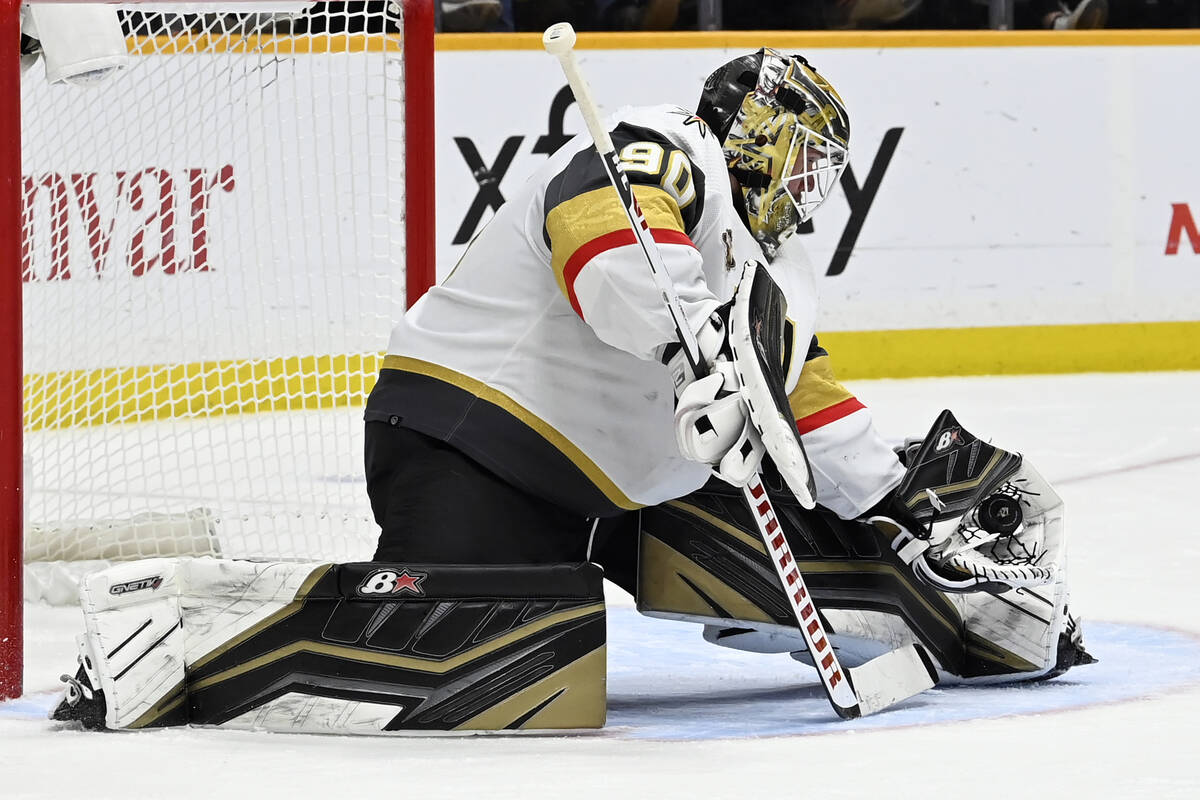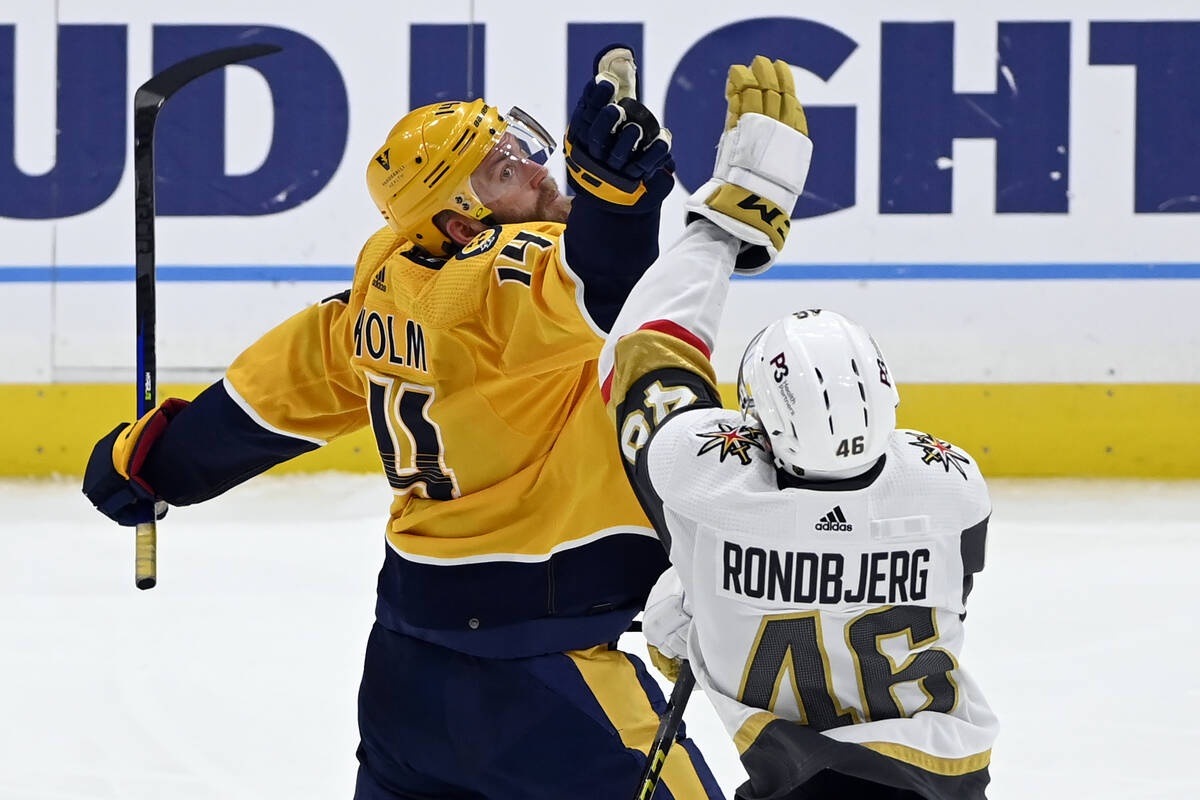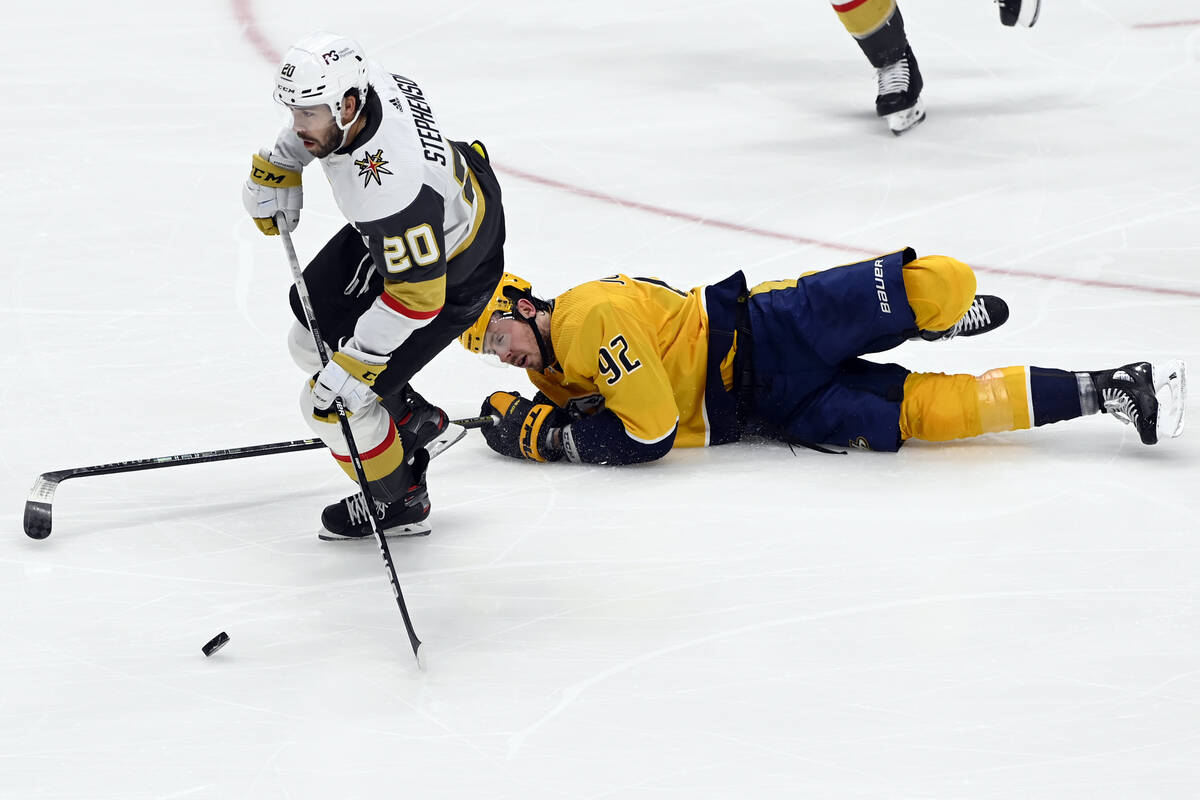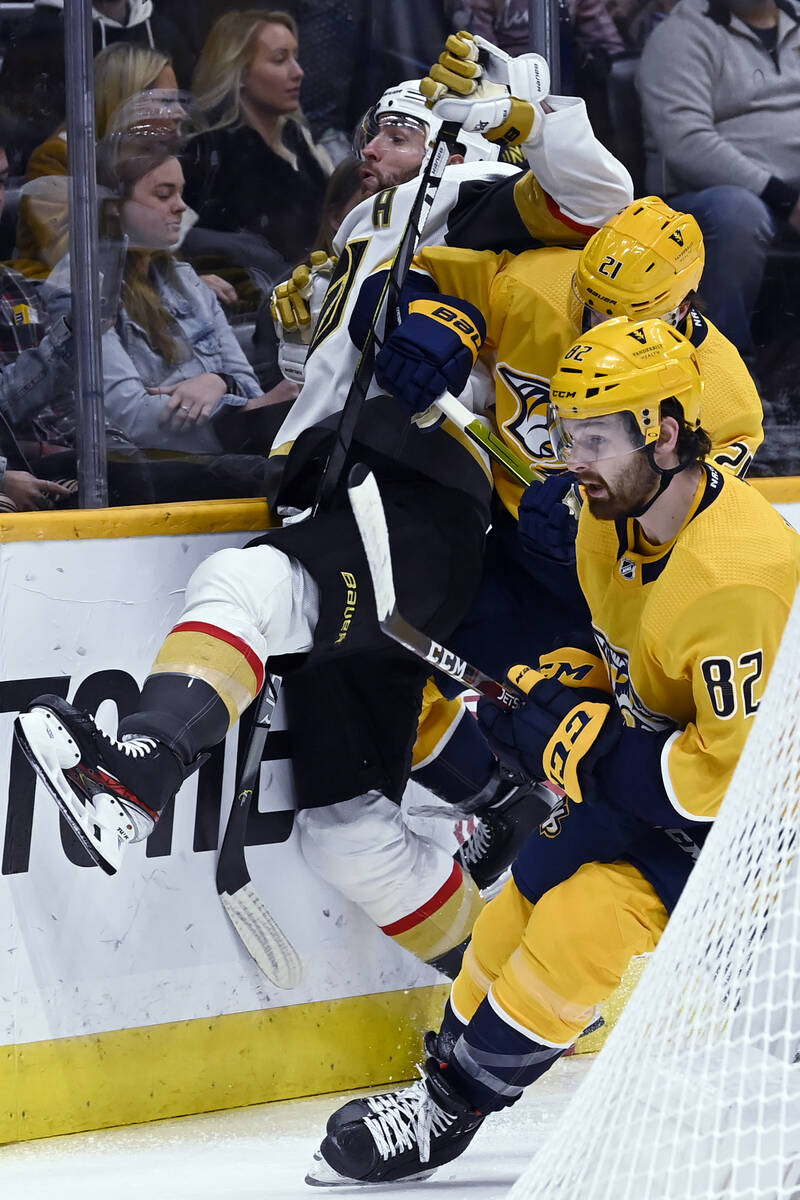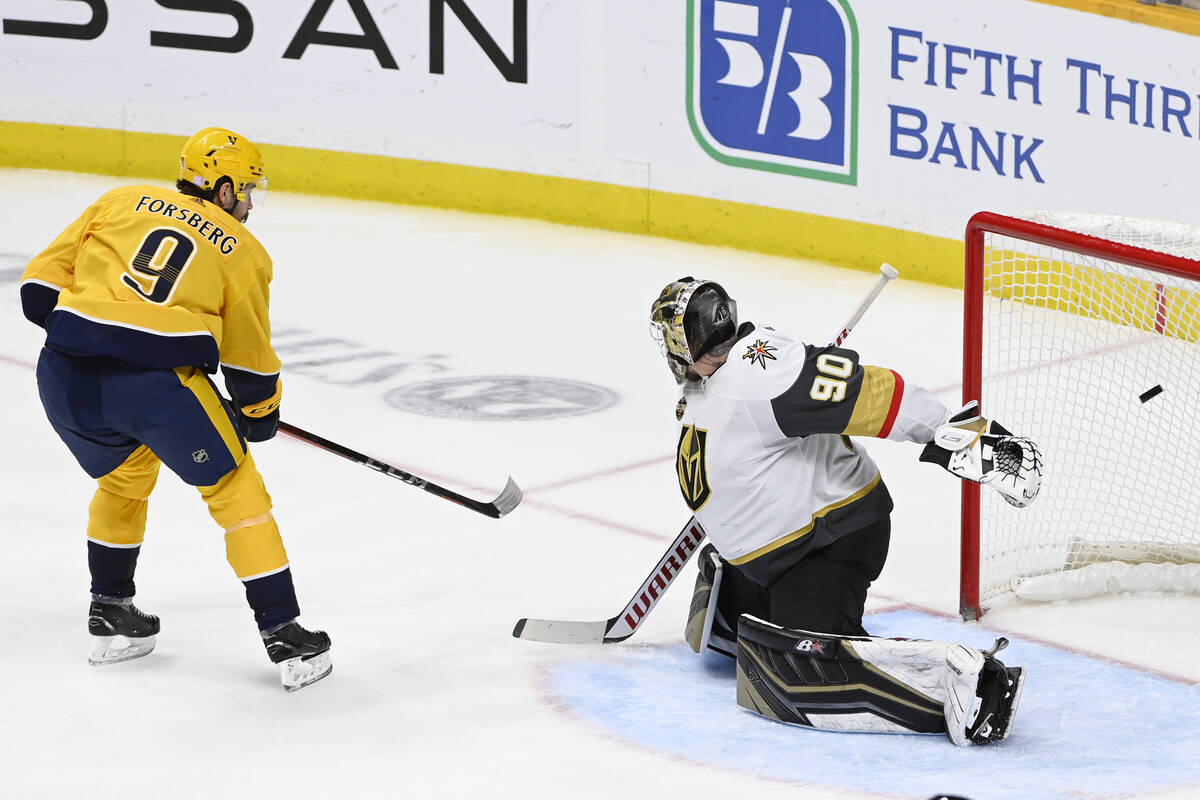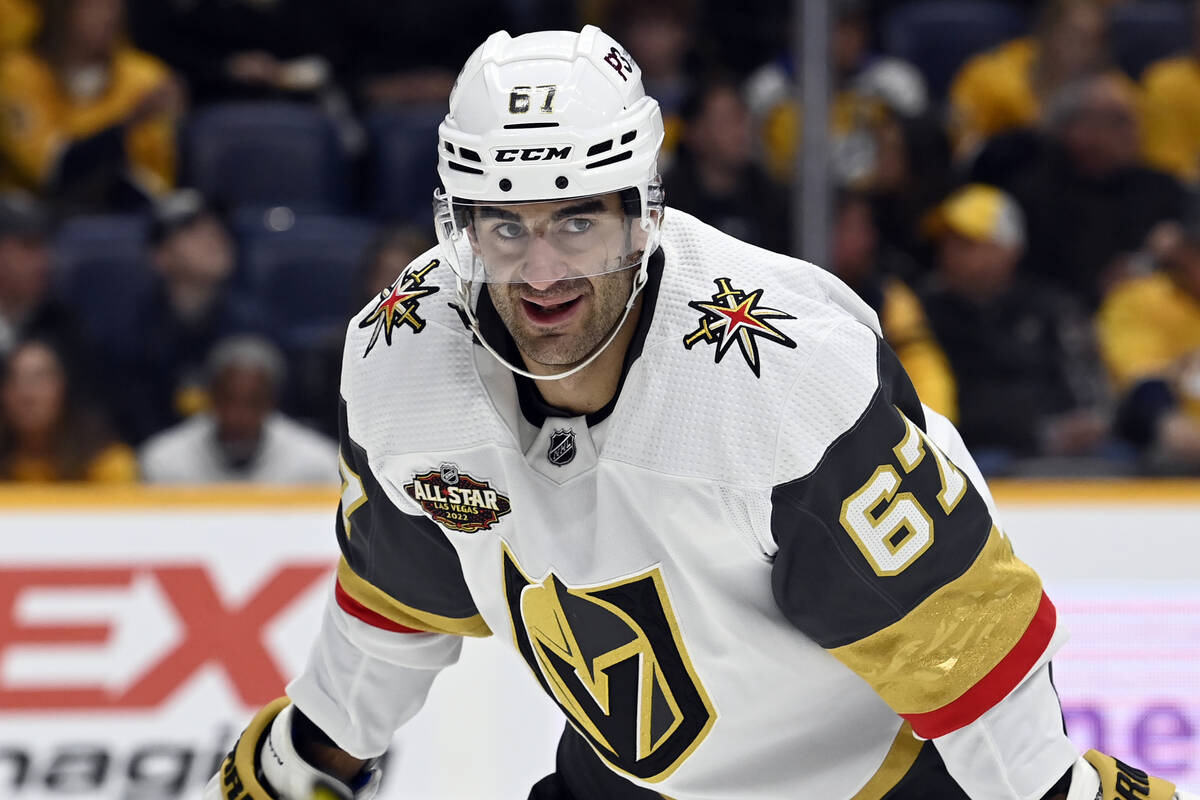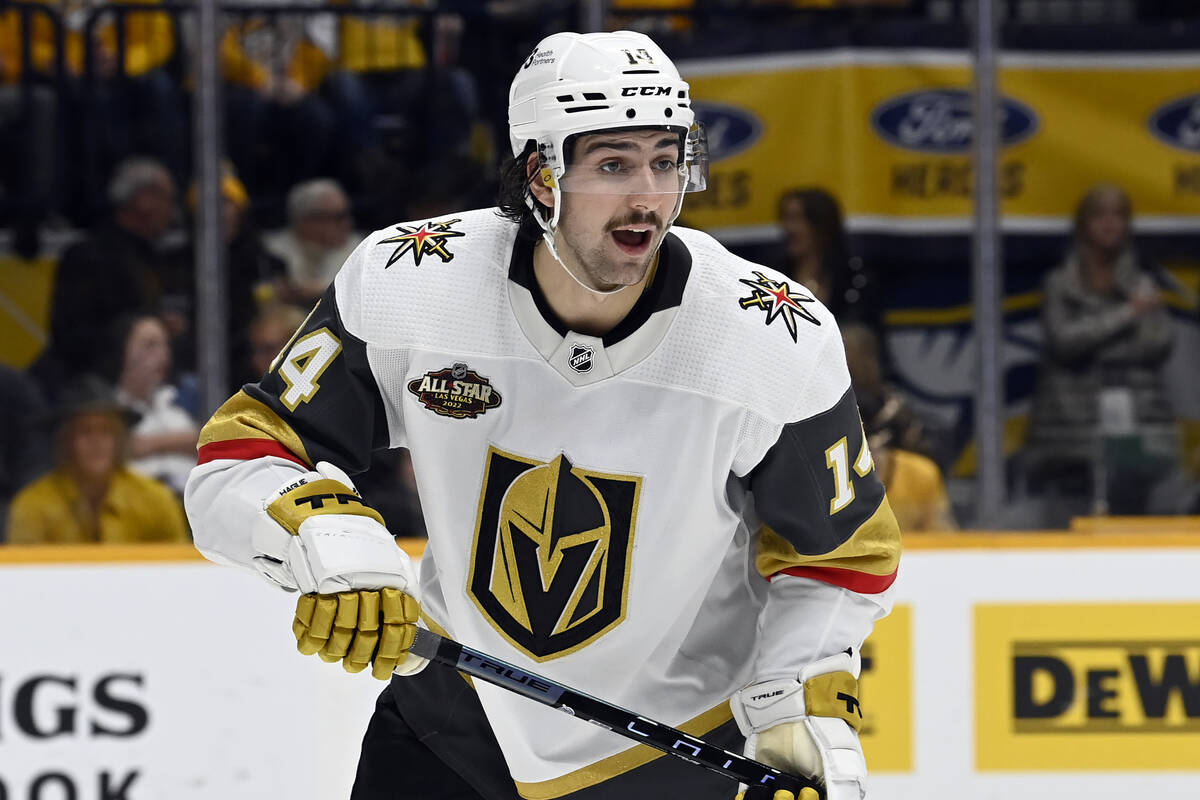 The importance of being in a playoff spot on Thanksgiving depends on which member of the Golden Knights you ask.
Defenseman Alex Pietrangelo was on a team in St. Louis that resided in last place in January then went on to win the Stanley Cup. To him, it's not a significant mile marker in the season.
Coach Pete DeBoer knows that since 2005-06, 75 percent of the teams that were in a playoff spot on Thanksgiving went on to reach the postseason.
The Knights woke up Thursday as one of those teams in a playoff spot at the quarter mark of the season, jumping into third place in the Pacific Division following a 5-2 victory over host Nashville on Wednesday night.
Chandler Stephenson and Mark Stone each finished with a goal and an assist for the Knights, who won for the 11th time in the past 15 games.
"I think that a lot of people doubted us with the injuries we had," Stone said. "But our defense has been key and when we need it we're getting huge contributions from our goaltending."
The Knights bounced back from Monday's loss at St. Louis with a strong defensive effort in front of goalie Robin Lehner (26 saves).
Jonas Rondbjerg stripped 2020 Norris Trophy winner Roman Josi of the puck and scored in the second period, and Adam Brooks added his first goal with the Knights midway through the second for a 3-0 lead.
Pietrangelo finished an odd-man rush in the third period for a short-handed goal that put the Knights ahead 4-1.
Filip Forsberg scored twice for Nashville in his return after missing the past nine games.
"We played an honest, good hard-working road game," DeBoer said. "What I like is our resiliency, the way we've handled the adversity through the first 20 games, not only to survive it but the people we've put in there have found a way to basically have us knocking on the door of a playoff spot through 20 games."
Here are three takeaways from the game.
1. Two forwards back
Left wing Max Pacioretty returned to the Knights lineup after missing the past 17 games with a lower-body fracture, and winger William Carrier made his first appearance since Nov. 9 after being cleared from COVID-19 protocol.
"I mean it's no secret since I got traded here I've basically been attached at the hip with him, so it's nice to have him back," Stone said of Pacioretty. "Him and Will just add a lot of depth to the lineup."
Pacioretty had an assist and three shots on goal in his 17:13 of ice time. He was too unselfish on a second-period rush and passed up a shooting opportunity.
Carrier logged 9:44 of action and had a plus-1 rating.
"It was also nice to be able to have some veteran NHL players sprinkled through the depth of our lineup too instead of just all young kids or inexperienced guys," DeBoer said.
Forward Brett Howden was unavailable because of the NHL's COVID protocol, according to the team. He was ruled a close contact but could be cleared in time to return for Saturday's game against Edmonton.
2. Challenge pays off
Forsberg could have had a hat trick for the Predators but was denied by a successful goaltender interference challenge in the second period.
But that's only part of what happened.
"It was a pretty crazy situation," Lehner said. "I've never seen anything like it."
Defenseman Zach Whitecloud was penalized for cross-checking at 14:02, but the clock didn't start once play resumed.
"I believe we had it at 38 seconds before they started the clock while the play was going on," DeBoer said.
After Forsberg's goal at 16:03 appeared to cut the Knights lead to 3-1, officials reviewed the play but determined they couldn't do anything despite the Knights having to kill extra time on the penalty.
Instead, DeBoer challenged that Predators forward Thomas Novak interfered with Lehner and the goal was overturned.
"When they came back and said basically they can't do anything about that, they can't reset the clock or do anything about it, that's when we made the goalie challenge," DeBoer said. "That was kind of in our back pocket if they couldn't and it was a good challenge. Our guys got it right."
3. Stone breaks through
Yes, it was an empty-net goal. No, that didn't matter to Stone, who was yet to score in seven games before Wednesday.
"It's pretty obvious I've been a little bit frustrated," the captain said. "I'm taking my anger out unfortunately a little bit too much in the last few games. I kind of had to just relax and play again."
Stone had a chance on a partial breakaway in the second period but couldn't beat Predators goalie Juuse Saros.
Late in the third, Stone batted the puck out of the air and after getting a return pass from Pacioretty, he sent a diving effort from the red line into the net with 1:52 remaining.
"I hit the goalie in the chest four times again," Stone said. "Just a little bit off with the timing of the shot, but to see that one go in will hopefully put my mind at ease a little bit."
Contact David Schoen at dschoen@reviewjournal.com or 702-387-5203. Follow @DavidSchoenLVRJ on Twitter.