Golden Knights get another player into NHL All-Star Weekend
Updated February 2, 2022 - 4:42 pm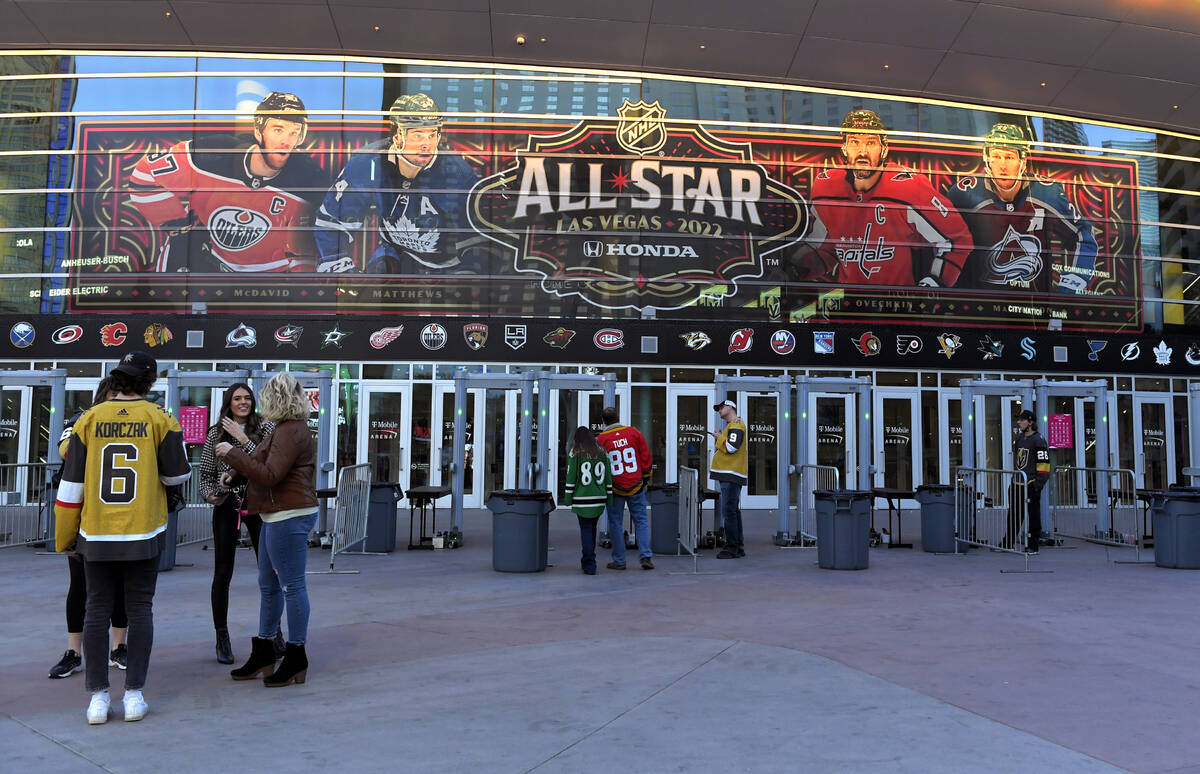 Golden Knights defenseman Alex Pietrangelo was talking a couple of weeks ago about being named to the second home All-Star Game of his career when he offered a thought. One that involved him, fellow All-Star Mark Stone and "Last Men In" candidate Jonathan Marchessault.
"With me and (Stone) and hopefully (Marchessault), you could kind of get a full line of three-on-three," Pietrangelo said. "That'd be fun to do that as a group."
But it looked as if Pietrangelo wouldn't get his wish when Anaheim Ducks right wing Troy Terry won the voting for the final spot on the Pacific Division roster over Marchessault. But the dream was renewed Wednesday when Marchessault was named to the event for the first time.
With Knights coach Pete DeBoer behind the Pacific Division bench Saturday at T-Mobile Arena, Pietrangelo's vision has a real chance of materializing.
"I think that (of) the players that were there, Terry was the guy that was having the best season," Marchessault said two days after the voting ended Jan. 20. "It's definitely an honor to be able to go to that game."
Marchessault's selection to Friday's skills competition and the All-Star Game on Saturday is the latest step in a long journey he has taken after going undrafted.
The 5-foot-9-inch left wing had to fight for every opportunity. He spent parts of six seasons in the American Hockey League. Now, he's a deserving All-Star selection.
Marchessault leads the Knights with 20 goals, eight more than any other player. He has his sixth 20-goal season locked up in 41 games. He also has more power-play goals (five) and shots (137) than anyone else on the team.
"He contributes all over the ice," said right wing Reilly Smith, who has played on Marchessault's line for five seasons. "He's as passionate as they come, and he's a huge face for this franchise. He's been here since day one, puts his heart on his sleeve, playing every shift like it was his last. There's not too many people who are more deserving than him."
Marchessault's inclusion gives the Knights more representatives at All-Star Weekend than any other team. Tampa Bay and Colorado each has three.
He was one of two players added to the event Wednesday, along with Washington Capitals right wing Tom Wilson. The Capitals said star Alex Ovechkin had to bow out of All-Star Weekend after testing positive for COVID-19.
Wilson was named as his replacement and will be making his first All-Star appearance. Philadelphia Flyers center Claude Giroux will take over the Metropolitan Division captaincy from Ovechkin.
Contact Ben Gotz at bgotz@reviewjournal.com. Follow @BenSGotz on Twitter.
Golden Knights make roster moves
The Golden Knights reassigned four players to the American Hockey League on Wednesday.
Defensemen Kaedan Korczak, Daniil Miromanov and Brayden Pachal rejoined the Silver Knights, along with goaltender Logan Thompson.
Korczak made his NHL debut in Tuesday's 5-2 victory over Buffalo, logging 16:25 of ice time.
The Golden Knights begin the All-Star break and do not play again until Tuesday at Edmonton. The Silver Knights play Wednesday and Thursday against San Jose at Orleans Arena.
David Schoen Review-Journal