Golden Knights get 'free look' at former foe in training camp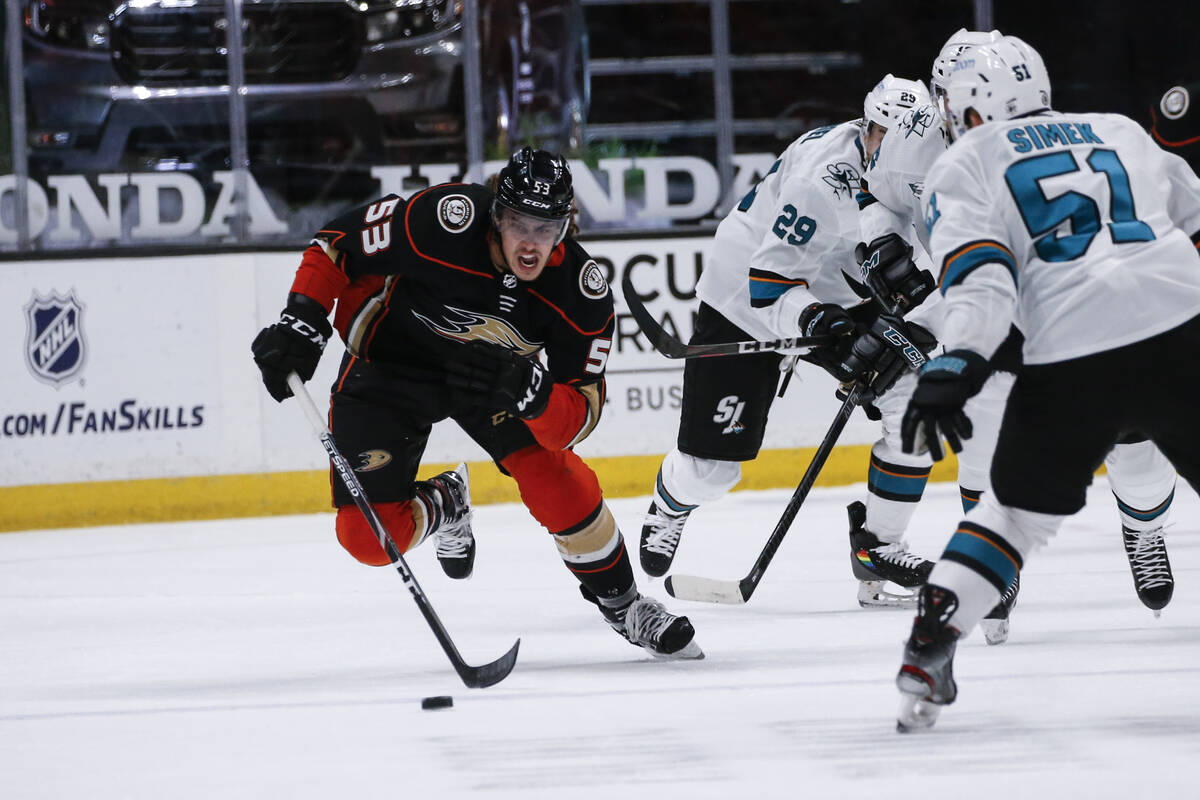 Few opponents have been able to get under the Golden Knights' skin like Maxime Comtois.
For example, defenseman Shea Theodore has fought once in 450 NHL games. His opponent? Comtois. The then-Anaheim Duck took issue with Theodore's hit in the corner on teammate Isac Lundestrom in a December 2019 game and dropped the gloves for a 16-second bout at T-Mobile Arena.
"I don't think it was a pretty good fight, " said Comtois, who threw most of the punches.
Comtois hasn't brought that tussle up to Theodore as he tries to make the transition from foe to friend at Knights training camp. The agitator, who has also showed some offensive pop, has a professional tryout agreement with the defending champs and is trying to earn a roster spot.
There's no guarantee Comtois plays well enough to begin the season with the Knights. But the team knows from experience how much of a handful the forward can be.
"I come off two seasons that were pretty hard mentally for me," Comtois said. "My game wasn't where I wanted it to be. I got a fresh start here, starting with a fresh slate. I'm excited."
Comtois did a pretty simple thing to grab the Knights' attention.
He played better against them during his five-year tenure with the Ducks than he did facing almost any other team in the NHL. He had six goals and eight points in 15 games vs. the Knights while also dishing out 27 hits. He has 32 goals in 195 games against everyone else.
"We saw them a lot," general manager Kelly McCrimmon said. "He played well against us."
Those showings, combined with the file the Knights had on Comtois going back to his amateur days, made the team decide he was worth a look.
The 24-year-old has flashed promise in the past. He was a second-round pick in 2017 and a standout player on two Canadian World Junior teams, one of which was led by Knights assistant Dominique Ducharme.
Comtois even seemed to break out at the NHL level during the 2021 season. He had 16 goals and 33 points in 55 games while being plus-5 at five-on-five.
But his career backslid from there. He had 35 points in 116 games the past two seasons with Anaheim, which posted the fourth-worst record in the league over that span.
Comtois was moved up and down the lineup as coach Dallas Eakins searched for answers. He also was in and out while dealing with injuries. Ultimately, the results were such that the Ducks decided to move on.
Anaheim didn't make Comtois a qualifying offer to retain his rights this summer and instead let him become a free agent. That led to his professional tryout agreement with the Knights, which will force him to fight to stay in the NHL.
"I didn't really have momentum going into the season for the last two years, so it was kind of hard," Comtois said. "But now, being out of the playoffs, out of the season early, I took the time to focus on my summer. It's been a long summer for me, which was good."
Comtois has to hope his offseason work will stand out to the Knights.
There's a lineup spot up for grabs on center William Karlsson's left wing, and coach Bruce Cassidy said Comtois probably will get a look there. The 6-foot-2-inch winger seems to fit the mold of what Cassidy likes in a complementary forward as a big-bodied presence who is unafraid to drive to the net.
It's just a matter of how fast Comtois can pick up the defensive details Cassidy requires from his players. There are still five preseason games for him to prove himself.
"He had a good junior career and was on a good path and had played some good hockey in Anaheim," Cassidy said. "Here's a guy you get, for lack of a better term, a free look (at), and in his case, he's probably looking at … a legitimate chance to make a hockey club."
Contact Ben Gotz at bgotz@reviewjournal.com. Follow @BenSGotz on X.
Up next
Who: Golden Knights vs. Kings
When: 7 p.m. Wednesday
Where: T-Mobile Arena
TV: KTNV-13, KMCC-34
Radio: KKGK (1340 AM, 98.9 FM)