Golden Knights launch virtual reality experience
Updated October 24, 2019 - 4:37 pm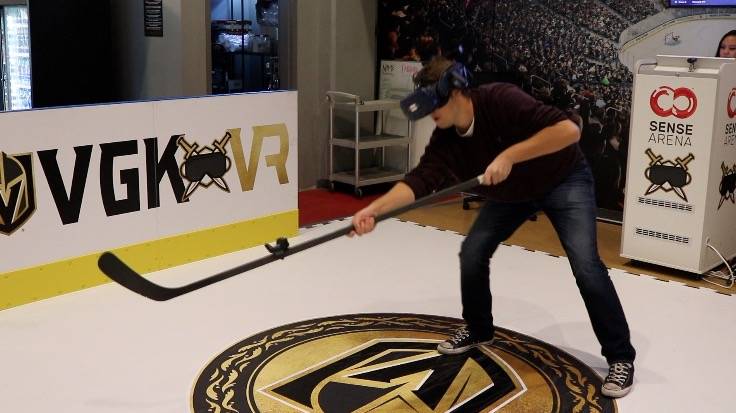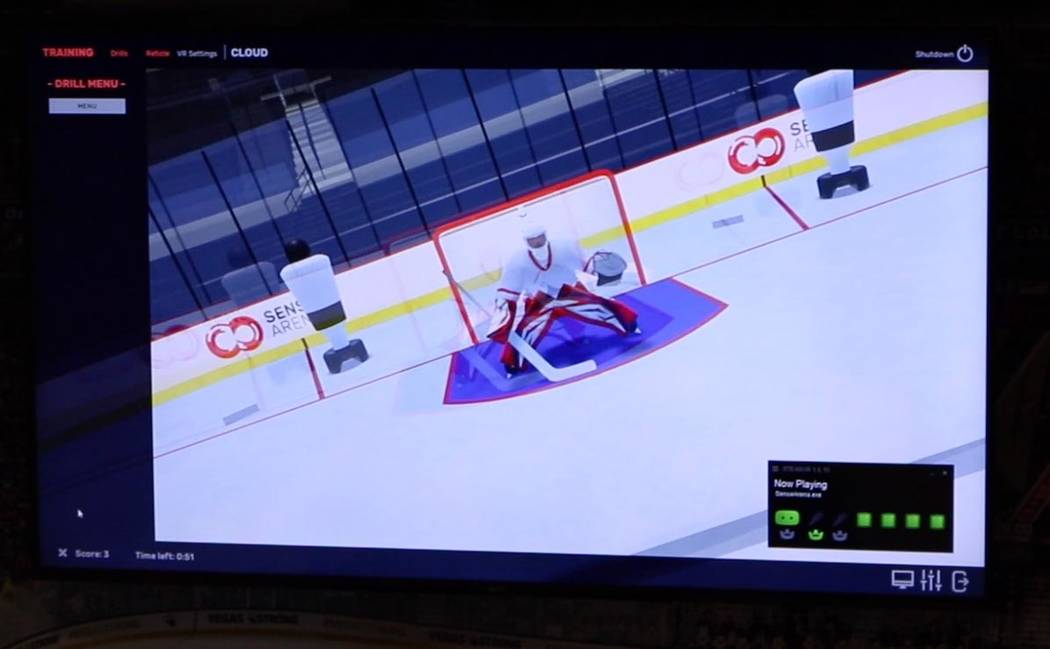 It all started with a tweet.
Heidi Browning, the NHL's chief marketing officer, visited the virtual reality company Sense Arena's setup at CES 2019 and was impressed enough to post about it.
Brian Killingsworth, the Golden Knights chief marketing officer, saw the tweet and decided it was worth checking out. Ten months later, the Knights are the group's first NHL partner.
That means Sense Arena's virtual reality hockey equipment is available to Knights players, local youth teams and visitors at City National Arena. There's an instillation set up at the practice facility and fans can check it out during the Knights' four-game homestand, which begins at 3 p.m. Friday against the Colorado Avalanche.
"It's not as much of a physical training tool as it is a mental training tool," said Garrison Macri, Sense Arena's managing director in North America. "That's really an important part of what we're doing here. This is state-of-the-art brain training technology that we've brought to hockey."
Sense Arena's "VGK VR" setup at City National Arena includes a mock rink, a headset and a hockey stick that transports users to a virtual arena. The technology contains more than 80 drills, each with three difficulty settings.
It allows players to practice basic things such as passing or shooting, but there are also more advanced drills that cover things like tipping shots and defensive-zone breakouts.
"We put players into real-life situations," Macri said. "And then we measure their peripheral vision, their ability to recognize the open lane and then their reaction time."
The company has some prominent backers. New Jersey Devils all-time leading scorer Patrik Elias was at Sense Arena's CES setup. Boston Bruins right wing David Pastrnak, who led the NHL in goals entering Thursday with 10, has been featured in promotional materials. And legendary right wing Jaromir Jagr, the league's second all-time leading scorer, uses it with the team he owns in the Czech Republic: Rytiri Kladno. He'll be doing social media promotions with the company in the near future.
"When you train your brain like that, it can translate to the ice pretty quickly," Elias said at CES 2019.
Those looking to try the system out at City National Arena can do so during select hours. Pricing starts at $10 for two games and $20 for five. Each game produces a score and for $40 a player can get a full diagnostic test that creates an account to track their progress.
The Knights hope to have players like Jonathan Marchessault and Max Pacioretty do some of the drills so visitors can see how their score stacks up.
Killingsworth said the tech could also "potentially" be used in their Vegas Jr. Golden Knights program. He hopes it encourages people who like the sport but haven't played to give it a shot.
"When we saw it, we said 'This would be unbelievable to have' for two things: One, for the advanced hockey player that's really looking to sharpen their skills," Killingsworth said. "And also for a fan experience thing. So someone who has never been on the ice (could see) the appeal of having the stick in their hands and what it feels like."
More Golden Knights: Follow at reviewjournal.com/GoldenKnights and @HockeyinVegas on Twitter.
Contact Ben Gotz at bgotz@reviewjournal.com. Follow @BenSGotz on Twitter.
Game day
Who: Golden Knights vs. Avalanche
When: 3 p.m. Friday
Where: T-Mobile Arena
TV: AT&T SportsNet (Cox 313/1313, DirecTV 684, CenturyLink 760/1760, U-verse 757/1757, Dish 414/5414)
Radio: KRLV (98.9 FM, 1340 AM)
Line: Knights -160, total 6½ u-12