Golden Knights lose in rookie goaltender's 1st NHL start
Updated January 5, 2022 - 4:51 am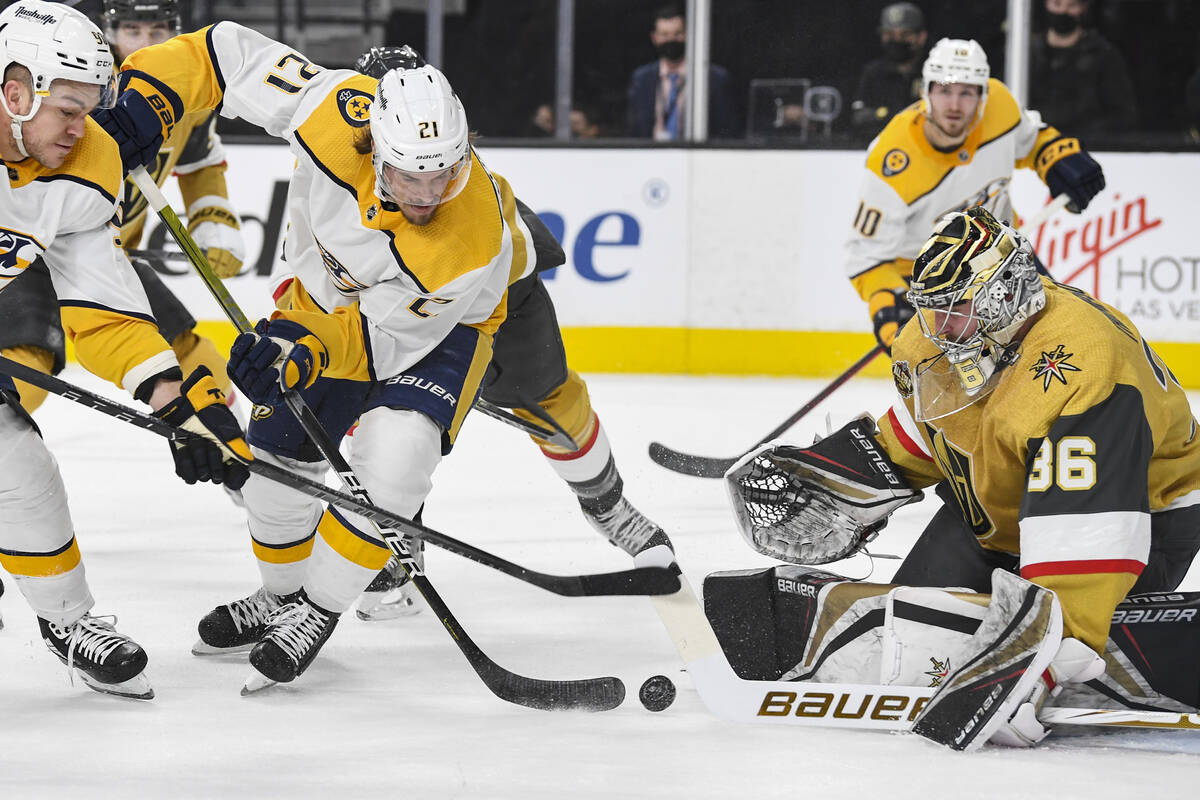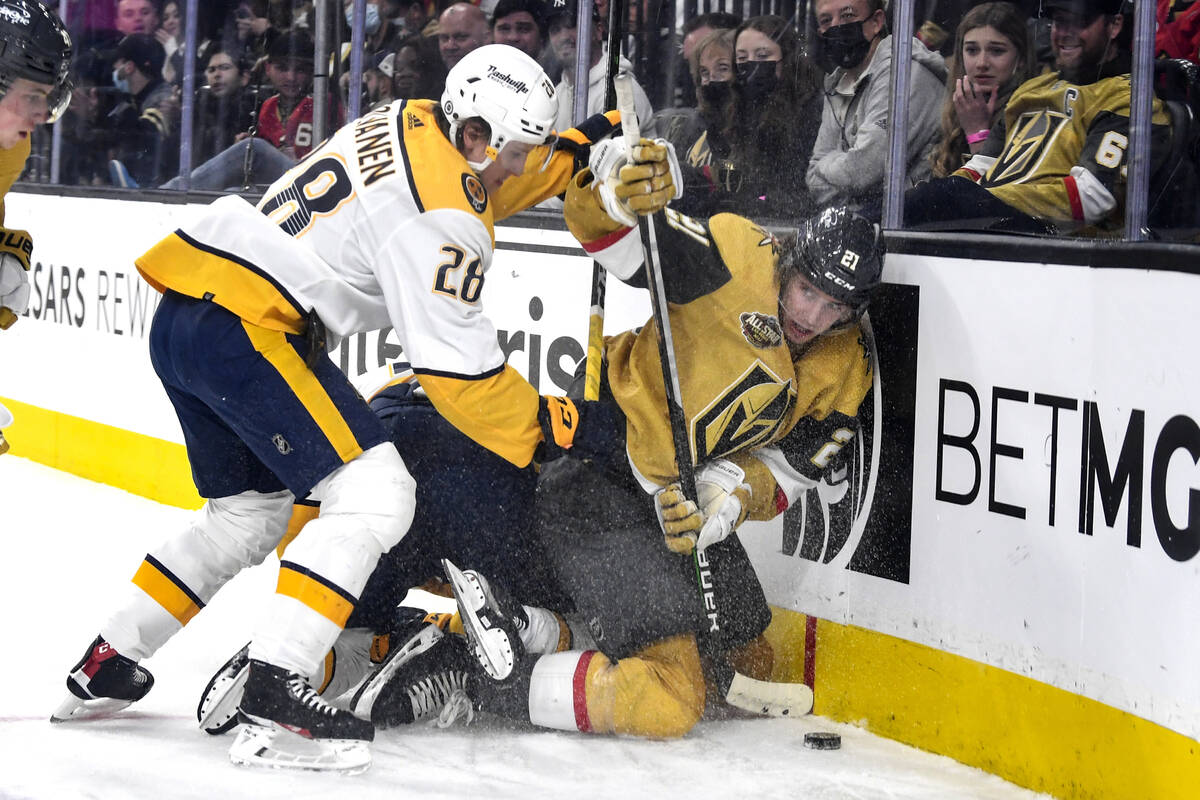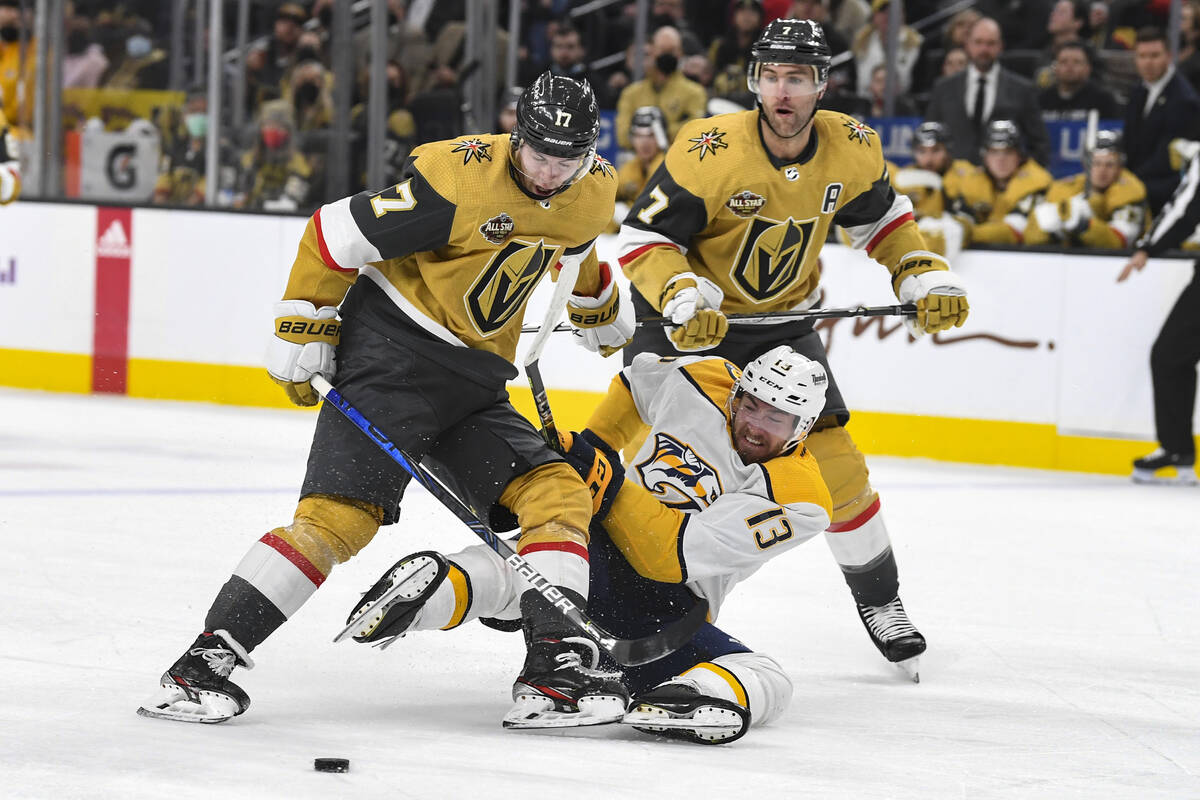 Logan Thompson stood for the national anthem Tuesday at T-Mobile Arena and thought about how far he had come.
His entire career he was undrafted, overlooked and underestimated. Yet there he was, about to begin a night he won't forget for the rest of his life.
Thompson's long climb up the hockey ladder — which included a stint in Canadian college hockey — was rewarded with his first NHL start against the Nashville Predators.
It was a long time coming for the 24-year-old, who started the Golden Knights' first-ever rookie camp game in 2017, signed with the team in 2020 and got the nod Tuesday after an award-winning season in the American Hockey League.
He earned his way onto the ice against the Predators. He just couldn't add his first NHL win after the Knights lost 3-2 in front of an announced crowd of 17,804.
"It's a dream come true for me," Thompson said. "It's been a long road."
Thompson started the season third on the Knights' depth chart after being named the AHL's goaltender of the year in 2021.
The lower-body injury Robin Lehner suffered Dec. 19 against the New York Islanders bumped him up to second. An upper-body injury to Laurent Brossoit, according to AT&T SportsNet Rocky Mountain, moved him to first.
Thompson found out he would be starting Monday and said he had butterflies the entire night. The notice gave his father enough time to make it to Las Vegas for the game.
Thompson fought through the nerves and looked ready for his moment. It was his second NHL appearance, after playing 8:15 in relief of Marc-Andre Fleury on March 10.
He made 10 saves in a scoreless first period despite a chaotic start by the Knights in their defensive zone. He was beaten twice in the second — once by left wing Filip Forsberg and once on a tip in front by left wing Yakov Trenin — and again in the third when Forsberg was left alone in front of his net.
"He came in and gave us a chance to win a game we probably didn't deserve to," coach Pete DeBoer said. "That's all you can ask."
It wasn't a perfect performance by Thompson, the first U Sports (the national governing body of college athletics in Canada) goaltender to appear in an NHL game since 1994. He finished with 23 saves on 26 shots. But, soaking in the atmosphere during the national anthem, he was able to remember all the hard work that made that moment possible.
"This is something you dream about your entire life, and I was able to do it tonight," Thompson said. "Tried to stay calm and let the nerves go and take it like a regular game day. Obviously this one sticks out from the rest, and it's going to stick with me forever."
Here are three takeaways from the loss:
1. Late rally
The Knights fell behind 3-0 6:08 into the third period because of poor play in the neutral zone and their own end.
They iced the puck eight times in the first period alone. They were also credited with nine giveaways. The Predators made the Knights' breakouts difficult to create extra offensive-zone time.
"They buckled down and really outcompeted us for long stretches early in that game, really pushed us to the outside of the rink and won a lot of battles," DeBoer said. "We didn't respond early enough or for long enough."
The home team still found a way to make it interesting. Defenseman Shea Theodore scored an empty-net goal to make it 3-2 with 1:46 remaining.
It was the Knights' fifth six-on-five goal of the season, the fourth-most in the NHL.
2. Saros shines
The goaltender opposite Thompson was making his 166th NHL start. It was spectacular.
Nashville's Juuse Saros, who finished sixth in the Vezina Trophy voting last season, made 41 saves for his 17th win in 27 starts.
He quieted a Knights' offense that had been on a roll. The team had 13 goals in its past three games before Tuesday.
Saros squeezed pucks all night to prevent rebounds and deny the Knights second chances.
3. Karlsson's milestone
Center William Karlsson got the Knights' first goal, and it was an important one.
It was Karlsson's 100th with the franchise, making him the second player to hit that mark. Left wing Jonathan Marchessault has the most in team history with 108.
"It means a lot," Karlsson said. "I have wanted this for a while now, this 100th goal. I've surely had the chances. It feels good to get a greasy one, just get it over with."
Contact Ben Gotz at bgotz@reviewjournal.com. Follow @BenSGotz on Twitter.