Golden Knights rally to beat Kings in OT on goal by Marchessault
Updated September 20, 2019 - 12:33 am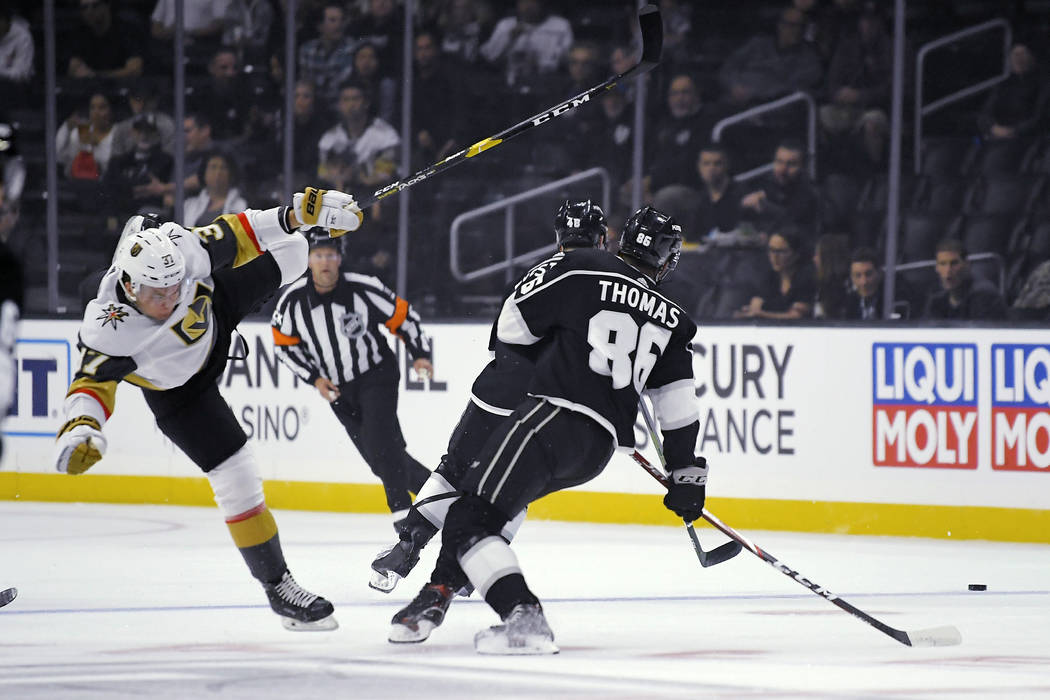 LOS ANGELES — Golden Knights coach Gerard Gallant isn't concerned with results during the preseason.
Quiet as kept, though, the Knights won their fifth in a row and ninth of their past 10 exhibition games dating back to last season with Thursday's 3-2 overtime win over Los Angeles at Staples Center.
Jonathan Marchessault scored 1:04 into overtime after Curtis McKenzie and Mark Stone scored 54 seconds apart in the third period for the Knights.
Goaltender Oscar Dansk made 36 saves, but the Knights' shutout streak ended at 150:07 when Kings forward Dustin Brown banged in a rebound late in the second period.
"It doesn't matter to me if we win or lose as long as we play hard," Gallant said. "When you come back and win that, they feel real good about themselves and it builds confidence for your team."
Here's what we learned from the Knights' win:
1. Glass gets "fair chance" on the wing.
Cody Glass joked at the start of rookie camp that he would play defense if it meant making the 23-man roster.
The top prospect is projected to play center as a pro, but let's be honest. Barring injury, the 20-year-old is not going to beat out William Karlsson, Paul Stastny or Cody Eakin at that position, and he's not suited to play a checking role on the fourth line.
That's why Glass lined up at right wing next to Eakin and left wing Alex Tuch for the first two periods against Los Angeles, to give him a "fair chance" to win a job on the third line, according to Gallant.
Glass was most effective on the power play from the half-wall, where he set up Nic Hague and Jimmy Schuldt for scoring chances.
He centered Mark Stone and Jonathan Marchessault in the third period when William Karlsson was held out as a precaution.
The Knights have one spot open as a third-line wing and will keep at least one extra forward, depending on how many rookie defensemen make the team. Glass may not win a job, but he could be an option on the wing at some point in the event of injury.
"The first period was kind of a rough start. I wasn't really used to it," Glass said. "But second period, I figured it out and I felt like I was creating a lot of chances."
2. Stone-Marchessault, heart emoji.
Flash back to Saturday, when Gallant was asked about the possibility of matching Stone and Marchessault on a line after their success together with Team Canada.
"I don't care what they did in the world championships," he said at the time.
Maybe Gallant overdosed on Coke Zero, because he decided to feature Stone at right wing on the first line with Marchessault and Karlsson. Reilly Smith was a healthy scratch.
The duo combined for the game-tying goal in the third period, when Marchessault poked the puck ahead and Stone scored on a breakaway with five minutes remaining.
The Knights' top six is locked in to start the season, with Stone slated to skate with center Paul Stastny and left wing Max Pacioretty. But it was worth testing in case of a slump or, knock on wood, injury.
3. Hague plays on top pairing.
The Knights have tried to conceal the plans for their rookie defensemen, and Gallant playfully taunted the media after morning skate Thursday.
But the Nic Hague-Nate Schmidt pairing, which was a constant through the first four days of camp, was together again. It's obvious Gallant and the front office want to see how they work together.
Hague played a team-high 22:08 and finished with a plus-1 rating.
Gallant said he wants his roster close to finalized for the final two preseason games, meaning Hague has two more chances to impress.
Contact David Schoen at dschoen@reviewjournal.com or 702-387-5203. Follow @DavidSchoenLVRJ on Twitter.