Golden Knights recap: 4th line sets tone in Game 6 victory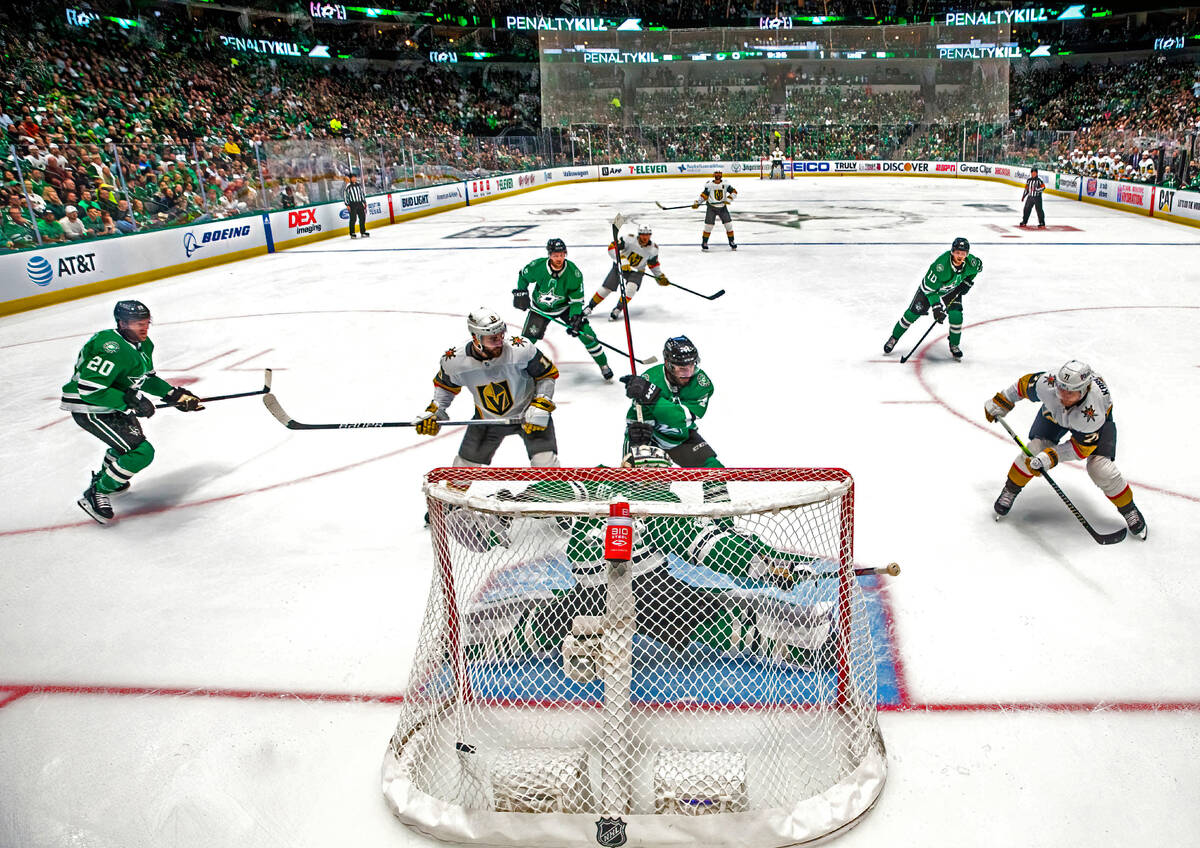 At a glance
Knights win series 4-2
■ Game 1 — Knights 4, Stars 3, OT
■ Game 2 — Knights 3, Stars 2, OT
■ Game 3 — Knights 4, Stars 0
■ Game 4 — Stars 3, Knights 2, OT
■ Game 5 — Stars 4, Knights 2
■ Game 6 — Knights 6, Stars 0
RJ's three stars
3. Knights forward William Carrier — Any of the fourth-line skaters would be a worthy choice, as they combined for two goals and five points. Carrier's patience before flipping in a backhand for the first goal set the tone, and he assisted on Keegan Kolesar's goal on a pretty give-and-go.
2. Knights goaltender Adin Hill — Granted, the Knights registered as many blocked shots (23) as Hill had saves, which made for an easy night. But he played mistake free and never gave the Stars hope they could come back. It was his second shutout in the series, both on the road.
1. Knights forward William Karlsson — His power-play tally in the first period provided the Knights an all-important two-goal cushion, and he also scored in the third period as part of his three-point effort. Karlsson has 10 goals in the postseason, setting a franchise record.
Key play
Carrier's goal
The fourth line was the difference in the first period for the Knights, and the opening goal was a perfect example.
After a turnover by Dallas forward Wyatt Johnston, the Stars were unable to clear the zone and the Knights' forecheck went to work. Kolesar and Nicolas Roy worked behind the net to free the puck, and it came free to Carrier, who waited and then lifted a backhand over Stars goaltender Jake Oettinger.
The goal at 3:41 took the crowd out of the game, and Dallas never recovered.
Key stat
0-4— The Stars' record in the series with captain Jamie Benn in the lineup. Benn was suspended for Games 4 and 5 after cross-checking Knights captain Mark Stone and returned Monday.
Notable
Tyler Seguin's good deed did not go unnoticed Monday.
The Stars forward and his fiancee, Kate Kirchof, paid for a young fan to attend the game.
According to screenshots from the Facebook group "Ladies Of The Stars," a poster's son made a video asking for donations so he could purchase tickets to the game.
Seguin was one of several Stars players who were tagged on the video on Instagram and responded by asking for the fan's Venmo address.
"Have fun bud," Seguin wrote in the screenshot.
The poster on "Ladies Of The Stars" called Seguin the "best dude on the team."
Knights quotable
"Their bottom six, those guys played great. They scored big goals for them last game. I think our bottom-six guys took it personal and stepped up our game. Every year you see a team that goes far (in the playoffs) need depth. They need big goals from their bottom-six guys. They got it the last couple games, and obviously tonight we were playing well."
— Carrier
Stars quotable
"This group in here and how much we've been through this year, I didn't think we deserved to go out the way we did tonight. Hockey is hard, man. Game 1, we didn't play great, but we probably could have snuck it out. Game 2, you play great, and they sneak it out. They scored three goals on us in the first period twice this series. Give them credit."
— Seguin
David Schoen Review-Journal