Golden Knights recap: Mark Stone sets franchise marks in win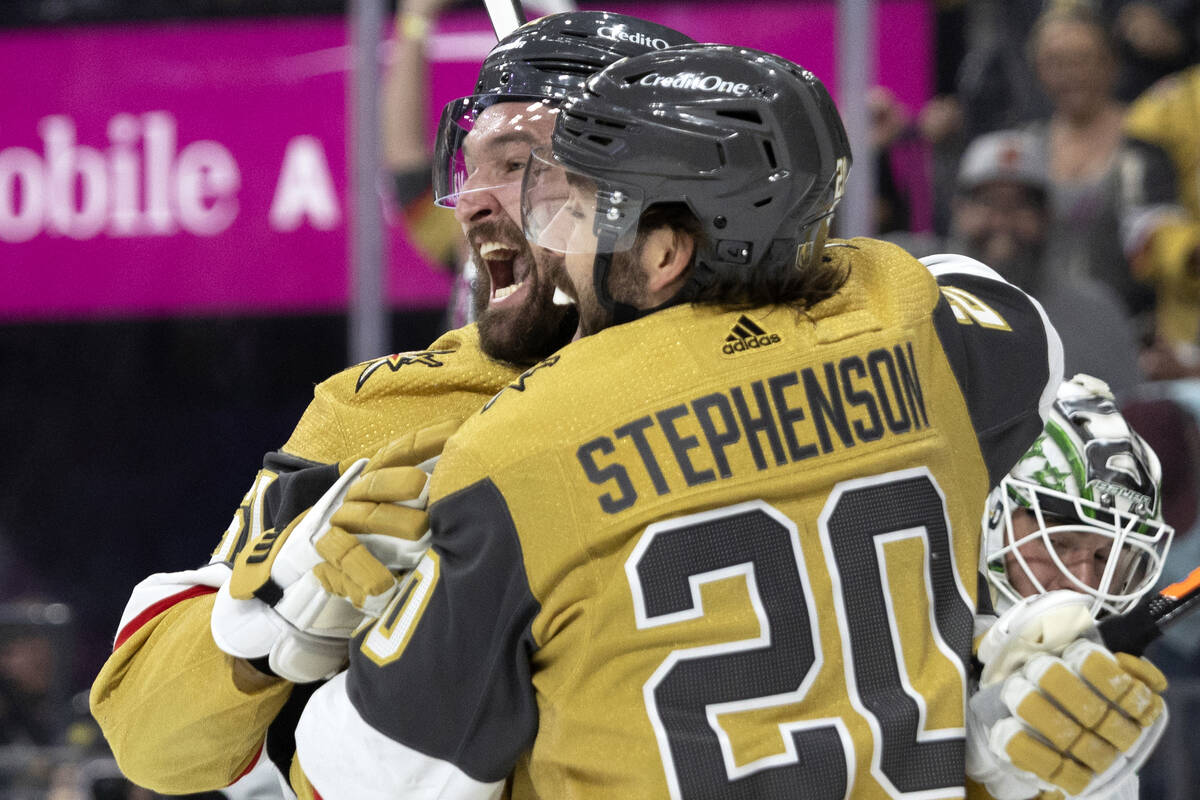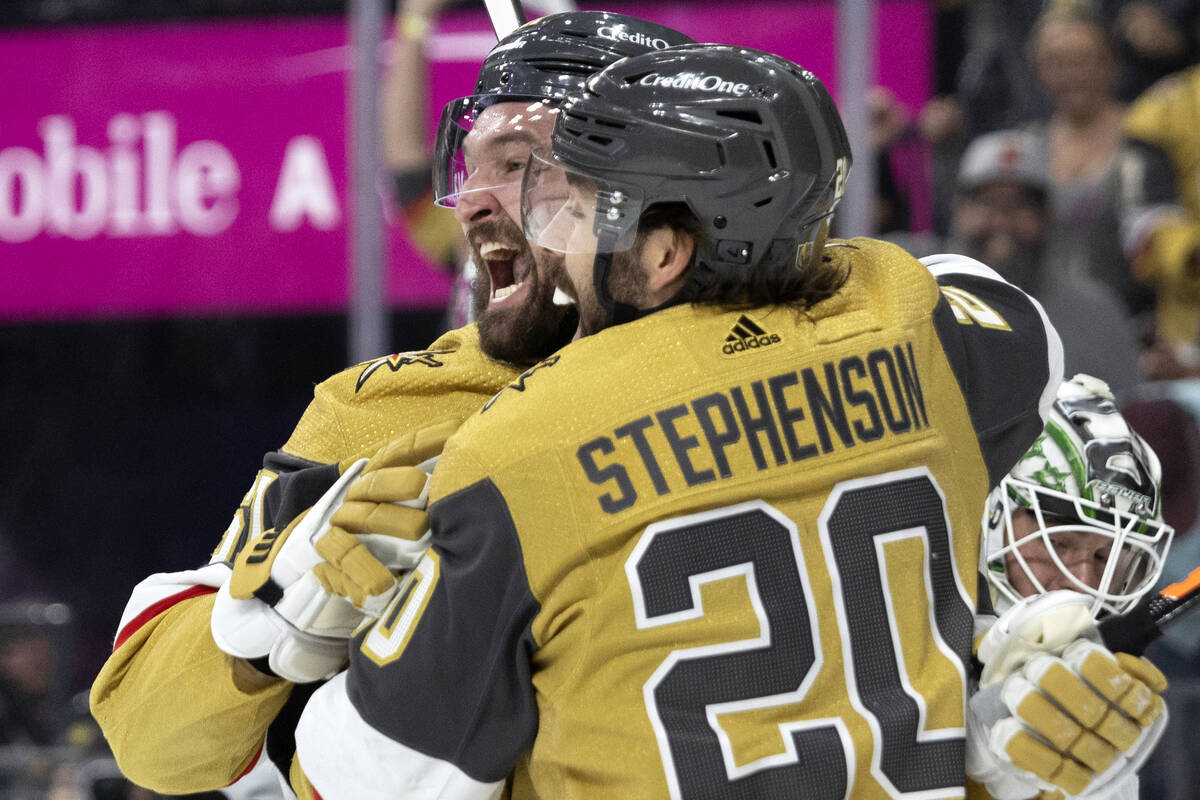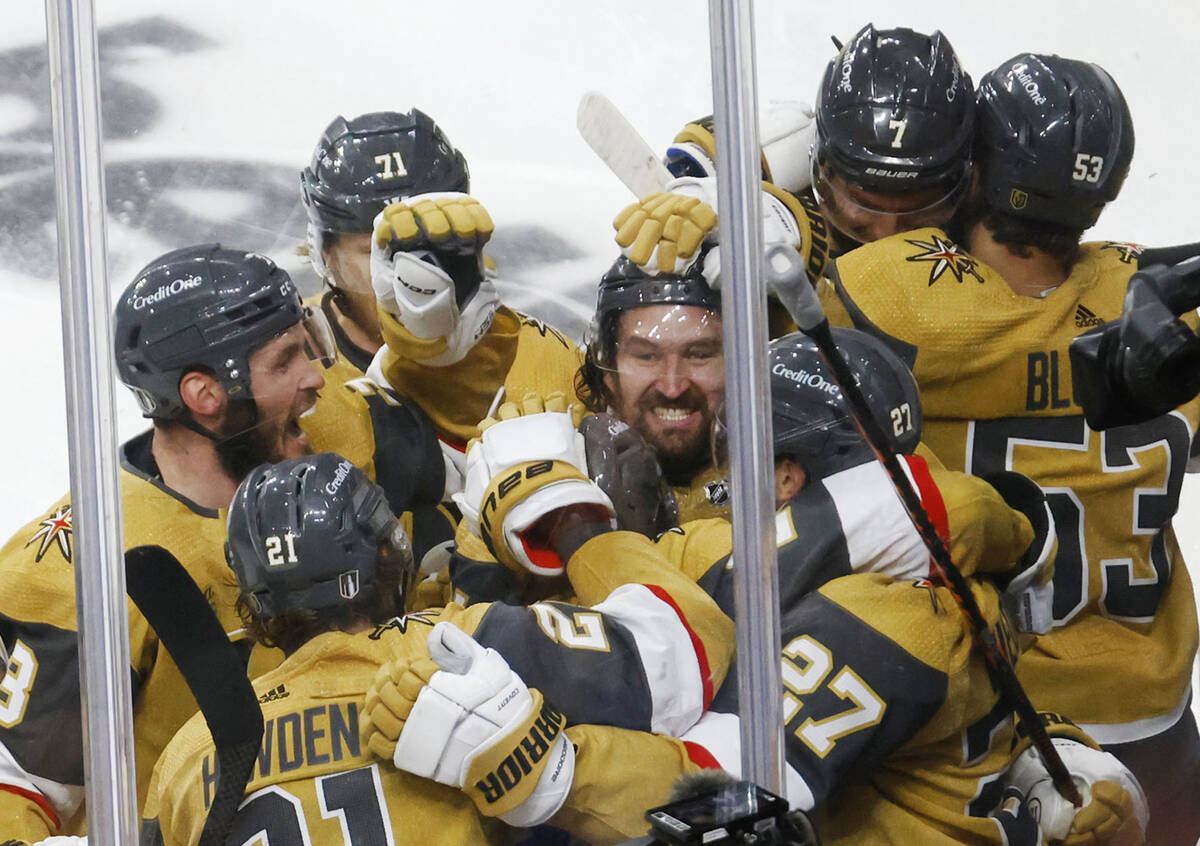 At a glance
Knights lead series 2-0
■ Game 1 — Knights 4, Stars 3, OT
■ Game 2 — Knights 3, Stars 2, OT
■ Game 3 — 5 p.m. Tuesday, American Airlines Center (ESPN)
■ Game 4 — 5 p.m. Thursday, American Airlines Center (ESPN)
■ Game 5* — 5 p.m. Saturday, T-Mobile Arena (KTNV-13)
■ Game 6* — 5 p.m. May 29, American Airlines Center (ESPN)
■ Game 7* — 6 p.m. May 31, T-Mobile Arena (ESPN)
* If necessary. All games will be broadcast on KKGK (98.9 FM, 1340 AM)
RJ's three stars
3. Knights forward Chandler Stephenson — It was an up-and-down day for Stephenson, but he played the role of hero in the end.
He took two penalties, but had an assist on Mark Stone's five-on-three goal in the first period that tied the game.
Then he was in the perfect location to tap in a rebound 1:12 into overtime to give the Knights a 2-0 series lead.
2. Knights goaltender Adin Hill — Hill stopped 26 of the 28 shots he faced, including a great chance in overtime by Wyatt Johnston in front of the net.
The first goal of the game was a fluky bounce that hopped over Hill, and he prevented several opportunities for the Stars that could have extended the lead.
1. Knights forward Jack Eichel — The stat sheet didn't reflect the entirety of the impact Eichel had.
He was consistent throughout the day and then took his game to another level for several shifts before finally contributing to the game-tying goal late in the third period.
Eichel bothered Dallas defenseman Ryan Suter into a costly turnover behind his own net and then got the puck back from Ivan Barbashev in the same spot. Somehow, Eichel spotted Jonathan Marchessault cutting to the net and put a backhand pass right on his stick.
Along with again being strong defensively, Eichel shared the team lead with three shots on goal and went 16-6 on faceoffs.
Key play
Marchessault goal at 17:38 of the third period
The Knights weren't at their best and appeared headed for a series-tying home loss before Marchessault found the net and gave the crowd life with less than three minutes remaining in regulation.
It was a team effort. Barbashev came up with the puck on the turnover, and Eichel's spectacular backhand pass from below the goal line was on the mark, leaving Marchessault to do what he does best and lift the puck over Jake Oettinger.
The goal appeared to take some wind out of the sails of a Dallas team that had controlled the action for much of the day, and the Knights made quick work of things in overtime.
Key stat
7 — Stone had a goal and an assist to extend his point streak in postseason home games to seven.
It's the longest such run in a postseason in franchise history, breaking a tie with William Karlsson and Alex Pietrangelo, who both did it in six straight games in 2021.
Stone's goal was also his sixth on the power play, making him the franchise's all-time postseason leader in the category. Marchessault and Alex Tuch both have five.
Knights quotable
"He missed one earlier. I wouldn't say he missed it because the goalie made a save. But I think he wanted to go in a different spot. I could tell because he was back on the bench swearing in French, so I knew he missed his shot. He wasn't just upset the guy saved it. I think he felt he didn't get it where he wanted to, but he didn't miss the next one."
— Coach Bruce Cassidy, on Marchessault scoring the game-tying goal in the third period
Stars quotable
"I'm not going to start assigning blame. We played a hell of a game. There's mistakes made, and they cashed in. They made a real good play. I mean, Jack Eichel makes a world-class pass."
— Coach Pete DeBoer, on the turnover by Suter that led to Marchessault's game-tying goal
Adam Hill Las Vegas Review-Journal