Golden Knights receive positive news on Brett Howden's injury
Updated March 25, 2022 - 9:01 pm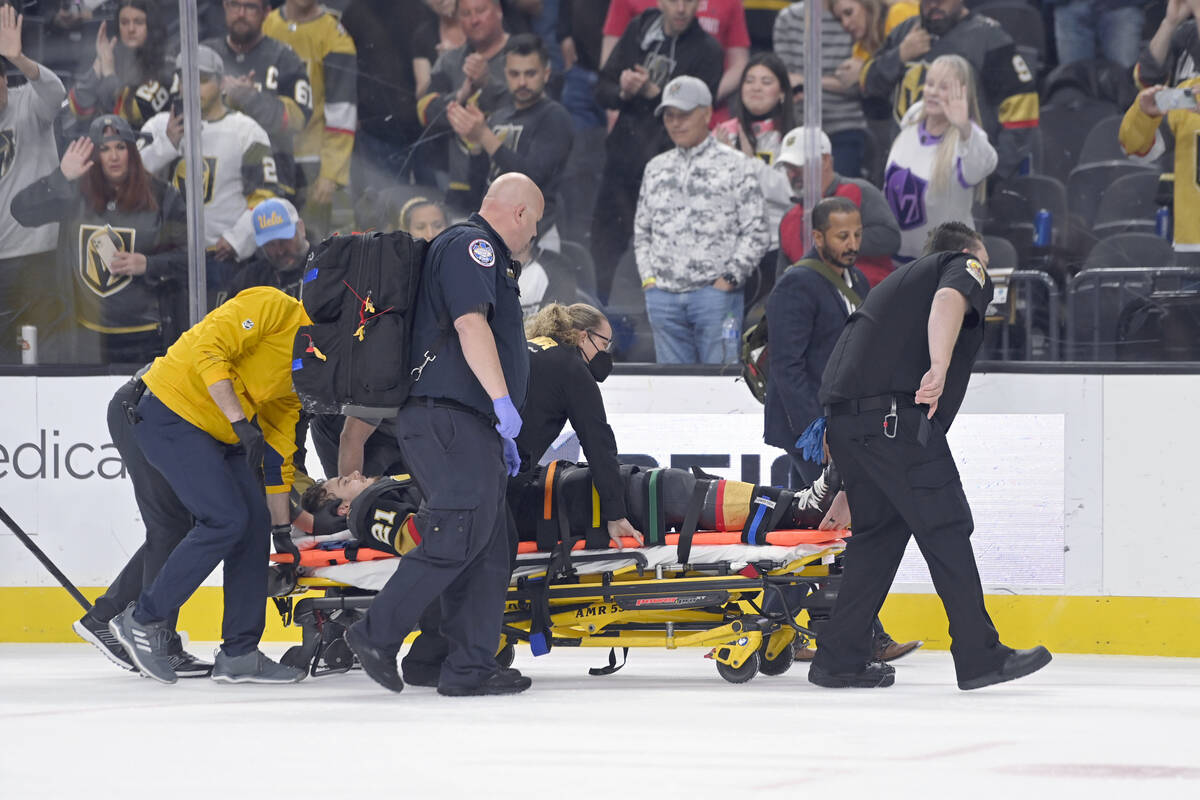 The Golden Knights had positive news on center Brett Howden one day after he was stretchered off the ice in Thursday's 6-1 win against the Nashville Predators.
Howden was at City National Arena on Friday, and coach Pete DeBoer said the 23-year-old was sore but had nothing broken. DeBoer said Howden probably will be out "for a little while."
Howden was injured in the first period after a neutral-zone collision with Predators left wing Filip Forsberg caused him to crash into the boards. The game was stopped for nine minutes so he could be put on a stretcher. The Knights said Thursday that Howden had no injury to his neck or spine.
"Scary situation," DeBoer said. "Thankfully about as good of a result as you can ask for out of something like that. He's pretty banged up today."
Center Chandler Stephenson said Thursday's game had a "weird feel" after Howden's injury with 3:31 remaining in the first period. DeBoer said the officials gave the Knights the option of starting the first intermission early, but the players wanted to stay on the ice with their teammate.
Predators captain Roman Josi and coach John Hynes extended their thoughts to Howden in their postgame comments.
"On behalf of the Nashville Predators, it's nice to hear he's in stable condition and doing well," Hynes said. "We support him and wish him all the best."
Howden was a welcome sight at the facility Friday. Stephenson said Howden feels like he was in a car accident, but his injury isn't career-threatening.
"Everybody can have a sigh of relief," Stephenson said. "He's going to be OK. He's going to play again, which is obviously awesome. Just makes you sick. You never want to see anything like that for anybody."
Other injury updates
■ DeBoer said left wing Max Pacioretty, who was considered a game-time decision Thursday, suffered a setback and will not be available "in the near future."
Pacioretty has missed the Knights' past seven games with an undisclosed injury. The 33-year-old has 29 points in 29 games this season.
■ DeBoer didn't have an update on right wing Nolan Patrick, who exited Thursday's game after three shifts. Patrick has two goals and five assists in 25 games.
"He'll do some testing today, and we'll see where he's at," DeBoer said.
Brisson shines
Knights 2020 first-round draft pick Brendan Brisson and No. 1 overall seed Michigan defeated American International 5-3 in the first round of the NCAA tournament Friday in Allentown, Pennsylvania.
Brisson had a goal and two assists in the win. The 20-year-old right wing has 20 goals and 20 assists in 36 games as a sophomore.
Contact Ben Gotz at bgotz@reviewjournal.com. Follow @BenSGotz on Twitter.