Golden Knights' Robin Lehner accused of fraud in bankruptcy case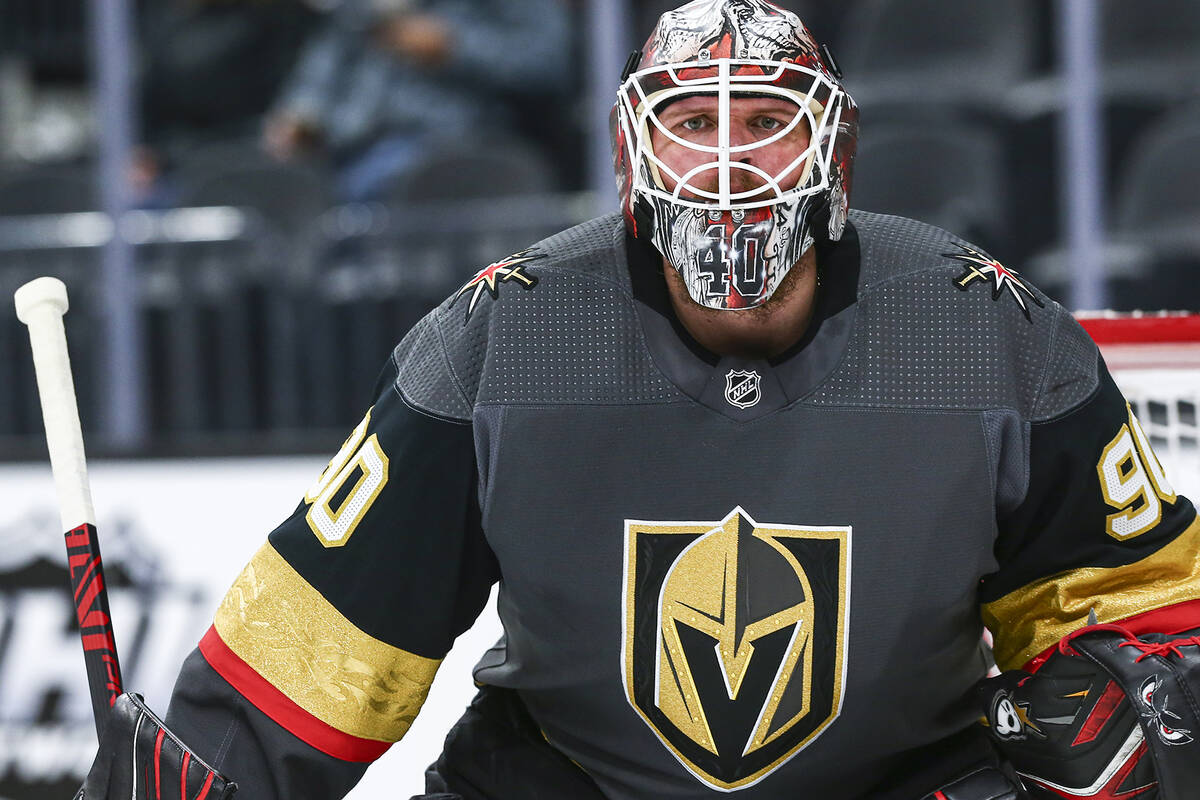 Golden Knights goaltender Robin Lehner was accused of fraud in connection with his ongoing Chapter 7 bankruptcy case.
Aliya Growth Fund, a creditor in the bankruptcy of Lehner and his wife, Donya, petitioned the court to require the NHL goalie to pay back $4.75 million tied to a loan the company provided, according to new court documents.
In a separate court filing, American Express is seeking the repayment of nearly $100,000 in charges made by the Lehners.
Both Aliya and American Express made claims of fraud against the Lehners in the court filings.
The Review-Journal reached out to the Lehners' attorney for comment but didn't receive a response.
The Lehners filed for Chapter 7 bankruptcy in December with the U.S. Bankruptcy Court in Las Vegas. They owe creditors $27.3 million against personal property of $5.1 million, according to documents filed with the court in February.
The majority of the Lehners' debt is tied to Phoenix-based solar technology company SolarCode LLC; a reptile farm in Plato, Missouri; a 20 percent stake in a reptile and avian zoo in Punta Gorda, Florida; and other personal property.
The couple used the loan from Aliya to pay down debts tied to two other loans: a $6.8 million loan from RMSPC Funding and a loan totaling $2.8 million from South River Capital.
Aliya alleged in its complaint that Lehner did not disclose that he had also used his contract with the Knights as collateral in the RMSPC loan. Those two previous loans were secured with liens on multiple properties the Lehners own, including their Summerlin home and the snake farm business in Missouri. The Aliya loan and the RMSPC loan also used Lehner's NHL contract as collateral.
Robin Lehner, 31, a native of Sweden, signed a five-year, $25 million contract with the Golden Knights in 2020. He has not played this season following surgery on both hips.
The Florida-based Aliya Growth Fund claims that the Lehners failed to disclose two dozen loans totaling $21 million at the time of their loan application with the firm. The loan amounts ranged between $24,339 and $3.6 million.
"To induce AGF to make the AGF Loan, Defendant made several material representations to AGF, which have since been determined to be false and fraudulent," Aliya's lawyers wrote in the court filing.
AGF is also seeking a monetary settlement tied to repayment of legal fees with interest in addition to full repayment of their loan to the Lehners.
In a separate court filing, American Express is seeking full repayment of more than $95,000 in charges made by the Lehners.
American Express claims the Lehners made 13 charges totaling $95,319.96 after the couple hired a bankruptcy lawyer on Dec. 7.
Those expenses included five charges totaling $45,406.25 at Las Vegas-based Aquatic Treasures, $15,029 at Top Shelf Aquatics in Florida and three charges totaling $11,490 at Farmer Direct Meats in Canada.
Because the charges were said to be made after the Lehners hired legal help tied to bankruptcy proceedings, American Express is requesting that the amount owed is not discharged during court proceedings.
"The Defendants incurred a portion of the balance of the Account in the amount of $95,319.96 through false pretenses, a false representation, or actual fraud," American Express' lawyers wrote in the court filing.
Contact Mick Akers at makers@reviewjournal.com or 702-387-2920. Follow @mickakers on Twitter.