Golden Knights Ryan Reaves, Alex Tuch dish on art of tipping shots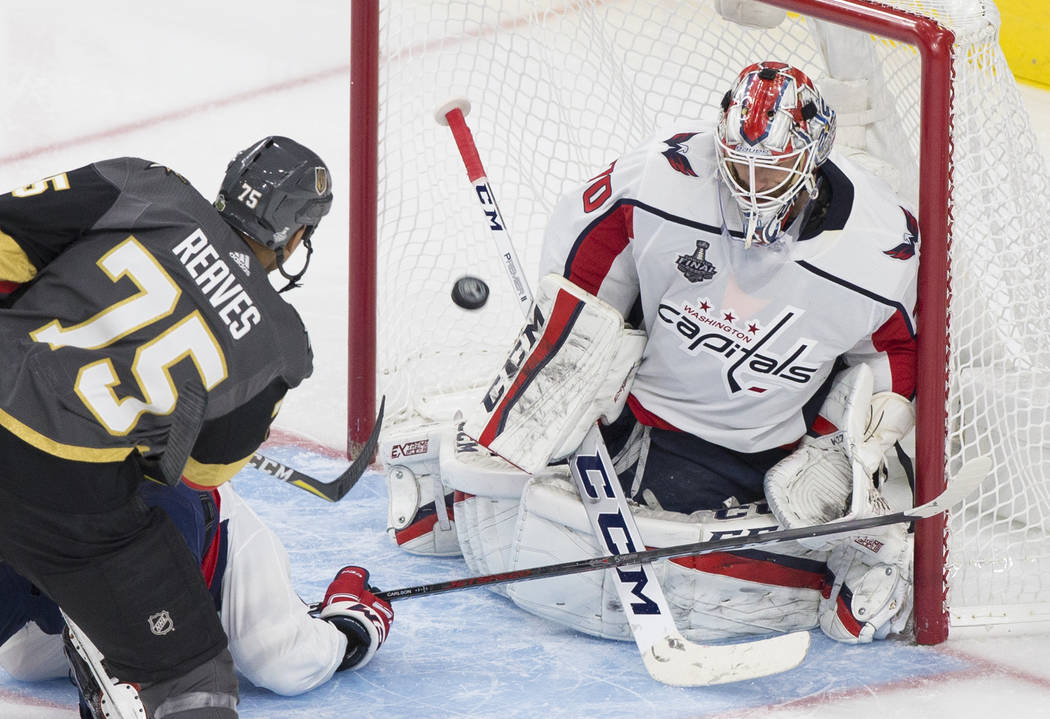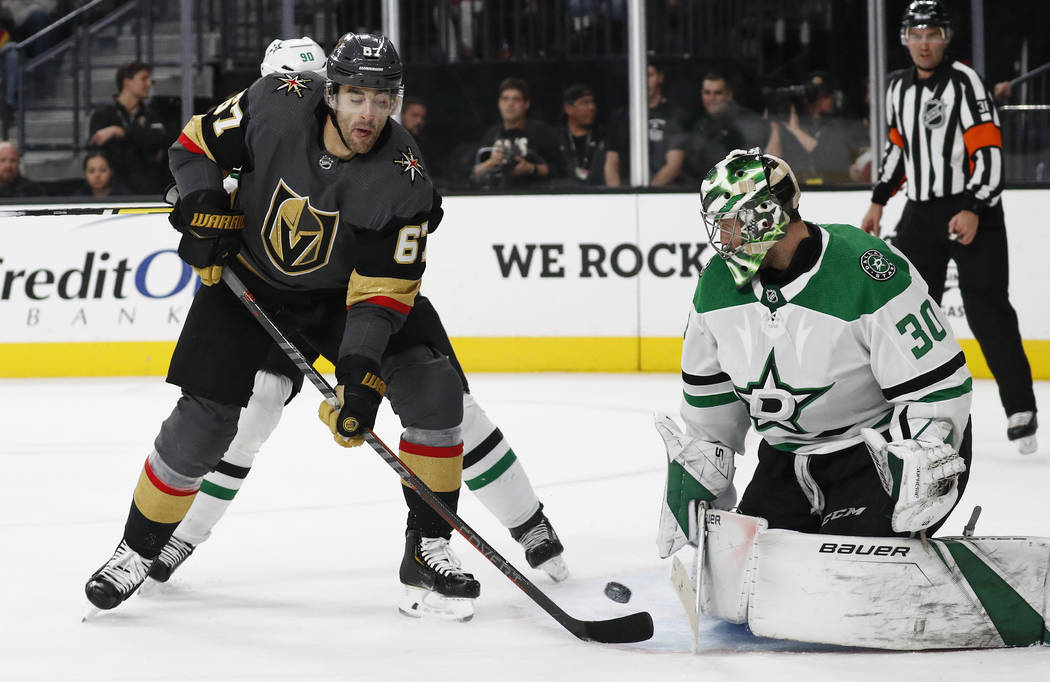 It's one of the hardest things to do in hockey.
Stare at a puck 1 inch thick and 3 inches in diameter as it barrels forward at speeds that can surpass 100 mph. Get a stick in the way of that puck. And get that puck to change direction enough that it moves away from an opposing goaltender and into the net.
Tipping shots is an art form and is both difficult and dangerous. But Golden Knights right wings Alex Tuch and Ryan Reaves — who both view it as a necessary part of their jobs — have methods to the madness of skating in front of their crease, waiting for a teammate to shoot and trying to redirect the puck.
"(You) just pray it doesn't hit you in the face," Reaves said. "That's where I score the majority of my goals is in front. You can't be afraid to go there. You just have to trust your D-men."
The key, Tuch said, is don't treat the stick like a bat. Don't use it to swat at the puck. Just put the stick where the puck is going and let it do the work.
"Keep the stick in front of you so you're not turning your entire body," Tuch said. "All you're doing is moving the stick to the side the puck is going on and trying to redirect it in the opposite direction. You know if the goalie is sliding to your right, you want to tip it back to the left to find an opening."
Reaves said sending the puck in the opposite direction is usually enough to score a goal, so he doesn't worry about picking a corner or anything like that. If the shot is high, he tries to tip it low, and vice versa. As long as he gets his stick on it and keeps it on net it's a tough save for a goaltender.
Even if the goalie does react quick, usually there's a rebound. Tuch said that's key because the tip is just one part of the play. It's about getting in front of the goaltender to block his eyes, trying to tip a shot past him and then turning around to see if there's a rebound. All so a shot farther away from the net can turn into a goal.
"It's the ability to keep the puck alive and bury some rebounds," Tuch said. "You try to be as fearless as possible when you've got a one-timer coming at you."
Going streaking
Pittsburgh Penguins right wing Bryan Rust's game-winning goal in overtime Friday put an end to a remarkable streak for the New York Islanders.
Before that overtime loss, the Islanders had won 10 straight games since starting 1-3. That helped them rocket up to second in the Metropolitan Division standings. The overtime loss still gives them an 11-game point streak.
Coach Barry Trotz already has a case to repeat as the Jack Adams Award (best coach) winner.
Bunched-up Pacific
The Pacific Division may not be the best in the NHL, but it might be the most competitive.
The Edmonton Oilers, Vancouver Canucks, Arizona Coyotes and Anaheim Ducks have all looked improved so far this season. They've turned a division that had no wild card teams last year into one that looks like it might get two.
Only five points separate the first-place Oilers (24) from sixth-place Anaheim (19).
More Golden Knights: Follow at reviewjournal.com/GoldenKnights and @HockeyinVegas on Twitter.
Contact Ben Gotz at bgotz@reviewjournal.com. Follow @BenSGotz on Twitter.
RJ's best and worst
Review-Journal hockey writer Ben Gotz gives his best and worst NHL teams each week (Record and goal differential are through Thursday):
Best
1. Boston Bruins (11-2-2, +20)
They're third in goals for and tied for third in goals against. That'll work.
2. Washington Capitals (12-2-3, +16)
They partied it up with the World Series champion Washington Nationals but kept winning.
3. New York Islanders (11-3-1, +13)
They gave up 17 goals during their 10-game win streak. Coach Barry Trotz's defensive systems are outstanding.
4. St. Louis Blues (11-3-3, +5)
The reigning champs are getting it done without stud right wing Vladimir Tarasenko.
5. Vancouver Canucks (9-4-3, +15)
Like the Bruins, they're top 10 in offense (sixth) and defense (tied for third).
Worst
27. San Jose Sharks (6-10-1, -17)
Things just haven't gotten better for this typical contender.
28. Ottawa Senators (5-9-1, -9)
They're 4-4 at home but a dismal 1-5-1 on the road.
29. Minnesota Wild (5-10-1, -15)
A road-heavy early-season schedule has made a bad team look worse.
30. Los Angeles Kings (5-10-1, -22)
They've taken the third-most shots. They have the seventh-fewest goals.
31. Detroit Red Wings (4-12-1, -33)
They've played 17 games and have been outscored by 33 goals. Yikes.