Golden Knights' Ryan Reaves, Robin Lehner kneel during national anthem
Updated August 3, 2020 - 10:56 pm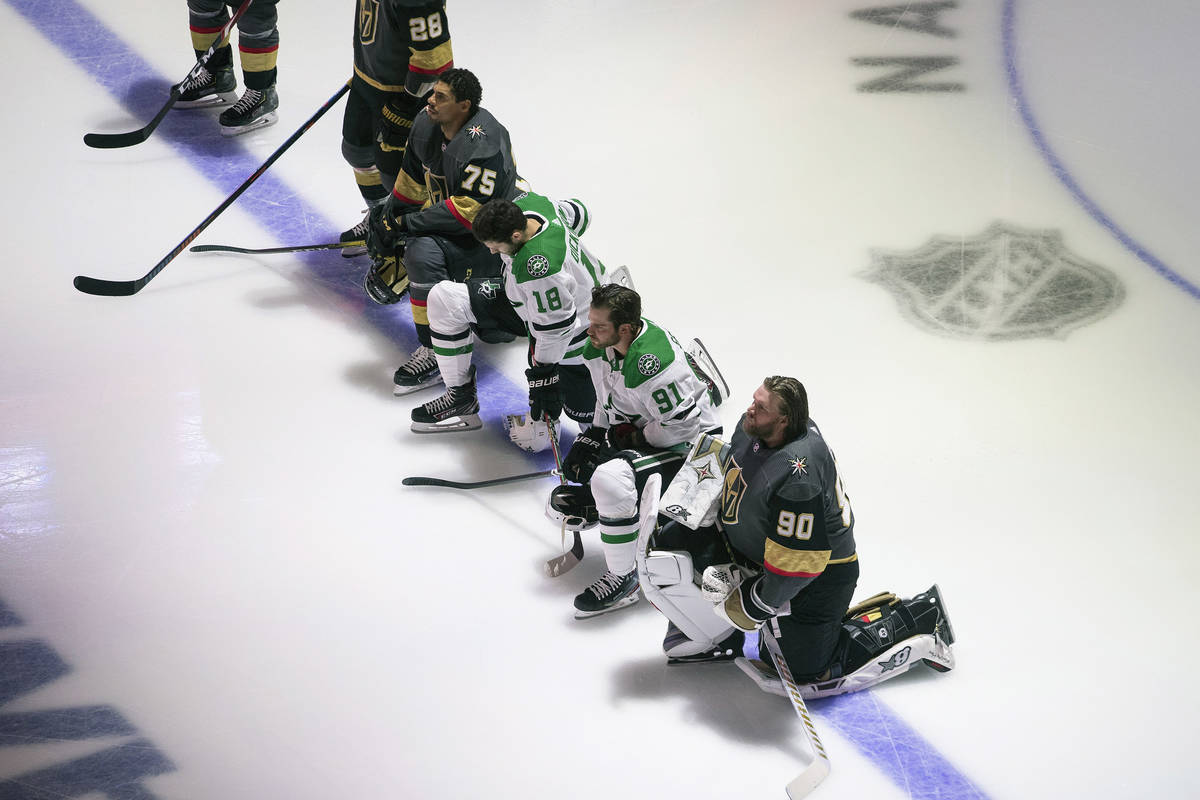 The national anthems before the Golden Knights' game Monday were like many in their three-year history. A recording of T-Mobile Arena anthem singer Carnell Johnson even played at Rogers Place in Edmonton, Alberta.
But physically, and symbolically, something was different.
The Knights' Ryan Reaves and Robin Lehner, along with Dallas Stars players Tyler Seguin and Jason Dickinson, knelt during the American and Canadian anthems before their playoff round-robin game as a sign of protest against racial injustice. The quartet were the first NHL players to kneel before playing a game.
Players of the @DallasStars and @GoldenKnights kneel during the National Anthems. #WeSkateFor Equality pic.twitter.com/rrgAi1pPyQ

— NHL (@NHL) August 3, 2020
They were following the lead of Minnesota Wild defenseman Matt Dumba, who became the first NHL player to kneel during the American anthem after giving a speech before a Chicago Blackhawks-Edmonton Oilers game Saturday.
"I definitely want to start by saying in no way am I trying to disrespect the flag or people who fought for this country," said Reaves, who pointed out the respect he has for Knights owner Bill Foley, a West Point graduate. "But at the same time, those people go across seas, and they go to war, and families are torn apart in those wars for the freedom of this country only to come back and find out this country isn't free for everybody. I think that's where I'm coming from."
Lehner said he and Reaves came to their decisions independent of each other. Lehner told Reaves he wanted to kneel, and the two discovered they were on the same page.
Coach Pete DeBoer said the two players approached him, president of hockey operations George McPhee and general manager Kelly McCrimmon in the last 48 hours about their plan. DeBoer said he gave them his "full support."
The Knights tweeted a photo of the four players kneeling with the caption: "We are united in the fight for racial equality. We support our players and all those who peacefully seek to inspire change and raise awareness against racial injustice."
We are united in the fight for racial equality.

We support our players and all those who peacefully seek to inspire change and raise awareness against racial injustice. pic.twitter.com/iA7CvGX1eA

— y-Vegas Golden Knights (@GoldenKnights) August 3, 2020
Seguin became involved after a conversation with Reaves during warmups. The Stars' leading scorer, who attended a Black Lives Matter protest in June, learned of Reaves and Lehner's plan and told his teammates he would be joining them. Dickinson said he would, too.
Dickinson said he knelt to support "Black Lives Matter, equality, justice."
"You pick the term, it doesn't really matter," Dickinson said. "I don't need to sit here and take a stab at all the issues. Just educate yourself, look into things, watch documentaries, talk to people. Really just learn. Try to open your mind a little bit. This is a big issue that needs to be addressed."
Reaves, who is biracial, has discussed experiencing racism in hockey and everyday life before. He said during a Zoom call in June that he was called a racial slur while in junior hockey. He wants to promote diversity in the sport so others don't have the same experience.
He's held ball hockey clinics in Las Vegas, and he's reached out to longtime rival Evander Kane to get involved in the newly formed Hockey Diversity Alliance.
Reaves also organized a demonstration during the Knights' exhibition game Thursday for racial equality. The team locked arms for the national anthem.
He decided to do things differently Monday, and Lehner was there to make sure he didn't do it alone.
Pretty sure I saw @reavo7five singing along with me… https://t.co/fRz5sSirTX

— Carnell Johnson (@goldenpipeslv) August 4, 2020
"This is human rights; it's not about politics," Lehner said. "Everyone's talking about conversations and education and listening. But it's time to start doing something, not just let this be a news cycle and forget about it and do it all over again. Everyone should have the chance in society. Everyone should be treated the same."
Contact Ben Gotz at bgotz@reviewjournal.com. Follow @BenSGotz on Twitter.
Related
ED GRANEY: Ryan Reaves understands both sides of police and protests
Ryan Reaves understands both sides of police and protests
Ryan Reaves understands both sides of police and protests