Golden Knights' task: Slowing Oilers' 'human highlight reels'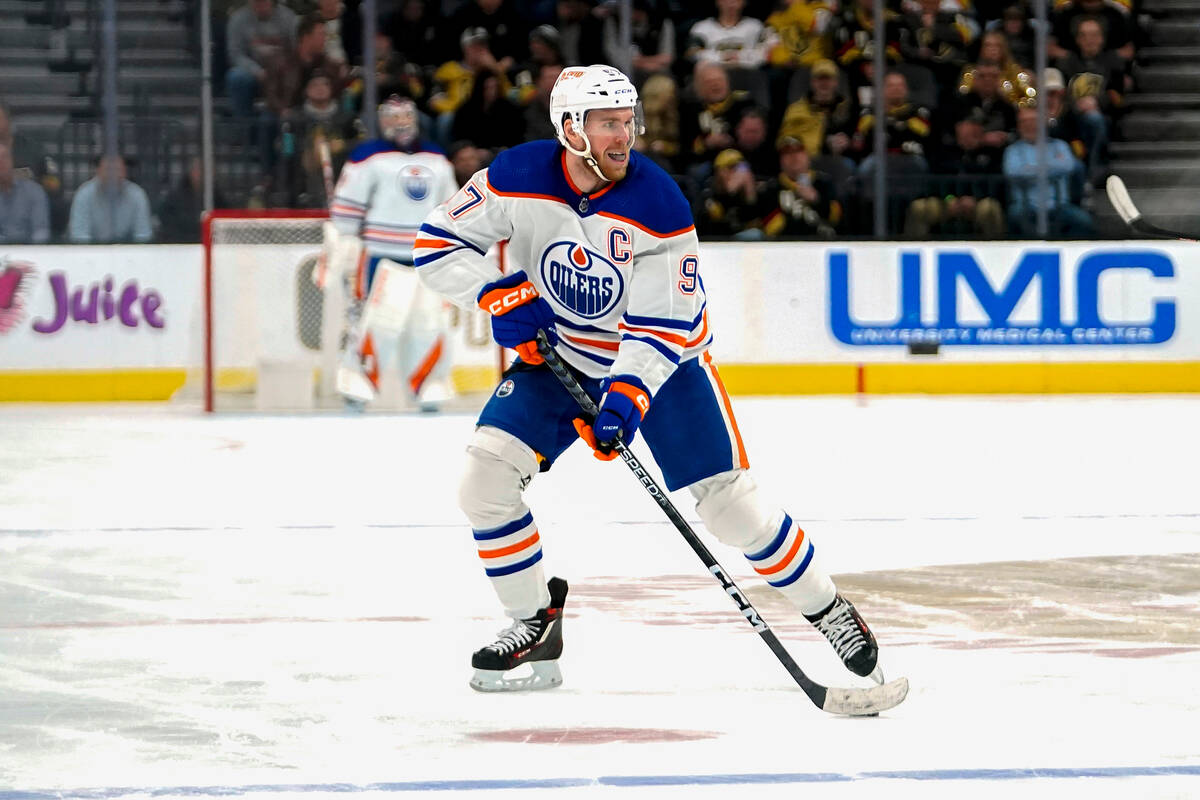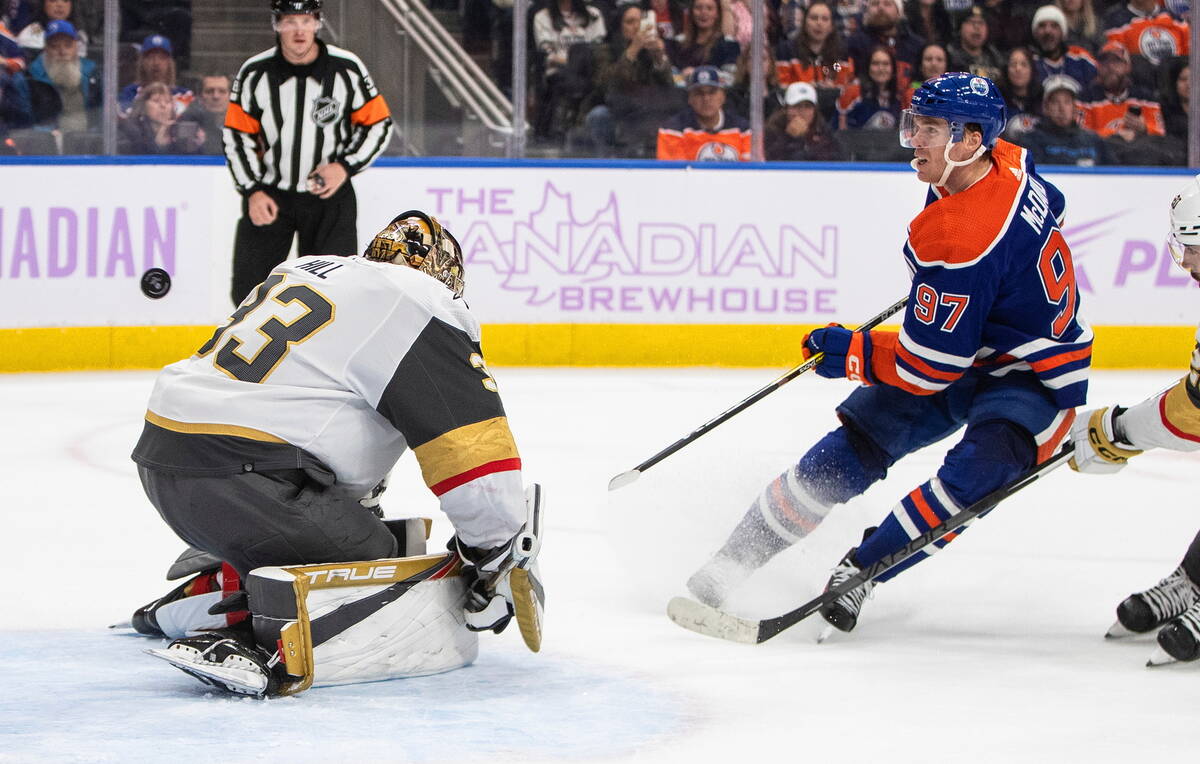 It's a question that has vexed NHL coaches for eight seasons: How do you solve a problem like Connor McDavid?
What do you do against the Edmonton Oilers' 26-year-old blur on skates, the slick center who carves through defenses with superb stick handling and finishes with aplomb? Teams keep trying to come up with new answers. McDavid keeps proving them useless, wrapping up his fifth scoring title this season and leading the NHL in goals for the first time.
What makes the problem even more difficult to solve is McDavid doesn't operate on an island. Center Leon Draisaitl is more than the league's best running mate. He's an MVP in his own right, a deadly passer who is almost as formidable with the puck on his stick.
The two are the NHL's leading scorers the past two postseasons with 43 points in 22 games apiece. And for the Golden Knights to win their second-round series with the Oilers, which begins Wednesday at T-Mobile Arena, they must do something, anything, to slow the two.
"Those two guys are 1-2 in the league," defenseman Brayden McNabb said. "Structurally, we have to be solid. We're going to have to get over the top of them as much as we can to take away time and space as much as we can. They're going to get chances. They're great players."
Superstar talents
The issue is McDavid has made everything look easy since being picked first overall in 2015, one spot ahead of Knights center Jack Eichel, who was taken by Buffalo.
McDavid's speed, poise and production make it appear as if he's playing a different game than everyone else. His 850 points since entering the NHL as a rookie are 115 more than the next-closest player (Draisaitl) and 170 past the nearest non-Oiler. His 153 points this season were the most since Mario Lemieux had 160 in 1992-93, a year in which teams gave up a half goal per game more than they do now.
What's even more frightening is McDavid's capacity to improve. He finished runner-up for MVP a year ago, after Toronto's Auston Matthews posted the NHL's first 60-goal season since 2008. McDavid decided to become more of a scorer, came back and potted a career-high 64 goals. He somehow found a way to give opponents even more to worry about.
"He has the brains, the feet and the hands," defenseman Alec Martinez said. "Some guys have two of the three and maybe the third is lacking. With him, it seems like his hands can keep up with his head. His feet can keep up with his head and vice versa."
If that makes McDavid a superhero, calling Draisaitl a sidekick doesn't do the 27-year-old justice.
He was voted the league's best passer in this year's NHL Players Association poll. He was also the better finisher of the two because of a great one-timer and wrist shot until McDavid took off this season. Draisaitl's 231 goals in the past five seasons are the most in the NHL.
They make Edmonton's top-ranked offense and power play hum. Playing them is a challenge for the Knights. One they're excited for.
"They've got two of the best players in the league, so it's going to be tough," left wing Ivan Barbashev said. "To be honest, we can't wait to get it going."
Together or separate?
One of the main questions for the Knights will be how the Oilers choose to deploy their two main weapons.
The two will get plenty of playing time. Edmonton often dresses only 11 forwards and seven defensemen to give the two extra shifts. McDavid led all forwards in average time on ice in the regular season, and Draisaitl was fourth. But it remains to be seen whether Edmonton will put them on one line or two.
Coach Jay Woodcroft has kept the two away from each other at five-on-five for the most part since taking over in February 2022. That gives the Oilers two lines led by No. 1 centers and distributes their talent more evenly.
But there's always the temptation to move Draisaitl up to McDavid's left wing and create a supercharged top group. That's what Woodcroft did for the final three games of Edmonton's first-round series against the Los Angeles Kings.
McDavid and Draisaitl played with right wing Evander Kane, and the Oilers won three straight to advance. Edmonton outscored the Kings 5-3 with McDavid and Draisaitl on the ice together at five-on-five for the series.
"When they're together, you better be damn sure you know they're on the ice," Knights coach Bruce Cassidy said. "And your mindset is, 'I'm going to check for the team on this shift.'"
Facing a top line that dangerous will be difficult for the Knights to defend. It could also present them with opportunities.
The Knights beat out the Oilers for the Pacific Division crown and top seed in the Western Conference in part because their depth through their four forward lines and three defense pairs is so strong. If Edmonton loads up its top line, it weakens its other three.
That should give the Knights the chance to win other matchups if they can contain McDavid and Draisaitl.
"I love our depth from forward one through 12 and D one through six," Cassidy said. "I think they can match up against anybody."
Team effort
The Knights aren't going to be able to stop McDavid or Draisaitl with one player. Probably not two, either.
It's going to take a commitment from all five players on the ice. That means good gaps by defensemen. It means forwards backchecking hard to apply extra pressure. It means getting pucks out of the zone on the penalty kill, whatever forces the Oilers' top unit to take a second to regroup.
It's not something the Knights are incapable of doing.
McDavid had no goals and one assist at five-on-five in the four regular-season meetings. Draisaitl had three goals and two assists.
"Just make it hard," center Chandler Stephenson said. "That's the goal."
The way the Knights defended against the Winnipeg Jets in the first round has them feeling confident. They allowed six goals in the first four periods against the Jets, then gave up eight in the final 14.
Edmonton's offense is on another level because of their dynamic duo. But the Knights think their depth and structure can carry them if they execute.
"It's no secret they're human highlight reels," Martinez said. "But I've got a lot of confidence in the guys in our room, and especially our D corps, to accept that challenge."
Contact Ben Gotz at bgotz@reviewjournal.com. Follow @BenSGotz on Twitter.
Up next
Who: Golden Knights vs. Oilers
When: 6:30 p.m. Wednesday
Where: T-Mobile Arena
TV: ESPN
Radio: KKGK (98.9 FM, 1340 AM)
Line: Knights -110; total 6½
Series schedule
Game 1 — 6:30 p.m. Wednesday, T-Mobile Arena (ESPN)
Game 2 — 4 p.m. Saturday, T-Mobile Arena (TNT)
Game 3 — 5:30 p.m. Monday, Rogers Place (ESPN)
Game 4 — 7 p.m. May 10, Rogers Place (ESPN)
Game 5* — TBD May 12, T-Mobile Arena (TNT)
Game 6* — TBD May 14, Rogers Place (TBA)
Game 7* — TBD May 16, T-Mobile Arena (TNT)
*If necessary
All games on radio at KKGK (98.9 FM, 1340 AM)