Golden opportunity: Knights can lock up Final berth on home ice
Updated May 27, 2023 - 8:29 am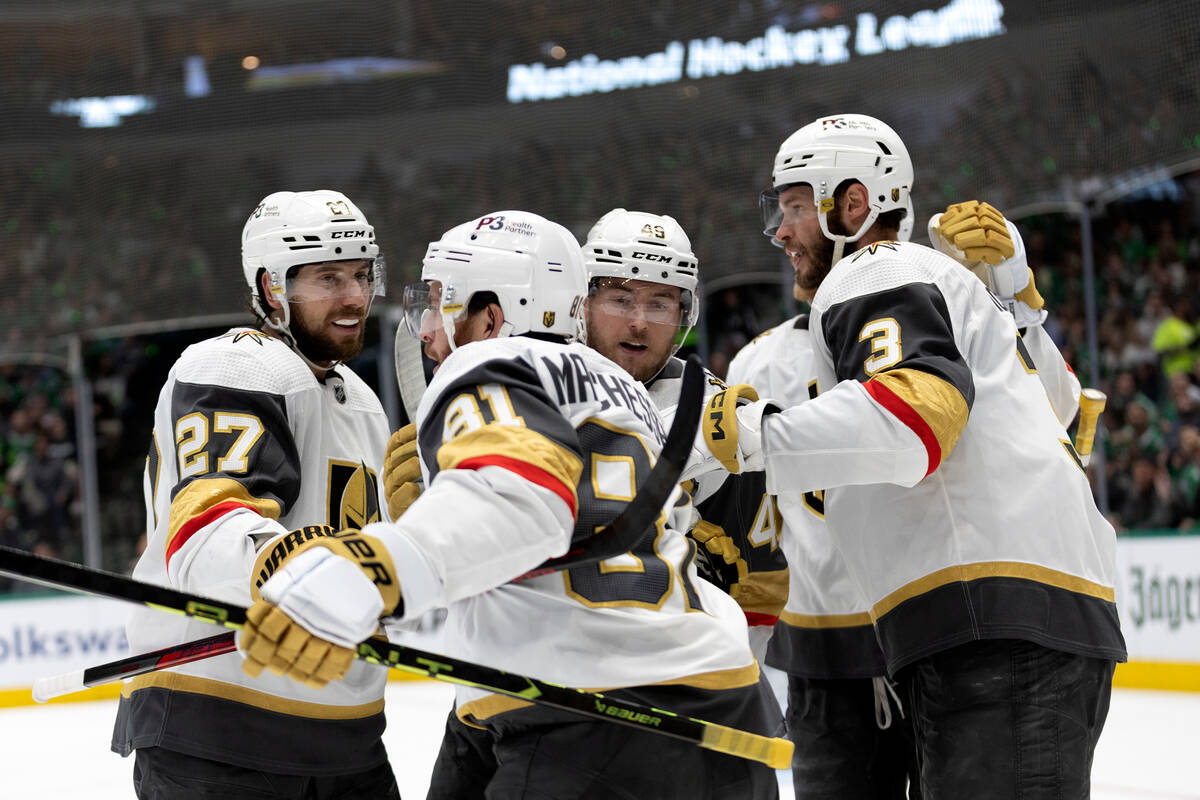 DALLAS — The Golden Knights were silent as they carried their hockey bags out of the visiting locker room at American Airlines Center on Thursday night.
There was to be no trophy presentation. No raucous celebration of a job well done. The Dallas Stars' 3-2 overtime win in Game 4 of the Western Conference Final ensured there is still more hockey to be played in this series.
For the Knights, still up 3-1, it was a missed opportunity. One more goal in regulation and they'd already be preparing to play Florida in the Stanley Cup Final.
It does give the Knights the chance to do something special. They didn't clinch on home ice when they won the West in 2018. Getting to enjoy the moment with their fans — who have formed such a close bond with the team since the first game 2,059 days ago — would mean everything.
It's on the Knights to make that happen in Game 5.
"You obviously want to win in four. You want to close it out on the road, but it's always nice to come back and be in front of the home crowd," goaltender Adin Hill said. "Playing in our building is always a great time. I'm excited for tomorrow."
It seems only fair the Stars avoided a sweep.
They've had good stretches of play throughout. They were the better team for most of Game 2, but the Knights rallied behind a late third-period goal from right wing Jonathan Marchessault to win it 1:12 into overtime.
Dallas won a game it controlled for the first two periods Thursday. The Stars erased 1-0 and 2-1 deficits thanks to two goals from left wing Jason Robertson, then earned their first overtime win in five tries in this year's playoffs on 38-year-old Joe Pavelski's one-timer.
Pavelski became the oldest player in NHL history to score an OT goal when facing elimination. It was also his 73rd career playoff goal, moving him past Alexander Ovechkin for the most among active players.
"Sometimes they'll go your way, a lot of bounces and good luck, and sometimes it won't," left wing Reilly Smith said. "It is what it is. We've got another opportunity (Saturday)."
The Knights don't need to panic with the series still in their favor. They may need to make adjustments.
Coach Bruce Cassidy said the Stars changed their forecheck strategy Thursday, sending more pressure to the side the puck was on. It bothered the Knights' breakouts for two periods before they started to smooth things out by balancing which side they exited from. They outshot Dallas 14-8 in the the third after trailing in shots 30-23 after two, and looked like the likelier side to win in regulation.
Another area the Knights have to continue to look at is their penalty kill. The Stars were 2-for-2 on the power play in Game 4, though the two goals didn't come on total breakdowns.
Dallas' first goal came on an incredible display of hand-eye coordination from Robertson. He deflected the puck twice with his stick to keep Hill from freezing it, then batted it into the net from mid-air.
Pavelski's goal came on a bit of a scramble. Center Roope Hintz was denied in front with defenseman Alec Martinez chasing him, and the chaos by the crease caused Hill to lose his stick. Hintz recovered the puck and four seconds later it was in the Knights' net.
Still, the penalty kill hasn't been a one-game issue for the Knights. They're 27-of-44 (61.4 percent) in the playoffs, which ranks second-to-last among the 16 teams that made it. The power plays they've faced ranked first (Edmonton), fifth (Dallas) and 23rd (Winnipeg) during the regular season.
"It is an area that we've been exposed on in the playoffs," Cassidy said. "We've had multiple goals in certain games. (Thursday), it ends up being the difference."
A few tweaks may be all the Knights need to finish the series at T-Mobile Arena.
They'll control the matchups again at home, which should play in their favor with the Stars missing suspended captain Jamie Benn and injured right wing Evgenii Dadonov. They'll also receive incredible amounts of energy from their fans, who have powered them to an NHL-leading 6-2 home record this postseason.
The Knights will want to end things with their crowd behind them. A Dallas comeback is unlikely, given teams that have taken a 3-0 lead have a 201-4 series record in the playoffs and are 47-0 the round before the Final.
That doesn't mean it's impossible. And the Knights aren't looking to take any chances with so much at stake.
"I don't think anyone anticipated anyone getting swept on either side of things," Martinez said. "This is playoff hockey. Punches are thrown one way and then reciprocated. They threw a good one last night and it's up to us to come back tomorrow and be ready for that and play our A game and try to dictate our pace at home."
Contact Ben Gotz at bgotz@reviewjournal.com. Follow @BenSGotz on Twitter.
Up next
■ Who: Golden Knights vs. Stars
■ What: Western Conference Final
■ When: 5 p.m. Saturday
■ Where: T-Mobile Arena
■ TV: KTNV-13
■ Radio: KKGK (98.9 FM, 1340 AM)
■ Line: Knights -150; total 5½
Series schedule
Knights lead 3-1
Game 1 — Golden Knights 4, Stars 3 (OT)
Game 2 — Golden Knights 3, Stars 2 (OT)
Game 3 — Golden Knights 4, Stars 0
Game 4 — Stars 3, Golden Knights 2 (OT)
Game 5 — 5 p.m. Saturday, T-Mobile Arena (KTNV-13)
Game 6* — 5 p.m. Monday, American Airlines Center (ESPN)
Game 7* — 6 p.m. Wednesday, T-Mobile Arena (ESPN)
* If necessary