'I'm not running': Cassidy sets bar high for Stanley Cup champs
Updated September 16, 2023 - 10:02 am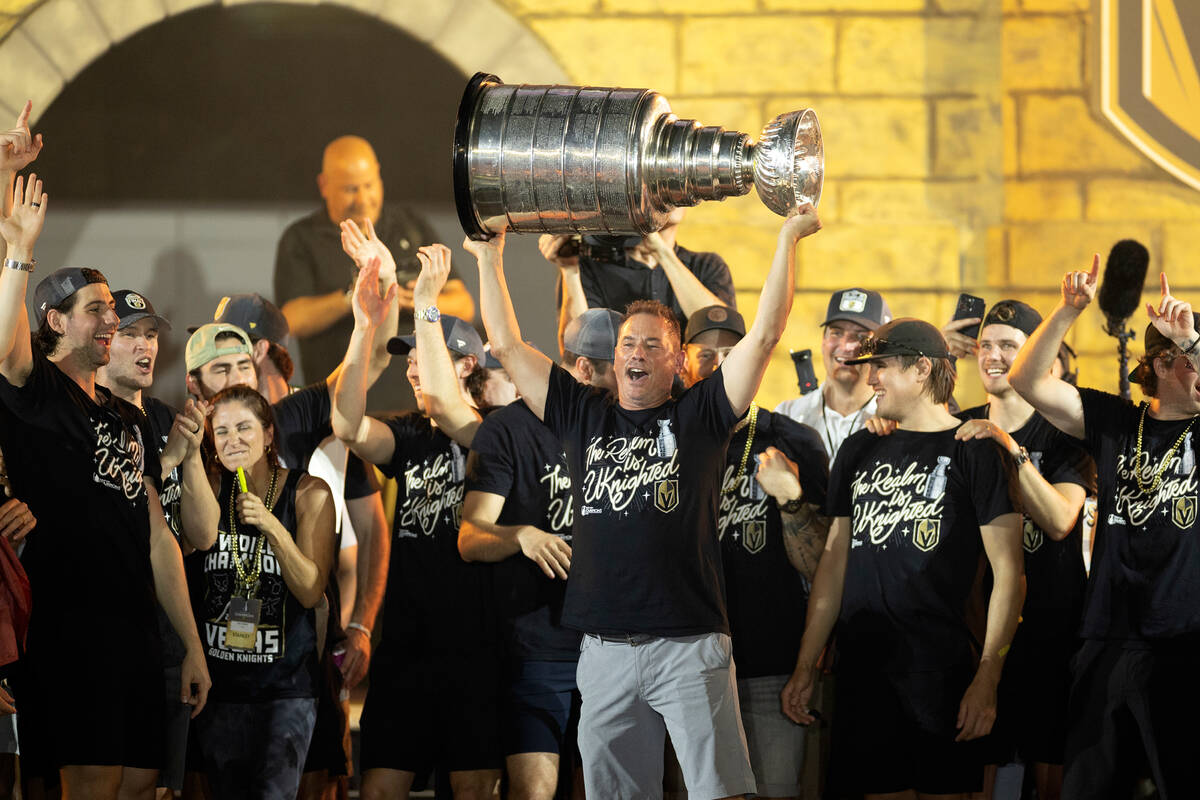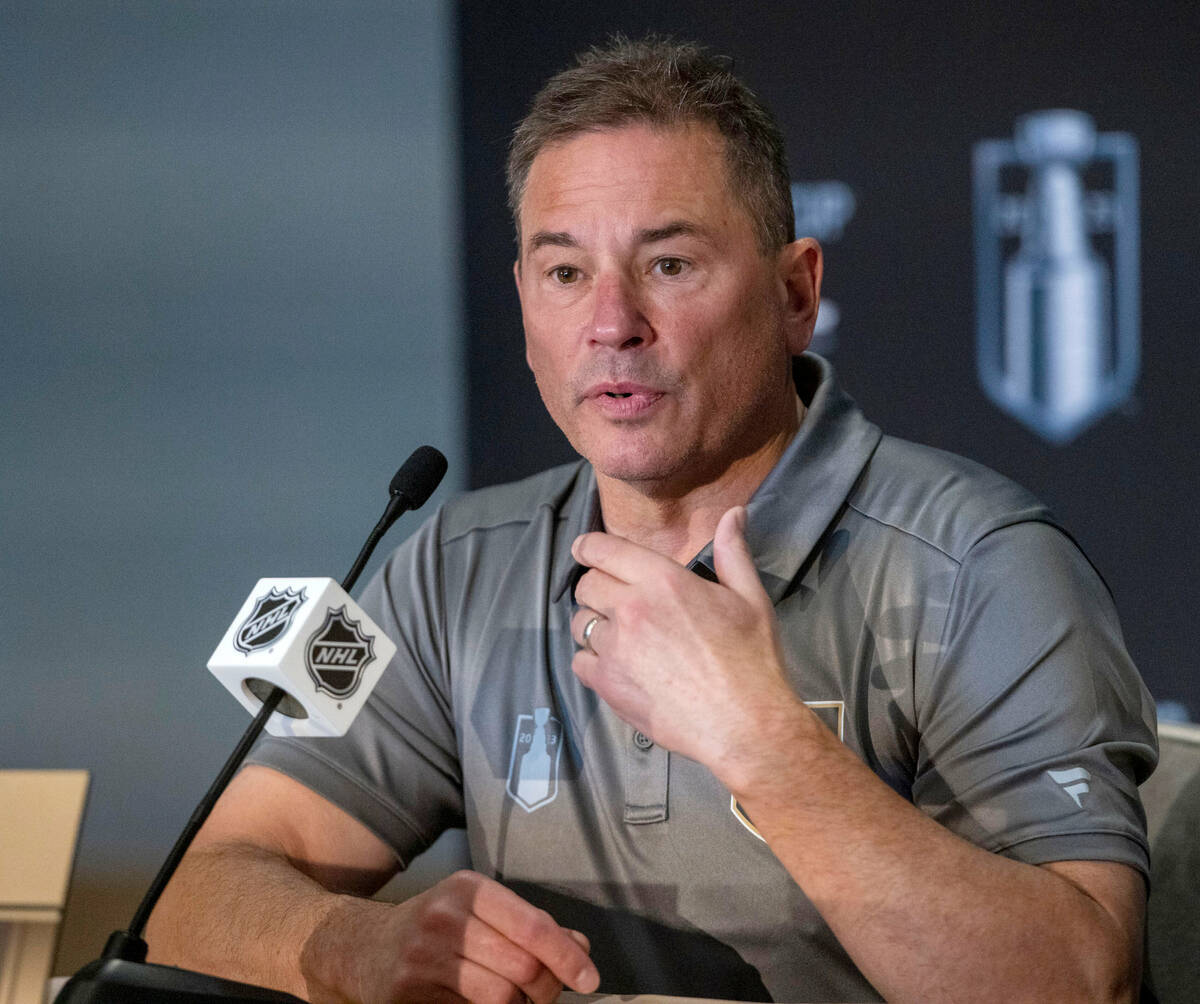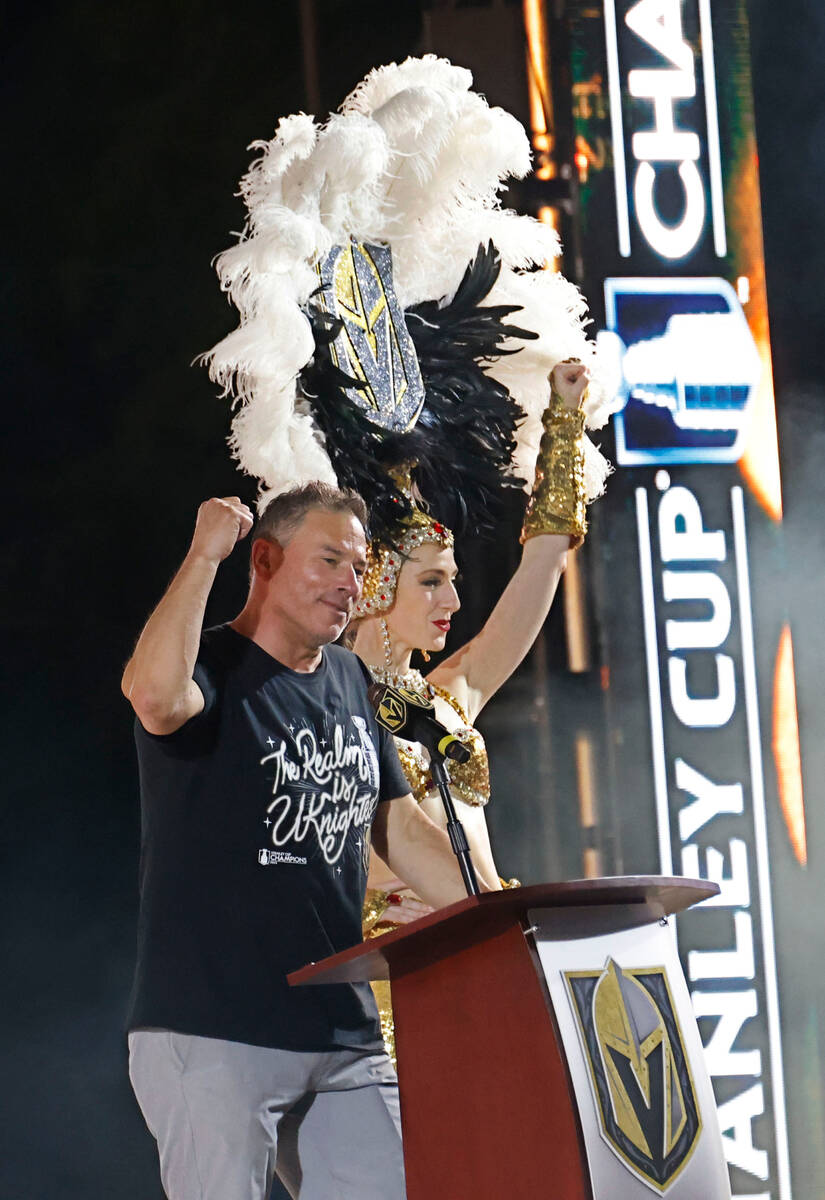 Bruce Cassidy set expectations high for the Golden Knights' 2023-24 season when, during the Stanley Cup championship parade, he stopped thousands of fans from chanting his name.
He started a new rallying cry instead.
"Back to back! Back to back! Back to back!"
Almost three months later, leaning back in a chair in his City National Arena office, the Knights coach has no intention of lowering the bar before his second training camp begins next week.
"Well, it was fun at the time, right?" Cassidy said Wednesday. "I figured I'd get people fired up. It was a long day right after winning the Cup. But I'll back it up. I have no problem with that. I'm not running. Let's get started, but I believe we have the team to do it. And I believe the guys should want to do it."
Cassidy's first season with the Knights ended in the best way possible.
A 16-6 playoff record. A 9-3 drubbing in the final game of the Stanley Cup Final. A lifelong dream fulfilled.
But he's not ready to cash in and call it a day. Cassidy looks at a team that returns 18 of the 19 players it iced in the finals against Florida — left wing Reilly Smith was traded to Pittsburgh in June — and thinks there's still more to do.
He doesn't want the Knights to end up like recent champions Washington (2018) and St. Louis (2019), who have not returned to the conference finals since and missed the playoffs last season. He wants to emulate the on-ice success Chicago had in winning three Cups in six seasons from 2010 to 2015.
"Do you want to be a team of the decade or a one year sort of thing?" Cassidy said. "And we'll talk about that. We're extremely, I think, appreciative and proud of what we've accomplished, but we're not satisfied once the puck drops."
Cassidy is confident his team will be up to the challenge given it is full of veterans who have shown they can handle success. The Knights will also enter camp healthy despite their shortened offseason.
The one question mark is goaltender Robin Lehner, who did not play last season after undergoing one shoulder and two hip surgeries. Cassidy said he didn't know if Lehner would be medically cleared for camp.
Once players return to the ice, the goal is to get as much work done as possible in less time than last season. Cassidy said he spoke with recent Cup-winning coaches John Cooper (Tampa Bay) and Jared Bednar (Colorado) and also leaned on his and assistant coach John Stevens' experience making deep runs to devise a practice plan that will get the team ready without being too taxing.
He hopes that because players have learned his system now, on-ice explanations and post-skate video sessions will be shorter.
"That's where I'm hoping we can hopefully clip off some time but still hit the same checklist of what we want to get done," Cassidy said.
The team will need to stay sharp knowing it is going to be a measuring stick for every team. Opponents will want their shot to prove themselves against the defending champs.
The Knights need to gear up for that challenge coming off two fewer months of rest than they had last season. It's a difficult test. There's a reason only the 2016-17 Pittsburgh Penguins and 2020-21 Tampa Bay Lightning have repeated as champions since the NHL's salary cap was put in place, and the Lightning played fewer games than usual because of the COVID-19 pandemic.
Cassidy believes the Knights will be up to it. They haven't been picked apart like previous winners. They have players who have won multiple championships — Alec Martinez, Alex Pietrangelo, Chandler Stephenson and Ivan Barbashev — and haven't lost their edge. They can enter camp dreaming of a repeat and have it be realistic.
"We're sustainable, our model," Cassidy said. "Our core group of our guys are here. Always going to have a few guys that are out, right, that's the business. But we got a good mix. We didn't rely on just two players. It was a team effort, and most of that team is back. The red flags, to me, for some teams that didn't get back, I don't think we have those right now."
Here are other topics the Knights coach touched on:
— Cassidy praised both of his outgoing assistants — Ryan Craig and Misha Donskov — and said he expects new assistants Dominique Ducharme and Joel Ward to fill similar roles.
Donskov joined former Knights coach Pete DeBoer's staff in Dallas, and Craig is staying in the organization to coach the Silver Knights. Cassidy said it's a good opportunity for Craig, who hopes to be a head coach in the NHL.
"If you want to be a head coach in the NHL, you probably need to be a head coach somewhere along the line," said Cassidy, who was hired out of the American Hockey League for his first two NHL head coaching opportunities. "It's hard to just slide over as an assistant."
Cassidy said Ducharme, who coached the Montreal Canadiens for parts of two seasons, will handle many of Craig's duties. Ducharme will be on the bench full time and work with the Knights forwards.
Ward, a Silver Knights assistant the past three seasons, will take on Donskov's responsibilities, such as the team's play away from the puck, including the forecheck. The 42-year-old won't be on the bench for every game, but his voice should carry plenty of weight given he played 11 seasons in the NHL before retiring in 2018.
"He's got that element that he can work the room with," Cassidy said. "So he should be able to connect with the players a little easier than some of us."
— Cassidy made sure to take care of one thing immediately when it was his turn to spend a day with the Stanley Cup.
He looked to see if his name was spelled right.
"It was," he said.
Cassidy said the day was long but ultimately a success. He helped launch the Cassidy Murray Foundation, which is "dedicated to expanding educational opportunities and supporting the mental health needs of individuals navigating unthinkable tragedy," by bringing the Cup to an event in Milton, Massachusetts.
The charity is named after a classmate and friend of Cassidy's daughter Shannon. Cassidy Murray died in Aruba in 2022 when she was struck by the boat pulling her and her father on a water tube.
"I didn't know how that would go, but it was a real rewarding experience to help a family," Cassidy said. "It was cool to help be part of that, launching a foundation."
The Cup then traveled back to Cassidy's offseason home in Cape Cod for a public showing and family photos. The day wound down with a dinner featuring about 60 friends and family, including Hall of Famers Bobby Orr and Ray Bourque.
— Cassidy said 24-year-old forward Maxime Comtois, whom the Knights are bringing to camp on a professional tryout agreement, could give the team depth as another big body up front.
Cassidy thought the team struggled at times last season when inside presences such as captain Mark Stone and left wing William Carrier were out of the lineup. The trade for left wing Barbashev before the deadline was one solution to that. Comtois, who had 19 points in 64 games last season with the Anaheim Ducks, could be another if he performs well.
The Knights have one opening in their lineup with Smith gone. Two rookies from last season — Pavel Dorofeyev and Paul Cotter — also will fight for that spot.
"There are some younger guys that we want to see grow, like the Dorofeyevs and the Cotters," Cassidy said. "We don't want to block those players, but if they're not ready and Max is, we have to consider that."
Contact Ben Gotz at bgotz@reviewjournal.com. Follow @BenSGotz on X.