Injury ends Golden Knights' William Karlsson's 234-game streak
Updated January 16, 2020 - 7:15 pm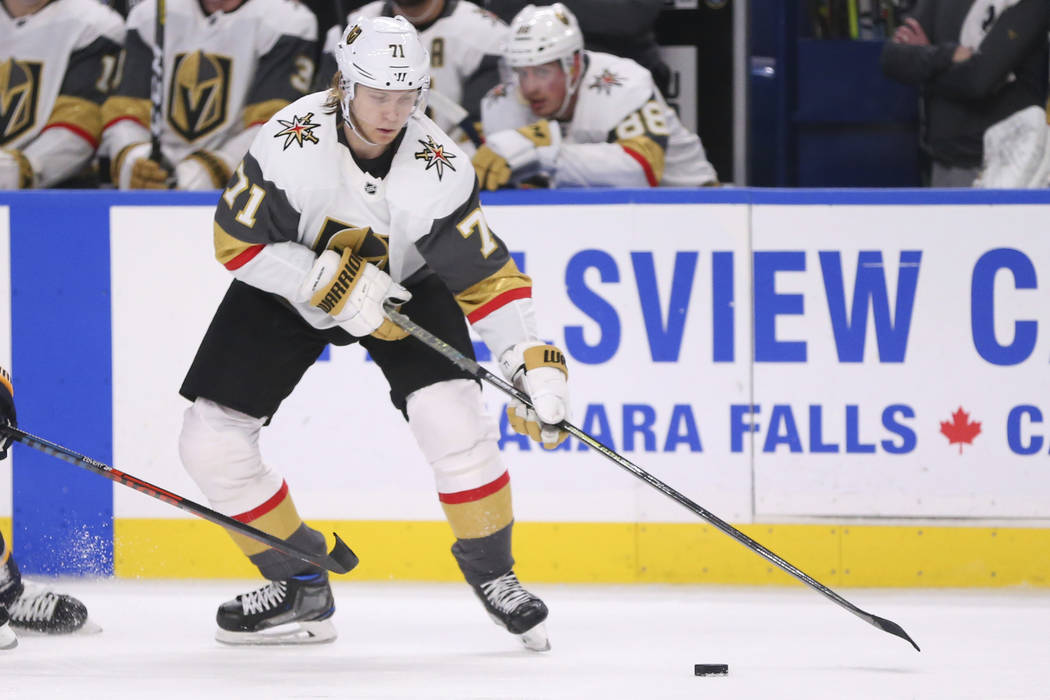 OTTAWA, Ontario — William Karlsson has been a fixture in the Golden Knights' lineup since the team's inception.
But the center missed his first game Thursday and will not be available to new coach Peter DeBoer anytime soon.
The Knights announced before their game against the Ottawa Senators that Karlsson is week to week with an upper-body injury, further depleting their center depth.
Karlsson is the only player to have appeared in every Knights regular-season and playoff game since the team's inception.
The 27-year-old from Sweden skated in 234 consecutive regular-season games dating to March 2, 2017, with Columbus, the 20th-longest active streak in the NHL.
The Knights are already without rookie center Cody Glass, who is week to week with a lower-body injury sustained Jan. 4 against St. Louis.
Chandler Stephenson took Karlsson's spot on the first line between left wing Jonathan Marchessault and right wing Reilly Smith.
Karlsson has 10 goals and 24 assists in 49 games. He logged 18:43 of playing time in a 4-2 loss at Buffalo on Tuesday and was on the ice when the Sabres scored an empty-net goal with 25 seconds remaining.
Tocchet replaces Gallant
Arizona's Rick Tocchet will coach the Pacific Division All-Star team in place of Gerard Gallant, the league announced Thursday.
Gallant earned the nod by virtue of the Knights being in first place by points percentage at the midpoint of the season. But he was fired Wednesday after a 24-19-6 start.
The Coyotes led the division with 57 points and a .582 points percentage at the start of play Thursday.
'Show me what you can do'
DeBoer reached out to Winnipeg coach Paul Maurice for advice on how to handle taking over a team midseason and said he will use the final three games before the All-Star break to observe and evaluate his new players. Maurice has done it three times in his career.
"I want them to play," DeBoer said. "Show me what you can do. Show me what you're capable of."
The Knights have their bye week from Jan. 26 to 30, and DeBoer said he would use that break to implement any system changes.
"I'm not coming in here to change everything," he said. "I can tell you I'm going to tell the players that as a coach I have some non-negotiable things that we're going to stress. And that's attacking and playing north and stopping and defending hard and tracking back, keeping our shifts short, playing four lines, being a four-line team.
"Those are the non-negotiable items for me that we're going to try to instill right away."
Familiar territory
Hiring the coach of a rival team, as the Knights did with DeBoer, seems odd at first. But left wing Max Pacioretty has been through this before.
During the 2016-17 season, Montreal parted ways with coach Michel Therrien and replaced him with Claude Julien, who had been fired by the Boston Bruins seven days prior.
"Literally the exact same situation, so I'm used to it at this point," Pacioretty said. "It's no different than a trade. People talk about me and (Mark Stone) battling it out for so many years and then jumping right in to linemates.
"We're all professionals here. … At the end of the day, it's a business, and I'm sure it's going to work out just fine."
Dugan nominated for Hobey Baker
Providence sophomore Jack Dugan, a fifth-round pick by the Knights in 2017, was nominated for the Hobey Baker Award, given to the top player in Division I.
Dugan leads the NCAA in points (41) and assists (34) through 23 games.
Fans can vote for the award through March 18, and the winner will be announced April 10 at the Frozen Four in Detroit.
Contact David Schoen at dschoen@reviewjournal.com or 702-387-5203. Follow @DavidSchoenLVRJ on Twitter.