'It hurts to win': Knights' rallying cry shows strong bond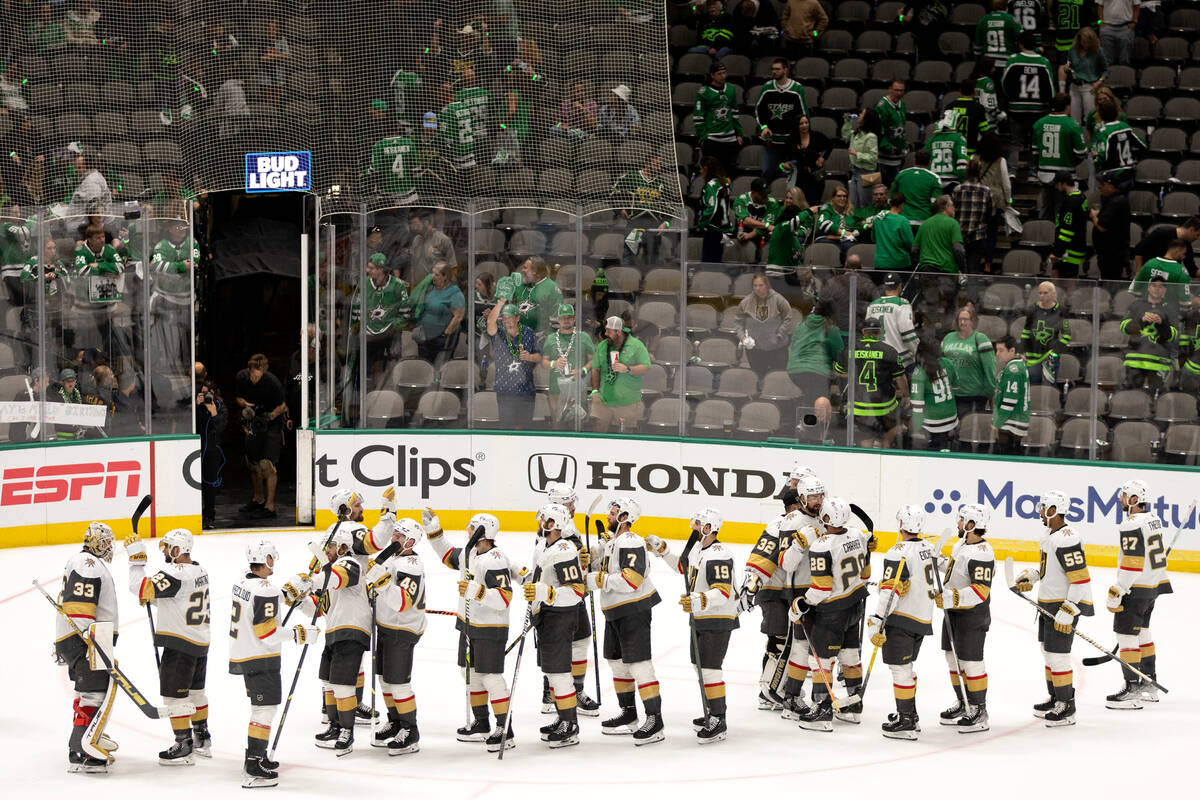 DALLAS — Nicolas Roy carried the Golden Knights' new playoff slogan on his back as he stared out at the T-Mobile Arena ice before Game 2 of the Western Conference Final.
It appears on new black shirts the team had made after a group discussion. To symbolize its meaning, it's placed over an image of the Knights' ultimate goal: The Stanley Cup.
If you know, you know.#UKnightTheRealm pic.twitter.com/8hDEvWLJpU

— z – Vegas Golden Knights (@GoldenKnights) May 21, 2023
"it hurts to WIN!"
The Knights have lived that phrase this entire postseason. They've taken hits to make plays. They've blocked shots to prevent goals. They've stuck up for one another while almost never losing their cool. It's why they're 11-3 in the playoffs and can return to the Stanley Cup Final with a win Thursday in Game 4 against Dallas.
The Knights' rallying cry also serves as a reminder of their commitment to one another. They've enjoyed incredible chemistry off the ice all season. The four words they wear on their back are an example of how that translates onto it.
"It's kind of like a brotherhood," center Teddy Blueger said. "You want to make that play, you're willing to sacrifice yourself for the betterment of the next guy. The worst thing you can do is let your teammates down, right?"
Roy said what "it hurts to win" means to the Knights is "whatever it is this time of the year, you've got to do it."
That takes different forms.
It could be boxing out on defense and battling hard in front of the crease. The Knights, behind one of the NHL's best blue lines, have done that all season. They were first in the NHL in blocks during the regular season and rank first in the playoffs with 266 in 14 games.
Alec Martinez is second in the league this postseason with 36, while Alex Pietrangelo is tied for third with 34 and Brayden McNabb is tied for fifth with 31.
"I don't even know if it's really asked of them," captain Mark Stone said. "They just do it. That's the way our group is made back there."
The Knights have also gotten their nose dirty on offense, fighting hard to create opportunities in the blue paint.
The ultimate example was right wing Keegan Kolesar's drive to the net in Game 1 against the Stars. Kolesar said he remembered getting "cross-checked from probably two different directions" by defensemen Miro Heiskanen and Ryan Suter, but his effort set up Blueger for an easy goal.
"At this time of year, if you want to keep moving forward and winning hockey games, it's those types of things that typically hurt and are tough to do that need to be done," defenseman Zach Whitecloud said. "Everyone in that room expects one another to step up and do those things, right? That's what's required at this time of year."
The Knights know firsthand this is what it takes because of an experienced locker room that includes previous Stanley Cup winners Pietrangelo, Martinez, center Chandler Stephenson, left wing Ivan Barbashev, right wing Phil Kessel and goaltender Jonathan Quick. Longtime members of the team also are aware given the franchise has appeared in the second-most playoff games in the NHL since entering the league, behind Tampa Bay.
Those players helped create the mantra that has the Knights one win from playing for hockey's ultimate prize. They've forged belief, trust and affection for one another since the beginning of training camp. That's now paying off when the stakes are at their highest.
"Any successful team I've been a part of, we've all genuinely had a really good time together and loved each other," Martinez said. "I think that that, especially at times you face a little adversity, things like that, that camaraderie, that love for one another comes out. It's an important part of it."
Contact Ben Gotz at bgotz@reviewjournal.com. Follow @BenSGotz on Twitter.
Up next
Who: Golden Knights at Stars
What: Western Conference Final
When: 5 p.m. Thursday
Where: American Airlines Center, Dallas
TV: ESPN
Radio: KKGK (98.9 FM, 1340 AM)
Line: Stars -118; total 5½
Series schedule
Knights lead 3-0
Game 1 — Golden Knights 4, Stars 3 (OT)
Game 2 — Golden Knights 3, Stars 2 (OT)
Game 3 — Golden Knights 4, Stars 0
Game 4 — 5 p.m. Thursday, American Airlines Center (ESPN)
Game 5* — 5 p.m. Saturday, T-Mobile Arena (KTNV-13)
Game 6* — 5 p.m. Monday, American Airlines Center (ESPN)
Game 7* — 6 p.m. Wednesday, T-Mobile Arena (ESPN)
* If necessary
All games will be broadcast on KKGK (98.9 FM, 1340 AM)