'It's been a great journey': Smith discusses trade from Knights
Updated July 22, 2023 - 7:52 pm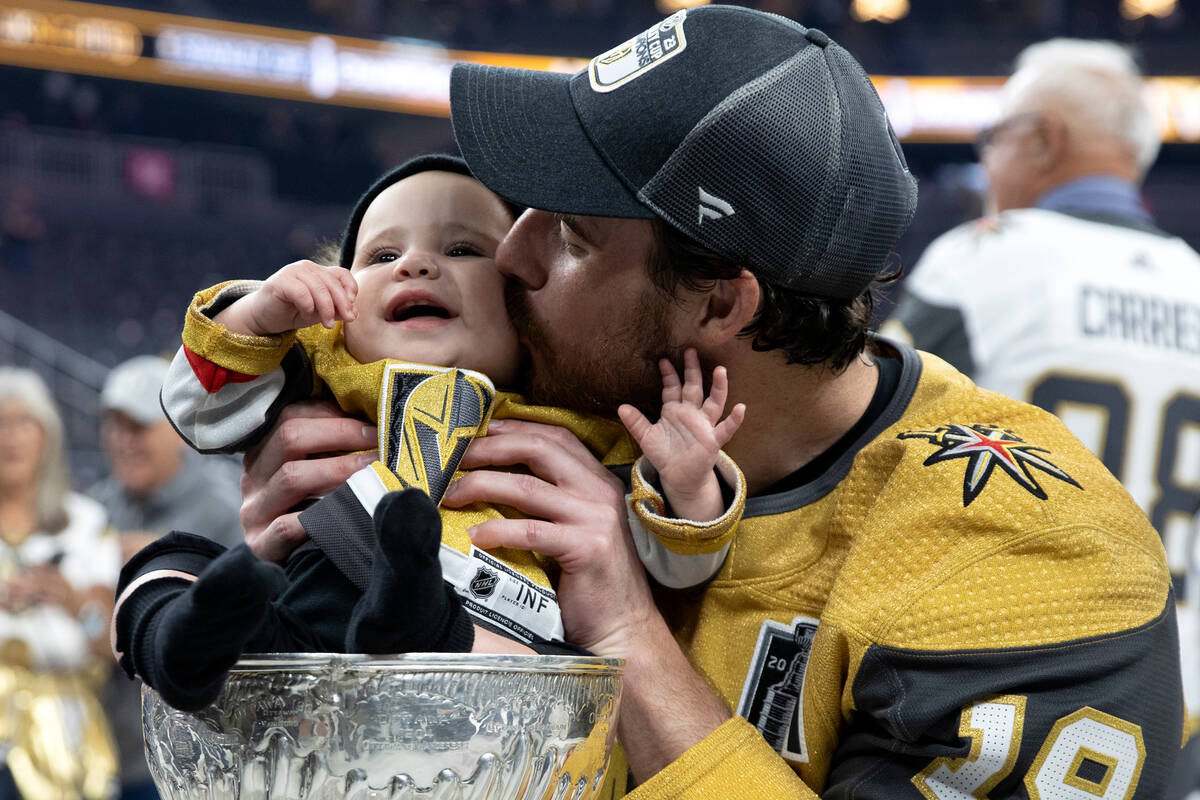 The Stanley Cup celebration parties had barely started to slow down when forward Reilly Smith learned he would no longer be part of the organization he helped lead to hockey's ultimate prize.
Just days after joking at a victory rally in front of T-Mobile Arena last month that he was so happy he could retire, Smith was traded by the Golden Knights to the Pittsburgh Penguins.
It was a bittersweet moment, but the easygoing Smith prefers to see the cup as half-full.
"I've been very fortunate to not have to move for five years, and it's pretty nice," he said Friday during a fan fest at Downtown Summerlin ahead of Saturday's Battle For Vegas charity softball game at Las Vegas Ballpark. "You get used to not having to have a little bit of an aggravated schedule in the summer. We're back to it now.
"Moving isn't the greatest thing in the world, as everyone knows, but we're excited about the new opportunity. It should be a lot of fun going to a great team, a great city and a great organization, so expectations are sky high there after the Penguins not making the playoffs last year. And they have a lot to prove, and I'm happy to be part of that atmosphere."
He will get to experience a lively atmosphere with the Knights at least one more time with the softball game, which has become an incredibly popular annual event. Smith, who was one of just six remaining players from the Knights' inaugural season, said he will carry fond memories of the city and the fans with him to the next stage of his career and will forever remain tied to Southern Nevada.
"The dedication," he said of what he will remember most about the fans in Las Vegas. "There's not really one moment that I can just really pinpoint. It's been a great journey this entire time. We've felt support wholeheartedly throughout the entire journey. It really made me and my wife feel like this was our home. So I can't thank the community enough.
"And what we can do and what we hope to do in the future is always to try to give back to this special community."
It was less than two weeks after the memorable parade on the Strip when Smith learned he would be leaving. Some of the younger players on the team were still in celebration mode at that time, though the 32-year-old Smith says he had already started to feel his age at that point.
"It wasn't too long after we won," he said of when the carousing started to slow down. "Obviously it was a special moment, and I was able to really live it with my family. I know I'm not 25 anymore so the partying ends a little earlier than it would have if I was younger, but every day you still think about what an amazing journey it was and how special it was and what an accomplishment it was to be able to do it with that group of guys that are such great people."
While his focus will soon turn to helping the Penguins reach the same goal, Smith still has one item of business to take care of as it relates to the Knights' championship. He will have his day with the Stanley Cup on Aug. 15.
"I'll take it back to Canada and try to do something small," he said. "I think the best advice I got from (past) winners is to make sure to take time with it. You probably only get the opportunity once in your lifetime, so make sure you spend your day with your family and closest friends because it's really short and it will feel even shorter on the day."
Soon after, he will begin preparing for a new chapter in Pittsburgh. As for his joke about a potential retirement, Smith said it was more a product of the moment.
"I think I was just saying that as you know, it's such an amazing achievement to win the Stanley Cup," he said. "It's a childhood dream that I always wanted. It's kind of like the last bucket list item that I wanted in my hockey career. So, no, I don't think I'm going to retire anytime soon. It was just one of those moments that was so fulfilling."
Then, it was all over. In a salary-cap-related move, Smith was dealt for a third-round pick late last month.
"Obviously, a couple of weeks later there's a new adventure for myself and my family that we're very excited for," Smith said. "We'll get to that after this weekend because there's a lot at stake. Honestly, it's just such a great thing to be able to put this (charity event) on. Obviously, we have the fan fest here this year, and it's great to see the community really supporting it."
Contact Adam Hill at ahill@reviewjournal.com. Follow @AdamHillLVRJ on Twitter.