Jack Eichel dazzles Knights teammates, fans with 2-way play
Updated June 3, 2023 - 12:51 pm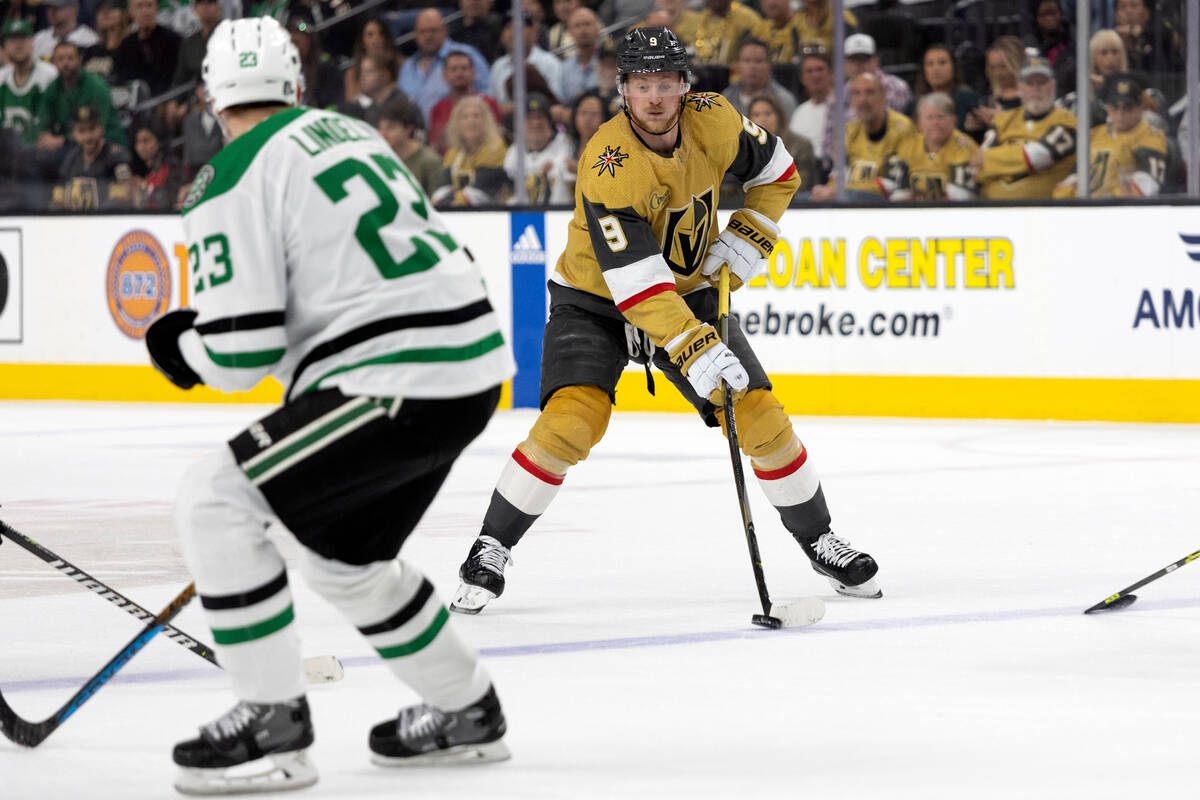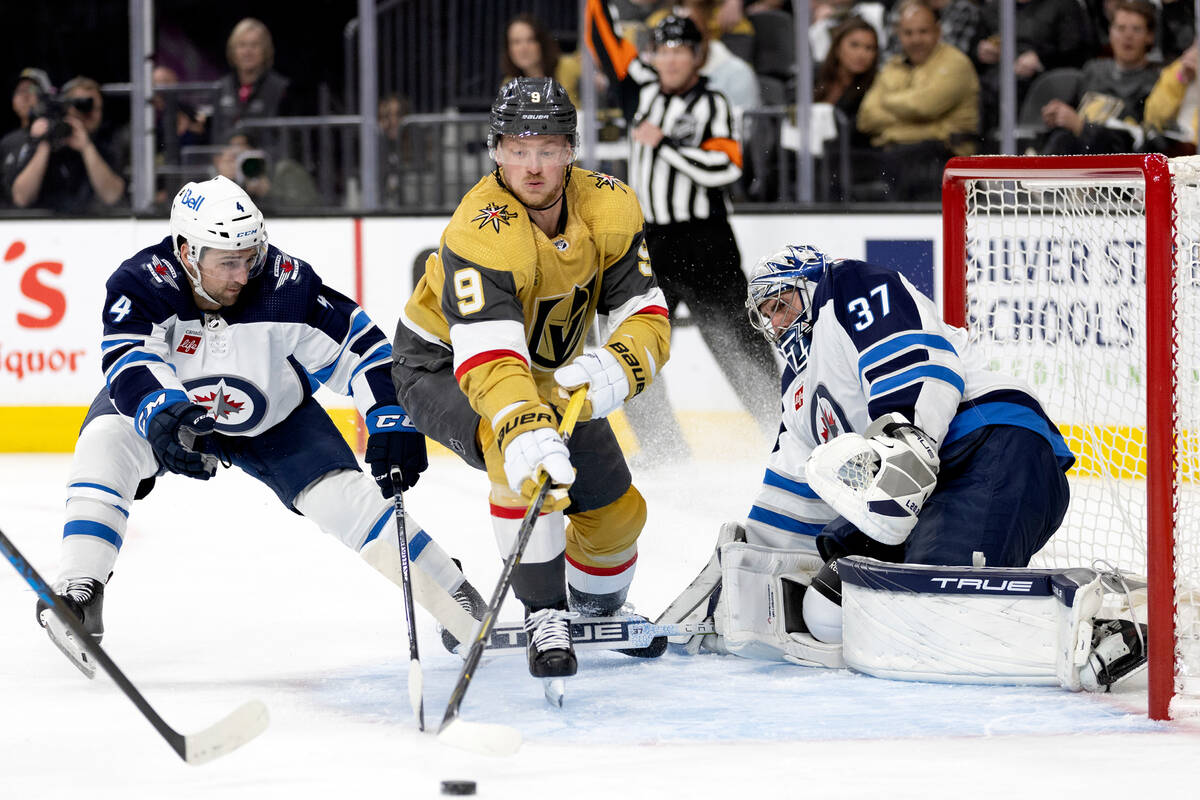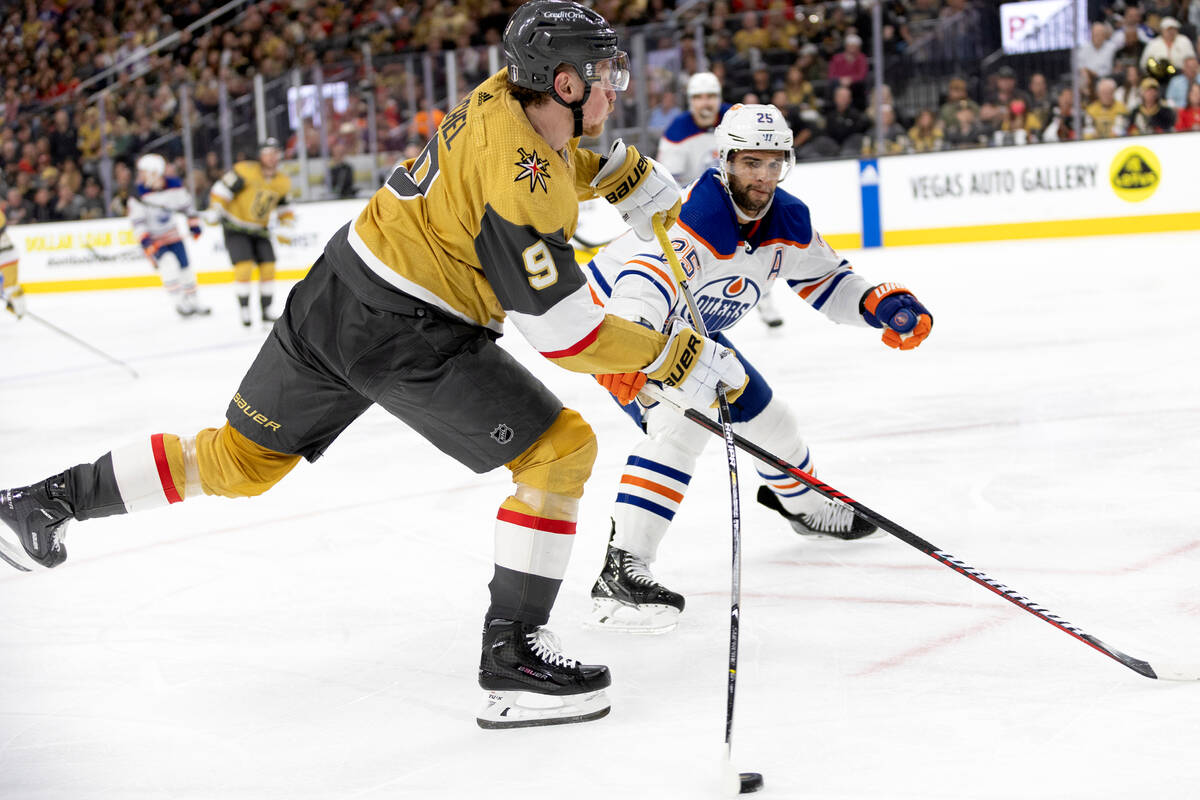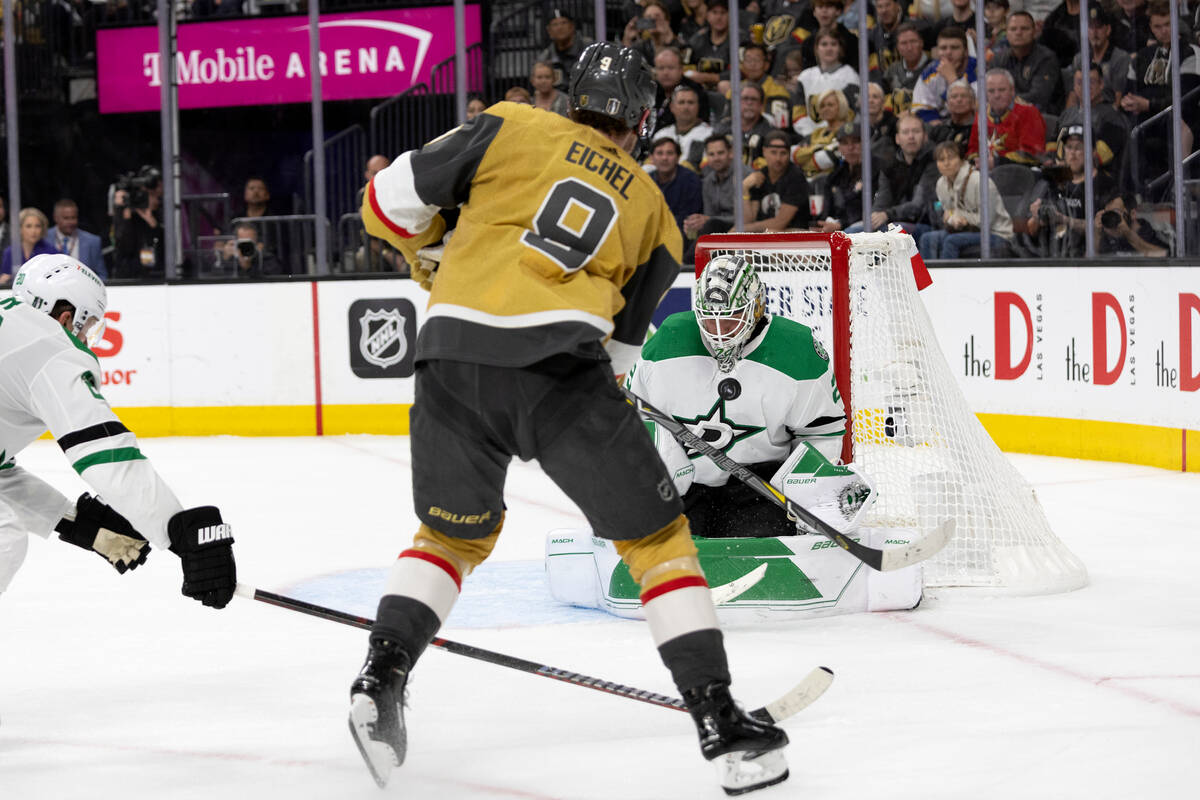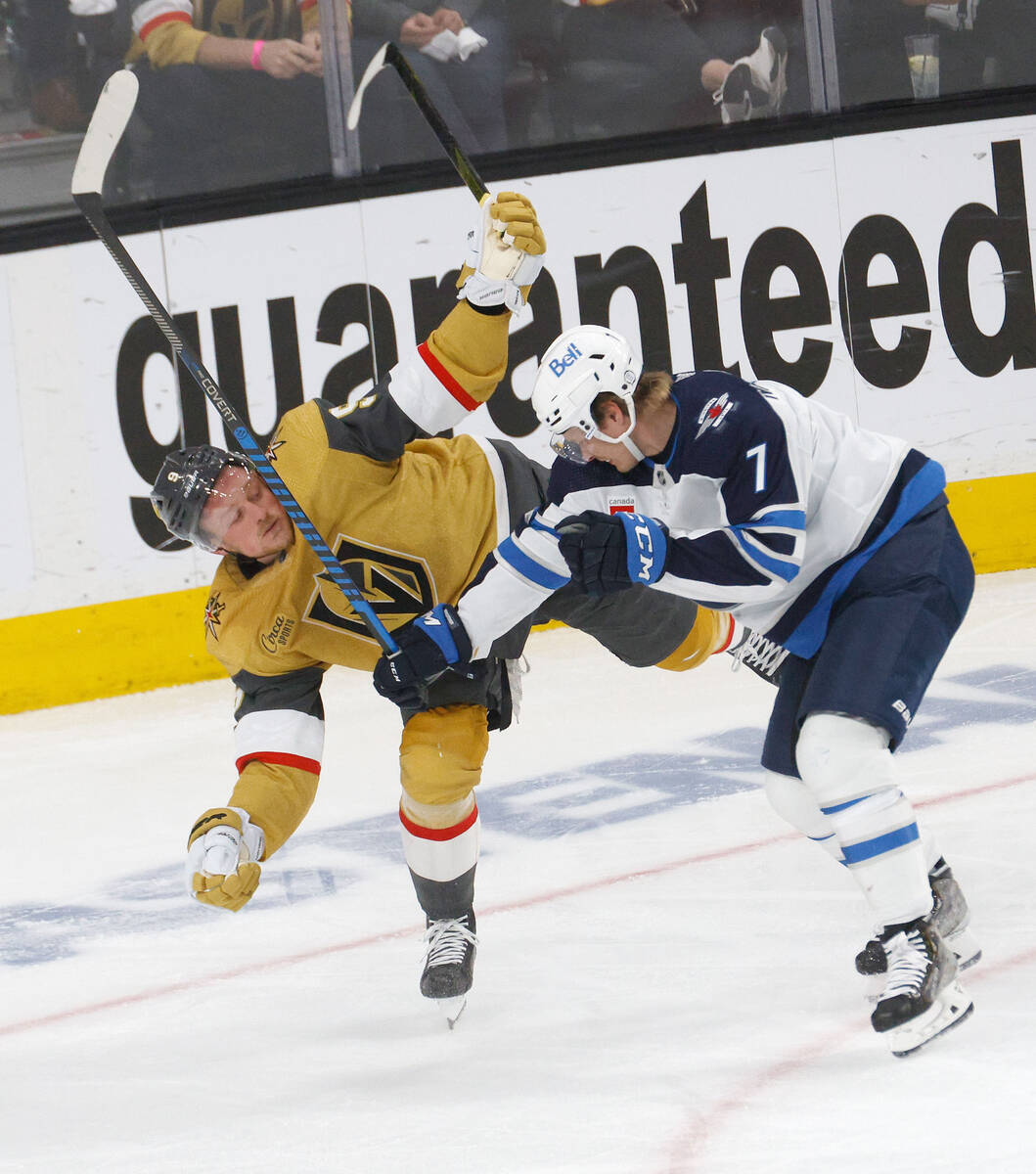 Jonathan Marchessault said what everyone in T-Mobile Arena was thinking during Game 2 of the Western Conference Final.
"What a pass, Jacky," Marchessault said, as captured by the ESPN docuseries "Quest for the Stanley Cup." "Oh, my God."
Center Jack Eichel's spellbinding play even has his teammates in awe. His pass to Marchessault that night — a no-look feed to set up a game-tying goal late in the third period — is one of many examples of the impact the 26-year-old is making in his first postseason.
For years, the knock on Eichel was a team couldn't win with him leading the way. Now the Knights are in the Stanley Cup Final because he's taken charge, putting on dazzling displays of two-way hockey that have left jaws hanging in the seats and on the bench.
"He just looks more confident," coach Bruce Cassidy said. "Just a little more 'give me the damn puck, I want to be a difference-maker.' "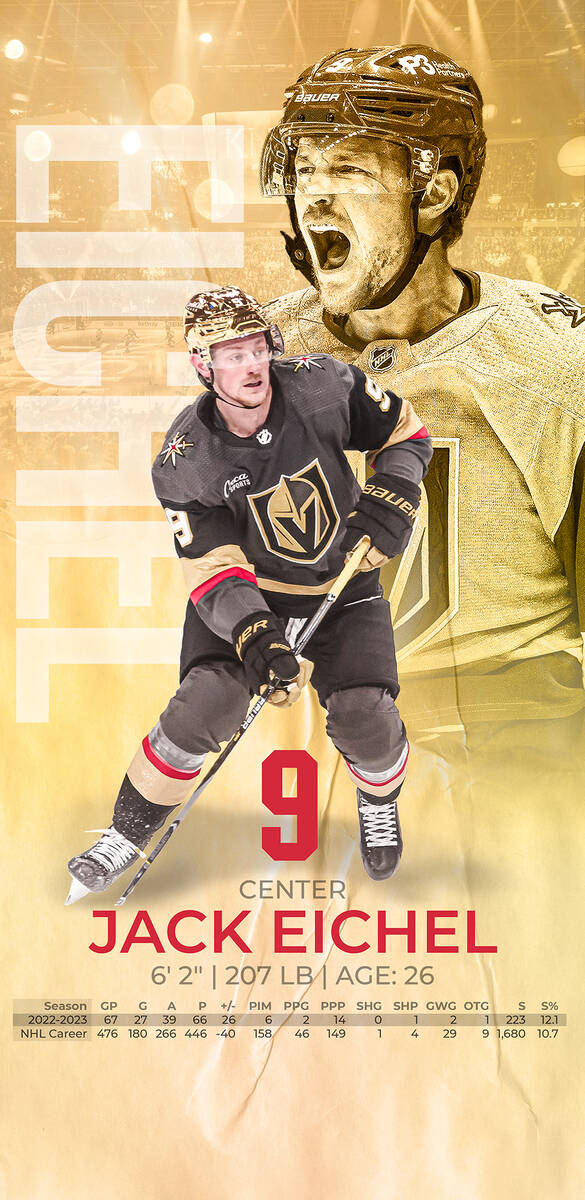 General manager Kelly McCrimmon likened Eichel's acquisition to the signing of defenseman Alex Pietrangelo.
The Knights thought after losing the 2020 Western Conference Final to Dallas that to be a team capable of winning the Stanley Cup, they needed a No. 1 on the back end. After losing in the semifinals the next season to Montreal — a series in which center Chandler Stephenson missed three games — they wanted an elite talent up the middle.
Enter Eichel, an ultracompetitive player so perfect for the job that he was drafted second overall in 2015. He would have gone No. 1 in many other years. A player named Connor McDavid just happened to be headlining Eichel's class.
The Knights thought Eichel's combination of size, skill and skating was worth sending a blockbuster package that included right wing Alex Tuch and prospect Peyton Krebs to the Buffalo Sabres in November 2021. They thought it was a rare opportunity to add a player of his caliber. One of the only reasons Eichel was available was because he and the Sabres disagreed over the best course of action to treat a herniated disk in his neck. Buffalo also seemed ready for a fresh start after enduring seven straight losing seasons since Eichel's arrival, extending a playoff drought that now has reached 12 years.
The Knights let Eichel get his preferred artificial disk replacement surgery, which never had been done on an NHL player. He's repaid the team's faith by changing the narrative on his career. The Knights finished with the best record in the Western Conference this season with Eichel playing a starring role.
His 66 points in 67 games were the most on the team. He also has been committed to becoming what he calls "a more complete player," which has earned him regular praise from Cassidy and teammates.
"The one thing I was really impressed about him is his defensive play," left wing Ivan Barbashev said. "Just since I came here, just seeing him playing every game, it's been special. He's a big part of this team, and he's done a really good job defensively and offensively."
Eichel has taken everything to another level in the playoffs.
He's looked dangerous almost every game. He's taking on opposing defensemen off the rush. He's buying time in the offensive zone for his teammates. He leads the Knights with 18 points in 17 games, tied for the fourth-most in the NHL.
Eichel's rock-solid defensive work also has remained. He's been on the ice for only six five-on-five goals against in more than 240 minutes. The Knights have scored 15 in that span.
It's been a performance worthy of the Conn Smythe Trophy for playoff MVP if his team defeats the Florida Panthers in the final. Eichel has the second-most points ever by an American-born skater in his first postseason, behind Jake Guentzel's 21 for Pittsburgh in 2017.
Eichel is taking time to appreciate the ride amid everything that's happening.
He's waited a long time for his first shot at a championship. He's doing all he can to make the most of it.
"It's an opportunity you want," Eichel said. "Everyone wants the chance to play in the Stanley Cup Final and a chance to compete for the ultimate goal. We've gotten where we need to be, but we still have a lot of hockey to play."
Contact Ben Gotz at bgotz@reviewjournal.com. Follow @BenSGotz on Twitter.