Knights could get 2 injured players back for Rangers game
Updated January 26, 2023 - 10:42 pm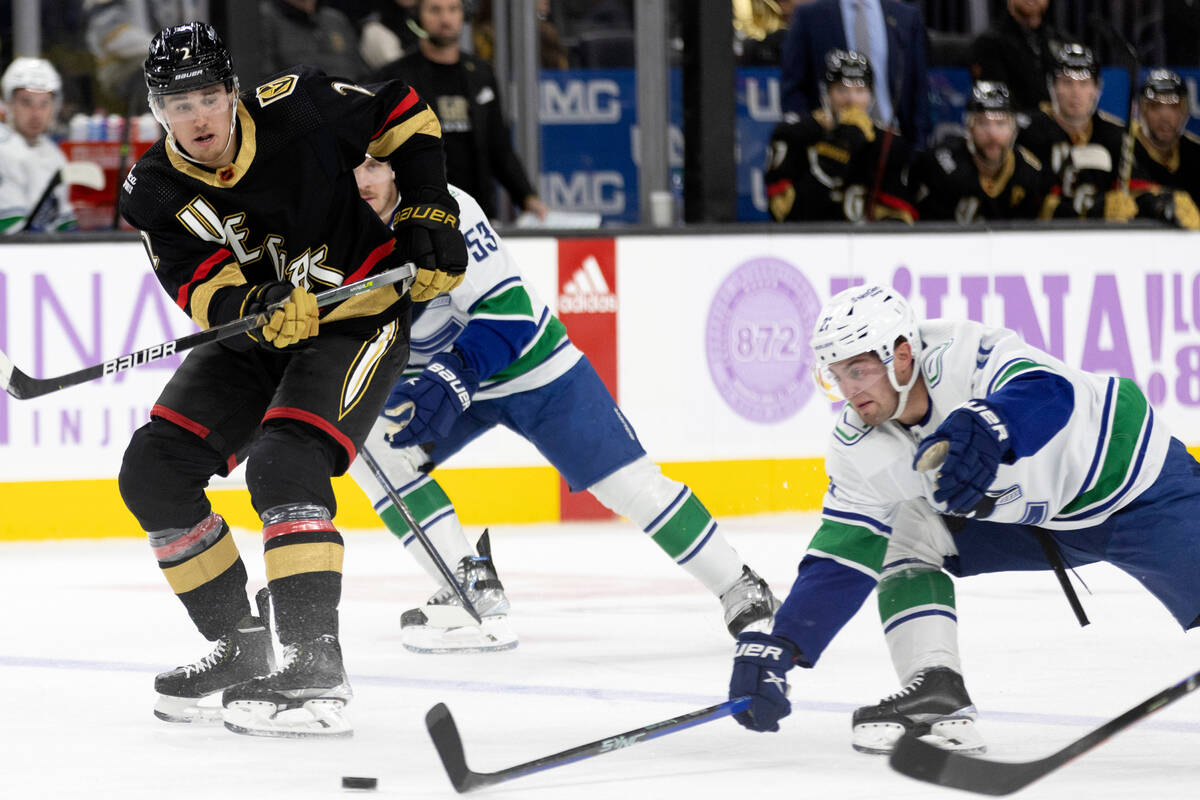 The Golden Knights could get a much-needed shot in the arm before their back-to-back games against the New York Rangers and New York Islanders.
Coach Bruce Cassidy said left wing William Carrier will return from his upper-body injury Friday against the Rangers, the Knights' second-to-last game before the All-Star break. Defenseman Shea Theodore, who has been out since Dec. 9 with a lower-body injury, will be a game-time decision.
The Knights also got a body back at Thursday's practice in defenseman Zach Whitecloud, who skated in a red no-contact jersey. Whitecloud has been out since Dec. 11 with a lower-body injury. Cassidy said Whitecloud won't play Friday and probably not Saturday, but added that he's close to returning.
The team could use the boost. The Knights are 1-4-1 in their past six games.
"Now you're getting some veteran guys back, and I think it'll only make us better," Cassidy said.
Like last season, injuries have been a major theme of the Knights' story. They had more than 500 man-games lost last season when they missed the playoffs for the first time.
The Knights are at 305 this season, or 158 without counting center Nolan Patrick, defenseman Shea Weber and goaltender Robin Lehner. The Knights didn't expect any of the three to play this season.
Even 158 is much higher than the numbers reported by some of their Pacific Division competition. First-place Seattle is at 127 man-games lost, third-place Los Angeles is at 90 and fifth-place Calgary is at 36. Fourth-place Edmonton does not list a total.
The Knights' injuries have also affected some of their key players. Lehner was their No. 1 goaltender a season ago and won't play a game. Top-six forwards Jack Eichel (13 games), Jonathan Marchessault (six) and Mark Stone (six) have missed time. Four regular defensemen — Theodore (20), Whitecloud (19), Alex Pietrangelo (nine) and Alec Martinez (four) — have been out for extended stretches.
The Knights at least appear to be close to the healthiest they've been in a while. Outside of Carrier, Theodore and Whitecloud, Stone is the only injured player who broke camp with the team. Cassidy said Stone, who has an upper-body injury, is not joining the Knights for the final two games of their road trip.
"Hopefully on the other side of the break we'll see him," Cassidy said. "That's what I was told originally, is that would be a good possibility."
The possible returns of Carrier and Theodore should provide a spark for the Knights, who have had far too many listless performances lately.
Carrier provides energy with his straight-line speed and physicality. He's also having a career season offensively with 11 goals in 43 games.
Theodore's skating and puck-moving skills might help revive a transition game that has dried up in recent weeks. He's the team's eighth-leading scorer with 22 points in 29 games despite all the time he's missed, because he can do things on the back end other players simply can't.
Theodore said he felt "pretty good" after Thursday's practice, but will leave it to the coaches and trainers to decide if he's good to go.
"It's been good to be able to skate and get back with the group," Theodore said. "Hopefully I can get in the lineup soon."
Contact Ben Gotz at bgotz@reviewjournal.com. Follow @BenSGotz on Twitter.
Up next
Who: Golden Knights at Rangers
When: 4 p.m. Friday
Where: Madison Square Garden, New York
TV: AT&T SportsNet
Radio: KKGK (98.9 FM, 1340 AM)
Line: Rangers -160; total 6