Knights exploring options to fill Reilly Smith's spot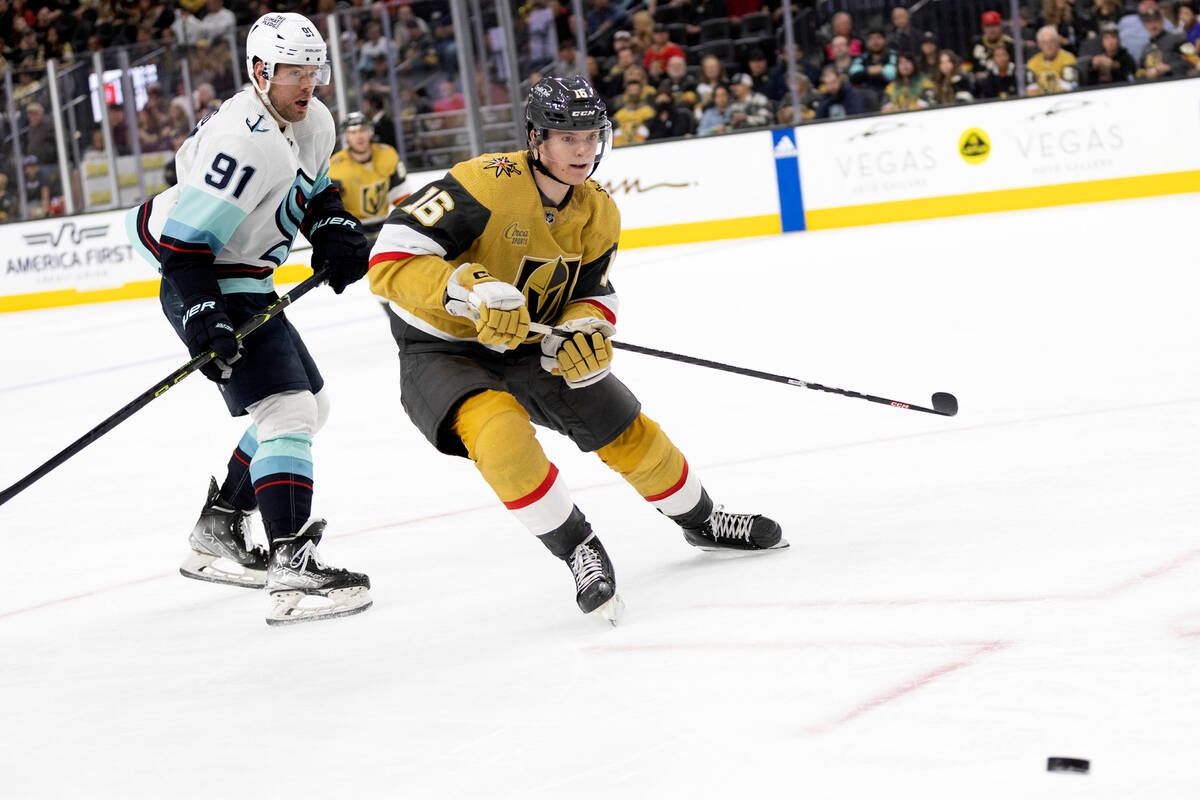 William Karlsson let out a deep exhale in the Golden Knights' locker room Friday.
The center is excited to be back with what he considers his second family. But there is one important person no longer part of the group: His longtime linemate and friend Reilly Smith.
"That's a tough one," Karlsson said. "I'm going to miss him a lot."
Smith, traded to the Pittsburgh Penguins in June, leaves the Knights as the second-leading goal scorer in franchise history and one of the team's pillars in the community. He won't be easy to replace.
That means the identity of Karlsson's next left wing is one of the Knights' few questions in training camp. They return 18 of the 19 skaters who played in the Stanley Cup Final. The team's seven preseason games will help determine who gets the first crack at the one open spot.
"I can't tell you opening night right now who's going to play on William Karlsson's left wing because they'll be a little bit of a battle that'll sort itself out," coach Bruce Cassidy said. "Hopefully they push each other and it's a tough decision. That's what you want. You want internal competition."
The fight to play with Karlsson and right wing Michael Amadio has already started in the first two days of training camp.
Left wing Paul Cotter skated with the two Thursday. It was left wing Pavel Dorofeyev's turn Friday.
Both bring strong arguments to the table.
Dorofeyev, 22, had seven goals and nine points in 18 games as a rookie. He has a strong shot and also showed last season he wasn't afraid to scrap for offense in front of the net. The team outscored opponents 7-3 at five-on-five with he and Karlsson on the ice together.
Cotter, 23, scored 13 goals in 55 games as a rookie. He's a smooth skater who plays with a physical edge, yet has enough skill to finish. Cotter won a spot on the opening-night roster last season with a strong camp.
This time he's looking to solidify his place in the lineup.
"You've just got to find a way to do something to stand out so you're not being taken out of the lineup," Cotter said. "For me, it's consistency. I think that's going to be my biggest thing this year is just keep pounding and stay grinding. Everything will work itself out, hopefully."
The Knights have other options, too.
Right wing Brendan Brisson, the team's 2020 first-round pick, will get opportunities to show he can mesh with some of the Knights' top-end players. The 21-year-old skated with left wing Ivan Barbashev and center Jack Eichel at Friday's practice, for example.
It's on Brisson — who is wearing Smith's old No. 19 — to take advantage and prove he, at the least, should be one of the team's first call-ups in case of an injury.
The Knights also have left wing Maxime Comtois in camp on a professional tryout agreement. Cassidy said Comtois probably will get a look with Karlsson, too. The 24-year-old had nine goals and 19 points in 64 games with the Anaheim Ducks last season, but became a free agent when the team didn't give him a qualifying offer.
The Knights want to see if a new environment helps Comtois thrive. They've had plenty of success after taking fliers on players. Amadio was a waiver claim, center Chandler Stephenson cost the team a fifth-round pick and left wing Brett Howden was acquired for a fourth.
"Our amateur staff had real good reports on (Comtois) from his time as a junior and playing on the world junior team on two occasions," general manager Kelly McCrimmon said. "We thought he was a player worthy to bring in and give a look."
The Knights don't expect Smith's replacement to play at his level immediately. Cassidy acknowledged that wouldn't be fair to any of them.
Trading Smith did allow the team to re-sign Barbashev, a trade deadline pickup, to a five-year, $25 million extension. The Knights can also count on different players to raise their game to try to fill the void Smith leaves behind.
"I think we will be able to replace that position with good hockey," Cassidy said. "Will it be exactly like Reilly Smith? It'd be disrespectful to Reilly to say that. But who knows? Maybe someone will take the ball and run with it and replicate his numbers and his value. That's our job to make them get better as the year goes on. We didn't have (Barbashev) to start last year, so we feel we have an advantage there with his play from day one. I think it balances itself out."
Contact Ben Gotz at bgotz@reviewjournal.com. Follow @BenSGotz on X.
Weekend schedule
All practices open to the public
Saturday: 9 a.m., 11:30 and 2 p.m. practices, City National Arena
Sunday: Golden Knights at San Jose, preseason, 5 p.m., SAP Center