Knights goalie looks to get 'swagger' back after injuries
Updated October 2, 2023 - 5:54 pm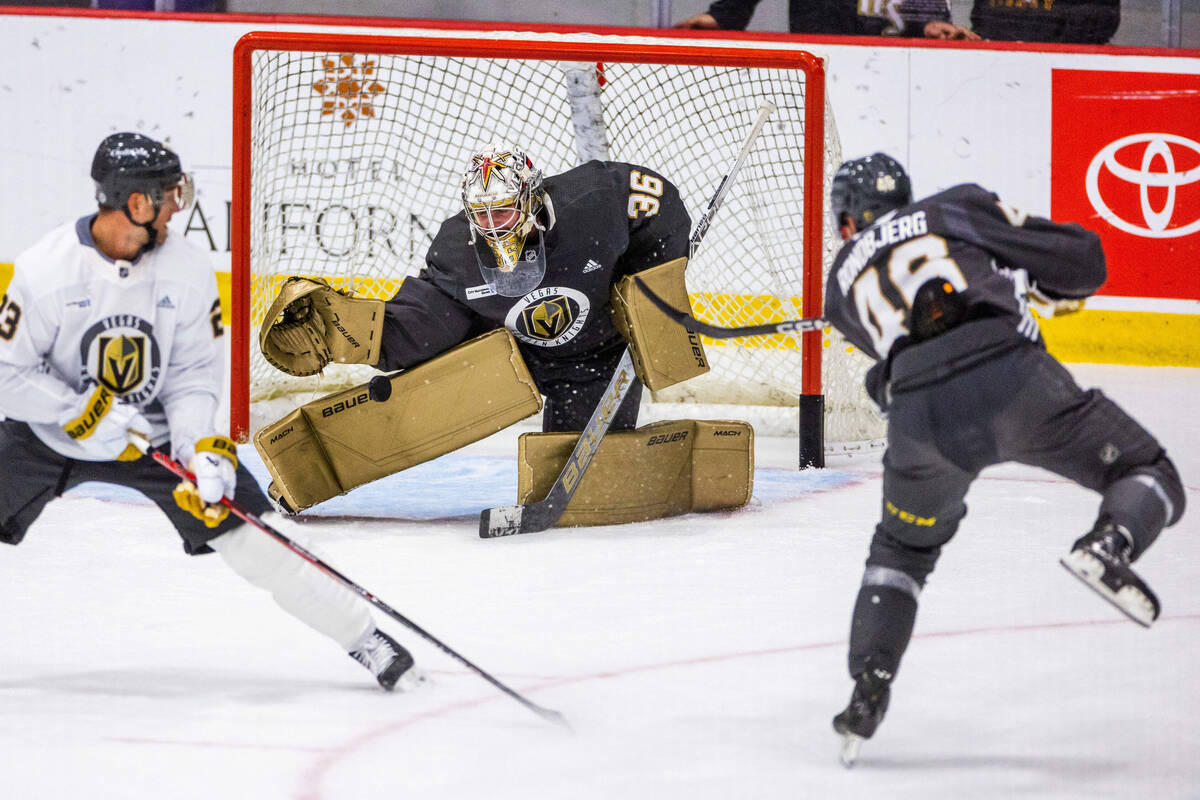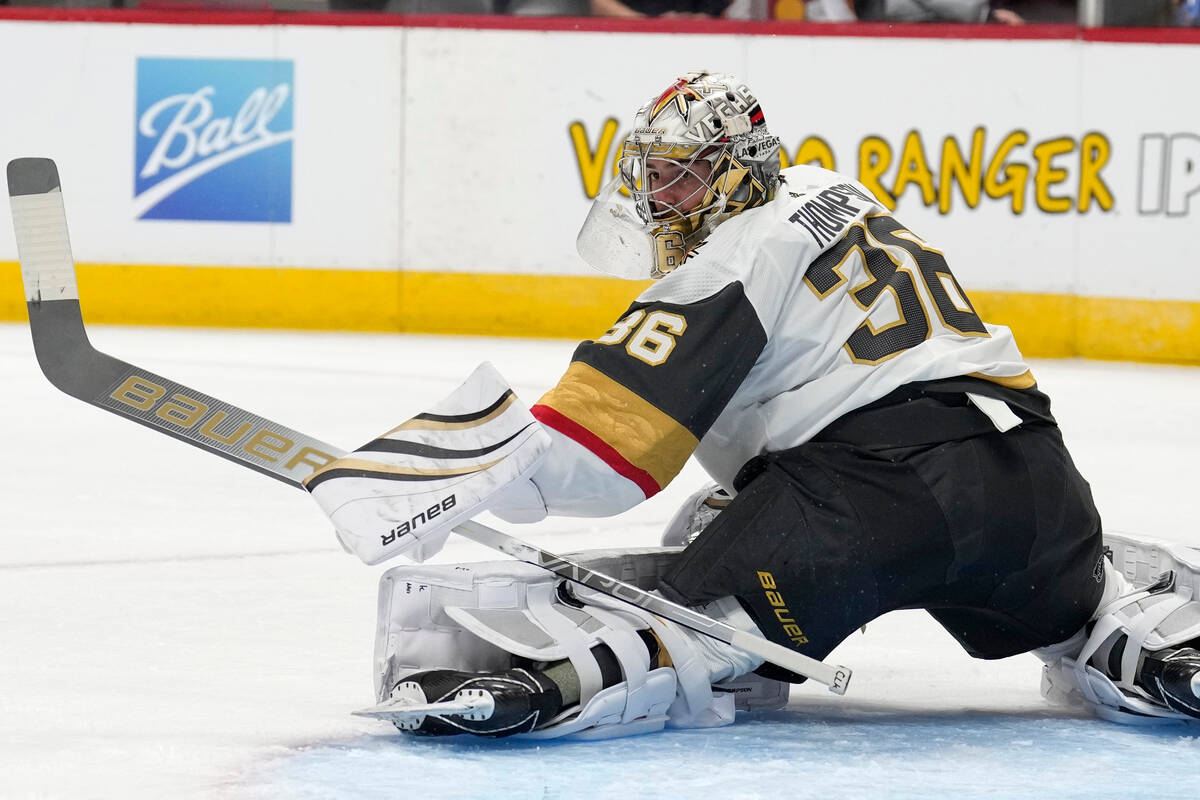 The final number could have been frustrating for Logan Thompson.
Facing only 10 shots in a preseason start isn't ideal for a goaltender looking to sharpen his game after missing most of last season's second half with lower-body injuries. But that's how many Thompson faced Friday when leading the Knights to a 3-1 victory against the Arizona Coyotes.
A different number was his focus. Sixty, the number of minutes he played in his first complete game since an overtime loss to the New York Islanders on Jan. 28.
The 26-year-old said he came back to camp 100 percent recovered from the lower-body injuries that derailed the second half of his season last year. Feeling that and proving that are two different things, however.
The preseason isn't just important for Thompson to knock off the physical rust. It's about building back trust in his body so he can regain the self-assurance that turned him into an All Star as a rookie last season.
"You can feel great, but you've got to get your confidence back," Thompson said. "That's kind of the biggest struggle I think I've had is trying to find that swagger."
Playing with an intense competitive fire, a chip-on-the-shoulder attitude is not something Thompson has struggled to do before. He comes by it honestly.
He was undrafted and played at Brock University in St. Catharines, Ontario, before heading into professional hockey. Before Thompson, no former U Sports — the national governing body of college athletics in Canada — goaltender had played an NHL game since 1994.
He isn't just a nice story, either. Thompson has shown he belongs on the same stage as the best players in the world. He was 21-13-2 with the Knights last season with a .915 save percentage. He finished eighth in the Calder Trophy voting for rookie of the year and likely would have finished much higher if not for his injuries.
They cost him almost the entire second half.
Thompson, in his first appearance after the All-Star break, left a 5-1 win in Minnesota 1:19 into the third period Feb. 9. He didn't play again until a start in his hometown of Calgary on March 23. He couldn't finish that one either, leaving with 6:07 remaining. He didn't dress for the Knights the rest of the regular season or playoffs.
"I think right before I got injured I felt like I was playing my best hockey," said Thompson, who stopped 129 of the 137 shots he faced his last four starts for a .942 save percentage. "Just trying to get back to that level and that confidence where I can stop everything. That's kind of what I've got to find."
Thompson still has more time to get there before the regular season begins.
The Knights have three exhibition games remaining for him to feel like himself again. He's saved 19 of the 22 shots opponents have fired at him so far, including nine of the 10 he saw in the team's lone preseason win to date Friday.
"I'm sure the next time he goes in the net, whether that's Tuesday, Thursday, Saturday, whenever it is in the rotation, he's going to feel better because he hasn't played a lot of hockey," coach Bruce Cassidy said. "It's going to take him a while to get to that comfort level of seeing live action."
Thompson hopes it happens sooner rather than later.
Starting and finishing a game was one major checkpoint for him in his quest to recapture his form from last season. Next is being able to go out and do it again, so he feels equipped to start strong as a sophomore.
"Confidence is a big thing in my position," Thompson said. "Just, to get it all back in preseason and starting to feel good and feel like 100 percent running into the regular NHL season is going to be huge."
Contact Ben Gotz at bgotz@reviewjournal.com. Follow @BenSGotz on X.