Knights' homegrown pair develop into key playoff performers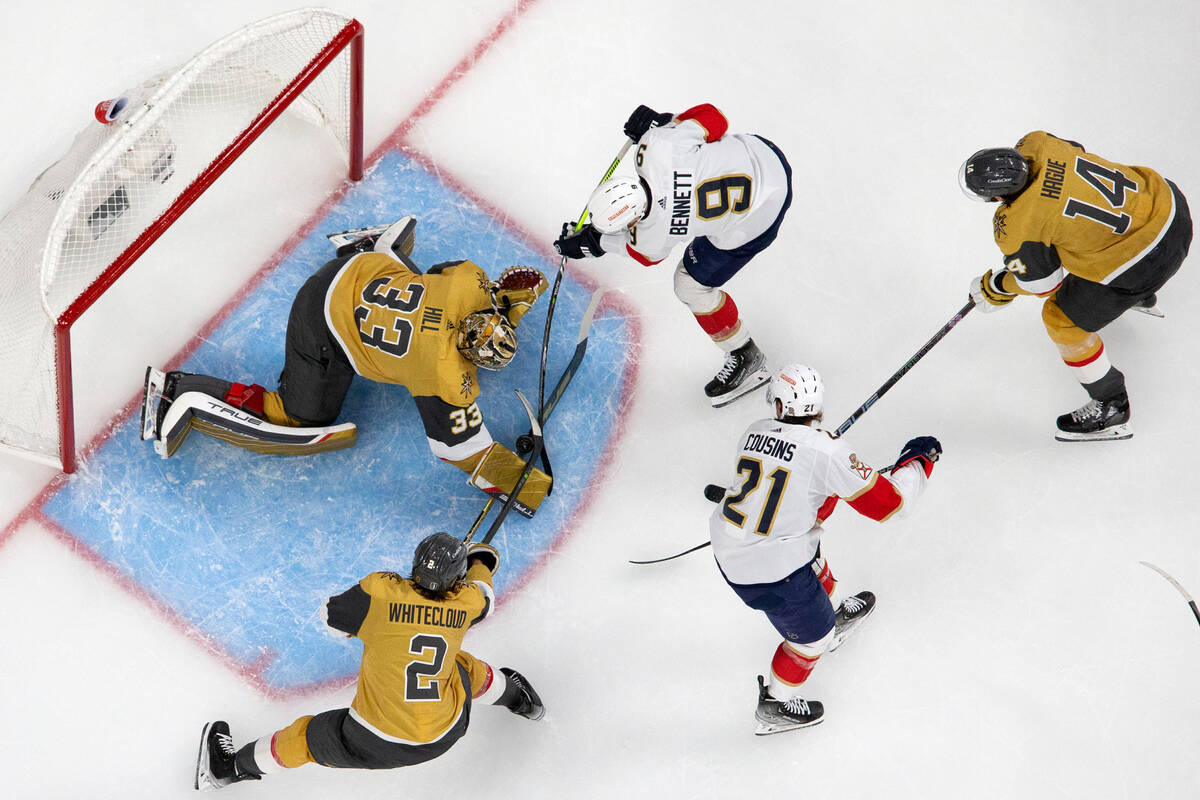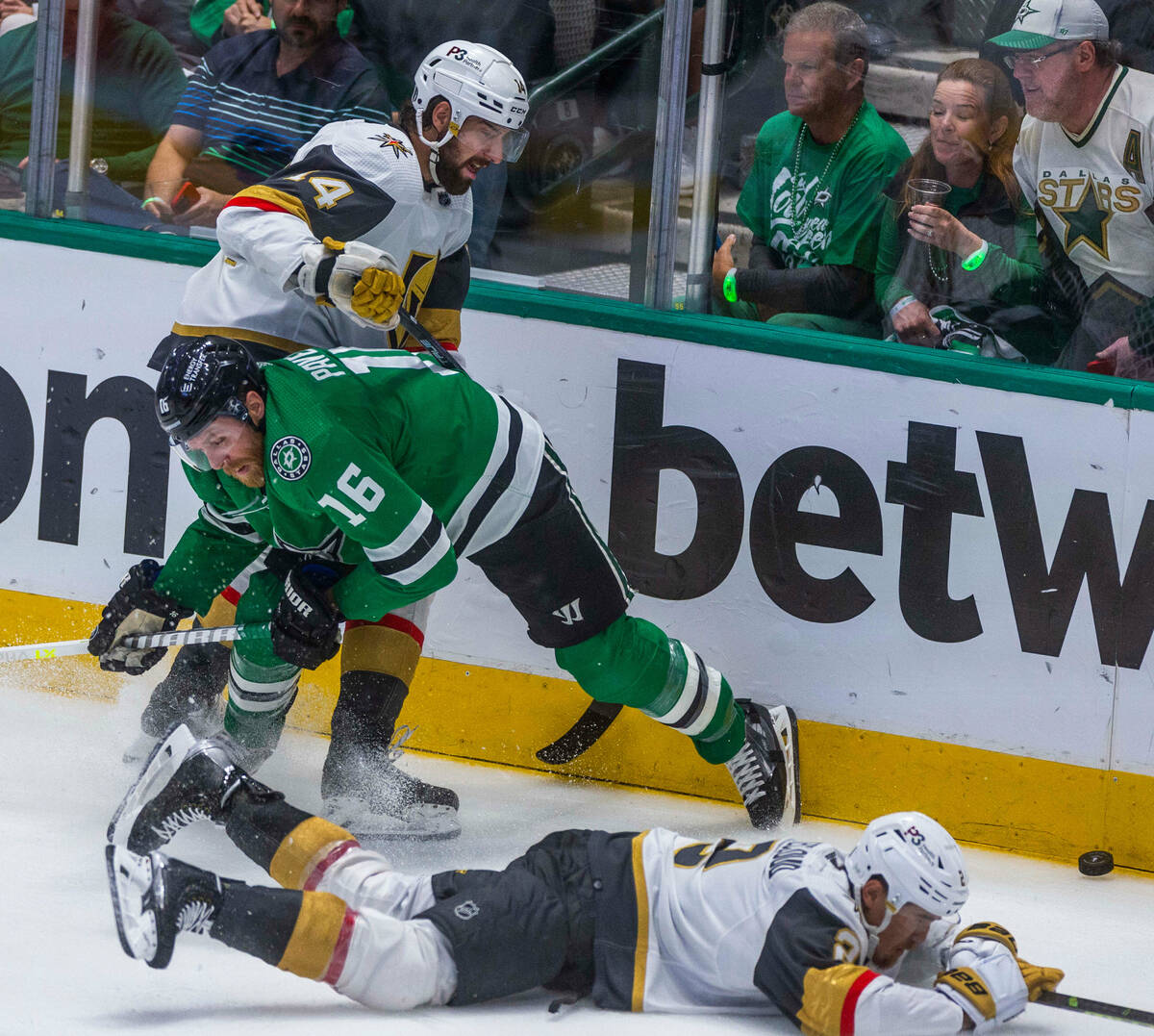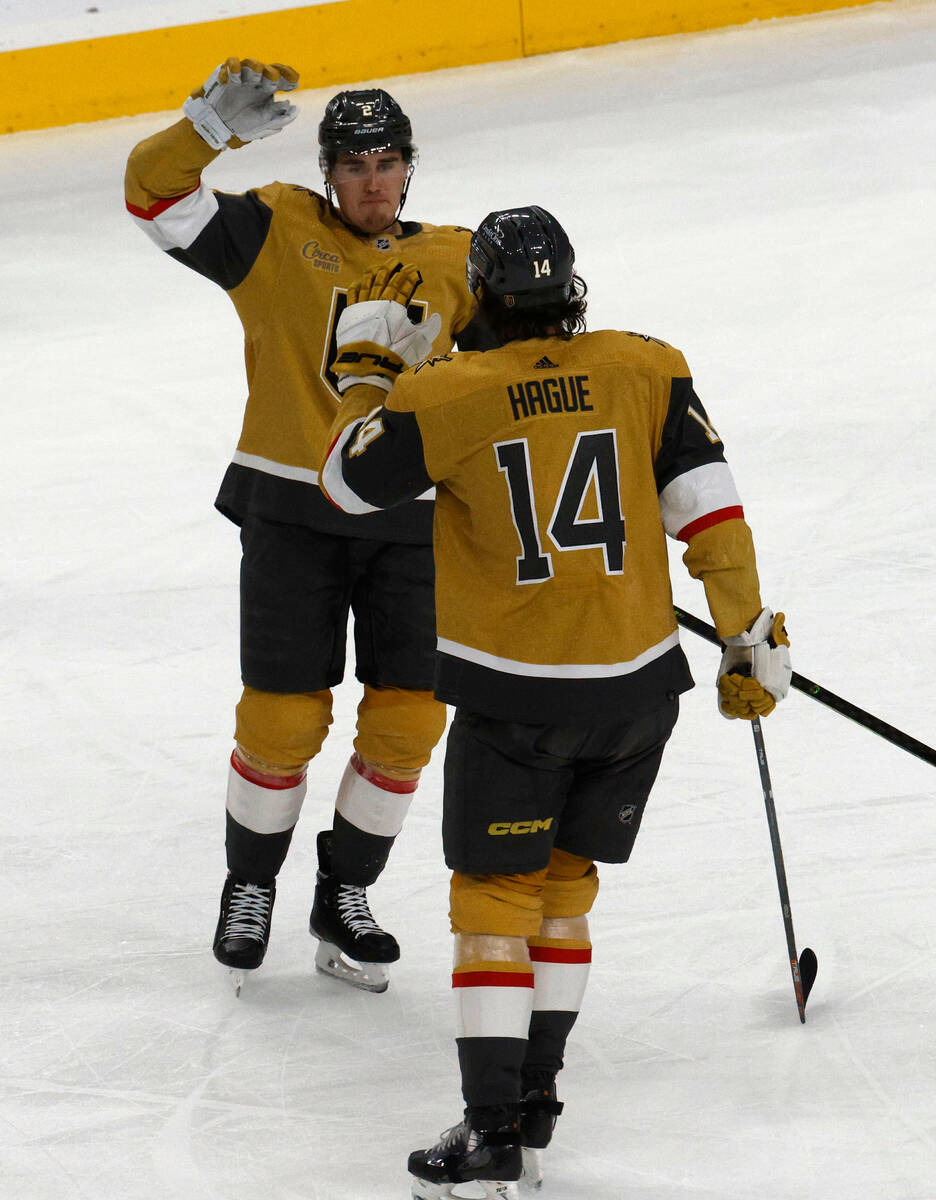 SUNRISE, Fla. — Zach Whitecloud doesn't know when it started. Sometime during his first season in the minors. But it's a routine that lasts to this day.
Every time Whitecloud walks out for warmups with the Golden Knights, the defenseman turns over his shoulder and touches gloves with partner Nic Hague. The two did it when they were paired up with the American Hockey League's Chicago Wolves. They kept it going when they started playing in the NHL with the Knights. Now it's a habit that's happening in the Stanley Cup Final.
"Just good friends, brothers going out before the game," Whitecloud said. "It's something that we've always done. … We're just close, right?"
The simple gesture says so much about the connection the two carry and the journey they've taken to reach hockey's highest stage. Hague and Whitecloud are a rare breed, two homegrown defensemen who have advanced through the sport side by side.
They're also a key reason the Knights are up 2-0 against the Florida Panthers heading into Thursday's Game 3 at FLA Live Arena.
"Whitey and I are kind in a unique situation where we've played together a ton," Hague said. "We've been able to grow as a D pair, whether that was in Chicago with the Wolves or our time here."
Hague and Whitecloud have been part of the Knights' organization for a long time.
Hague was part of the franchise's first draft class, selected with the third pick in the second round in 2017 when he was 18. Now 24, he's the only player the Knights have drafted who has appeared in the final.
Whitecloud, 26, was a college free agent out of Bemidji State University who signed near the end of the team's inaugural season. He spent the next year in the minors in Chicago, which is where he started working with a 6-foot, 6-inch mountain of a man during the Wolves' run to the 2019 Calder Cup Final.
"It's not too often you get to stick with one person for quite awhile," Whitecloud said. "Both of us know what to expect from one another, and we're pretty open and honest in terms of how we play as a pair and what needs to be done."
The two have come a long way since those days.
Whitecloud's intelligence, toughness and consistency have made him one of the Knights' most reliable blue liners since he got his first extended look with the team in 2019. His maturity has impressed at every turn, from his IQ on the ice to his perspective off it given he's the first member of the Sioux Valley Dakota Nation to play in the NHL.
Hague has developed in his own way.
His size and shot — his blasts are called "Haguerbombs" — have always stood out. But former Knights assistant Mike Kelly said Hague looked "kind of like Bambi on ice" with his long limbs at his first development camp.
His skating has smoothed out since. Hague has improved to the point that coach Bruce Cassidy trusted him and Whitecloud to be the Knights' primary defenders on Florida's best line featuring center Sam Bennett and right wing Matthew Tkachuk in Games 1 and 2.
The Knights have outscored the Panthers 2-1 in Hague's 17:44 against Bennett at five-on-five.
"Nic can frustrate people," Cassidy said. "He's hard to get inside on. He's mobile, he's long. He's not undisciplined, so he's not going to get off his game. He can still move the puck and hurt you offensively with his shot, so you have to respect that."
Having a third pair that plays as well as Hague and Whitecloud is part of what makes the Knights great.
There are no easy matchups against them, no holes for an opponent to exploit. Every shift is a battle, a grind. The Knights are plus-11 with Whitecloud on the ice at five-on-five in the playoffs and plus-10 with Hague.
It's been a pristine postseason performance that's five years in the making. One glove touch at a time, Hague and Whitecloud have built a bond that's brought them within two wins of lifting the Stanley Cup.
"They're playing really well," left wing William Carrier. "It's part of growing up in the game. You get older, and (with) the confidence you get, they've been great."
Contact Ben Gotz at bgotz@reviewjournal.com. Follow @BenSGotz on Twitter.
Up next
Who: Golden Knights at Panthers
What: Game 3, Stanley Cup Final
When: 5 p.m. Thursday
Where: FLA Live Arena, Sunrise, Fla.
TV: TNT, TBS, truTV
Radio: KKGK (98.9 FM, 1340 AM)
Line: Panthers -120; total 6
Stanley Cup Final
Knights lead 2-0
Game 1 — Knights 5, Panthers 2
Game 2 — Knights 7, Panthers 2
Game 3 — 5 p.m. Thursday, FLA Live Arena (TNT, TBS, truTV)
Game 4 — 5 p.m. Saturday, FLA Live Arena (TNT, TBS, truTV)
*Game 5 — 5 p.m. Tuesday, T-Mobile Arena (TNT, truTV)
*Game 6 — 5 p.m. June 16, FLA Live Arena (TNT, TBS, truTV)
*Game 7 — 5 p.m. June 19, T-Mobile Arena (TNT, TBS, truTV)
Radio: KKGK (98.9 FM, 1340 AM)
* If necessary