Knights' new center learning little things that come with trade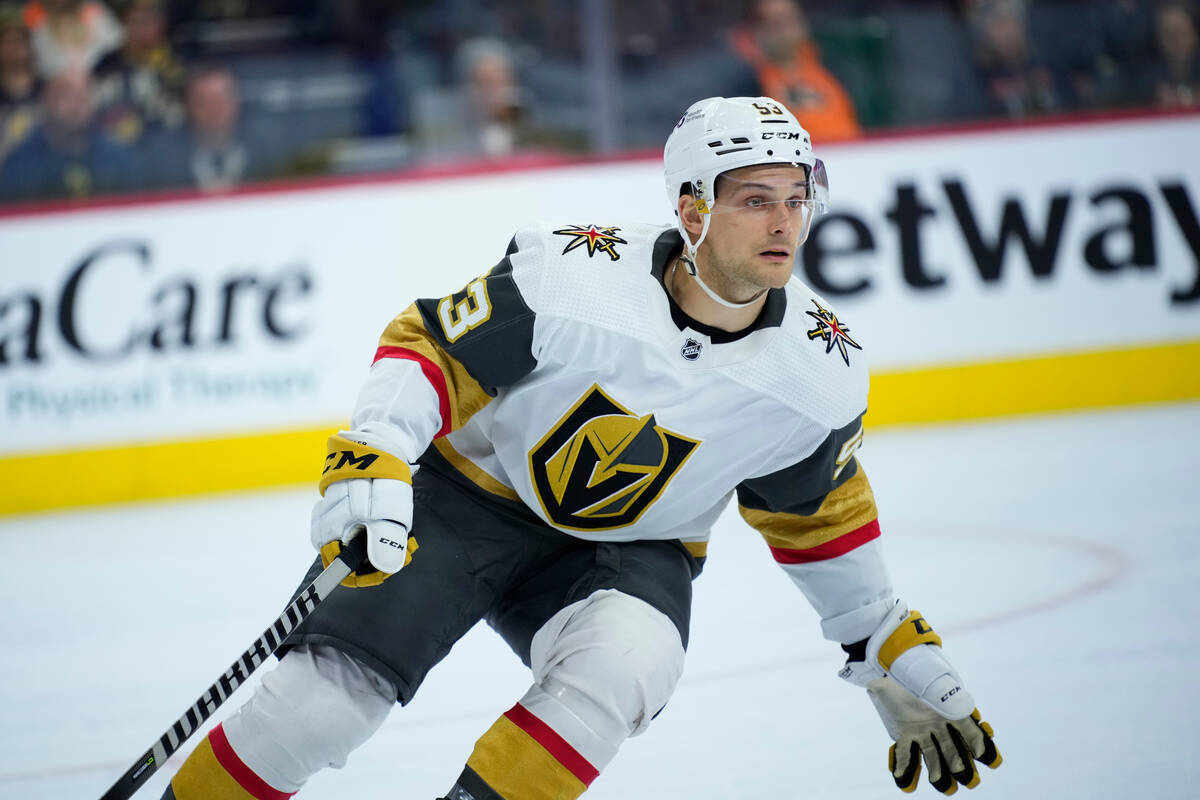 It's the little things for Teddy Blueger.
Where the Golden Knights keep clear tape. What the dress code is on the road. Where guys sit in the video room.
The 28-year-old center had spent his entire professional career in the Pittsburgh Penguins organization since being drafted in the second round in 2012. So when he was traded to the Knights on March 1, there were a lot of subtle differences he needed to adjust to. Like what his new teammates' warmup routines were.
"That was a big thing," Blueger said. "The first two games in warmups, I had no idea where to go."
Blueger admitted all that change has been challenging at times. He's at least hiding it well on the ice. Blueger has been a smooth fit on the Knights' fourth line since arriving, scoring four points in eight games while taking on tough defensive matchups.
"It's kind of been a bigger difference than I thought it would be, originally," Blueger said. "(I'm) getting used to everything now. With each day, kind of feeling more and more at home and more comfortable."
There have been two parts to Blueger's learning curve.
The first is just figuring out how to fit in around the rink.
He wanted to make sure he didn't park in anyone's spot at City National Arena. He learned to wear a suit and dress shirt to games. (The Penguins sported more polos.)
He figured out his job in warmups. He's now the first skater down the tunnel after the starting goaltender, which means he gets to knock the pucks from the bench to the ice.
The second part is getting up to speed on how his new team wants to play.
Blueger, after spending 179 American Hockey League and 250 NHL games in the Pittsburgh organization, said he was "kind of on autopilot" in the Penguins' hybrid defensive system. He could execute it without thinking. He's had to unlearn those tendencies in coach Bruce Cassidy's zone scheme.
Left wing Ivan Barbashev, who is going through the same process as Blueger after being traded from the St. Louis Blues, said his new teammate has a taller task adapting. Centers have more responsibilities than wings under Cassidy. And Blueger needs to have his down pat because of his role on the team.
Almost 500 forwards have played at least 10 NHL games this year. Few are more defensive-minded than Blueger. He starts the fourth-highest percentage of his even-strength shifts in his own zone among that group. He is also tied for 18th in average time on the penalty kill.
That's why it's important for Blueger to know what he's doing on defense. He's studying hard and asking questions so he understands how Cassidy wants to approach all sorts of specific scenarios.
"He's been handling it really well," Barbashev said.
What's been a pleasant surprise for the Knights is Blueger has popped in the offensive zone while getting his head around the other areas of the ice.
Cassidy said he thought Blueger had more offense in him when the trade was made. That's proven to be prophetic so far.
Blueger had 10 points in 45 games with the Penguins this season. He's almost halfway to those totals with the Knights in eight games. He's never going to create an avalanche of offensive opportunities with all the effort he spends defending, but he and his linemates have made the most of the ones they've had so far.
Those chances could come more often once the Knights' systems become second nature to him. He's already figured out what to do in the beginning of warmups. It's just a matter of clicking everything else into place.
"You're just trying to observe and stay out of the way and find your way," Blueger said. "It's a weird feeling. But the longer you go, you find your place and adjust and it gets better."
Contact Ben Gotz at bgotz@reviewjournal.com. Follow @BenSGotz on Twitter.
Up next
■ Who: Golden Knights vs. Blue Jackets
■ When: 1 p.m. Sunday
■ Where: T-Mobile Arena
■ TV: AT&T SportsNet
■ Radio: KKGK (98.9 FM, 1340 AM)