Knights' Nicolas Hague getting last laugh at opponents' antics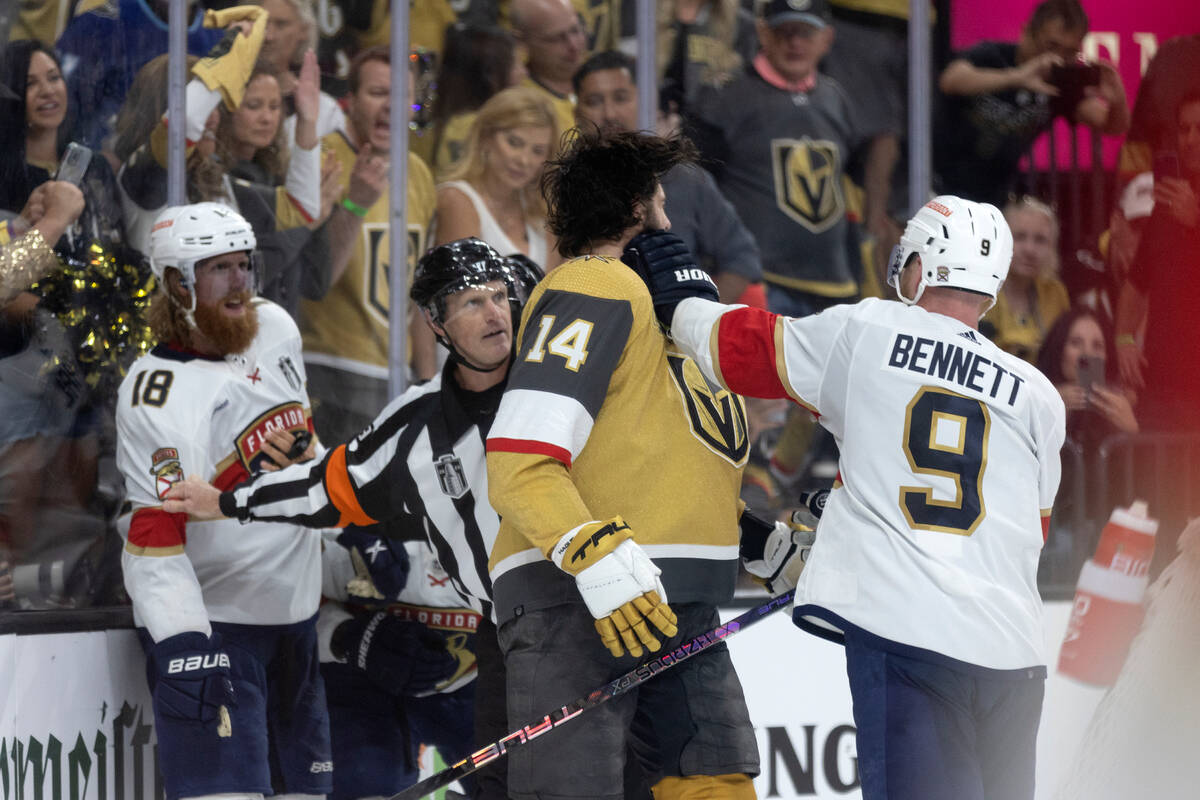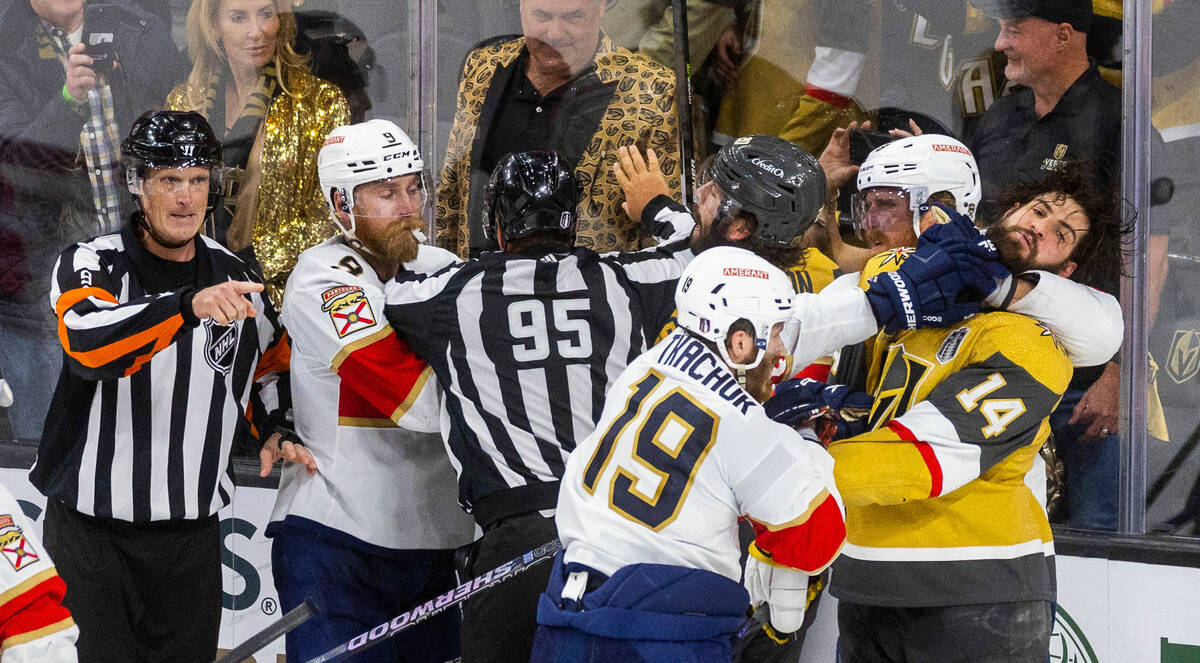 Defenseman Nicolas Hague has learned to keep his cool despite becoming a frequent target of opponents' shenanigans during the Golden Knights' postseason run.
He might be laughing his way all the way to a Stanley Cup title.
First, it was Edmonton's Darnell Nurse drawing a suspension in the second-round series for instigating a fight in the final minutes of an Oilers victory.
Then Dallas' Max Domi launched several right hands at Hague in the Western Conference Final that simply made Hague laugh in his face and then give a thumbs-up as he left the ice.
Hague was targeted several times by Florida in Game 1 of the Stanley Cup Final on Saturday at T-Mobile Arena, including when Panthers star Matthew Tkachuk punched him while a teammate held him from behind. Sam Bennett followed with a punch to Hague, drawing ejections for Bennett and Tkachuk.
Teammate held him while Tkachuk threw a shot 😳 pic.twitter.com/FN9QIwVX5x

— Bleacher Report (@BleacherReport) June 4, 2023
Hague again flashed a smile — and got the last laugh, as the Knights defeated the Panthers 5-2.
"I'm playing in the Stanley Cup Final and having the time of my life," he said after Sunday's practice. "It's a dream come true at this stage. I'm a pretty happy guy."
Several of his laughing reactions to punches have become internet memes, as did his thumbs-up gesture against the Stars. Hague said he isn't following social media too closely this time of year, but has seen the clips when his friends share them in group texts.
While the GIFs are humorous, Hague isn't a punch line or punching bag. The 24-year-old knows he is a 6-foot-6-inch target on the ice and has fought back plenty. He's also doing enough agitating to get under the skin of the opposition to drive them to such rage.
But Hague has done a good job picking his spots and not putting the Knights in bad positions.
"We've been doing that all playoffs," he said. "The emotions are high. Games get physical and get ramped up like that. There's a game within the game, so to speak. As a group all year, we never really start any of that stuff. Well, I shouldn't say never. But we don't necessarily go looking for it all the time. But we're definitely not scared of it."
Fellow defenseman Alex Pietrangelo, a Stanley Cup winner with St. Louis, has seen a lot during his 15-year career.
Opponents also have tried to target him, to take him out of his game and perhaps try to get him off the ice. He did draw a suspension for an ugly and unnecessary slash late in a game against Edmonton, but also showed restraint as the Panthers tried to bait him Saturday.
"The best way to react is to not react," he said. "You name the series, I've been taking it from people in different ways. During the play, after the whistle, whatever it is. I can take it. You've got to stay disciplined in those situations. Being tough isn't always reacting or fighting. I've been down this road before."
Hotline
Florida coach Paul Maurice has chosen not to utilize a valuable resource to prepare for the Knights.
He is close friends with Pete DeBoer, who was fired as Knights coach before the season and now coaches Dallas. Maurice said he knows DeBoer is still stinging from the six-game loss to the Knights and doesn't think the timing is appropriate.
"We would've talked over the course of the year, but I'm not calling a guy (right after his season ends)," Maurice said. "I'm not answering my phone after a series ends, so just a little respect for the profession."
Maurice also said he doesn't know how much of an advantage there is from such a conversation..
"More to the point, we're both mechanics. He's working on horses; I'm working on Ferraris," he said. "There are engines, but there's a completely different operation going on under the hood. So there's not as much inside information as you'd think.
"We've all got TVs, and all have four angles on just about everything that happens. There's actually not nearly as many secrets in this game as people think. He sent a text, good luck; I sent a thank you."
Defense gets offensive
The Knights got four points from defensemen in Saturday's game and lead the NHL in points from their blue line this postseason.
The group has a league-high 35 points in 18 games. Dallas is second with 34 in 19 games.
Contact Adam Hill at ahill@reviewjournal.com. Follow @AdamHillLVRJ on Twitter.