Knights reset with off day after 1st loss in Stanley Cup Final
Updated June 10, 2023 - 8:24 pm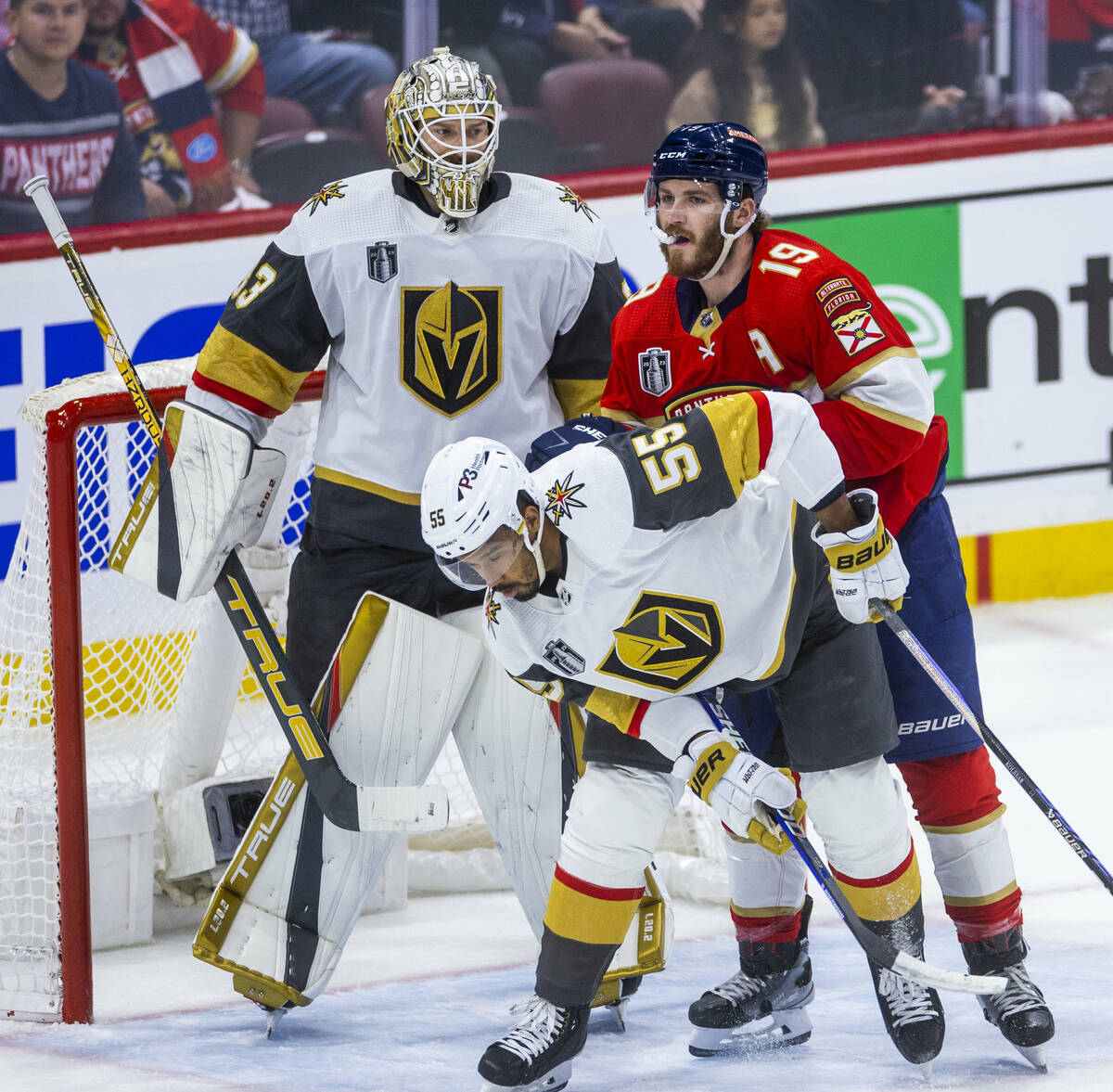 SUNRISE, Fla. — There wasn't much strategy discussion around the Golden Knights' team hotel Friday, a day after the team suffered its first loss of the Stanley Cup Final.
Coach Bruce Cassidy wanted his team to focus on preparing mentally for Game 4 on Saturday at FLA Live Arena. The Knights lead the Florida Panthers 2-1 after Thursday's 3-2 overtime loss in which they couldn't hold a late lead.
"We're not doing video today," he said. "We attack that stuff (Saturday) morning. … Today is a reset day. Basically get away from the rink a little bit. It's hard. It's the Stanley Cup Final, so you're not going to get completely away from it, but we're not going to talk Florida Panthers today with the guys."
Cassidy said he planned to briefly address the team, but will be far more focused on finding clarity than what adjustments to make on Florida's forecheck.
"Our guys are veteran guys, and they know what today is for," he said. "We've been through this routine enough, (and they) know this is an off day for them. Use it however you need to to get yourself ready for Game 4."
Forward Michael Amadio said it can be a valuable tool for a team nearing the end of the postseason grind and two victories from lifting the Stanley Cup.
"It's nice to get a rest day, for sure," he said. "All the guys can appreciate that and just take a day away from the rink."
That includes treatment for several players who are nursing minor injuries. Most of the players will stretch but not necessarily work out.
"We know how to get ready, and we'll be ready to go tomorrow," Amadio said.
Just a hit
Knights forward Keegan Kolesar briefly knocked Panthers star Matthew Tkachuk out of Thursday's game with a huge hit in the first period.
Tkachuk scored the game-tying goal late in the third period after returning, but Kolesar's hit was significant. But he insisted there was no message behind it, even though Tkachuk delivered a similarly thunderous blow to Jack Eichel in Game 2.
"It's just playing hockey, taking the hit that's available there," Kolesar said Friday. "He had the puck, and he didn't see me. That was a prime opportunity to create some momentum for us as a team on the road. That's what you've got to do because the crowd's not going to help you out."
Easing up
The Panthers appeared to make a concerted effort to tone down their physicality Thursday, particularly after coach Paul Maurice said before the game there is an energy cost to all their hits in the first two games.
The stats suggest his team got the message. After racking up 36 hits in Game 1 and 44 in Game 2, the Panthers were credited with 14 in Game 3.
"The first two games we were maybe just a little too excited to play," forward Nick Cousins said Friday. "With the 10-day layoff, guys were just really excited to get going and start playing. With all that bottled-up energy, there were times in Games 1 and 2 where we maybe went out of the way to make a hit."
Cousins was pleased with the team's adjustments in Game 3.
"We did a much better job of maybe having our sticks on the puck a little more and maybe not going out of our way to get a hit," he said. "When you do that you have maybe more energy to create offense."
Marchessault stays hot
Forward Jonathan Marchessault became the third player in the past 30 years to score in each of the first three games of a Stanley Cup Final.
The last two were Pittsburgh's Jake Guentzel in 2017 and Detroit's Steve Yzerman in 1997.
Marchessault has recorded 13 points during his franchise-record eight-game point streak. His 13 goals tie him with Edmonton's Leon Draisaitl for the most this postseason.
Contact Adam Hill at ahill@reviewjournal.com. Follow @AdamHillLVRJ on Twitter.