Knights to evaluate options with defenseman nursing injury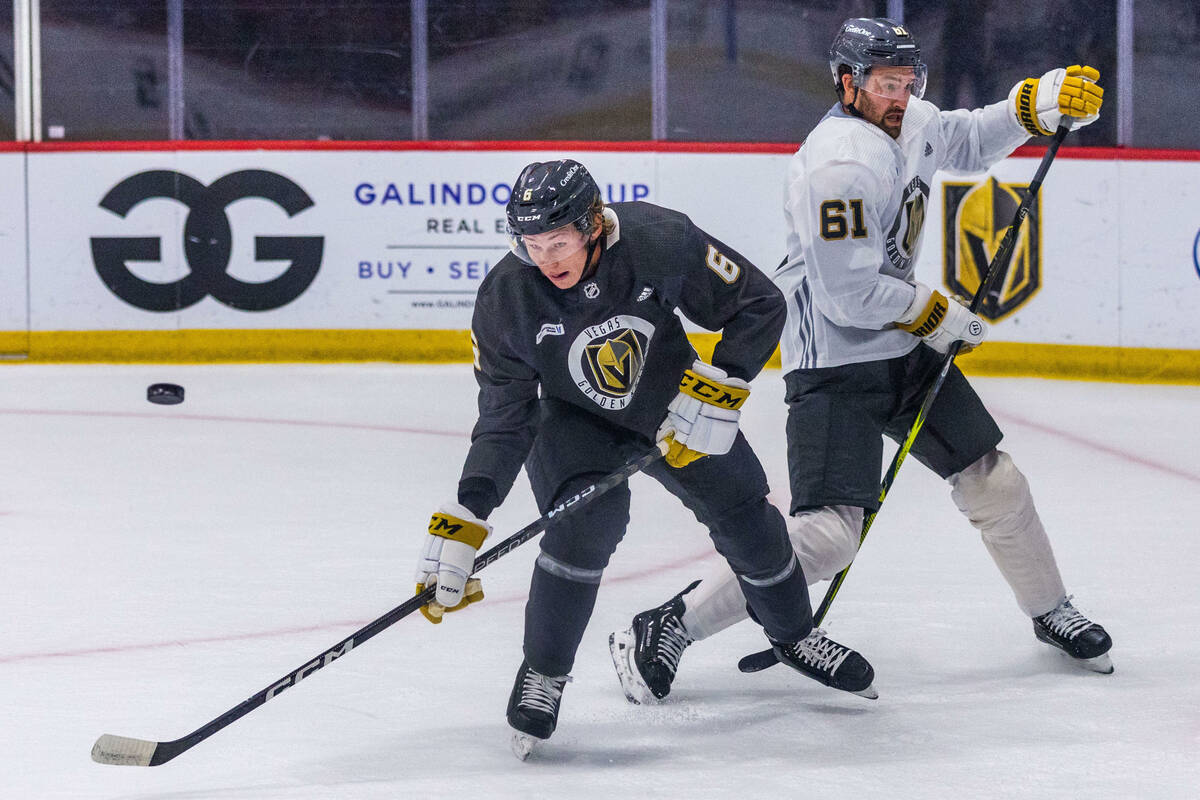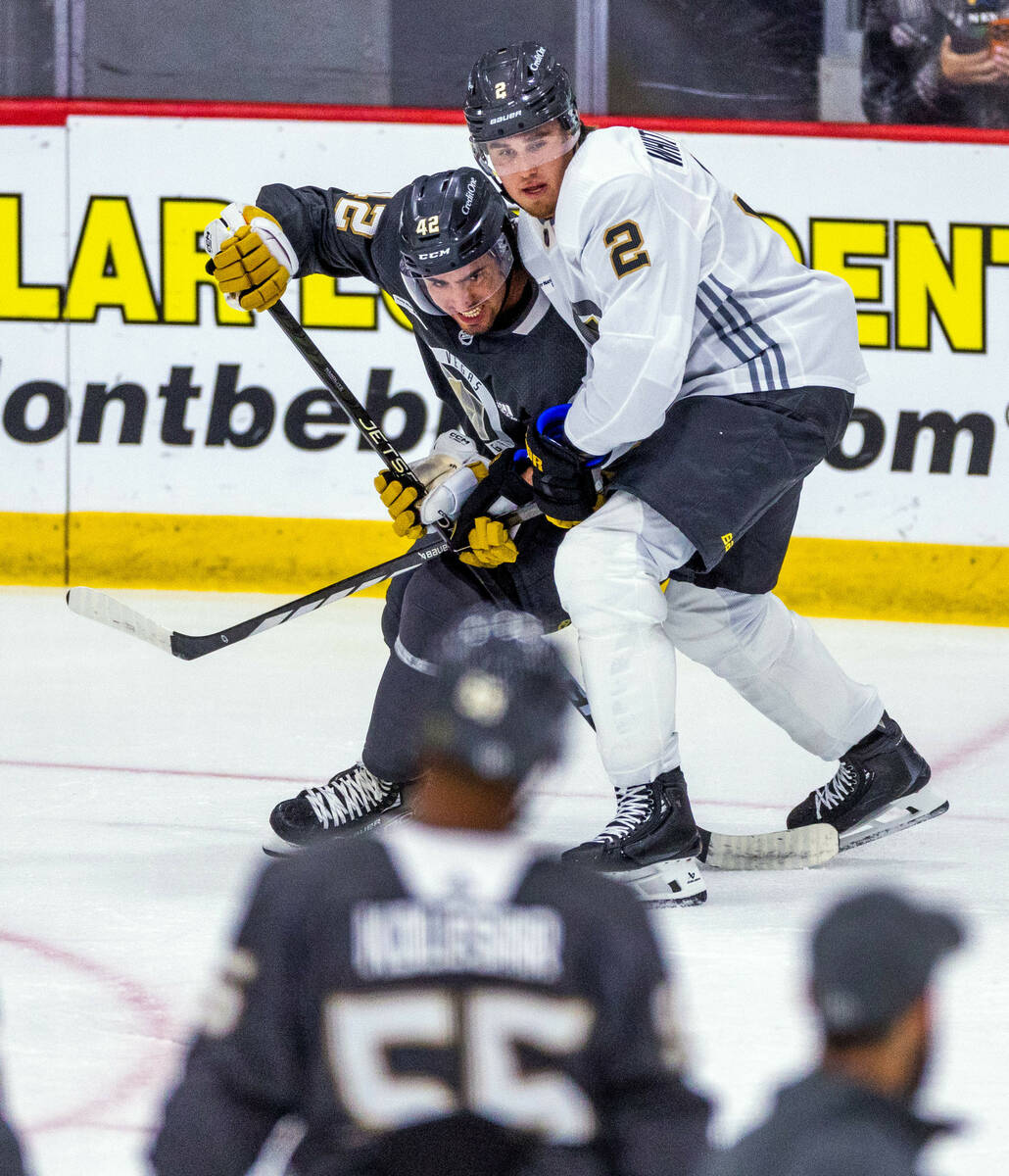 Kaedan Korczak received an encouraging stick tap on his shin pads from fellow defenseman Nic Hague before they went out for their first drill Thursday at City National Arena.
The spot to Hague's right might be open at least in the short term with Golden Knights defenseman Zach Whitecloud nursing an upper-body injury. Coach Bruce Cassidy said Wednesday he wasn't sure if Whitecloud would skate this week and didn't have an update Thursday. So Korczak, at least for one practice, was given the first shot to fill the spot.
Cassidy said the Knights will be looking at right-side defense candidates with a close eye in training camp with Whitecloud's status uncertain. Korczak, a 2019 second-round pick, is one possibility. The Knights also have Brayden Pachal, prospect Lukas Cormier and veteran Dysin Mayo as options.
The team has four preseason games left to sort through those players and see who could step into one of the NHL's best blue lines.
"There is depth at that position," Cassidy said. "We're hoping it's not serious for Whitey or long term, but until he's back on the ice, those guys will get more eyes on them."
Of the available players, Korczak and Pachal stand out based on their skill sets and experience with the Knights. Like Whitecloud, they are right-hand shots who can defend well at five-on-five and on the penalty kill.
Korczak, 22, appeared in 10 NHL games last season and recorded two assists. He's a big body at 6 feet, 3 inches and has a smooth skating stride that helps him transport pucks up the ice.
"(I want to show) just how much better I got over the summer," Korczak said. "I tweaked my game a little bit, got a little bit stronger, a little bit faster."
Pachal, 24, also played in 10 NHL games last season and showed he belonged. The Knights outscored opponents 4-3 in his 153 minutes of five-on-five time. He had two assists.
The team's trust in Pachal showed during the playoffs. He was put in the lineup for Game 5 of the first round against the Winnipeg Jets with Brayden McNabb and Shea Theodore hurt, and played 11:45 in a 4-1 win.
"Last year was a big step for me," Pachal said. "I feel I kind of proved to myself and the organization that I can handle my own at the NHL level."
Mayo is another name that could emerge in camp. The 27-year-old, acquired when the Knights dealt Shea Weber's contract to the Arizona Coyotes in February, has 12 points in 82 NHL games. He has one assist in two preseason games this season.
Then there's Cormier, a 2020 third-round pick who is a different style of defender. The 21-year-old is a left shot who can play the right side, like defenseman Shea Theodore does for the Knights. Cormier also has a lot of skill. He has a goal and an assist in two preseason games.
The question for the 5-foot-11-inch blue liner is how well he can defend at five-on-five. He's been called for a penalty in each of his two preseason appearances, showing that part of his game remains a work in progress.
The Knights have time to sort through their choices if Whitecloud isn't ready for the season opener Oct. 10. They also could move a left-shot defenseman, such as Ben Hutton or Alec Martinez, to the right side.
But Korczak and Pachal are hungry to earn more of a role after getting a taste of the NHL last season.
"Just trying to prove myself," Pachal said. "Show that I can step up and make this team. That's the goal going into any camp. To be in this (locker) room, it means a lot, but the goal for me now is to stay in here."
Contact Ben Gotz at bgotz@reviewjournal.com. Follow @BenSGotz on X.
Up next
Who: Coyotes at Golden Knights
When: 7 p.m. Friday
Where: T-Mobile Arena
TV: KMCC-34
Radio: KKGK (1340 AM, 98.9 FM)