Knights' under-the-radar pickups power playoff success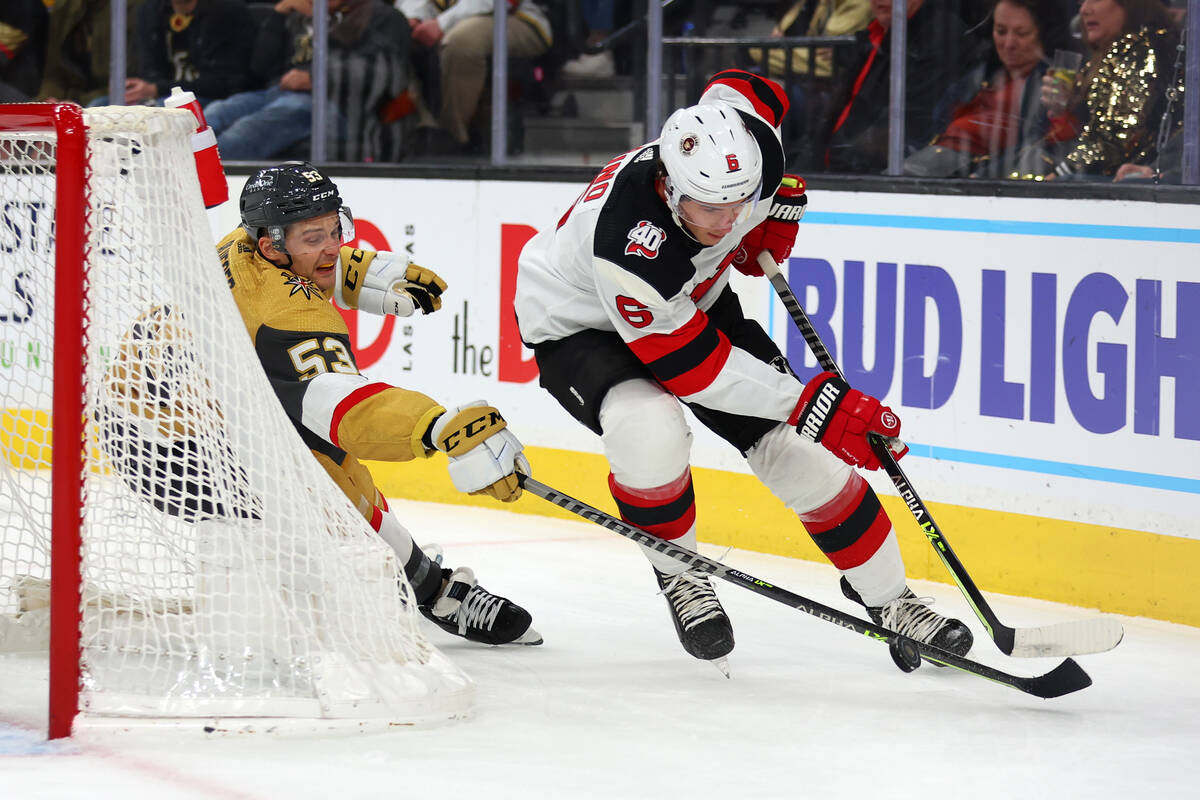 Teddy Blueger spent one of his first nights as a Golden Knight at dinner with teammates Alec Martinez and Jonathan Quick.
It was a little gesture by Martinez, taking two of the Knights' trade deadline acquisitions out. It also shows why the team has been able to integrate so many new faces into its lineup this season.
President of hockey operations George McPhee, general manager Kelly McCrimmon and their pro scouting staff have done a great job identifying targets that can help the Knights. Veteran leads like Martinez, captain Mark Stone, defenseman Alex Pietrangelo and others have then made sure the additions feel like a part of the group immediately.
The Knights are in their fourth semifinal in six years in part because of the contributions they've gotten from those newcomers. Blueger played twice in the second round, while left wing Ivan Barbashev had six points and goaltender Adin Hill got three wins.
All joined the Knights via trade in the past calendar year.
"Every single move we made made a really big impact," right wing Nicolas Roy said. "It's been awesome."
The Knights have won the second-most playoff series in the NHL in the past six years because of a huge assist from their pro scouting staff.
The group played a massive role in the team's expansion draft haul, which includes current players William Karlsson, Reilly Smith, Jonathan Marchessault, Shea Theodore, Brayden McNabb and William Carrier. The Knights have continued to find under-the-radar pickups since.
Right wing Michael Amadio, who scored the double overtime winner in Game 3 against Winnipeg, was a waiver claim. Left wing Brett Howden was brought in for a fourth-round pick in 2021 and had four points against the Jets. The most famous example of all is center Chandler Stephenson, who cost a fifth-round pick in December 2019.
Stephenson was named to his first All-Star Game this season and has 10 points in 11 games in the playoffs.
The Knights maintained that success this season.
They plucked Hill from the San Jose Sharks in August for a fourth-round pick. The 27-year-old went on to post a career-best 2.45 goals-against average in the regular season, then played a key role in a six-game victory over Edmonton in the second round. Hill stopped 127 of the 136 shots the NHL's top offense fired at him.
"He proved that he's No. 1 for us right now," Barbashev said. "He's done a really good job."
The Knights continued to build their depth at the trade deadline, giving coach Bruce Cassidy even more options.
Barbashev fit right in on the top line with Marchessault and center Jack Eichel. Blueger provided depth down the middle and has given the team an extra penalty killer. Quick helped the Knights survive a surge of late goaltending injuries, going 5-2-2 after being acquired for a seventh-round pick and goalie Michael Hutchinson.
The two-time Stanley Cup winner has been Hill's backup the past three games.
"(McCrimmon) did a real good job at the deadline finding the players that would be best suited for us," Cassidy said. "They've come in in those roles, done a good job for us."
The Knights players also deserve credit for welcoming the new guys.
It's not easy to join a team midseason, especially one that has been together as long and has had as much success as this one.
But Blueger said he's felt included since the jump. It started with his dinner with Martinez and Quick. It continued at team events and during more meals on the road. The Knights' leaders made him feel at home.
"I can't say enough good things about them," Blueger said. "Obviously, they were atop of the standings for most of the year, and I wasn't a part of that until late on. Coming in, they made me feel like I was part of the group right away."
Contact Ben Gotz at bgotz@reviewjournal.com. Follow @BenSGotz on Twitter.
Series schedule
Game 1 — 5:30 p.m. Friday, T-Mobile Arena (ESPN)
Game 2 — Noon Sunday, T-Mobile Arena (KTNV-13)
Game 3 — 5 p.m. Tuesday, American Airlines Center (ESPN)
Game 4 — 5 p.m. May 25, American Airlines Center (ESPN)
Game 5* — 5 p.m. May 27, T-Mobile Arena (KTNV-13)
Game 6* — 5 p.m. May 29, American Airlines Center (ESPN)
Game 7* — 6 p.m. May 31, T-Mobile Arena (ESPN)
* If necessary
All games will be broadcast on KKGK (98.9 FM, 1340 AM)