Lehner, Knights could get NHL COVID protocol changes for playoffs
Updated May 8, 2021 - 3:20 pm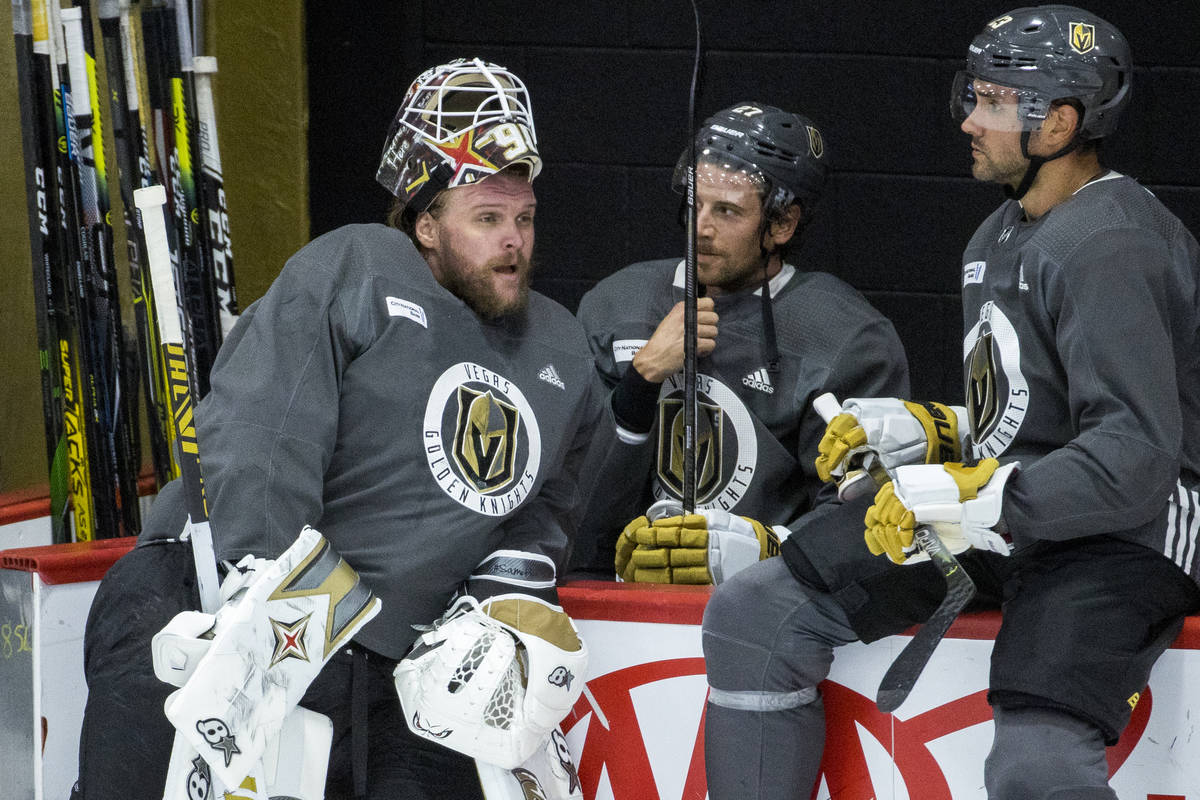 Robin Lehner did not feel a sense of vindication Saturday after the NHL announced it would relax COVID protocols for fully vaccinated teams in the postseason.
The Golden Knights goaltender criticized the league and NHL Players' Association last month and accused them of lying that looser restrictions would be instituted after players were vaccinated against COVID-19.
"We have known what's going on all along. I haven't said anything differently," Lehner told the Review-Journal. "I just wanted it to happen and I wanted to speak out about it, not just for us as everyone that works with the NHL but everyone in the world right now that is developing serious (mental health) issues."
The NHL sent out a memo to teams Friday saying its COVID-19 restrictions will be loosened during the playoffs if 85 percent of the team's traveling party (which includes coaches, trainers and other personnel) are vaccinated.
Among the changes: Players can have small gatherings, visit the hotel room of another fully vaccinated person and even go golfing as a group. They can eat at outdoor restaurants and can dine indoors if they are separated from other guests.
The PCR tests for COVID-19 will no longer be required on off days, either.
Lehner, who said he has received the vaccine, posted a video on Twitter of a panda climbing the bars of an enclosure after the news came out. It's unknown if the Knights have reached the 85 percent threshold.
— Robin Lehner (@RobinLehner) May 8, 2021
"I just think it's a good time going into the playoffs to have a little bit more relaxed and be able to get some release and just have some normalcy around each other again," Lehner said. "Just the general optimism of things turning around I think will be good for a lot of people. It's nice it's happening."
Lehner, who has spoken publicly about his bipolar I diagnosis and previous struggles with substance abuse, blasted the league and union at the end of his media availability on April 21.
Among the accusations made by Lehner during his passionate, 11-minute speech was that players were promised COVID protocols would change if enough were vaccinated. He also accused the league of putting "competitive edge over human lives."
The NHL denied Lehner's assertion that any promises were made about protocol changes. Lehner later posted a screenshot of changes to the NBA's policy for vaccinated players that he said NHL players were shown.
According to the current NHL protocols, players are largely confined to their homes, hotel rooms and ice rinks except for essential activities and emergencies. They also undergo daily COVID-19 testing.
The NHL's update to its protocols mirror what Lehner said players were told would happen while they considered whether to be vaccinated.
"It's not a position I want to put myself in," Lehner said. "We have hockey and all types of things to focus on and it can be seen as a distraction and it's controversy, and you don't want controversy when you play in a pressured, performance game. Sometimes what you stand for and what you believe in and people's health must come first, and I wanted to speak out because I see how this is affecting so many people."
Lehner said he was not part of the conversations that took place about the new protocols except for a few text messages. The first time he heard about the NHL's memo was after Friday's game, and Lehner said he learned the specifics Saturday morning.
Lehner reiterated his stance that mental health has been overlooked across society — not just the NHL — during the coronavirus pandemic and was looking forward to having an outlet.
"Hockey playoffs are coming up now. It's not like you're going out on safari," Lehner said. "But get a little mental break without restriction, go out and do things. Plan some things with the family or meet with friends and whatever it is you need to do to get some mental release or just in general feel some optimism and looking forward to good things and the world turning around again is huge for your mental health."
Contact David Schoen at dschoen@reviewjournal.com or 702-387-5203. Follow @DavidSchoenLVRJ on Twitter.