Logan Thompson earns chance as Golden Knights backup goalie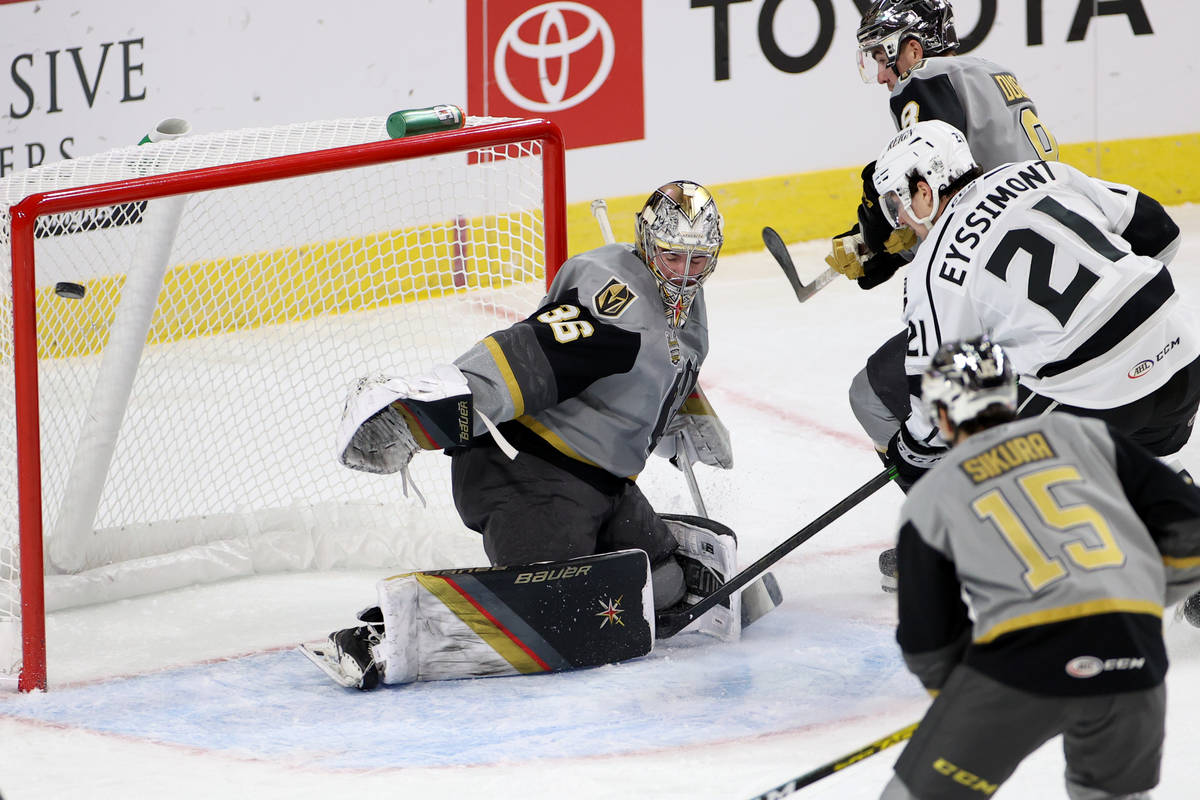 ANAHEIM, Calif. — Near the end of Saturday's morning skate, Golden Knights coach Pete DeBoer found goalie Logan Thompson in front of the bench and struck up a conversation.
Before Thompson got a taste of the NHL by serving as Marc-Andre Fleury's backup against the Anaheim Ducks at Honda Center, DeBoer wanted to know all about his journey to that point.
"It's a great story," DeBoer said.
Thompson played four years in the Western Hockey League and won a league title with the Brandon Wheat Kings in 2015-16. He also holds the distinction of starting the first-ever Knights game when he was in net against Los Angeles in a 2017 rookie game.
But Thompson wasn't signed to a pro contract and attended Brock University in St. Catharines, Ontario, to continue his career.
He posted a 2.22 goals-against average and .934 save percentage in 24 games with the Badgers and was named Ontario University Athletics' Goalie of the Year, Rookie of the Year and a first-team all-star. DeBoer said he knows Brock coach Marty Williamson.
"So we had a mutual connection there," DeBoer said.
Thompson's play at Brock earned him an amateur tryout contract with Adirondack of the ECHL in 2019, and he also made one appearance in the American Hockey League with Binghamton.
That summer, Thompson signed an AHL contract with Hershey, but played for the Carolina Stingrays in the ECHL and had a 2.25 GAA and .929 save percentage. He was also involved in a goalie fight Dec. 15, 2019.
Goalie fight in the Jacksonville-South Carolina ECHL game between Michael Mcniven and Logan Thompson. pic.twitter.com/rUaIF0Gha8

— Main Team (@MainTeamSports) December 15, 2019
The Knights signed Thompson, who turned 24 on Thursday, to a two-year contract in July, and he drove 1,500 miles from Brandon, Manitoba, to Las Vegas to participate in training camp before the playoff bubble.
With Oscar Dansk serving as the taxi squad goalie for much of the season, Thompson won the starting job for the Silver Knights. In five starts, he is 4-1 with a 1.81 GAA and .942 save percentage.
"He's knocking on the door of an NHL start here," DeBoer said. "Amazing journey, and a great lesson for all kids out there about perseverance."
Nosek sits
Forward Tomas Nosek was listed as a game-time decision by DeBoer, but ended up a scratch for the seventh straight game.
Nosek was cleared from the NHL COVID protocol Tuesday after he was pulled from the Feb. 9 game against Anaheim during the second intermission because of a positive test. He participated in the morning skate, and DeBoer said he was close to returning.
Fight grade
Right wing Ryan Reaves is the reigning heavyweight champion in the NHL, as voted by the players. He was impressed with Keegan Kolesar's first NHL fight.
Kolesar clocked Avalanche defenseman Dennis Gilbert during their Feb. 16 scrap, and Gilbert had to undergo facial surgery as a result.
"If you're going to do that to guys, you're going to get a little more respect, a little more room," Reaves said. "That's going to help his game. I think that's going to help his confidence. I think it's going to help him get on the forecheck and be a little more physical, which our line needs."
Dugan benched
Silver Knights forward Jack Dugan was a healthy scratch Saturday for disciplinary reasons, according to coach Manny Viveiros.
Dugan was penalized for unsportsmanlike conduct in the third period of Friday's game against San Diego when he disputed a call. Viveiros said the Silver Knights spoke to Dugan previously about his dialogue with officials and needed to send a message to the first-year pro.
Dugan has one goal and nine points in eight games.
"It was a lesson learned," Viveiros said. "It's just something a young player will sometimes have to go through, a little bit of maturity. I'm not worried about Jack."
Contact David Schoen at dschoen@reviewjournal.com or 702-387-5203. Follow @DavidSchoenLVRJ on Twitter.
Logan Thompson file
Age: 23
Birthplace: Calgary, Alberta
Height/weight: 6-4/190
Position: Goaltender
Catches: Right
Number: 36
2019-20 stats (ECHL): 23-8-1 in 32 games, .929 save percentage, 2.25 goals-against average, three shutouts