Marc-Andre Fleury, Robin Lehner win NHL's Jennings Trophy
Updated May 12, 2021 - 9:53 pm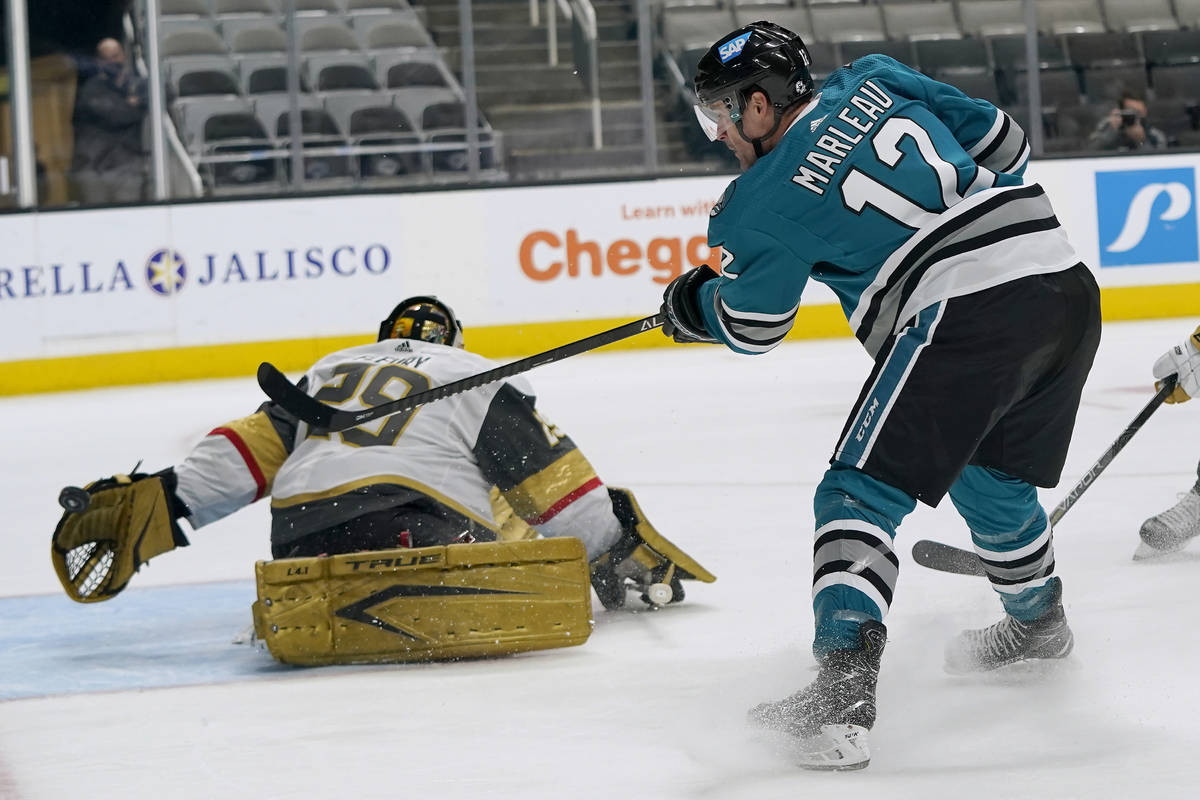 The Golden Knights bet big on their goaltending tandem this season, and it paid off in a major way.
Marc-Andre Fleury and Robin Lehner secured the NHL's Jennings Trophy on Wednesday as the primary goaltenders on the team that allowed the fewest goals. The Knights gave up 124, four fewer than the second-place New York Islanders (128).
The team invested heavily in its goaltending in the offseason by signing Lehner to a five-year, $25 million extension and hanging onto Fleury. The tandem was the second-most expensive in the NHL with a combined cap hit of $12 million.
"For me, hands-down the best goalie tandem in the league," coach Pete DeBoer said. "They got some good help from our commitment to defending. But those two were outstanding every night for us."
Fleury put the bow on his first Jennings-winning season by recording his sixth shutout Wednesday in a 6-0 victory at the San Jose Sharks. The 36-year-old finished 26-10-0 with a 1.98 goals-against average (fourth-best in the NHL) and .928 save percentage (fifth). He ended the season on a nine-game winning streak in which he never allowed more than two goals a game. He has a strong chance to become a Vezina Trophy finalist for the first time in his career.
The season was also a historic one for Fleury. He ranks third all time with 492 wins, behind Martin Brodeur (691) and Patrick Roy (551). His six shutouts put him in a tie with Roy Worters for No. 14 all time with 67.
By winning the Jennings, Fleury became the first goaltender in NHL history to claim his first individual award in his 17th season or later.
"He was great all year for us," left wing Jonathan Marchessault said. "He's in the discussion for the best goalie in the league."
Lehner won the Jennings Trophy for the second time. He also won it in 2018-19 with the Islanders, when he was a Vezina Trophy finalist. He is the seventh goaltender to win the Jennings with multiple teams, joining Ed Belfour, Jaroslav Halak, Dominik Hasek, Manny Fernandez, Roy and Roman Turek.
Lehner finished 13-4-2 with a 2.29 goals-against average and 9.13 save percentage. The 29-year-old lost in regulation once in his first 15 starts.
The Jennings is the Knights' sixth NHL award and their first since their inaugural season. It signifies their investment in net was money well spent. But it remains to be seen whether the two will continue splitting time in the playoffs, or whether one will dominate the crease.
"We've got great goaltending all year from both guys," DeBoer said Monday. "We're going to need both guys in the playoffs, too."
Here are three more takeaways from the win:
1. Season-ending stats
The Knights set several regular-season franchise records.
They finished with the best winning percentage (.714), points percentage (.732), offense (3.39 goals per game), defense (2.18 goals against per game) and penalty kill (86.8 percent) in team history. Their defense and PK rank first in the NHL, and their offense is third.
Captain Mark Stone (61 points in 54 games) and left wing Max Pacioretty (51 in 48) became the first Knights players to score more than a point per game. Shea Theodore set a team record in points per game by a defenseman (0.79).
2. Karlsson's iron man streak
Center William Karlsson was the only Knights player to appear in all 56 games.
Karlsson hasn't missed a game in three of his four years with the team. He missed eight games last season, snapping a 234-game iron man streak.
Karlsson has played in 70 consecutive games.
3. Sikura scores
Dylan Sikura's season ended on a high note.
The 25-year-old forward was recalled from the Silver Knights on Tuesday and scored his first two goals Wednesday in his sixth game with the Golden Knights.
Sikura had one goal in his first 52 NHL games.
"It's nice to get those," Sikura said. "Obviously, (I've) struggled to put the puck in the net at this level, so it's nice to get those by him. Hopefully get some more moving forward."
Contact Ben Gotz at bgotz@reviewjournal.com. Follow @BenSGotz on Twitter.