New line, goaltender lift Golden Knights to preseason win
Updated October 5, 2022 - 5:27 am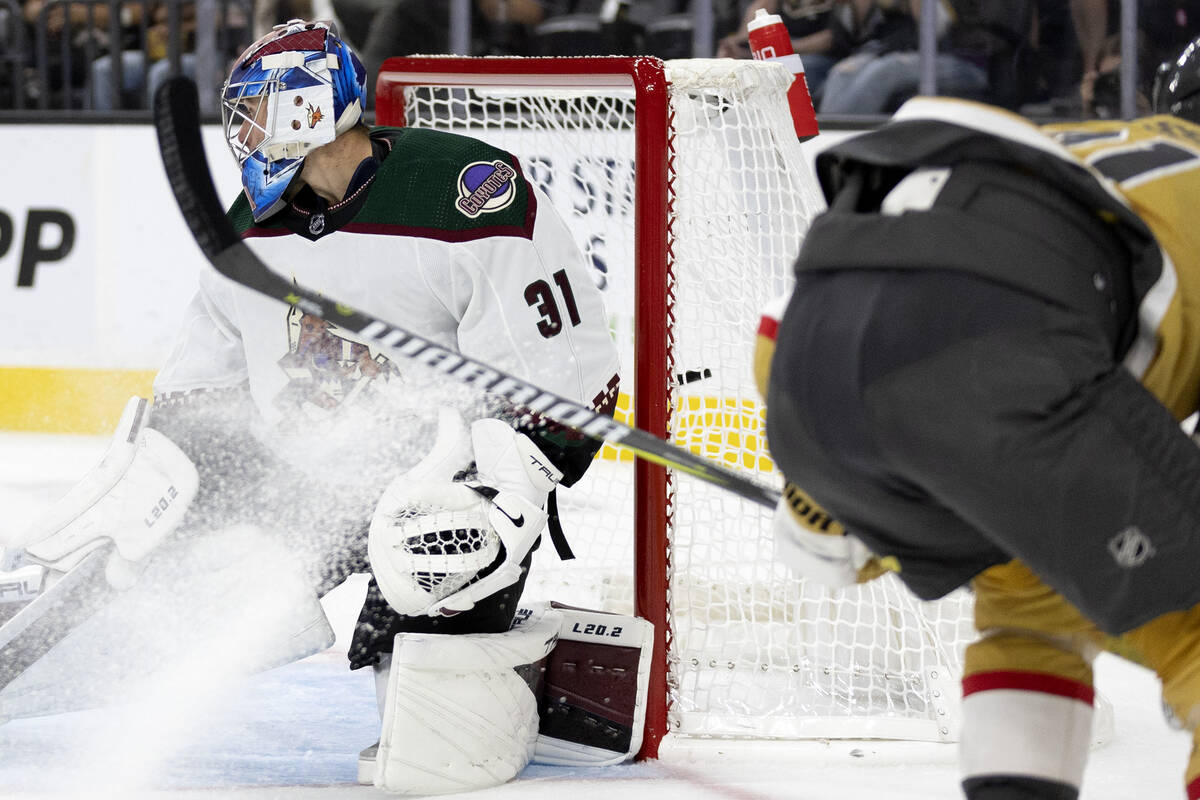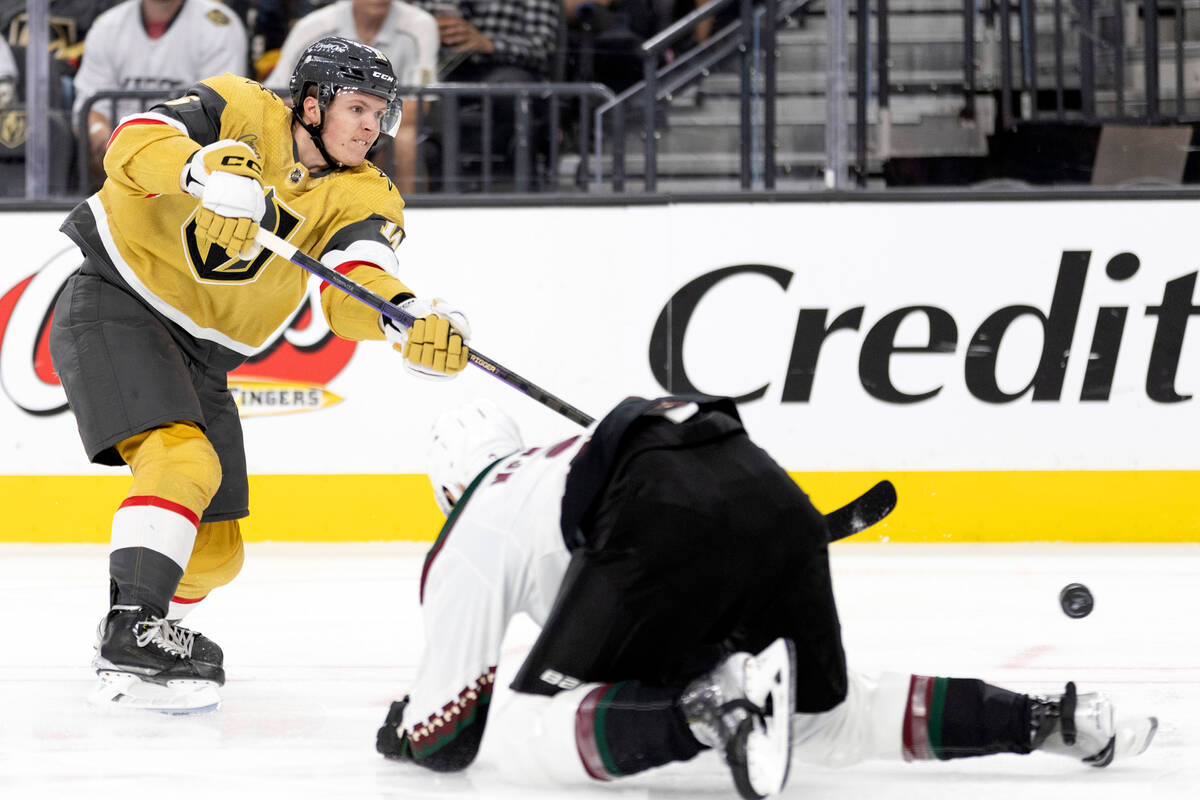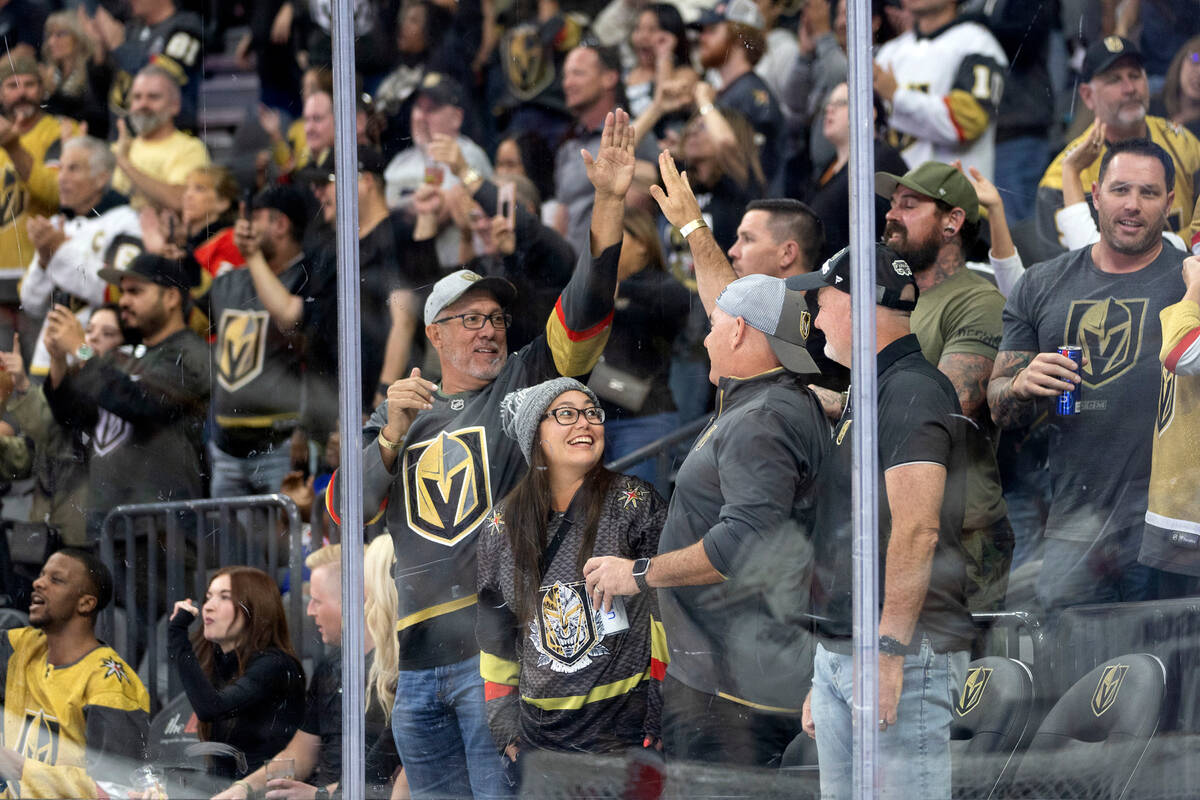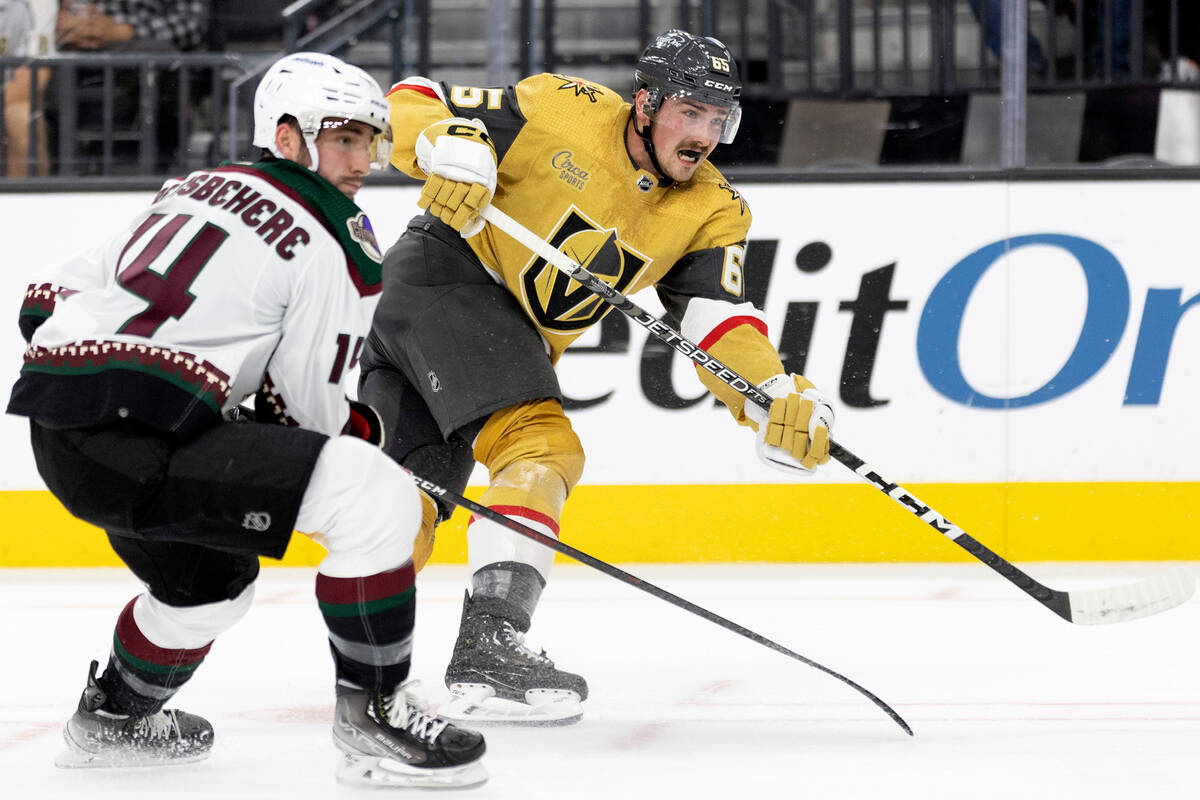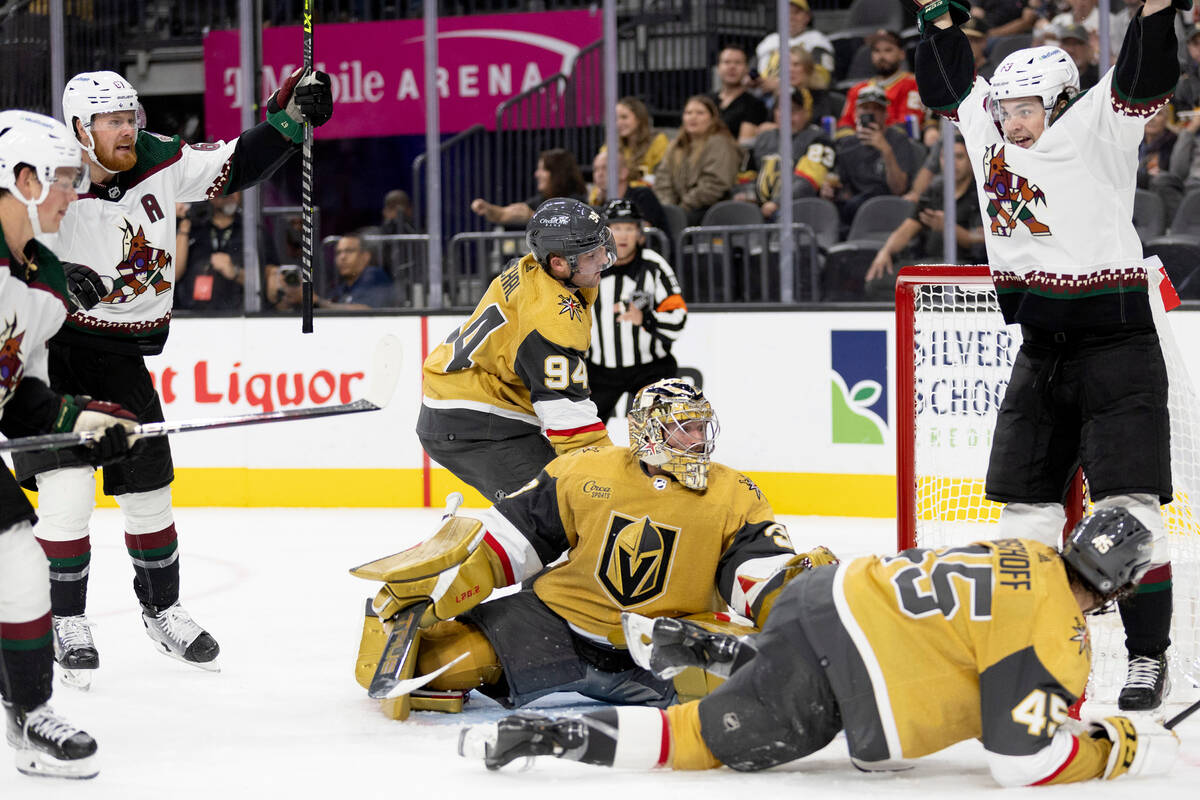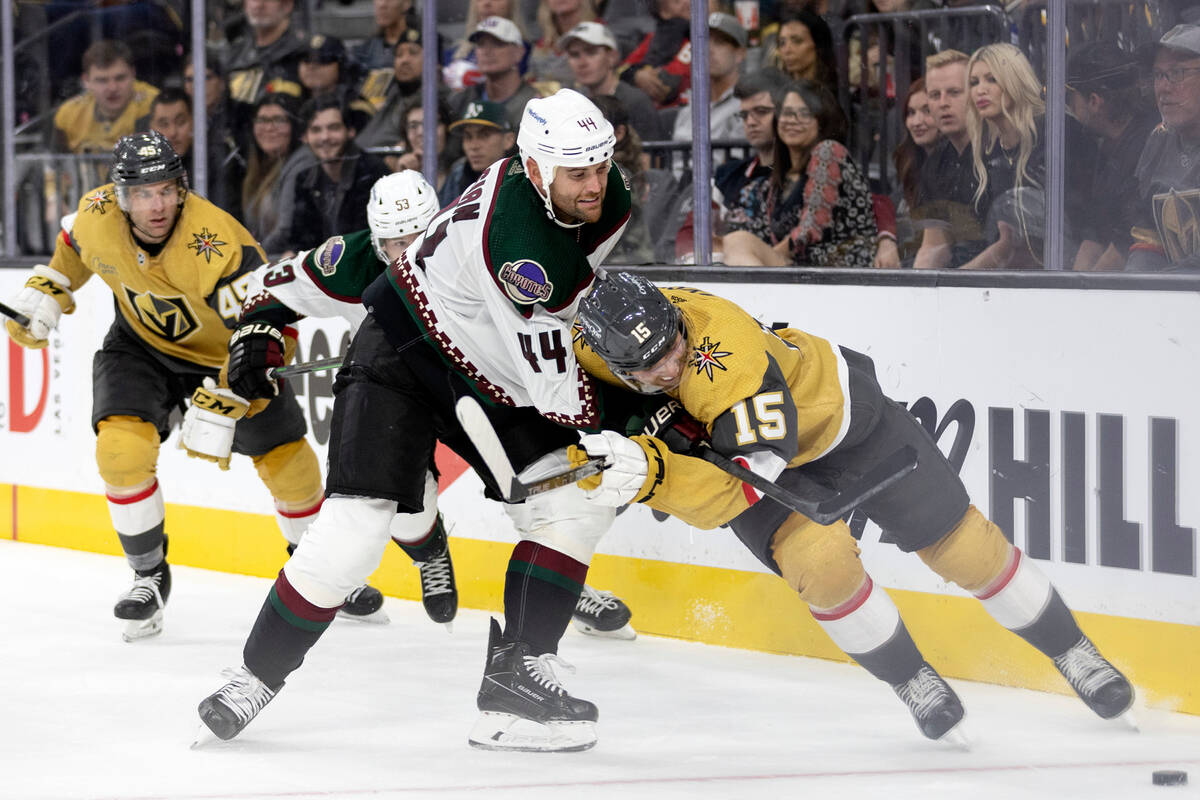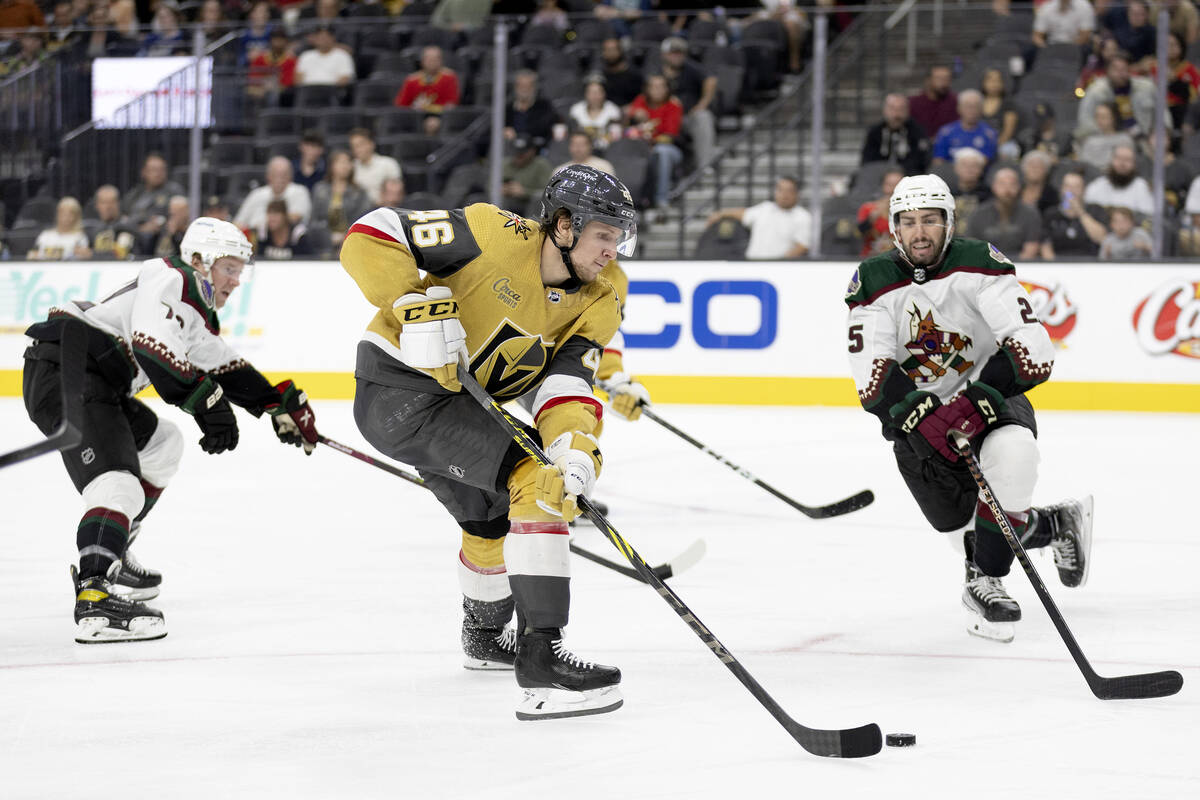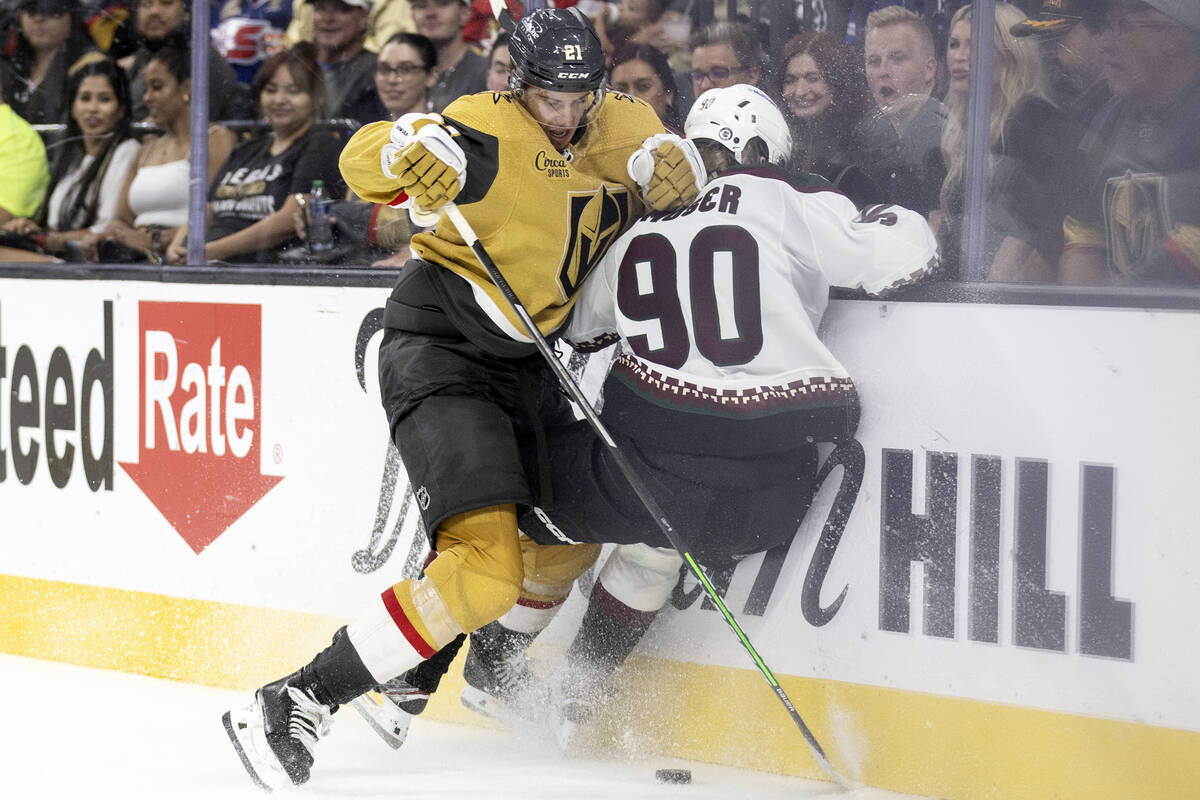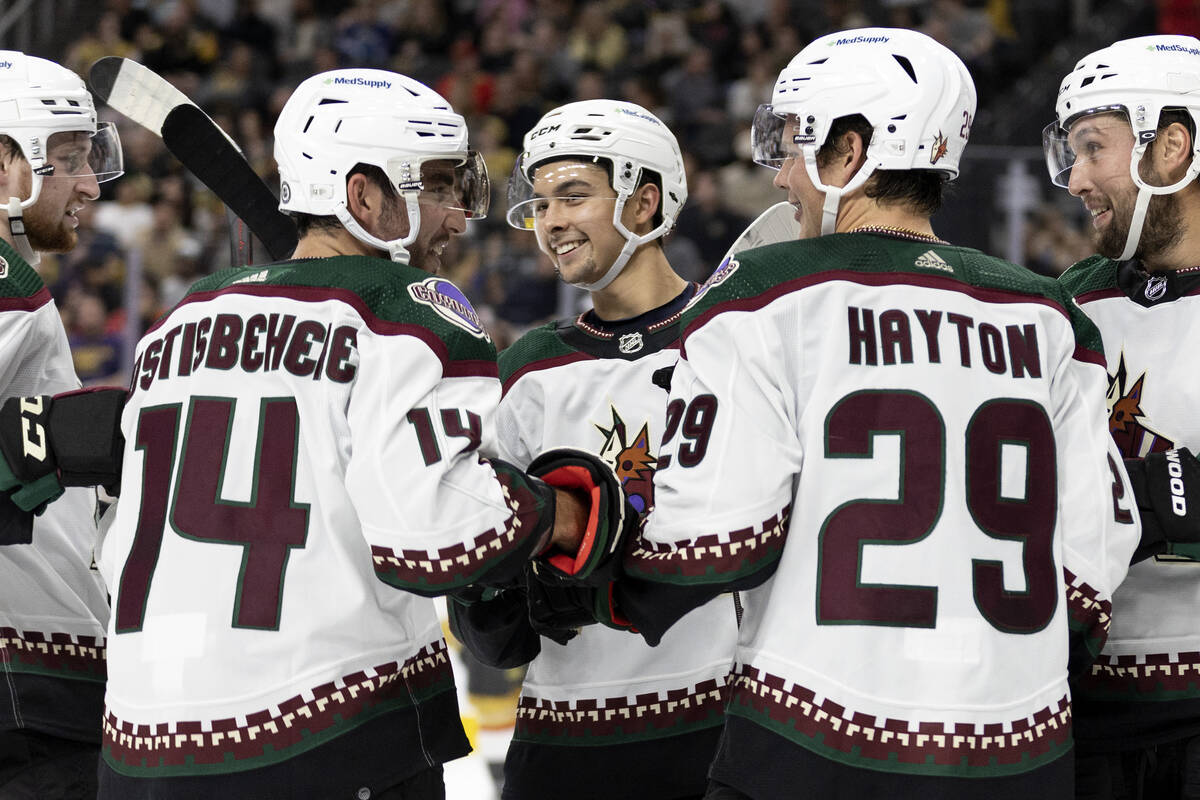 William Karlsson began his sixth Golden Knights training camp in unfamiliar territory.
The center started training camp away from longtime linemates Jonathan Marchessault and Reilly Smith. The three, who have logged more than 3,400 minutes together the past five seasons, was split up to look at other combinations.
Karlsson was put on the third line with left wing Brett Howden and right wing Michael Amadio. Or, as he referred to them the first day of camp, "younger Smith and younger Marchessault."
The early returns make it seem as if Karlsson is on to something. The line shined in the Knights' 4-3 preseason win over the Arizona Coyotes on Tuesday night at T-Mobile Arena, with Karlsson scoring the game-winning goal with 1:58 remaining.
"It's a lot of fun playing with him and Brett," Amadio said. "I think Brett uses his body well, and Will uses his speed really well, so (it's) a combination of everything that's working so far."
Karlsson's line produced offense for the Knights in a game in which things didn't click for long stretches. The Coyotes had a 53-28 edge in shots on goal, including 41-14 in the first two periods. The announced crowd of 17,127 spent a lot of time watching the Knights defend in their zone.
They still hung in because of the new third line. Amadio finished with three assists, and Howden had one on a third-period goal by right wing Pavel Dorofeyev.
Coach Bruce Cassidy said he liked the way the two worked with Karlsson in transition. If the group can make more plays in the offensive zone, it has a chance to be a dangerous line.
"It's been working pretty well," Karlsson said. "There's some real positive things in our game."
The win improved the Knights' preseason record to 2-3. Here are three takeaways from the victory:
1. Hill bounces back
Goaltender Adin Hill struggled in his first full preseason start Friday by giving up seven goals on 39 shots. The Knights went back to him Tuesday, and he responded with a better performance.
Hill finished with 50 saves. He controlled his rebounds well. He stood tall despite facing a constant barrage of pressure. He said he and goaltending coach Sean Burke worked between starts to narrow his stance so he could move laterally better
"It felt a lot better," Hill said. "I feel like I was seeing the puck better."
The one hiccup was Hill's play with the puck. He had a few misplays behind the net or by his crease, including one that led to Arizona's second goal in the second period. Cassidy attributed some of the mistakes to communication and some to decision making.
That's something Hill will have to improve on if he wants to start the Knights' Oct. 11 opener. Cassidy said Tuesday morning that goaltender Logan Thompson is "a little ahead" in the competition between the two and will start Thursday against Los Angeles.
2. Fourth line disappoints
The other line the Knights iced Tuesday wasn't nearly as successful as Karlsson's.
Left wing Paul Cotter, center Nicolas Roy and right wing Keegan Kolesar had a tough night at five-on-five. The Coyotes had a 7-3 edge in scoring chances and 4-0 advantage in high-danger scoring chances with them on the ice.
Roy was also called for two hooking penalties, including one that led to a game-tying goal with 2:16 remaining.
Cassidy didn't hide his disappointment even with left wing William Carrier missing from the group with a midbody injury.
"Right now, our fourth line is not anywhere close (to) where it needs to be if they're going to contribute major minutes to our team," Cassidy said.
3. Quinney exits early
Left wing Gage Quinney was hit in the head by Coyotes left wing Michael Carcone 6:45 into the second period and didn't return.
Quinney returned to the organization on an American Hockey League contract this offseason. He was sent to Silver Knights camp Saturday before being called back up for Tuesday's game.
Quinney became the first player born in Nevada to appear in an NHL game Feb. 22, 2020.
Knights defenseman Brayden Pachal got into a scuffle with Carcone later in the second period after Quinney left. The two and Arizona defenseman Vladislav Kolyachonok received roughing minors.
Cassidy said Quinney will be re-evaluated Wednesday.
Contact Ben Gotz at bgotz@reviewjournal.com. Follow @BenSGotz on Twitter.