Special teams doom Golden Knights in loss to Minnesota Wild
Updated February 11, 2020 - 9:44 pm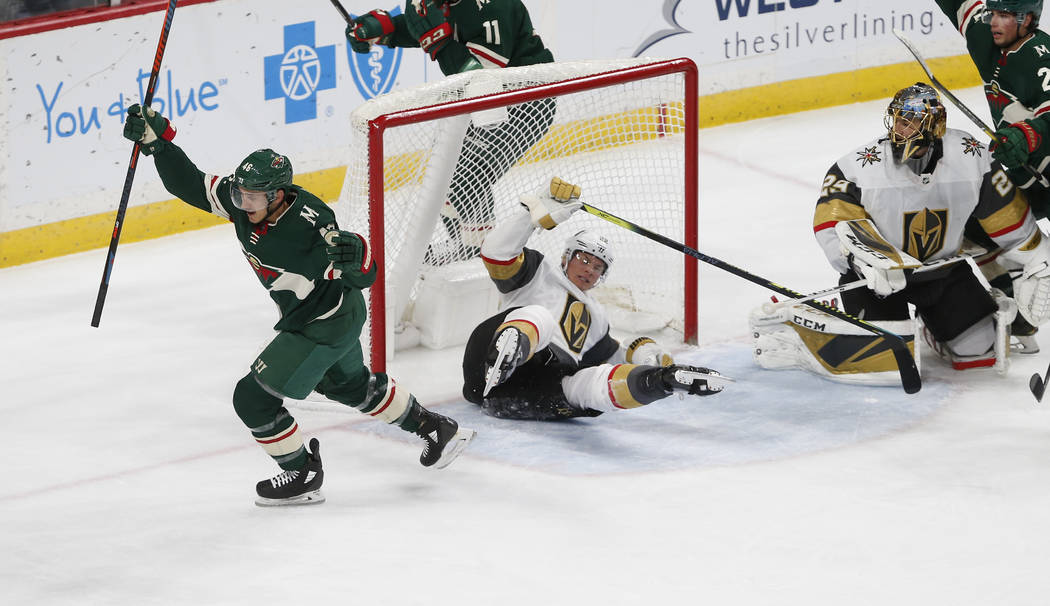 ST. PAUL, Minn. — Mark Stone deemed Tuesday's 4-0 loss self-explanatory.
He said the Golden Knights weren't ready. That not every player competed. That the team lost the battles on special teams and in front of the net.
That's why the Knights left Xcel Energy Center carrying slices of humble pie. A desperate Minnesota Wild team outworked them and provided them with a sobering defeat to chew on.
"Tonight was just a stinker," Stone said. "There's really not much more you can say. We laid an egg. We have to find that intensity. Hold every single guy in this locker room more accountable."
The Knights had played impressive hockey following their bye week before Tuesday. They were 3-1-1, with all five games coming against teams competing for the postseason.
If that made them haughty, the Wild were happy to knock them down a peg or three. Minnesota, itself just outside the playoff picture, played with vigor after general manager Bill Guerin traded Las Vegas-raised left wing Jason Zucker on Monday.
The Wild created deflections. They blocked shots. They were physical. The level of grit and effort they brought proved too much for the Knights to handle.
Minnesota scored two power-play goals in the first 12:44 to zap any energy the visitors had. The Wild added two more goals in the second period, leading Knights coach Peter DeBoer to pull goaltender Marc-Andre Fleury before the third started.
Minnesota goaltender Alex Stalock, on the other hand, made 26 saves for his third shutout. It was the Knights' third time being shut out, and the first time they were shut out on the road.
"I think we thought it was going to be a game where we were just going to come in here (and) because we've been playing pretty well, things would be easy," defenseman Nate Schmidt said. "In this league it's never easy."
Here's what else stood out from the Knights' loss:
1. Special teams struggle
The Knights' ineptitude was heavily influenced by special teams.
They were 0-for-4 on the power play against the 30th-ranked penalty kill in the NHL. They had four shots and passed up opportunities to throw the puck on net.
"We made it easy on them," right wing Reilly Smith said. "I don't think they have a great penalty kill, numbers-wise, and we made them look like they were top-five in the league tonight."
Special teams has been a point of emphasis for DeBoer but the Knights continue to struggle with them. They're 3-for-26 (11.5 percent) on the power play since he was hired. They had a promising start under him on the penalty kill, but they're 7-for-13 (53.8 percent) in their last four games.
2. Net front loss
Adding to the Knights' frustration was the fact that the Wild's last three goals traveled about a collective 3 feet to get to the net.
Two of Minnesota's goals came on rebounds in the crease, and a third came when left wing Zach Parise got open for a one-timer just in front of the blue paint.
DeBoer called the Knights "way too soft and light" around their net and it cost them.
"It really comes down to they scored three goals in front of our net," Schmidt said. "It's on myself and the rest of the defensive corps. We need to be better. I need to be better in that situation because (Fleury) doesn't have a chance when there's three, four guys whacking away at him."
3. Karlsson returns
Center William Karlsson's return provided a sliver of positivity for the Knights.
Karlsson played his first game since Jan. 14 and looked sharp, finishing with three shots on goal in 16:15 of ice time. The 27-year-old started at third-line center but was moved to the second late in the second period as DeBoer searched for a spark.
"I thought he was good," DeBoer said. "Might've been our best player. That's a testament to him but I think it's also a challenge to our group. A guy that's been out that long shouldn't be our best player tonight. We need some more participants."
Contact Ben Gotz at bgotz@reviewjournal.com. Follow @BenSGotz on Twitter.