There's more to Robin Lehner's story than his financial woes
Updated February 27, 2023 - 11:39 am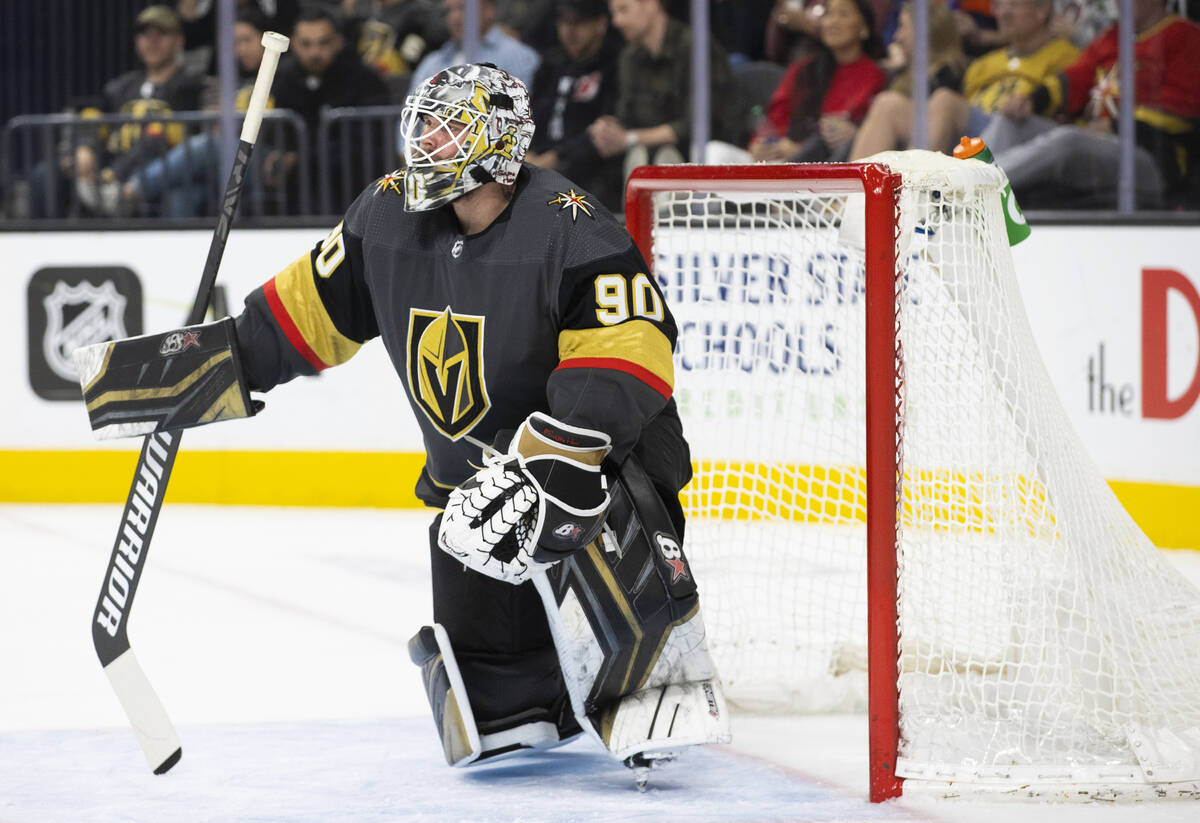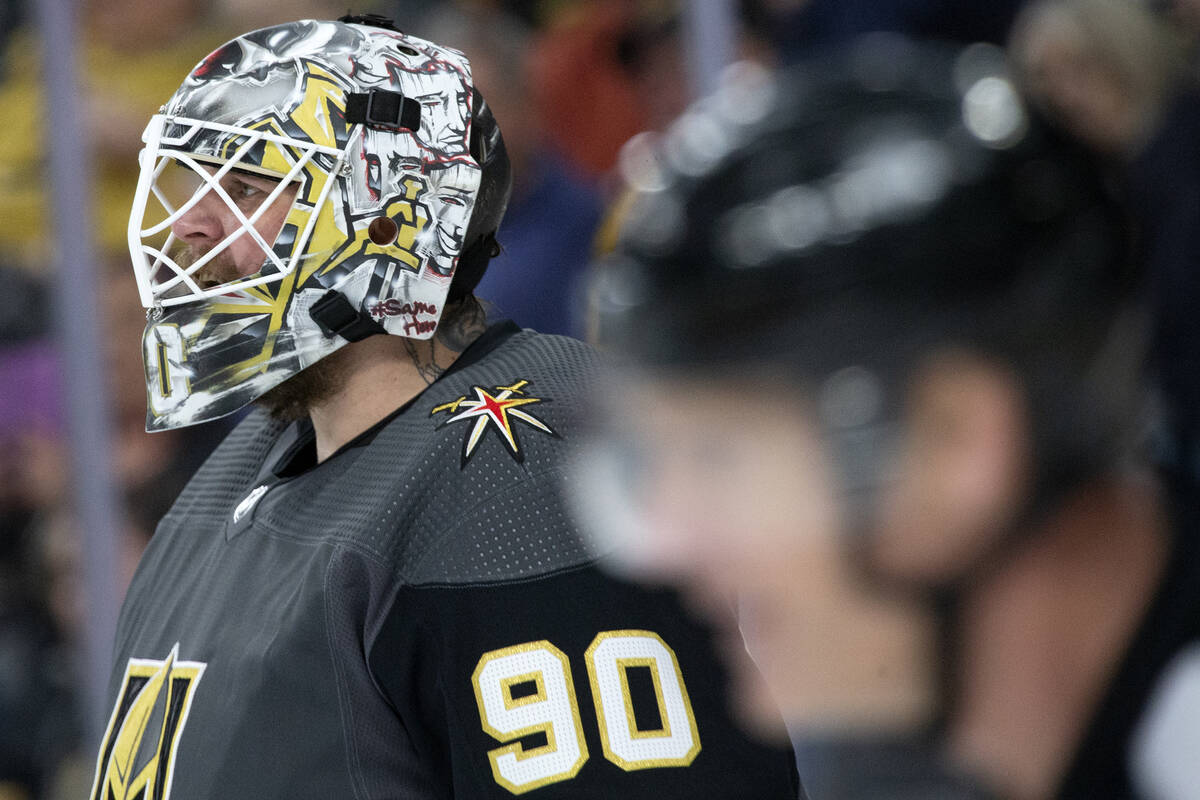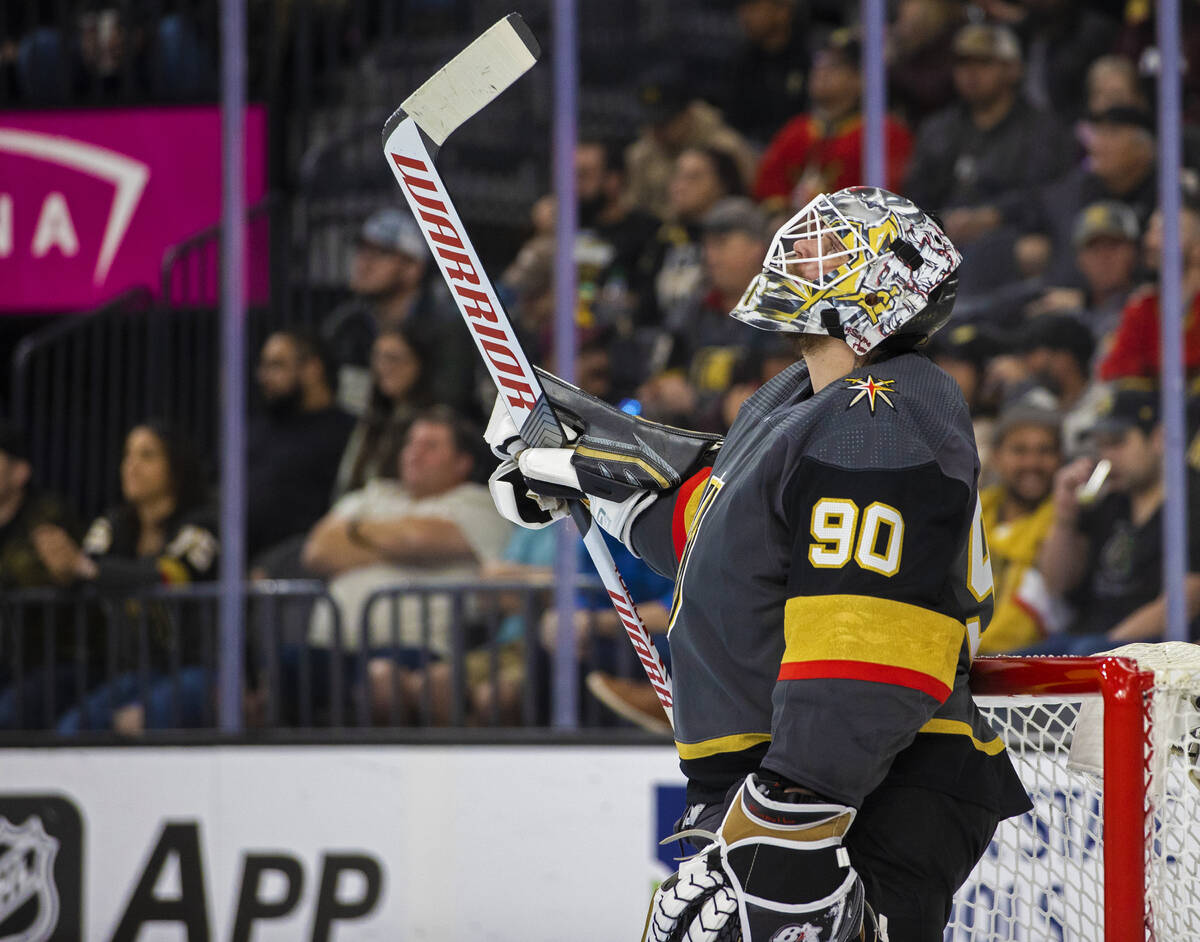 Robin Lehner had made his story public nearly a year before when he took the stage at the NHL Awards show in Las Vegas to accept the Masterton Trophy in 2019.
Yet that nationally televised speech with a powerful message about addiction and mental health is often remembered as the moment his personal struggles hit the mainstream.
"I took that first step and got help," said Lehner, a goaltender for the New York Islanders at the time. "That was life-changing for me, and it's something we have to keep pushing for. We have to end the stigma. I'm not ashamed to say I'm mentally ill, but that doesn't mean mentally weak."
The Bill Masterton Memorial Trophy is given to the NHL player who "best exemplifies the qualities of perseverance, sportsmanship and dedication to ice hockey."
Lehner, who found himself back in Las Vegas less than a year after that speech when he was traded to the Golden Knights in February 2020, now finds himself in another battle off the ice.
Lehner, 31, and his wife, Donya, filed for Chapter 7 bankruptcy in December. They claimed in court filings to have personal property of $5.1 million, including a $3.2 million home in Las Vegas, and owe creditors $27.3 million.
Robin Lehner, who did not return a request for comment, reported a monthly income of more than $231,000 and expenses of $52,000, which include lease payments on a 2019 Rolls-Royce Phantom and 2019 Mercedes-Benz model G63 that add up to $9,000 per month.
Attorneys for the couple are scheduled in court Tuesday via teleconference, at which time federal bankruptcy Judge Natalie Cox will decide on approving a motion by Lehner's legal team to have more time to assess various leases and executory contracts under the Lehners' name.
It's the latest turn in the story of a talented goaltender who has struggled to find stability in a tumultuous career.
His start in hockey
Those hockey dreams started when a 10-year-old Robin, who had always dreamed of being a soccer player, told his father, Michael, that he wanted to pursue hockey despite not knowing how to skate.
Michael Lehner, named in a $4 million lawsuit alleging failure to repay business loans filed months before Robin Lehner's bankruptcy filing, is a former European champion in martial arts who immediately acquired the equipment to start training his son in his new endeavor.
The elder Lehner also began helping another Swedish hockey player, Kristian Huselius, prepare to enter the NHL. Eventually, Michael Lehner also started working with NHL goalie Henrik Lundqvist.
Michael Lehner's specialty as a trainer was in the more physical aspects of sport, but he paid close attention to what some of the top goaltenders were doing and developed specific drills for the position.
He would often try them out on his young son and take the ones that worked the best to Lundqvist.
Michael Lehner developed a reputation for pushing his students hard, particularly his son.
The results validated his methods. Lundqvist had a legendary career with the New York Rangers and, despite his late start on the ice, Robin Lehner has had a good NHL career.
"He was very tough when I was younger, because he knew I was behind, and if I didn't have a good practice, or had a bad game, he was not very nice," Robin Lehner told the Ottawa Citizen in 2014. "But you know what? It's a very big part of why, so far, I'm here."
The tough coaching strained the father-son relationship for a time, but they grew close again as Robin's career progressed. Michael Lehner went on to a professional career as a goalie coach in the Swedish Hockey League and Russia's Kontinental Hockey League.
Career-altering injury
Robin Lehner was a second-round pick of the Ottawa Senators in 2009 when he was 18 and eschewed professional offers in Sweden to play a junior season in the Ontario Hockey League.
He spent one season there before going to Ottawa's American Hockey League affiliate in Binghamton, where he won the postseason MVP award in his second season by helping the team to its first Calder Cup championship.
During the season, Lehner had a brief NHL stint and became the youngest European goalie to play in an NHL game.
Lehner started the season on an NHL roster for the first time in 2013 and signed a three-year, $7 million contract in the summer of 2014.
The following season, he was shut down in February by a concussion that lingered for months. His career would be altered by that injury.
Lehner already had been regulating his emotions and pain through pills and alcohol. According to an article he wrote for The Athletic in 2018, the use of both quickly escalated as he dealt with the effects of the concussion. He thought that the heavy use of alcohol was the only way to treat the headaches, and pills were the only way to go to sleep.
That offseason he was traded to the Buffalo Sabres for a first-round pick and suffered an ankle injury in the first game of the season. He returned after three months but was shut down in March, and the cycle continued.
Over the next two seasons, Lehner had exceptional stretches of hockey despite mixed results on the scoreboard for a Sabres team that struggled to generate goals. There were signs of discontent that culminated in a panic attack during a March 29, 2018, game. In his article, Lehner said he was sent home by the team and stopped on the way home to buy beer.
Later that night, he told his wife he needed to go to rehab. He had planned to do so after the season, but realized he couldn't wait.
At the airport on the way to rehab, Lehner drank and contemplated suicide. It wasn't the first time.
Five weeks into his stint at The Meadows, a rehab facility in Arizona, Lehner got sober and was diagnosed with bipolar 1 with manic phases. He then came to the realization that the extreme manic phases were showing up in the dramatic swings in his play on the ice, too.
When he left The Meadows, Lehner was a free agent. He said some teams expressed interest, but one team in particular pressed him "for hours" on why he had been "a bad teammate and a bad person" throughout his career.
While the process was discouraging and eye-opening, Lehner eventually landed with the Islanders on a one-year deal and put together his best season to date. His letter was published before that season, and fans embraced his story, leading in part to his being awarded the Masterton Trophy and making his speech in Las Vegas.
Prospers with Knights
Lehner signed another one-year deal with the Chicago Blackhawks the following offseason, then was sent to the Golden Knights at the trade deadline to give them an option to back up aging starter Marc-Andre Fleury.
Lehner made only three starts before the season was halted by the COVID pandemic, but was dominant and essentially took over as the starter when the season resumed in an Edmonton bubble.
He recorded three shutouts against the Vancouver Canucks in a second-round playoff series before the Knights lost to the Dallas Stars in the Western Conference finals.
The performance finally earned him a long-term deal. He signed a five-year, $25 million extension with the Knights before the 2020-21 season.
That season, Fleury and Lehner shared starting duties and won the Jennings Trophy for being the team to surrender the fewest goals in the season. But Lehner missed time in the shortened season with another concussion and went 13-4-2 in 19 starts.
Fleury was traded after the season, making Lehner the unquestioned starter for the 2021-22 season. But it was a season marred by injuries to himself and several key teammates.
Lehner went 23-17-2 with a 2.83 goals-against average for the Knights, who finished 43-31-8 and missed the postseason for the first time in franchise history. After the season, they announced that he would miss the 2022-23 season after undergoing hip surgery.
Through the ups and downs of his time in Las Vegas, Lehner has continued to be an advocate for the mental health community. He has often used the hashtag #SameHere on social media as a show of solidarity with other people who have faced similar challenges.
Contact Adam Hill at ahill@reviewjournal.com. Follow @AdamHillLVRJ on Twitter.