TNT crew excited to put its stamp on first Stanley Cup Final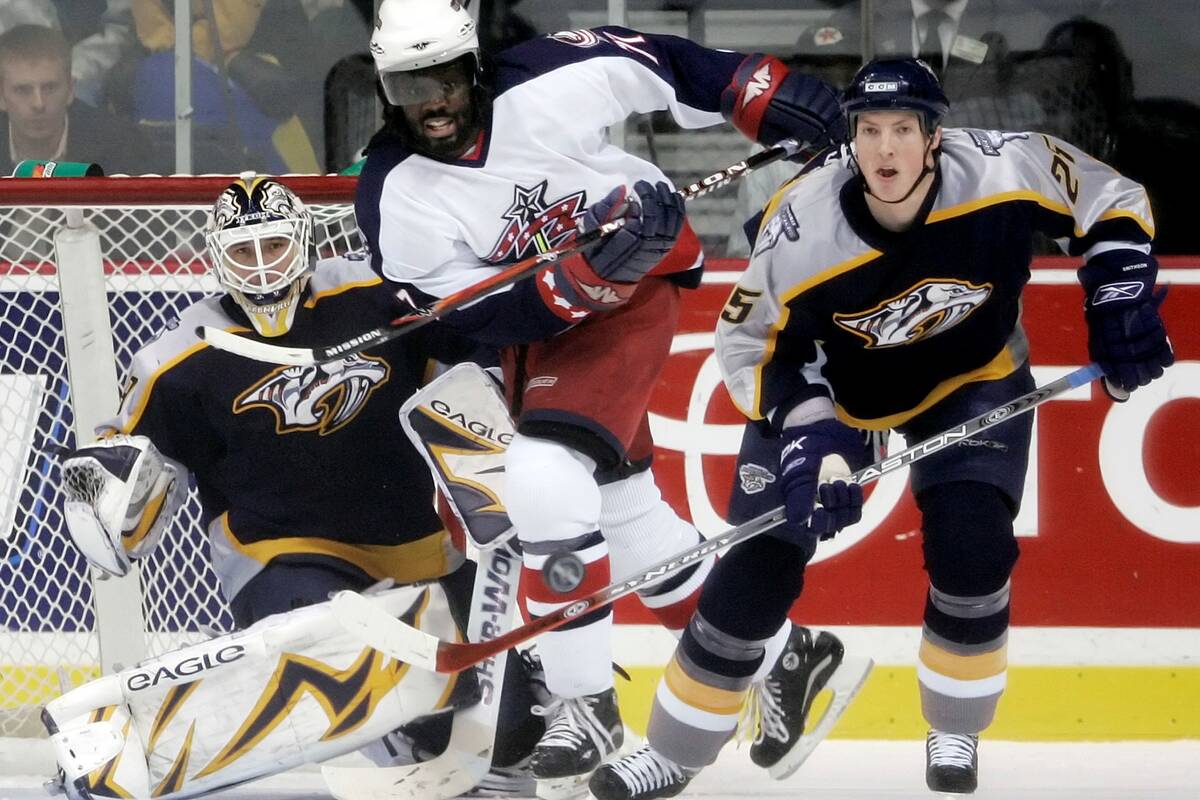 Anson Carter couldn't sit still as he viewed the Stanley Cup Final on television at his home last year.
The former NHL forward-turned-broadcasting-star loves watching the game of hockey, but he was itching to be a part of the action.
"I was watching those guys, the other network, do their thing, and after being a part of it for over 10 years, I missed it," he said.
While he and the rest of his crew on Turner Sports had the rights to the Western Conference Final, they had to wait a year to broadcast their first Final series.
Turner Sports signed a massive seven-year deal with the NHL in 2021 and now gets its turn to air the sport's biggest event on its family of networks for the first time. The series returns to Turner in 2025 and 2027.
Each game will be broadcast on TNT, TBS and truTV, among others. That means Carter and the rest of the studio crew will be on location in Las Vegas and south Florida for pregame, postgame and between-periods coverage.
"This is a great opportunity for our crew to continue what we do best," Carter said, "and that's providing great analysis and entertaining people while having some fun, but at the same time putting the game up on the pedestal that it deserves to be on."
He said while some old-school purists may not like the matchup, the two sunny locales being featured add more to the equation than just better off-day activities.
"The fact it's Vegas and Florida is even better because they are not traditional hockey markets, so they're more willing to lean in and try something different and give us more access that some traditional markets may not give us," he said.
It marks the first time since 1994 that the entire series will air exclusively on cable television.
Carter is joined on the studio show by fellow analysts Henrik Lundqvist, Paul Bissonnette, Hall of Famer Wayne Gretzky and host Liam McHugh.
The in-game crew also has plenty of experience. Play-by-play voice Kenny Albert has worked 10 Finals, and lead analyst Eddie Olczyk is doing it for the 16th time. Darren Pang draws his 18th assignment, and Keith Jones, who will take over as president of the Philadelphia Flyers after the series, is working his 17th Final.
Pang spent much of his career with ESPN, while the others were part of the NBC coverage.
"It's going to be a blast," Bissonnette said. "And not only that, but the full team that Turner's put together — all the people that help out you don't see on camera, which makes our job easier — is great."
While Bissonnette and the rest of his studio crew don't have the same following as their NBA counterparts with an NBA show that has become as much or more of a draw as Turner's game coverage, the NHL broadcasts did get some promotional love when Matthew Tkachuk went on "Inside the NBA" courtside at a Heat game this week to hype up the NHL coverage.
Lundqvist, a longtime star goalie, is excited about bringing that same type of exposure to NHL viewers.
"Our show is about having fun, and this is another opportunity for us to be on location and having fun doing it," he said. "I really look forward to doing it with this crew at the Final. We're making history, but we'll really let the players do that. We'll just have fun watching."
That starts Saturday when the crew will broadcast from a party suite inside T-Mobile Arena.
Coverage begins at 4 p.m., with puck drop set for more than an hour later.
Contact Adam Hill at ahill@reviewjournal.com. Follow @AdamHillLVRJ on Twitter.