What did the NHL think of Nathan MacKinnon's hit on Nolan Patrick?
Updated February 17, 2022 - 4:15 pm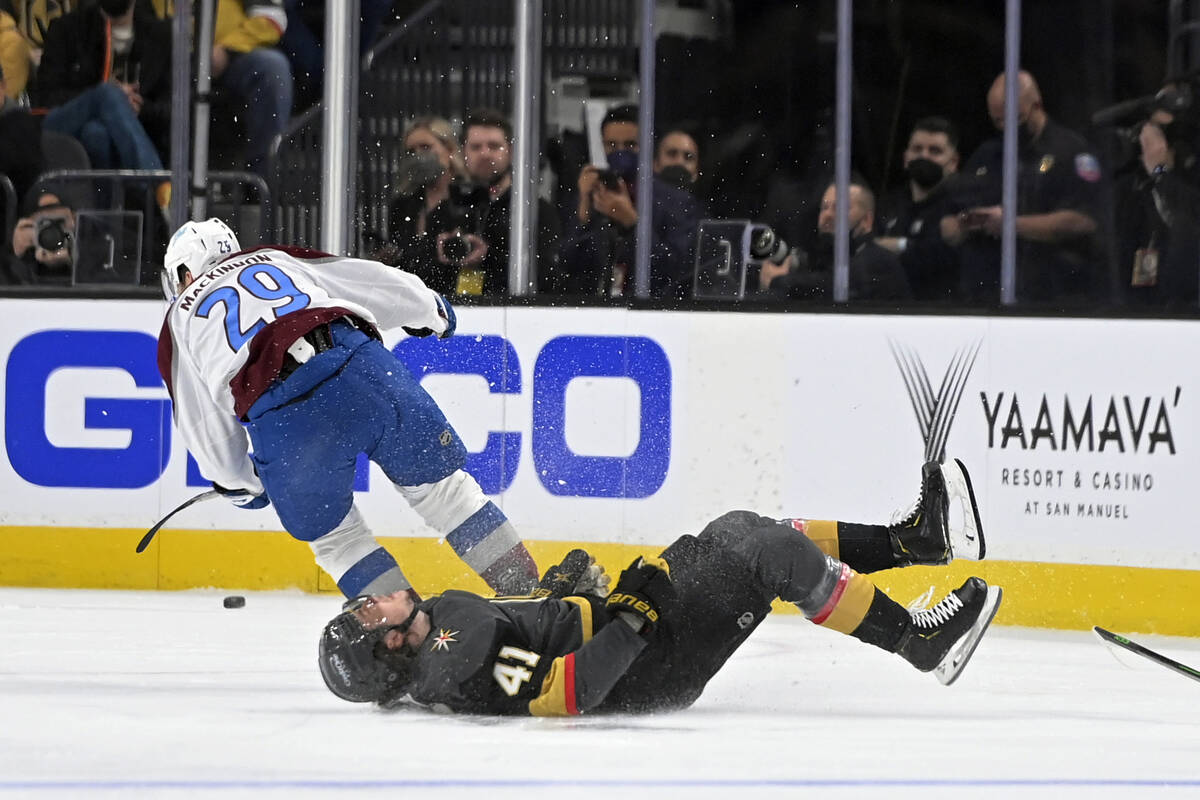 Nolan Patrick can't seem to catch a break.
Not this season. And not in his career, either.
The Golden Knights forward did not participate in Thursday's optional skate at City National Arena after he was injured against Colorado on Wednesday night. His status for Friday's game against Los Angeles at T-Mobile Arena remains unclear.
"He's in (the team facility) today, which is a good sign. We'll see," coach Pete DeBoer said. "You really feel for him."
Avalanche star Nathan MacKinnon was assessed a minor penalty for interference on the hit to the head, but he won't be suspended.
Patrick, 23, has battled injuries throughout his promising career after Philadelphia made him the second pick in the 2017 draft. He missed the 2019-20 season with a migraine disorder that was brought on by a concussion.
The Knights acquired Patrick during the offseason for 2017 first-round pick Cody Glass and hoped his injury woes were over.
But it's been a rough season for Patrick, who sustained an upper-body injury against Edmonton on Oct. 22 and missed 29 games.
He also was unfairly criticized by Flyers executive Bobby Clarke, who told "The Cam & Strick Podcast" last month that none of the team's scouts wanted to draft Patrick in 2017 and were overruled by then-general manager Ron Hextall.
Once he returned from injury with the Knights, Patrick found a home on the fourth line and showed his skill with a spectacular goal against Carolina on Jan. 25 when he dangled the puck between his legs before scoring off his backhand.
The latest injury setback came 14 seconds into Patrick's first shift Wednesday.
Nathan MacKinnon catches Nolan Patrick up high pic.twitter.com/4YQFZlRrIa

— Rob Taub (@RTaub_) February 17, 2022
Patrick moved the puck to teammate William Carrier in the neutral zone and tried to get on the forecheck. But MacKinnon cut him off near the blue line and caught Patrick with a shoulder to the face.
Patrick went down hard on his back and remained on the ice for nearly two minutes before being helped to the locker room. He didn't return to the game.
"I don't know if there's a worse injury than a head injury, just because of the unknown of it and the fact that there is no timelines on them," DeBoer said. "You don't like to see that for any player, and you sure don't like to see it for any young player that has his whole career ahead of him. Cross our fingers and hope."
The NHL's Department of Player Safety did not issue any supplemental discipline. The understanding is it thought MacKinnon and Patrick were jostling for position, and the hit was not deliberate or predatory, according to a person with knowledge of the situation.
Nathan MacKinnon catches Nolan Patrick up high pic.twitter.com/4YQFZlRrIa

— Rob Taub (@RTaub_) February 17, 2022
A similar play occurred last season between the Knights and St. Louis when Mark Stone cracked Blues forward Tyler Bozak in the neutral zone while backchecking. Bozak was injured, but Stone avoided a suspension.
Patrick has six points (two goals, four assists) and a plus-4 rating in 18 games. He is signed through next season with a $1.2 million salary cap hit.
Close encounters
The Knights' inability to consistently win close, low-scoring games proved to be their Achilles' heel the past two postseasons.
That situation arose Wednesday with the score 0-0 entering the third period, and those are the types of games DeBoer said the Knights have to get used to playing.
The Knights are 12-6-3 in one-goal games, and their .571 winning percentage in one-goal games is 14th in the league. They have one victory when scoring two goals or fewer.
"Our group has a natural frustration that sets in when they're not scoring," DeBoer said. "We've got to do a better job managing that and being comfortable in those type of games when we have to be."
Contact David Schoen at dschoen@reviewjournal.com or 702-387-5203. Follow @DavidSchoenLVRJ on Twitter.