Who's that No. 19 for the Knights? Wasn't Reilly Smith traded?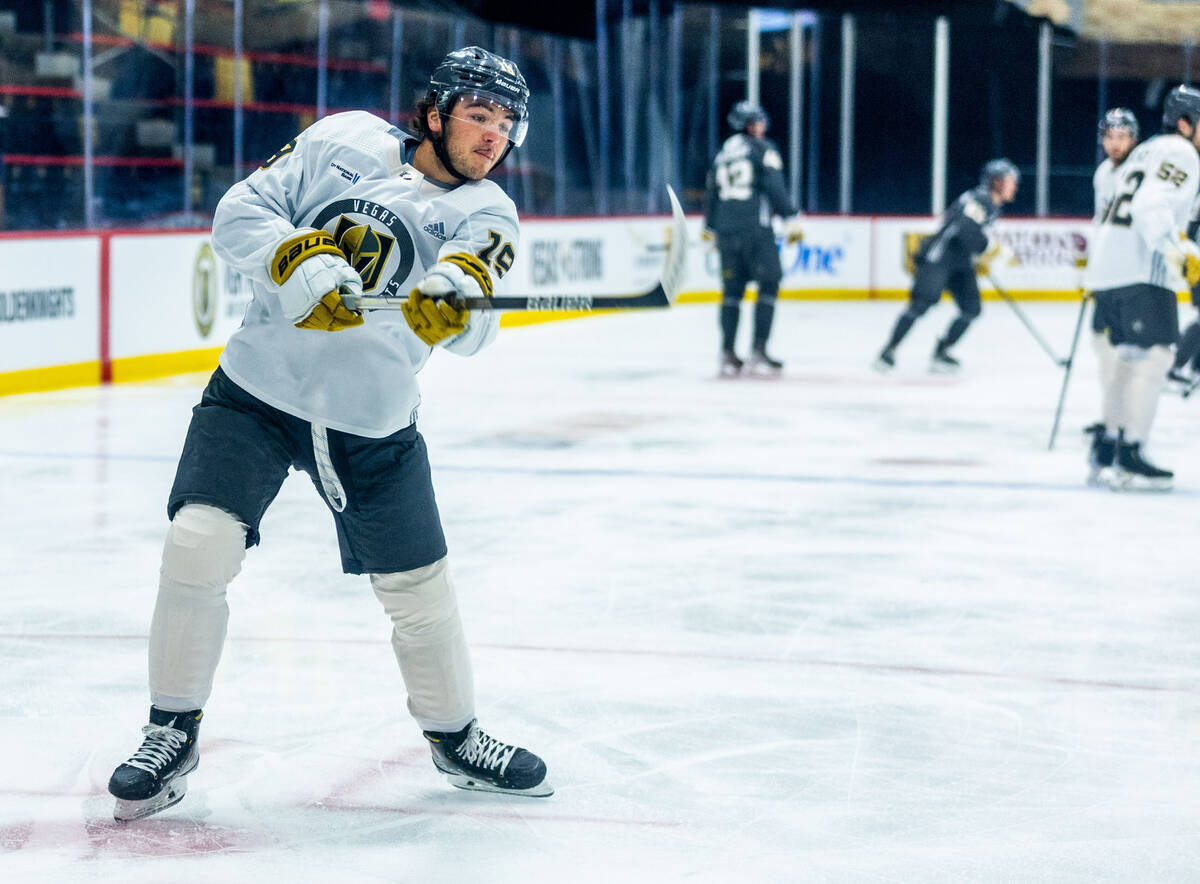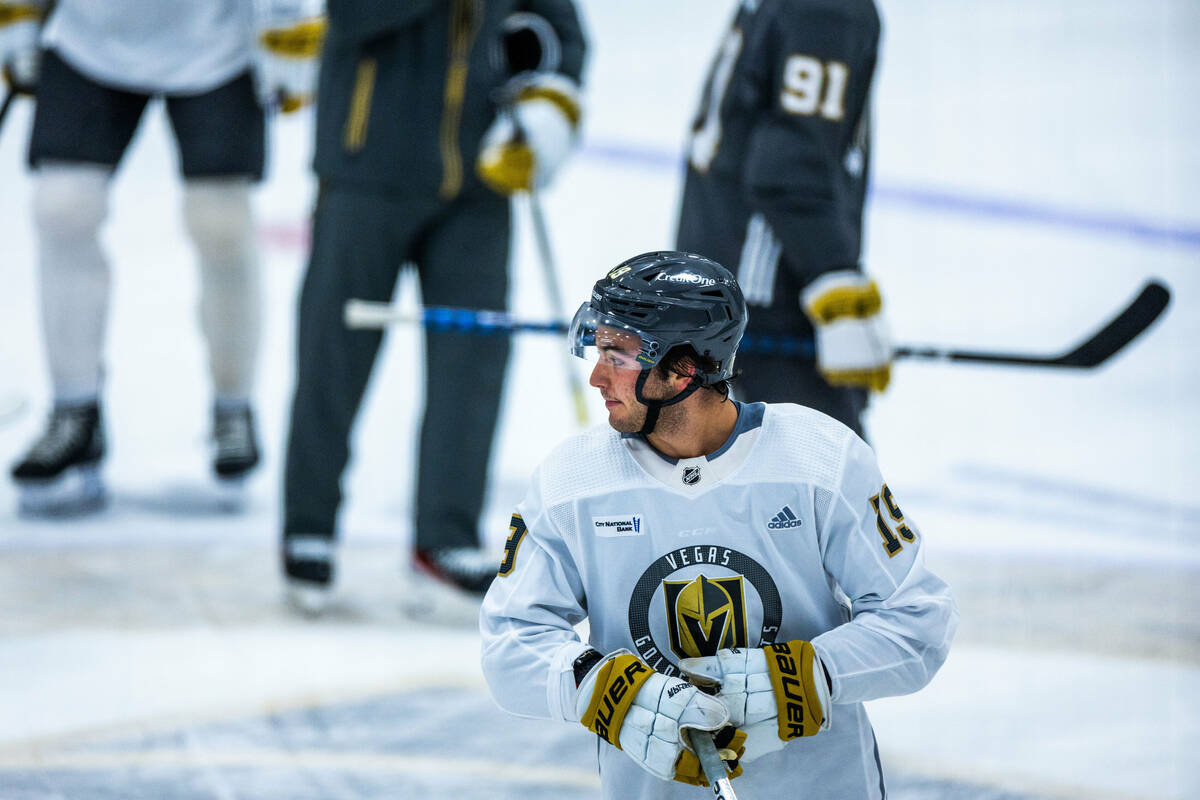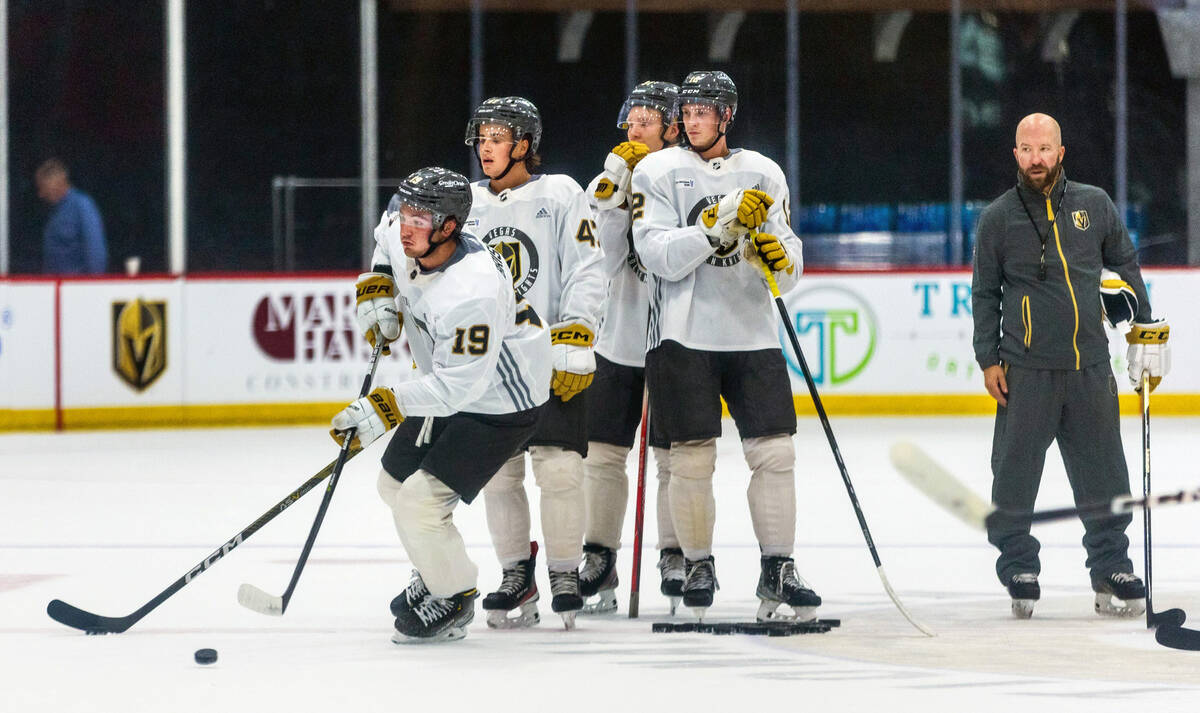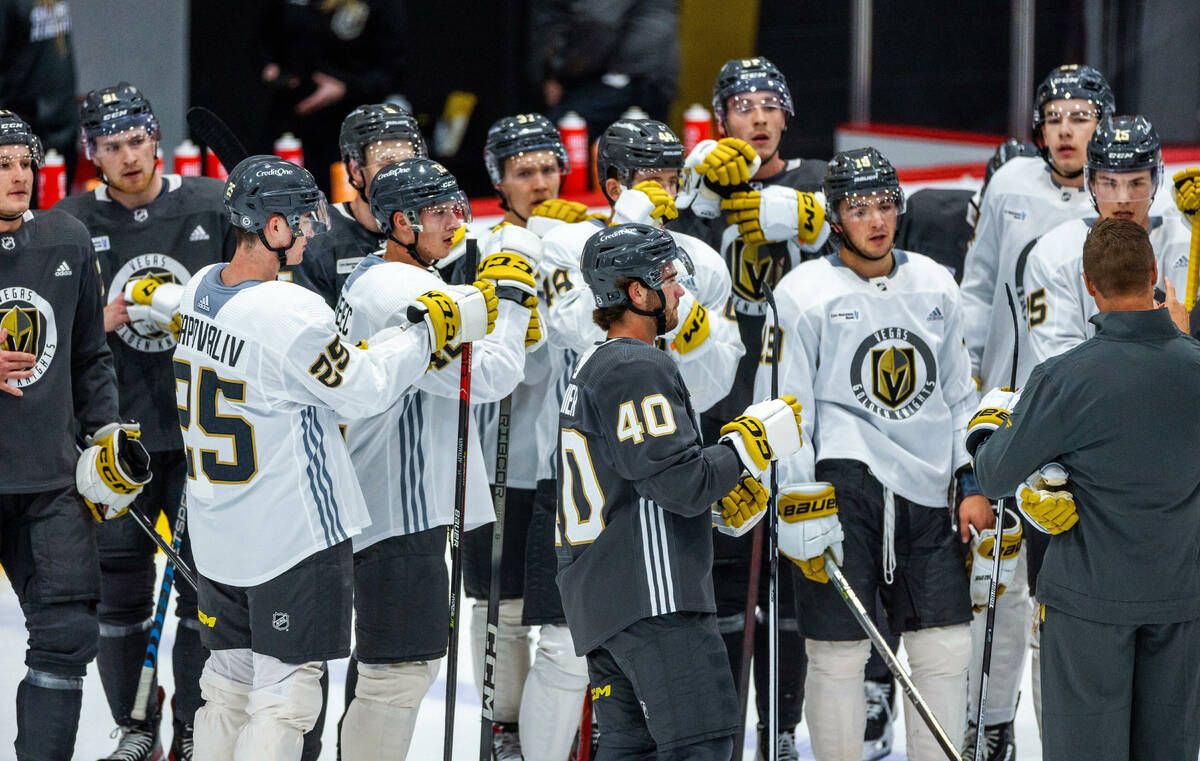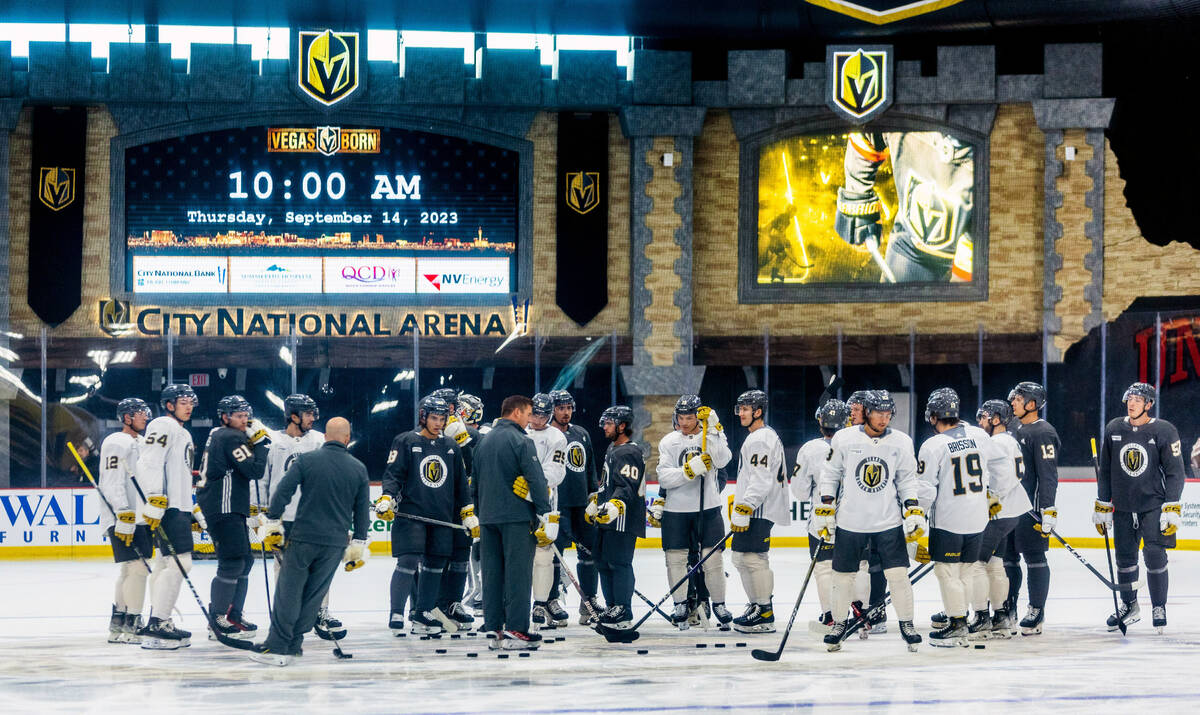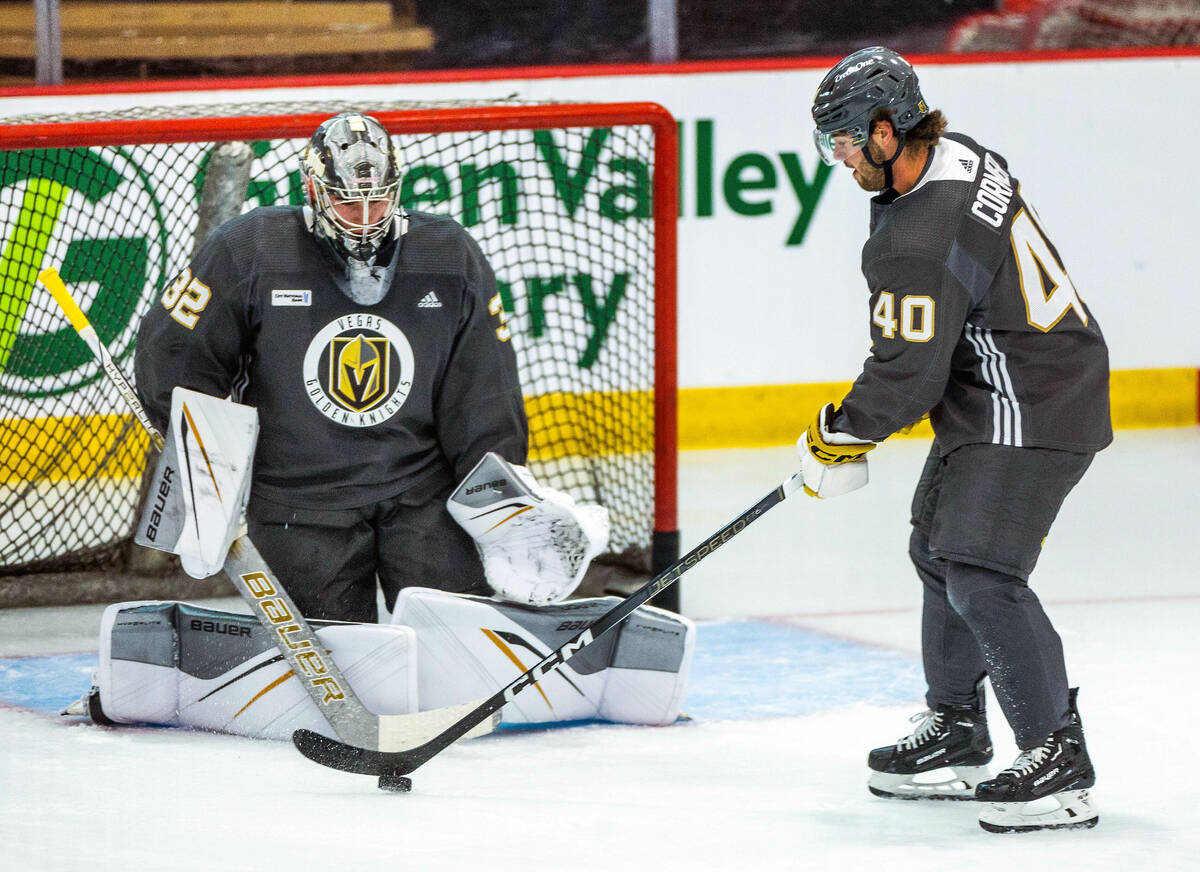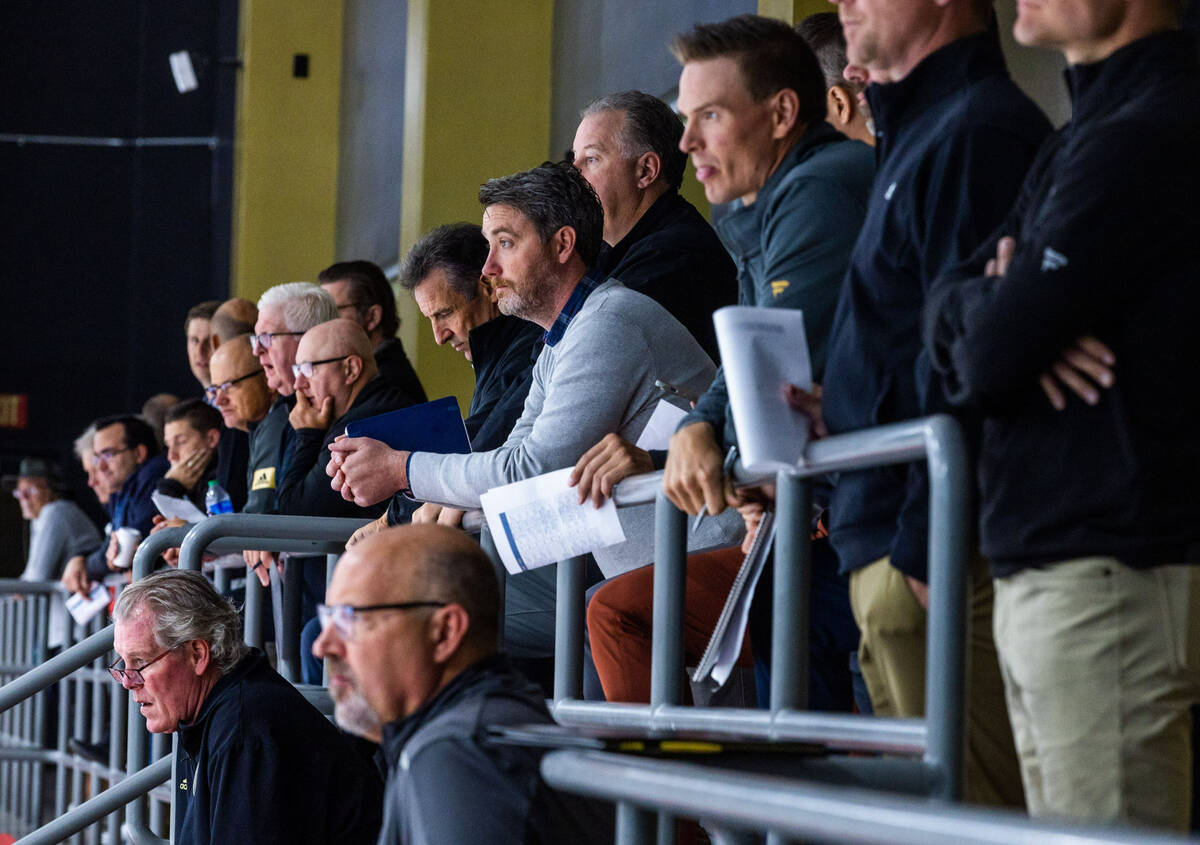 The Golden Knights' rookie camp started with a sight familiar and new.
There was, as has been the case each of the team's six seasons, a No. 19 on the ice at City National Arena when the Knights started practicing Thursday. Only it no longer belongs to Reilly Smith, the Original Misfit and longtime alternate captain who was traded to the Pittsburgh Penguins in June.
It's now on the back of 2020 first-round pick Brendan Brisson.
The 21-year-old switched numbers from No. 24 to No. 19 this season — returning to the one he wore in high school, junior hockey, college and the Olympics — after making sure Smith and some of the Knights' older veterans were OK with it. Smith's message, according to Brisson? "Just make sure you take care of her."
That's just what the forward intends to do. Brisson is beginning his second full professional season and eager to make an impression during the Rookie Faceoff Tournament this week at Dollar Loan Center and City National Arena, as well as NHL training camp.
He has the tools to do it. Now he has a number that stands out, too.
"For me, honestly, it kind of gives me motivation," Brisson said. "(Smith is) such a good player and good person off the ice. Every day I'm just going to try to fill that role as wearing 19."
Brisson and No. 19 had a long history before he joined the Knights, where Smith — who wore No. 18 in his first three NHL spots — had it locked up.
Brisson wore it as a tribute to another No. 19: longtime Chicago Blackhawks center Jonathan Toews. The three-time Stanley Cup winner, whose agent is Brisson's father, Pat, "was always around and giving me good advice" when he was growing up, Brisson said.
He first got No. 19 at Shattuck-St. Mary's School in Faribault, Minnesota, whose alumni include Toews and another of his dad's most famous clients — Pittsburgh's Sidney Crosby. Brisson continued to sport it with the U.S. Hockey League's Chicago Steel, at the University of Michigan and with Team USA at the 2022 Winter Olympics in Beijing.
He chose No. 24 with the Knights at first for his grandmother's birthday, but he's happy about the switch back.
"When I had a chance to wear it, I tried to be as respectful as I could," Brisson said. "I'm looking forward to it."
After getting his new look, Brisson's next step is showing the Knights staff new aspects of his game.
He's always been blessed with a wicked one-timer that rockets off his stick. He used it to score 21 goals in 38 games at Michigan in his sophomore season of 2021-22.
Brisson has spent the past year rounding out other parts of his game after learning about the adjustments he needed to make to succeed at the pro level. He had 18 goals and 37 points in 58 games with the Silver Knights, then spent his summer in Michigan and California sharpening his skating and performance in board battles.
"You could see it even in the practice today," director of player development Wil Nichol said. "There was a couple times where he went in on the forecheck, separated the defenseman from the puck, got it and made a play."
Brisson hopes sharpening the details of his craft will allow the rest of his game to shine. He's plenty capable of creating offense once the puck touches his stick. If he's able to win it back for his team more often, then he could give himself a chance to compete for the spot vacated by the Knights' previous No. 19.
"It's not my first year going into all this anymore, so I'm kind of prepared more," Brisson said. "I'm excited to go into camp."
Contact Ben Gotz at bgotz@reviewjournal.com. Follow @BenSGotz on X.
Golden Knights rookie faceoff schedule
7 p.m. Friday: Knights vs. Ducks (Dollar Loan Center)
7 p.m. Saturday: Knights vs. Sharks (Dollar Loan Center)
3 p.m. Monday: Knights vs. Avalanche (City National Arena)
Tickets: AXS.com