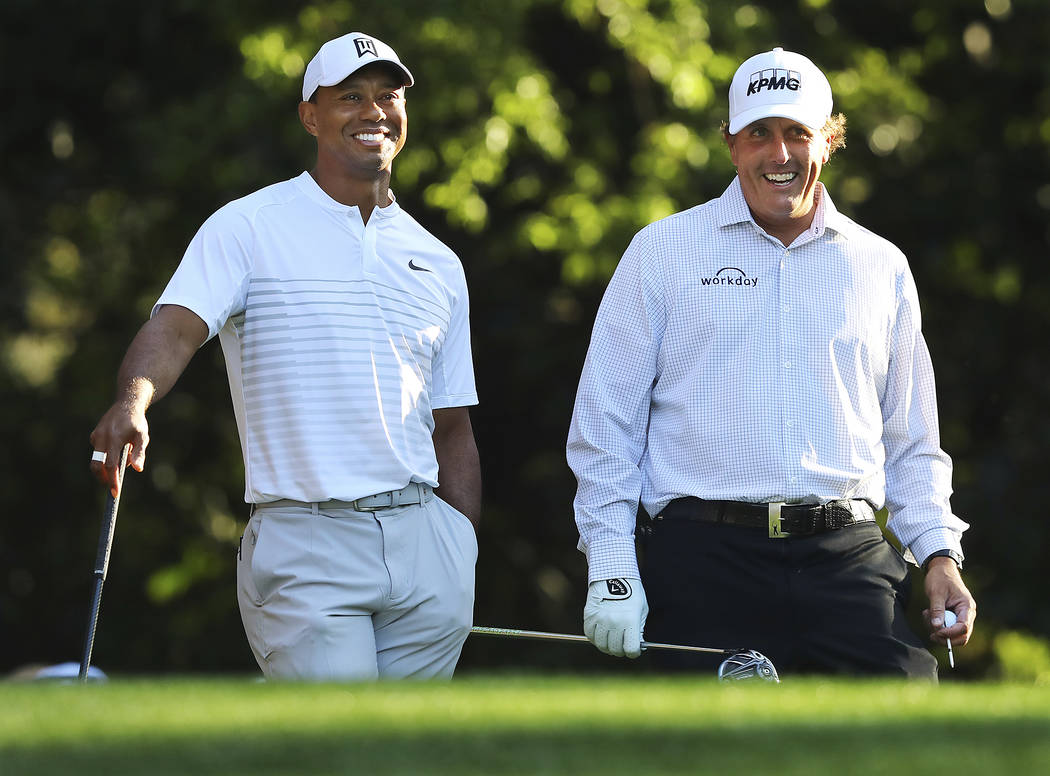 The proposed match play golf event between Tiger Woods and Phil Mickelson in Las Vegas is focused on a fall date, according to a source close to the negotiations.
The source, who was not authorized to comment on the talks, said late Friday the potential $10 million winner-take-all, made-for-television match originally was proposed for July 3 at Shadow Creek Golf Club. However, that date was nixed because the timetable didn't allow event producers and television executives enough time to get organized and secure sponsors.
An August date was then suggested but Shadow Creek was unavailable. Now talks are aiming at a potential date in October or November. The Shriner Open at TPC Summerlin, part of the PGA Tour, is already scheduled for Nov. 1-4.
Mickelson acknowledged the potential event in an interview on Golf.com last week.
"We're working on a different date," he said. "I thought it was done for the 3rd, but obviously it wasn't."
The idea was reportedly hatched during the Masters in April when mass crowds followed Phil and Tiger during their practice round together. About a month later at The Players Championship, the two were paired together during the first two rounds and Mickelson alluded to the potential high stakes match.
"The excitement that's been going on around here, it gets me thinking: Why don't we just bypass all the ancillary stuff of a tournament and just go head-to-head and just have kind of a high-stakes, winner-take-all match," Mickelson told the media at The Players. "Now, I don't know if he wants a piece of me, but I just think it would be something that would be really fun for us to do, and I think there would be a lot of interest in it if we just went straight to the final round."
When Woods was told about Mickelson's comments, he said, "I'm definitely not against that. We'll play for whatever makes him uncomfortable."
Apparently, the agreed upon uncomfortable amount is $10 million and the location is Shadow Creek, the exclusive course owned by MGM Resorts. According to Jeff Sherman, Westgate Superbook golf odds expert, Tiger would be listed as a -120 favorite.
Mickelson is playing in the PGA Tour's A Military Tribute at the Greenbrier in West Virginia this weekend and didn't provide more details to the media after the third round.
"I don't know what else to add to that," Mickelson said. "The report was accurate, but I don't know what else to say."
Woods hosts his annual Tiger Jam, a fundraiser for the Tiger Woods Foundation, at Shadow Creek, which is also the site of the annual Derek Jeter Celebrity Invitational. Michael Jordan also has held a celebrity tournament at the course.
In 2004, Woods shot 60 to set the Shadow Creek course record, a round matched by Fred Couples in 2007. The course has since been renovated and the new record is 62, set by former UNLV golfer Taylor Montgomery and UNLV rising sophomore Jack Trent.
The course has also been the site of many off-the-record high stakes money matches over the years between celebrities, casino whales, athletes, casino executives, tour players, professional poker players and others.
Mickelson and Woods have many ties to Las Vegas. Mickelson has played in Las Vegas' PGA Tour event — now called the Shriners Hospitals for Children Open — 12 times with a career best finish of second in 2000 when the tournament was known as the Invensys Classic at Las Vegas. He hasn't played in the tournament since 2005.
Mickelson was also close friends with Las Vegas golf course owner and sports gambler Bill Walters, who is serving a five-year sentence handed down in July 2017 for an insider-trading conviction regarding Dean Foods stock. Using a tip from Walters, Mickelson also invested in the company.
The SEC named Mickelson a relief defendant in a separate civil case, but he settled by agreeing to repay his profits and interest of more than $1 million he earned from the trading. Mickelson neither admitted nor denied the allegations in the SEC complaint and was never called to testify during the Walters trial.
Woods' first victory on the PGA Tour was the 1996 Las Vegas Invitational when he defeated Davis Love III with a par on the first playoff hole at TPC Summerlin. Woods also worked with swing coach Butch Harmon, who operates his golf school at Rio Secco Golf Club in Henderson, for many years before parting ways in 2003.
If and when the event happens, it won't be the first time Mickelson and Woods have competed against each other in a made-for-television event. Between 1999 and 2005 and then again in 2012, Woods was a main star in the made-for-television primetime Monday Night Golf series on ABC, which debuted with the Showdown at Sherwood at Sherwood Country Club in Thousand Oaks, California. Woods defeated David Duval, then the world's second-ranked golfer, 2 and 1.
From 2003-05, Mickelson and Woods played against each other in the Battle of the Bridges in Rancho Sante Fe, California, a team event that was part of Monday Night Golf. In 2003, Mickelson and Sergio Garcia defeated Woods and Ernie Els 3 and 1. In 2004, Woods and Hank Kuehne defeated Mickelson and John Daly 2 and 1. In 2005, Woods and Daly lost to Mickelson and Retief Goosen 5 and 3.