81-year-old golfer honored by SNGA for remarkable year
Updated February 21, 2023 - 6:20 pm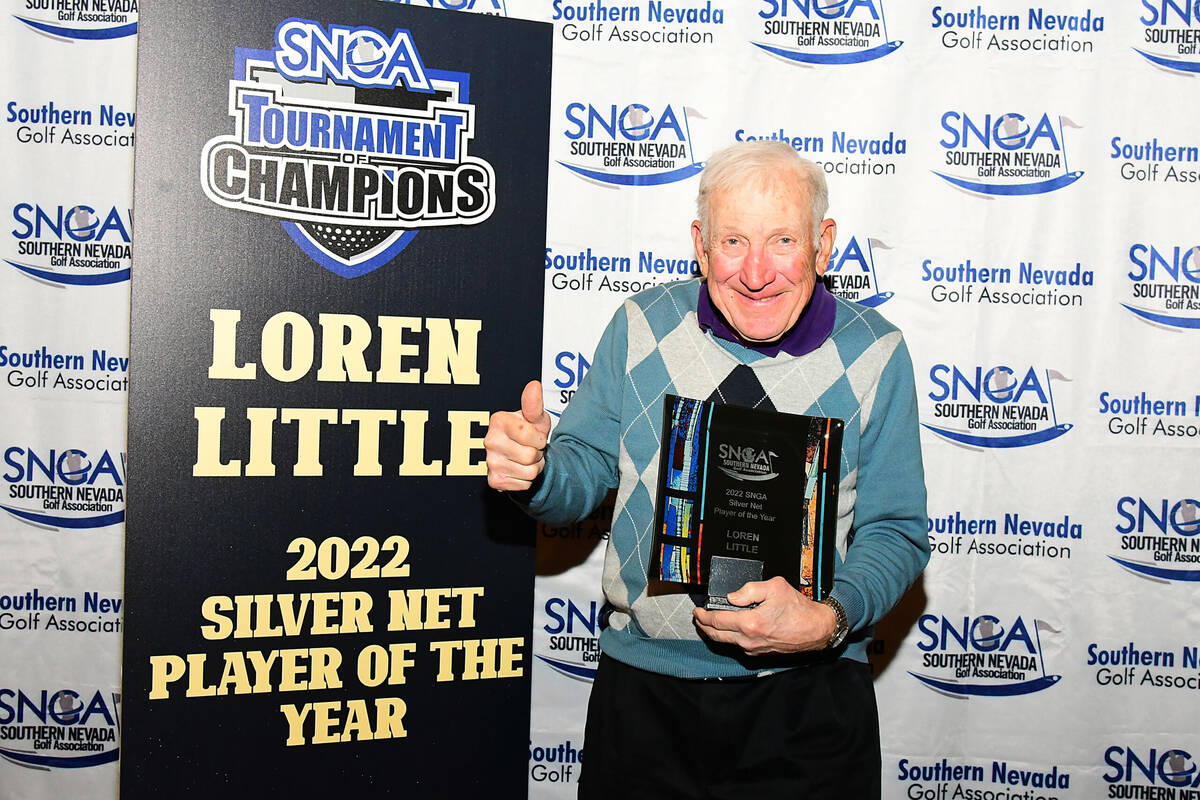 Golf truly is a sport for all ages, and nobody proved that more in Southern Nevada in 2022 than Loren Little.
As the 2023 Southern Nevada Golf Association tournament season begins, SNGA officials took time out this month to honor the standout performers for 2022 — including a remarkable season from Little, the 81-year-old Silver Net Player of the Year.
Playing against competition as much as 20 years his junior, Little put together enough strong finishes to win the points race in his division, including top-three finishes in four of the eight tournaments he played.
None was bigger than the Southern Nevada Amateur at Paiute Golf Resort's Sun Mountain layout in June, when Little was the only player under par in the field to earn his lone victory of the season. That, combined with third-place finishes in the Nevada State Senior Championship, Nye County Amateur and SNGA Team Championship, carried him to player of the year honors.
Little was self-deprecating in accepting the award.
"My whole game is like Forrest Gump's box of chocolates," Little told SNGA. "I never know what the hell I'm going to get when I go out there. I could be first place. I could be last place."
Other players honored as 2022 players of the year in their divisions included Josh Goldstein (Championship), Todd Roberts (Senior), Gary Carpendale (Silver), Aron Suci (Championship Net) and Dave Koch (Senior Net).
Goldstein sealed his title with a win at the Clark County Amateur in a season in which he finished in the top 10 in nine of 11 starts.
Carpendale had a phenomenal year, winning seven times to dominate the Silver division.
Roberts was equally impressive in the Senior division, winning six times and finishing no worse than sixth in 11 starts. He also claimed his third Nevada State Senior Amateur title.
Goldstein wasted little time picking up where he left off in 2022. He dominated the Nye County Amateur over the weekend at Mountain Falls Golf Club in Pahrump, shooting rounds of 67-69 to finish at 8-under 136, good for a 10-shot victory over Tanner Johnson and Justin Penor.
Carpendale also continued his winning ways, finishing at 6 under to hold off John Steele for a four-shot victory in Pahrump.
Other winners at Mountain Falls included Glenn Hogle (Senior), Lonnie Wilson (Championship Net), Brian Freymueller (Senior Net) and Steele (Silver Net).
TGL adds Schauffele
Olympic gold medalists Xander Schauffele and Justin Rose are the latest additions to TGL, the virtual golf league that is the brainchild of Tiger Woods and Rory McIlroy.
Schauffele and Rose bring to 11 the number of golfers committed to play in the league, which will begin play in 2024 on select Monday nights fusing live action and high-tech. Eventually, 18 players will be part of the roster and will play in a team format with six three-player teams.
In addition to Woods and McIlroy, others already committed include Collin Morikawa, Jon Rahm, Justin Thomas, Adam Scott, Matt Fitzpatrick, Billy Horschel and Max Homa.
"As the golf landscape continues to change, being a part of TGL is exciting and is another great opportunity for me to test my skills against the best players in the world," Schauffele, a Las Vegas resident, said in a release. "It is also going to be a lot of fun with the unique environment they are building and being able to compete regularly in a team format."
Greg Robertson covers golf for the Review-Journal. He can be reached at grobertson@reviewjournal.com.
Pro schedule
PGA Tour
Event: Honda Classic
When: Thursday, Friday, 11 a.m.-3 p.m. (TGC); Saturday, Sunday, 10 a.m.-noon (TGC), noon-3 p.m. (KSNV-3)
Where: PGA National, Palm Beach Gardens, Fla.
Purse: $8.4 million
2022 champion: Sepp Straka
LPGA Tour
Event: Honda LPGA Thailand
When: Wednesday, Thursday, 7 p.m.-midnight (TGC); Friday, Saturday, 7:30 p.m.-12:30 a.m. (TGC)
Where: Siam CC, Chonburi, Thailand
Purse: $1.7 million
2022 champion: Nanna Koerstz Madsen